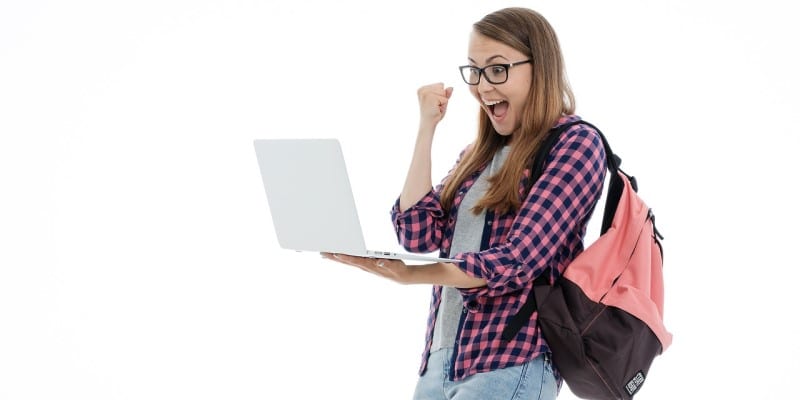 Google AdSense is the best ad network for bloggers to earn good money with their blogs and websites. Whether you are a newbie just starting a blog or an experienced blogger, you'd know that you can make good money with an approved Google AdSense account with a bit of effort.
Here, we'll explain the step-by-step process of creating a Google Adsense account and how to get an approved Google Adsense account for your website or blog.
IMPORTANT:
Google AdSense's revenue share
is 68% of contextual ads displayed on publishers' websites. For example, if Google's ad inventory auction on your site generates a monthly average of $1000, you will receive $680 through Google AdSense's 68% revenue share.
If you are an experienced blogger and have skills, you can also make money with Affiliate Marketing, but more on that later. Here, We'll focus on how to get an approved Google Adsense account.
Choose your Blog Niche Wisely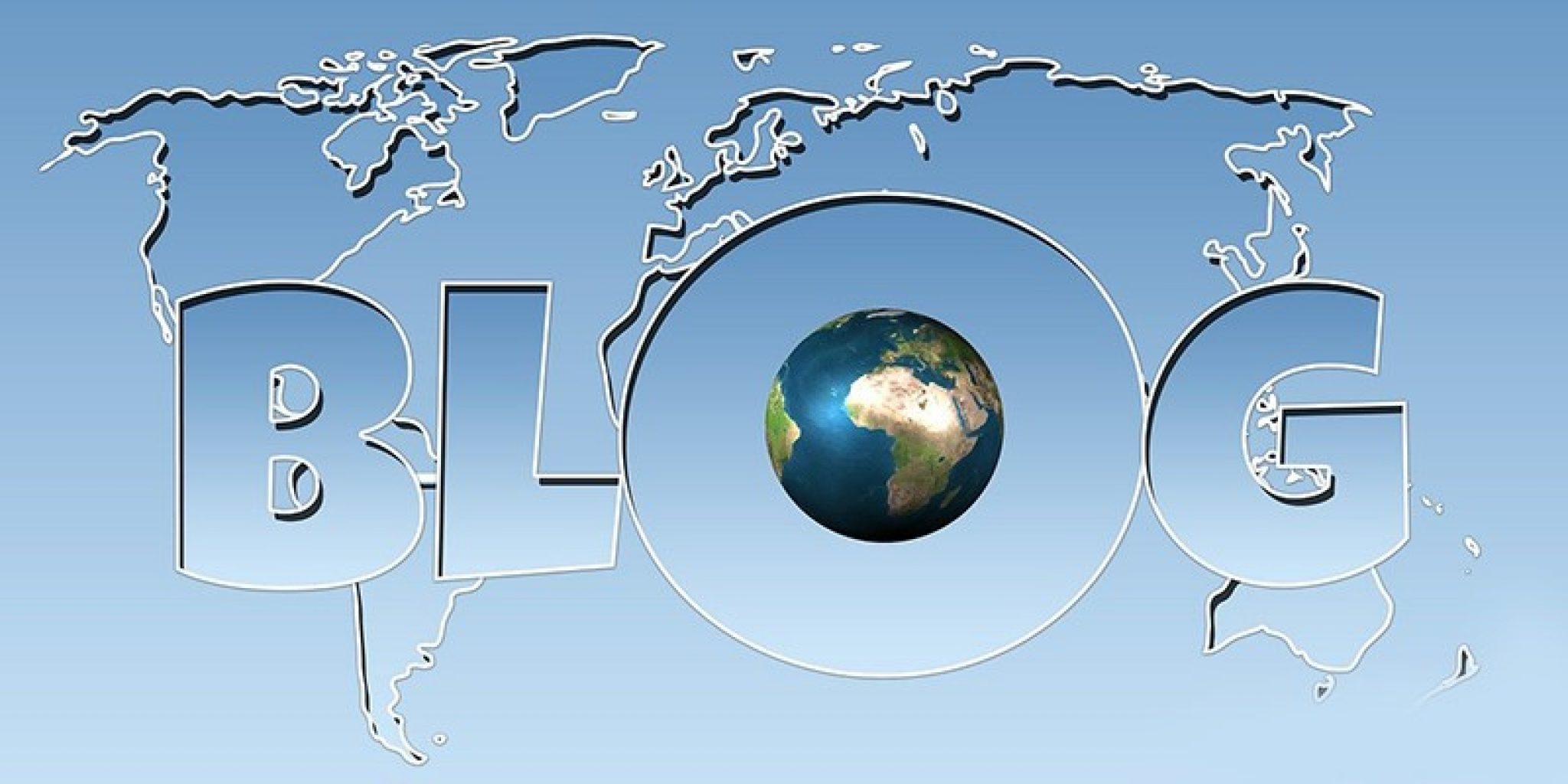 Google approves practically every niche for AdSense approval and subject for the AdSense program except the following:
Adult / Pornographic / Sexual Content
Hacking / Cracking / Warez
Weapons & Guns
Poker / Gambling
Phishing
Drugs & Pharmacy
any other Illegal stuff
In 2014, we learned about AdSense and got our account approved when we started blogging.
With the site getting many unique visits daily, we got good earning from AdSense even though we was a newbie and didn't know much about Blogging with an approved Google Adsense account.
So AdSense is one of the best options to earn money for new bloggers with an approved Google AdSense account.
More Interesting articles for you:
To help fellow new bloggers, we share this guide on getting the approved Google Adsense account, So you can start earning money online with your website.
Before you apply for an Adsense account, You need to have a website, obviously, and be above 18 years old. If not, you can use your parent's name to an approved Google Adsense account.
Requirements for Approved Google AdSense Account
In recent years, Google implemented different tiers of approval for AdSense account holders. Very simply, there are now two types of accounts: Hosted and non-hosted.
Hosted AdSense Account
A hosted AdSense account is the approval given when one applies through partner websites like YouTube and Blogger. The criteria for acceptance are less stringent, and approval is quick. Once received, the account holder can immediately earn from ads displayed on the partner website they applied through.
Non-Hosted AdSense Account
The non-hosted Google AdSense account, informally known as a full or "standard" account. This account permits AdSense ads on your own websites or domains, in addition to all partner websites. When web articles provide suggestions on getting AdSense approval or optimizing your website for monetization, they invariably refer to this type of account.
How Can I Get AdSense Approval Fast?
Professional solution to get AdSense approval very fast: Your website shall be eligible for getting fast AdSense account approval only if it fulfills these three conditions:
Best user experience: Loading, interactivity, and visual stability represented by Core Web Vitals.
High-quality content: It doesn't mean a lengthy post, but your webpage should provide users what they are looking for.
Micro niche site: Apply your expertise and experiences for publishing unique information using Long-tail keywords.
Website Must be More Than a Month Old
You cannot just purchase a domain & hosting and ask for Adsense approval. Your website needs to be at least a month old before you can apply for an approved Google Adsense account.
Though if you have already added good content, you can get early approval.
Website Should Have Quality Content
You might have heard many times: Content is the king. We also agree more with it. Your website needs unique and rich content. You need at least 25+ or more good-quality articles before applying.
If you ignore good quality content, Google might reject your application, saying you have Insufficient or unacceptable content on your website.
Website Design Should be Professional
No matter how great content you have, your website should be easy to navigate, and it should provide a seamless user experience with its design and functionalities. Invest in a good premium theme for your WordPress site to get an approved Google Adsense account.
Design goes a long way to the success of your website.
Get Original and Good Looking Logo
To give your site an extra boost on the professional score, we recommend designing a logo.  You can do it yourself or hire someone who can create a good-looking logo for you.
Integrate with Google Webmasters and Analytics
The next thing you should do is add your website to Google Webmasters Tools and add Google Analytics code to your website to speed up the process for an approved Google Adsense account. That shows Google that you are serious about your website.
You can go and register to Google Webmasters from here and register to Google Analytics here.
Create a Privacy Policy Page
Make sure you create a Privacy Policy page. These are some rumors people have because they'll say, "I don't really know what to include in the privacy policy page." Honestly, you can look on Google and find a ton of different privacy policy generators. The most important thing to know is that Google requires specific instructions in your privacy policy.
Website Speed Matters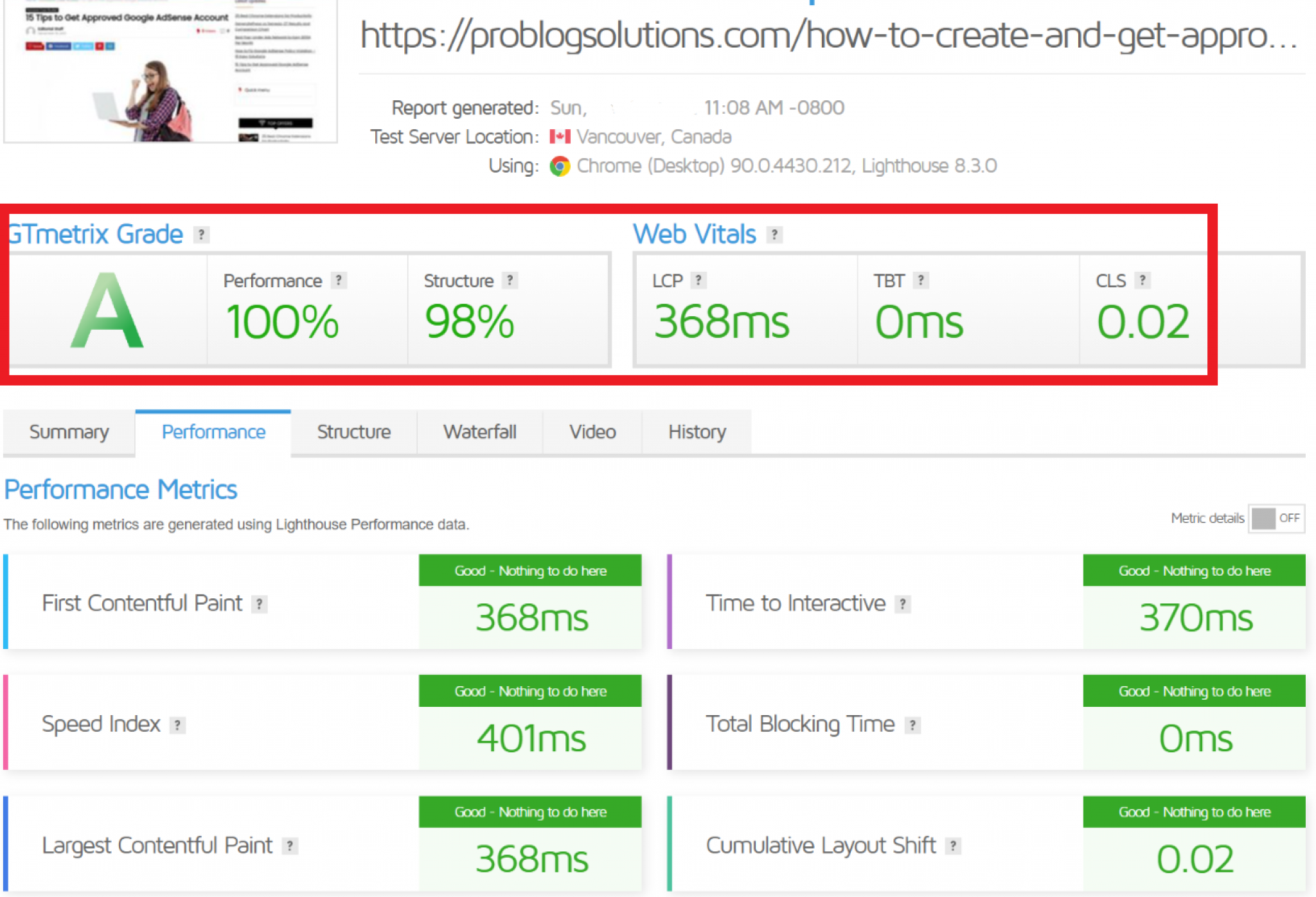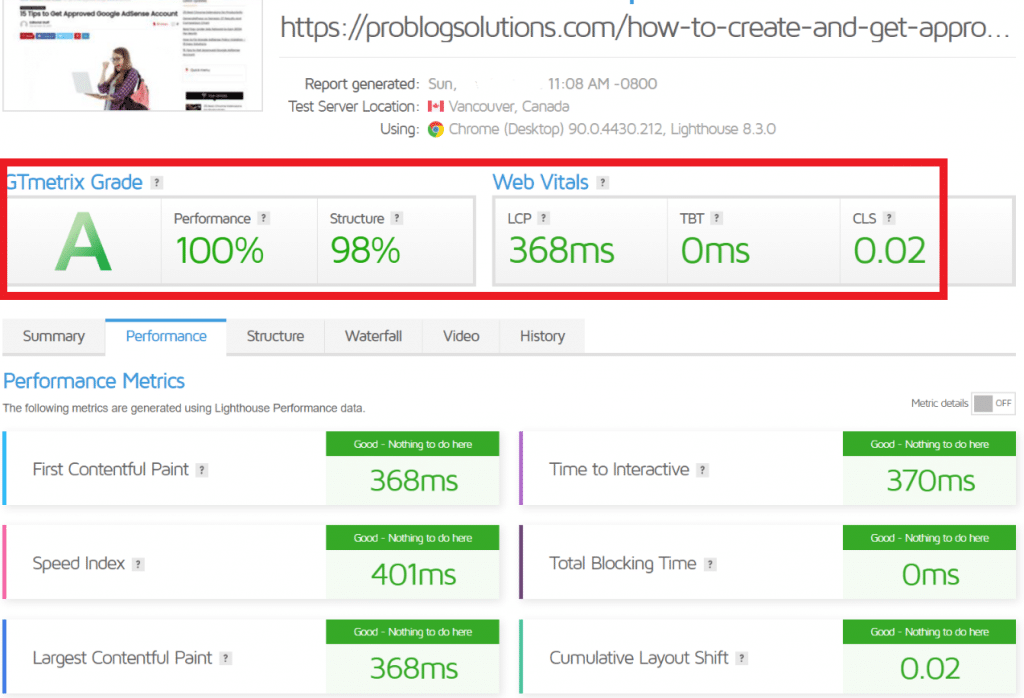 Work on loading every page of your blog in less than 3 seconds. A blog taking forever to load fails to impress users and Google both. Run your blog through GT Metrix or Google page speed insights and implement all the suggestions it shows. Compress your blog images and media to make your blog as light as possible.
Make your Blog Ads Friendly
To make your blog ads friendly, you need to have a responsive theme. The theme must have Ad slots above as well as below the folds. People should see an Ad as soon as they land and start reading an article.
Make sure you don't use any third-party Ad service before applying for AdSense approval. They will reject you at the first glimpse. Use a responsive, neat, and clean theme. Many Google AdSense approval submissions get rejected due to "Improper Navigation" or "Difficult To Navigate" themes.
The best themes you can try for an approved Google AdSense account are:
FREE VERSION
PRICING
SUPPORT
GENERATEPRESS TOP FEATURES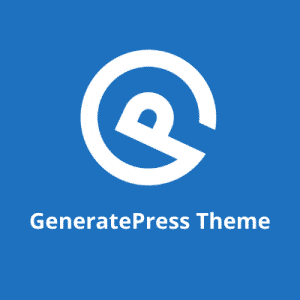 GeneratePress
GENESIS TOP FEATURES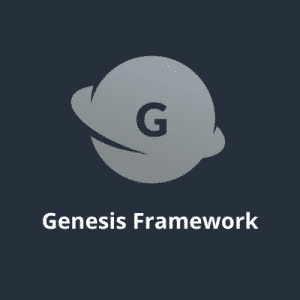 Genesis
Genesis WordPress Theme
Regularly Update your Content
Imagine someone has posted 35+ posts in a single day or week to get an approved Google AdSense account and after that not posted a single post within a week or even a month.
Thus, please keep updating/posting on your blog regularly so that your approved Google AdSense Account will not disapprove or disable within a short period. Many AdSense publishers get their fully activated accounts disabled after a few months.
Other Things to Do
Besides taking care of all the steps above, Create an XML Sitemap page on your website and add it to Google Webmasters. For XML Sitemaps, You can use the Google XML Sitemaps plugin for WordPress.
Create About us, Contact us pages on your website, which improves your website's credibility.
Also, get traffic to your website from Social Media and other places. It'll ensure you have a good ranking, and Google will see it as a helpful website, and it will benefit you to get an approved Google Adsense account.
PRO TIPS: Make Sure of the Following Aspects
Your blog shows content what it promises,
May not change user preferences,
Must not redirect users to unwanted websites,
Must not initiate downloads,
Must not include malware or contain pop-ups
Apply for Google Adsense Account:
Now that your website is ready to be accepted, We can apply for a Google Adsense account and see if it gets accepted on the first try!
Here are the steps to apply:
Comply With AdSense Program Policies
Ensure that your site complies with Google Program policies before you sign up. Keep in mind that Google may change their policies at any time, and per their Terms and Conditions, it's your responsibility to keep up-to-date with them.
Go to: Google Adsense Signup Page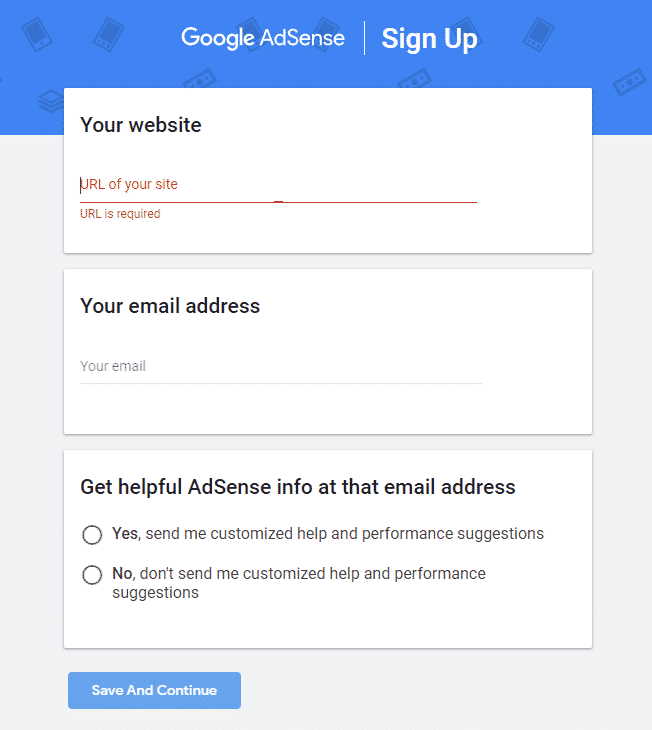 You'll get You'll to either sign in with your current account or create a new Google account. Choose according to your preference. After signing in with your Google account, you'll go next step, where you add your website domain name.
Add your Website in Adsense
It's pretty simple. Just add your website address and select your website's language. When adding your website URL, omit HTTP://. Just enter your domain name.
Then click Save and Continue, and you'll be routed for the last step. You should pay attention to this one because you have to add details that you might never get to change. Make sure to add the correct name and address details and that you have a Bank account with the same name.
Some interesting topics for you:
Google will be sending you payments to your chosen name for the rest of your life. So don't make mistakes. If you signup as Business, you'll be getting payments to your Business name.
In many countries, Google doesn't allow changing of Payee name. Here is the list of countries not allowed to change the payee name after signing up.

Create and Get Approved Google AdSense Account
Next, you might need to verify your phone with Google Adsense for some countries. They'll send you a PIN via SMS that you'll need to enter and verify your mobile number.
After verification, it'll show it'll Google the terms and conditions window. Read all the TOS carefully and click accept.
Log-in Your Adsense Account
After logging in to your AdSense account, you have to connect your site to AdSense by placing code into the HTML of your site between the <head> and </head> tags.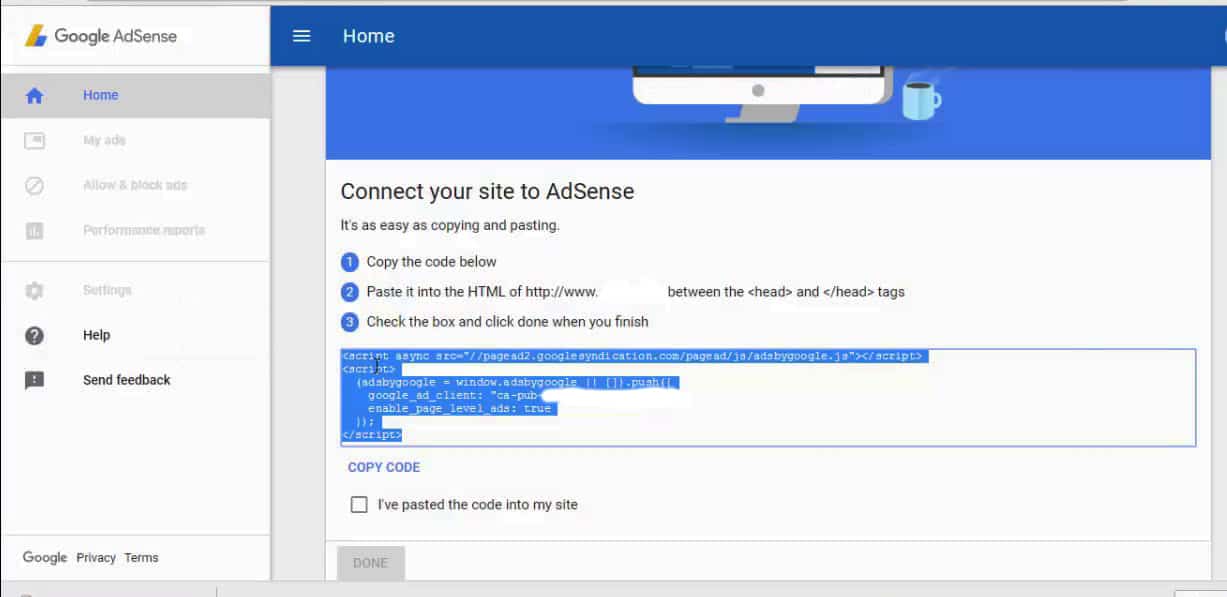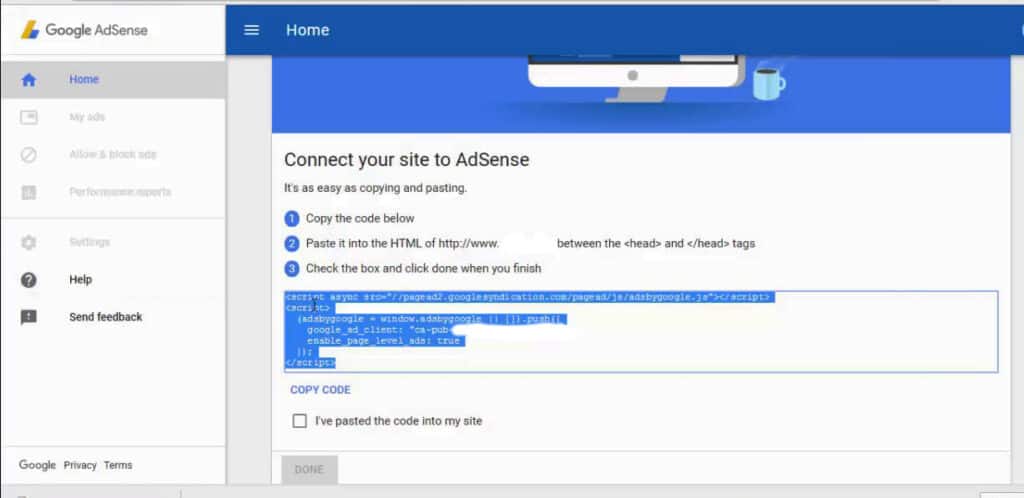 GOOGLE ADSENSE CODE EXAMPLE:
<script data-ad-client="ca-pub-xxxxxxxxxxxx0000" async src="https://pagead2.googlesyndication.com/pagead/js/adsbygoogle.js"></script>
Do not mess with ad placement, ad code, or use spammy methods to drive traffic during this time, or google will disqualify your application.

Create and Get Approved Google AdSense Account
After completing all steps and clicking on the done button, you will see the following pop-up message (Code was found):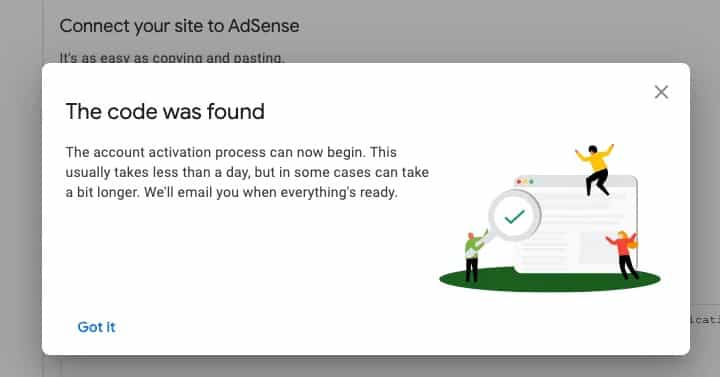 After placing the ad code on your website, Google will review your account.
Final AdSense Activation or Approval
After 24 hours, You will hear from Google regarding the status of your application. You will get a response from the Google AdSense Team specialists regarding your application after adding the code to your site.
However, this process may take 1-2 days. Previously, the same procedure was designed to take almost  7-10 days for the AdSense team. Finally, you will receive an email letting you know that your AdSense account has been approved.
If you get approved, that's excellent news. There is no need to worry if you get disapproved. You can make changes to your website according to Google google's reason, and you can resubmit your application again anytime.
If your application is approved, You'll receYou'lle the following email as shown in the image below: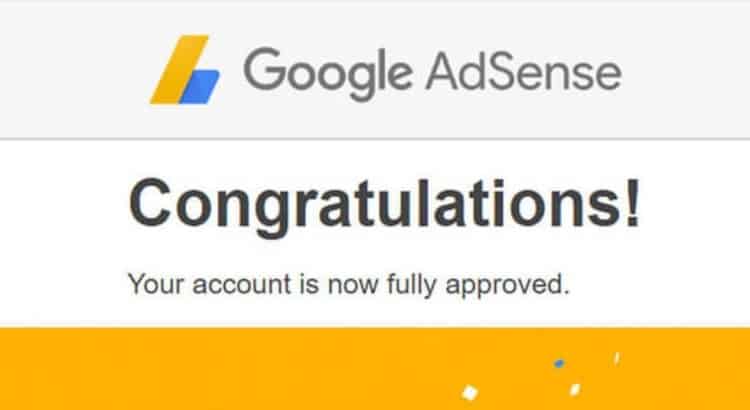 we had tried four times before my Google AdSense account was approved, So don't lose hope
Once you have your AdSense account approved, you can increase Adsense earnings and increase your income.
Chances to get a fast Adsense Approval for a webmaster are less if you primarily use the following words on your blog or website:
Hacking
Ethical hacking
Website hacking
Malware
Spam
FAQs About Create and Get Approved Google AdSense Account
Which type of website is best for AdSense?

Blogs have consistent and unique content published on them that is best for google AdSense, but forum sites and free online tool sites are also good to make money with an approved Google AdSense account.

Is Google AdSense safe?

Google AdSense continues to be very safe and stable to earn a decent income online. It would be best if you played by the rules. If you want to know more, be sure to check out our resources pages and knowledge base articles.

How do I change ownership of AdSense?

You cannot transfer an Adsense account from one person to another. If a website is sold with advertising via Adsense as a revenue source, the new owner will have to create their own new Adsense account to have advertising present.

Can I cancel my Google AdSense account?

To permanently cancel your account: Sign in to your AdSense account. Click Account. In the "Account Information" section, click cancel account.

Does AdSense only pay for clicks?

Adsense pays you for clicks or simply for views, also referred to as impressions. However, regardless of the niche, you're in, the average CPM is usually between $1 and $1.5 per 1,000 impressions.
Conclusion – Create and Get Approved Google AdSense Account
These are the exact steps that we have used many times to get our website, some business entities, or others' accounts approved to Google Adsense. They are relatively straightforward but trust us, lots of people never get approved.
This could be for several reasons ranging from low-quality content to suspicious activity. But if you follow the steps that we have mentioned above, you should get approved without any issues.
And if you need any help regarding your AdSense account, you can contact us anytime.