Google Search Console is an essential part of every SEO toolbox, but how can you fix Google search console errors if you get an email from Google about errors from your website? Google search console helps in monitoring and correcting the errors in your website. Google Search Console allows you to analyze how your website is performing well.
It helps you understand the factors that help with the organic results. Google search console allows you to submit new content for crawling and indexing to improve your website visibility in the SERP.
Understanding Google's Indexing Process
For your website to show up on search engine results pages (SERPs), it must go through the following three processes:
Discovering:
It must first discover it before Google can crawl and index your site. The most common way to discover a website is to process its XML sitemap. Google can also follow on and off-site links to discover websites and other methods.
Besides indexing errors, issues can arise during the discovery process as well. You can upload your XML sitemap to Google Search Console to ensure it discovers your site.
Crawling:
Once Google discovers the site, it's in the queue for crawling. During a crawl, Googlebot will gather the metadata, title tags, alt tags, and more for indexing. Once the crawl is complete, it will request indexing.
Indexing:
This is the last phase of the process, where Googlebot attempts to make sense of the information from the crawling phase. In other words, the indexer will determine how relevant the content is for a search query.
As you can see, your website must pass the indexing phase to appear on search engines. Errors can occur during each phase, so it's critical to familiarize yourself with Google search console error reports.
What Are Search Console Errors?
One of the features of the Search Console is the ability to see any errors that your website is experiencing. These errors can range from issues with your website's structure to problems with your website's content.
What Are Search Console Errors?
Search Console errors are messages that tell you something is wrong with your website. These messages are divided into three categories:
Indexing errors
Crawl errors
URL errors
Indexing errors are the most common type of error. These occur when Googlebot is unable to index your website's content. Crawl errors occur when Googlebot cannot crawl your website's pages, and URL errors occur when something is wrong with a specific URL.
Examples of Google Search Console Errors Notifications
If the Google search console detects any new index coverage issue on your website, you will receive an email from Google. These errors can be fixed and resolved in the Google search console.
If you've logged into the Google search console recently, you most likely have seen some of these notifications:
Submitted URL not found (404)
Redirect error
Submitted URL marked 'noindex.'
The submitted URL seems to be a Soft 404
Server error (5xx)
Soft 404 errors
Text too small to read
Clickable elements too close together
Content wider than the screen
The submitted URL has a crawl issue.
Site not mobile-friendly
Discovered – Currently Not Indexed
More related articles for you:
Don't freak out when encountering issues in your Google Search Console account. Errors are common and anticipated in many situations.
Your first goal should be to resolve any CRAW ISSUES or NOT FOUND (404) issues, as these errors directly affect your rankings.
1. Redirect Error
This is when a redirect to a page isn't working correctly. Check your .htaccess file and redirect rules to sort these Google search console errors.
2. Submitted URL Not Found (404)
This is probably the most common coverage issue from Search Console. It means a page submitted to Google returns a 404 status code. This usually occurs when a page is deleted from a site but not from the sitemap.
Checking for errors in your Search Console should be a part of your SEO routine. Always optimize all your pages.

Fix Google Search Console Errors
Sitemap WordPress plugins such as Yoast will automatically delete them from the sitemap. Still, removing the page from the sitemap will have to be done manually for non-WordPress sites.
3. Submitted URL Excluded as Soft 404
If you're habitually using the URL inspection tool to speed up the indexing process for your pages, this notification may bother you.
The Googlebot will periodically crawl your website, looking for updates and new pages. For well-maintained websites, you can expect your pages to index in hours – for some websites, this could mean waiting days or weeks to index. But according to us, you don't need to worry too much if you get these Google search console errors.
4. Submitted URL Blocked By robots.txt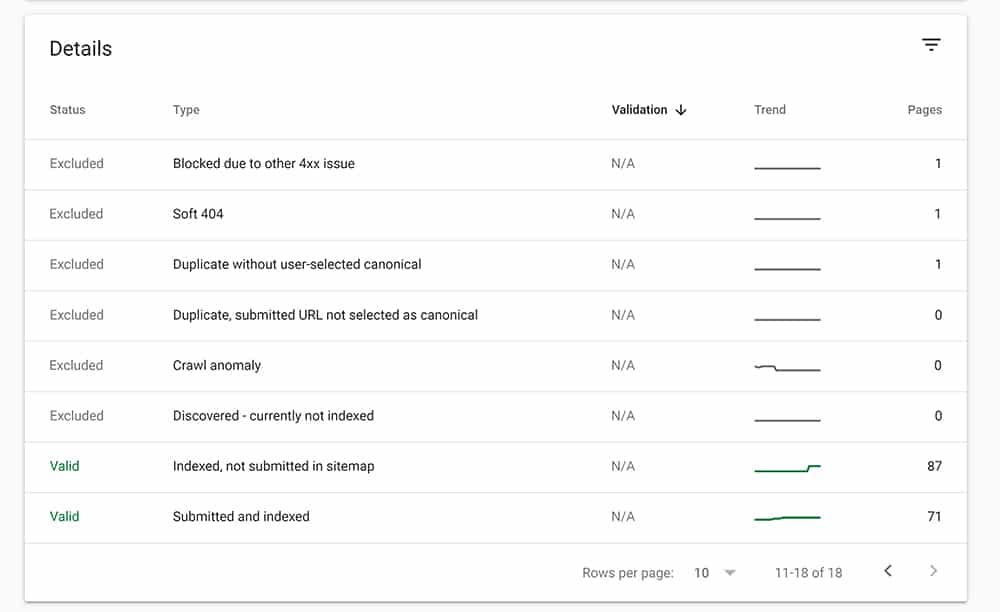 These URLs are blocked because of the site's robots.txt file and are not indexed by Google. This means Google has not found signals strong enough to warrant indexing these URLs. If they had, the URLs would be listed under "Indexed, though blocked by robots.txt.
5. Indexed, Though Blocked By robots.txt
The robots.txt file instructs Google's bot on which page to view and which should not be considered. When you have submitted a web page for indexing, it's blocked by the robots.txt file. This error means "Google has found your page and has instructions to ignore the robots file.
Use robots.txt tester to test and validate your robots.txt files.
6. Server Errors (5XX)
It means your server returned a 500-level error when the page was requested.
A 500 error means that something has gone wrong with a website's server that prevented it from fulfilling your request. Something with your server prevented Google from loading the page in this case.
First, check the page in your browser and see if you can load it. If you can, there's a good chance the issue has resolved itself, but you'll want to confirm.
Email your hosting company and ask if the server has experienced any outages recently or if a configuration might be blocking Googlebot and other crawlers from accessing the site.
7. Alternative Page with Proper Canonical Tag
These URLs are duplicates of other URLs and are properly canonicalized to the preferred version of the URL. Action required: none.
8. Soft 404 Errors
If your page is moved, replace them with the permanent 301 redirect, which is the proper way of redirecting your users. Use the URL inspection tool if it throws a soft 404 Error by mistake. Sometimes the error is thrown just because of the Thin and Duplicate content. Sometimes it might be due to some technical glitch that leads to duplicate content issues.
9. Mobile Usability Issues
With Google's push towards mobile-first indexing, you want to ensure your website works well for smartphone users. Here's how to find mobile usability issues in Google Search Console:
Click "Mobile Usability" (under Enhancements).
Make sure that "Error" is selected.
If there are any errors, you can go to the Details box and learn which Errors are causing mobile issues.
You can also double-click on any Error type to see the affected page URL.
10. Excluded by Noindex Tag
The "noindex" robots meta tag tells Google to "not index" this web page. Your page must be crawled and indexed by the Googlebot to appear in a Google search result. So if you have set a page to "noindex," it will not appear in any Google searches.
How To Fix Excluded by Noindex Tag Error:
This problem involves changing the meta tag from "noindex" to "index." How you do this will depend on your CMS.
In WordPress, you may have a Yoast plugin, which offers page-level and sitewide settings to noindex certain content types.
After removing the tag, resubmit the URL to Google through the URL inspection tool.
You may also like to read:
11. Discovered – Currently Not Indexed

Cause: Google knows the page exists but was unable to crawl it.
Fixing this error: Make sure Googlebot can access your site, isn't bogged down by an excessive crawl delay (specified in your robots.txt file), or is generally overloaded.
12. Duplicate Without User-Selected Canonical
It seems that there are duplicate pages for this topic. The copy you're looking at is not canonical, and we believe Google has chosen a different page to be authentic. If you inspect Google's search results, it will show what they have deemed as most accurate.
You must start working on your most valuable URLs (usually your 'money' pages) to bring your webpage up in search engine rankings. If these should not be indexed, add canonical URL tags and use meta robots tags or X-Robots-Tag HTTP headers. When Google indexes a page, they may show you their preferred URL version through their URL Inspection tool.
13. Blocked Due to Access Forbidden (403)
Googlebot is a bot that crawls the internet and indexes pages. It never provides credentials, so it should not be given an error for requesting them. This error should either be fixed, or the page should be blocked by robots.txt or noindex.
Make sure that Google has access to URLs you want your site to rank with. Applying noindex (either in HTML or HTTP header) might be best if any other URLs are listed under this issue.
FAQs About How to Fix Google Search Console Errors
What is Google Search Console?

Google Search Console is a free service offered by Google that helps you monitor, maintain, and troubleshoot your site's presence in Google Search results. 

What is the coverage issue in Google Search Console?

The New Index Coverage Issue notices are part of Google's rollout of a new Search Console. It shows how well Google has indexed a site, showing changes over time. It also presents warnings about error URLs and indexing issues.

What is an HTTP 404 error in Google Search Console?

The HTTP error 404, more commonly called "404 error", means that the page you are trying to open cannot be found on the server. This is a client-side incident, meaning the page has been deleted or moved.
Conclusion – Fix Google Search Console Errors
We have covered some common Google Search Console errors and their cause and fixed them in simple steps. With the help of tools, you can quickly fix any Google search console errors. Identifying the errors becomes more straightforward and helps you improve the rankings.
Make sure your pages can be crawled and indexed by Google with no problem. While submitting a sitemap does not directly affect your rankings, it will help Google notify you of any errors that might negatively impact your website's rankings.