Are you new to WordPress? Are you looking for the best WordPress SEO tips to boost website rankings? If so, these best WordPress SEO tips for WordPress beginners to boost their website rankings are the right place for you. We are here with some best tips for WordPress beginners.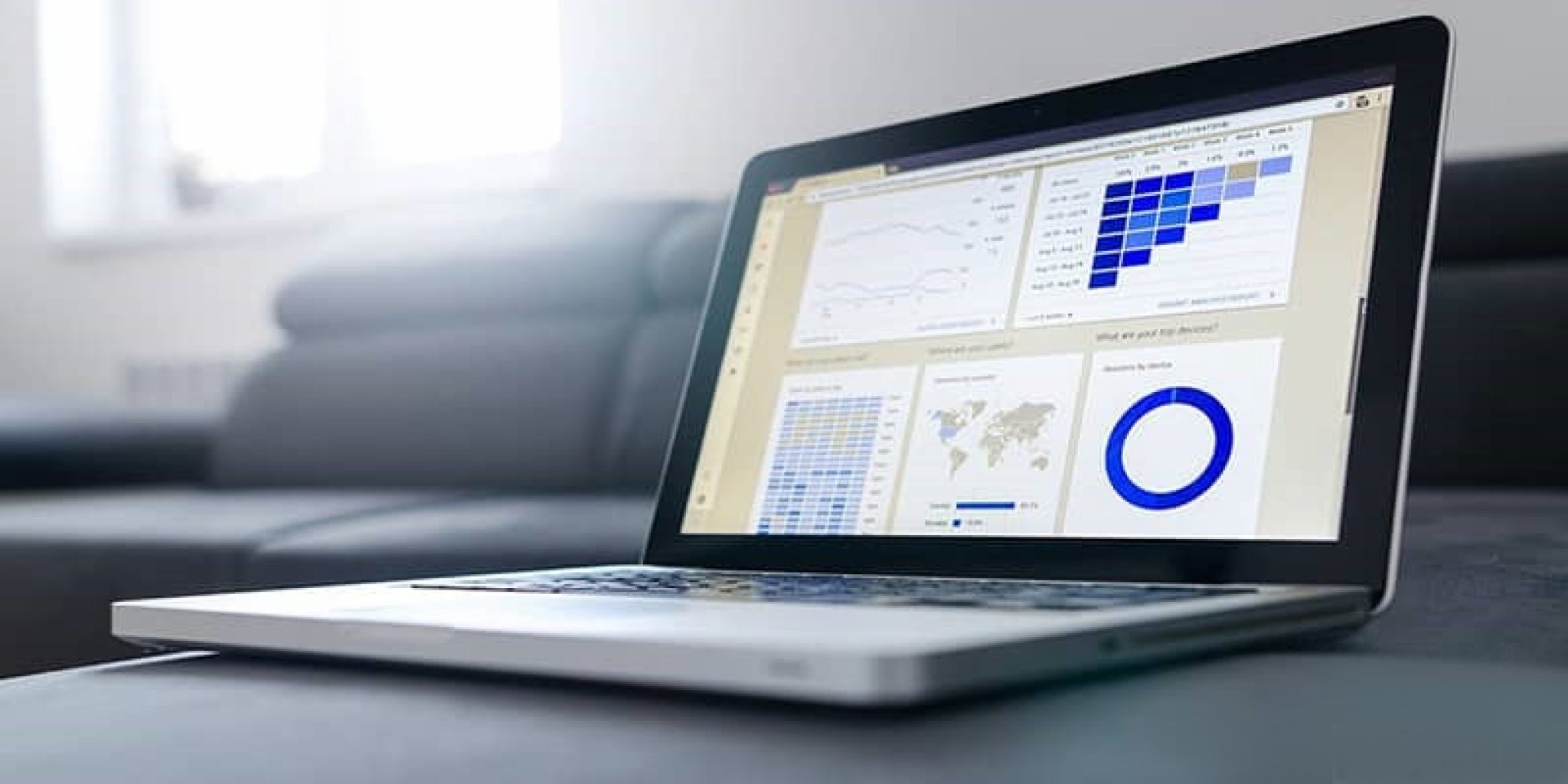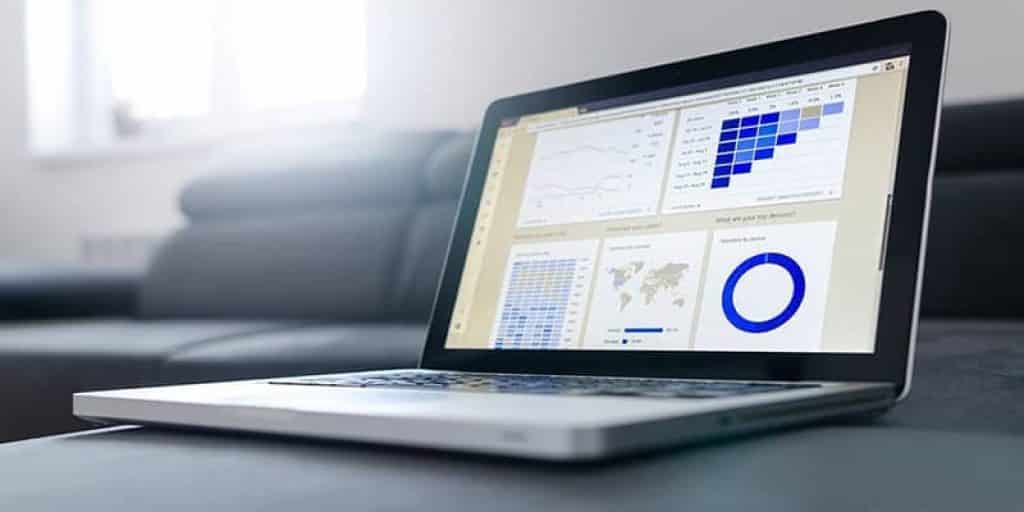 WordPress Community is always good about what advice they would give to new people. Most of us are new to WordPress, and many websites are inaccessible today. WordPress asked designers, developers, hosting companies, security experts, themes shops, etc., to provide further suggestions and advice to beginners.
In this article, we'll explore some tips for WordPress users with the best WordPress SEO tips to boost website rankings and the offers the WordPress community recommends to beginners, the advice to beginners' by the WordPress community.
Top Options to Boost Website Rankings
Let's quickly review the 15 best WordPress SEO tips to boost website rankings and increase the search engine score checklist:
1. Create audience profiles to understand your readers.
Before you start creating content for your blog, it's essential to spend a little time understanding your target audience and what they are looking for.
2. Do some keyword research to plan your content strategy.
Usually, beginners rely on their best guesses when creating content. As you can imagine, this strategy is a hit or miss.
3. Create quality and engaging content.
You need to understand that many people have great experience in the same niche as you. Ensure you write a blog post to solve these readers' problems and give them a rich reading experience.
4. Customize permalinks for best results.
You can optimize your content by ensuring the URLs of your blog posts contain relevant keywords.
5. Create an XML sitemap for your website.
XML Sitemaps are maps for Google written in the eXtensible Markup Language (XML). These are text lists of your website's pages, posts, tags, categories, and other information. The format makes it easy for Google to find all the critical pages on your site.
6. Always use Google Analytics.
It's impossible to know how well your site is doing without measuring its performance metrics. WordPress alone won't give you enough information, .but by installing a plugin, you'll get insight into how site visitors behave on your pages. MonsterInsights is a top option for this.
7. Choose a quality hosting provider.
Your hosting provider plays a significant role in your website's SEO. If your site is slow or unreliable, it will be penalized by search engines. Choose a hosting provider with good uptime and performance and a good reputation for SEO.
8. Use an SEO-friendly WordPress theme.
The theme you choose for your WordPress site can significantly impact its SEO. Look for a well-coded theme with SEO features like title tags, meta descriptions, and schema markup.
9. Install an SEO plugin.
There are several SEO plugins available for WordPress. These plugins can help you with keyword research, title tag optimization, and internal linking. A good SEO plugin can make a big difference in your website's SEO.
10. Optimize your title tags.
Your title tags are one of your website's most important SEO elements. They are the text that appears in the search results, so they need to be well-written and optimized for your target keywords.
11. Write meta descriptions.
Meta descriptions are the short snippets of text that appear below your title tags in the search results. They are essential for click-through rates, so ensure they are well-written and informative.
12. Use proper heading tags.
Heading tags structure your content and make indexing easier for search engines. Use heading tags correctly throughout your content to improve your SEO.
13. Create long-form content.
Long-form content is more likely to rank well in search engines than short-form content. So, to improve your SEO, focus on creating high-quality, long-form content.
14. Build internal links.
Internal links are links from one page on your website to another. They are essential for SEO because they help search engines understand the structure of your website and the relationships between your pages.
15. Get backlinks.
Backlinks are links from other websites to your website. They are one of the most important SEO factors, so building backlinks to your site is essential. The graph below shows how SEO scores increase as backlinks increase.
This graph has a linear relationship, with the SEO score increasing by 1% for every 100 backlinks a website has. You can build backlinks by guest blogging, submitting your site to directories, and participating in social media.
16. Keep your website up to date.
Search engines love fresh content, so updating your website with new content is essential. This will help you attract new visitors and improve your SEO.
These are just a few of the best WordPress SEO tips to boost your website rankings. Following these tips can improve your website's visibility in search engines and attract more visitors.
Examples of SEO Tips to Boost Website Rankings:
Title tag: "How to Start a WordPress Blog."
Meta description: "Learn how to start a WordPress blog and create a successful online presence.
Heading tags:

H1: How to Start a WordPress Blog
H2: Choosing a WordPress Theme
H3: Installing an SEO Plugin

Internal links:

Link to your "WordPress Themes" page from your "How to Start a WordPress Blog" page.
Link to your "SEO Plugins" page from your "How to Start a WordPress Blog" page.

Backlinks:

Get a backlink from a relevant blog in your industry.
Get a backlink from a directory that is relevant to your niche.

Fresh content:

Write a new blog post every week.
Update your existing blog posts with new information.
These tips are based on the latest SEO best practices of 2023. They are designed to help you improve your website's SEO and rankings. Following these tips can make your website more visible in search engines and attract more visitors.
It's important to note that SEO is an ongoing process. You need to continually optimize your website and create new content to improve your rankings, but still following these tips, you can get started on the right track and improve your website's SEO today. Now let's get some more details below to better understand how SEO works and what else you need to improve on your website for better rankings in search engines.
You may also like to read:
Get Involved with WordPress Community
WordPress has a firm and fixed community with active contributors from all over the world. If you wish to learn the best WordPress SEO tips to boost website rankings and get help will take you far. You have a lot to learn, but the natural way is to ensure you're learning the right way to do things.
It means that the more you learn, the more you can give back, helping the community to grow fast. As you give back, you get real help to learn even more.
Be a part of the WordPress community. That is the way to brighten your skills and experience. And help you to learn more about boost website rankings.

Best WordPress SEO Tips to Boost Website Rankings
The second best thing about associating with the community is making friends and creating a support network. The network could be beneficial if you go wrong in the future to help you with the best WordPress SEO tips to boost website rankings.
Create Evergreen Content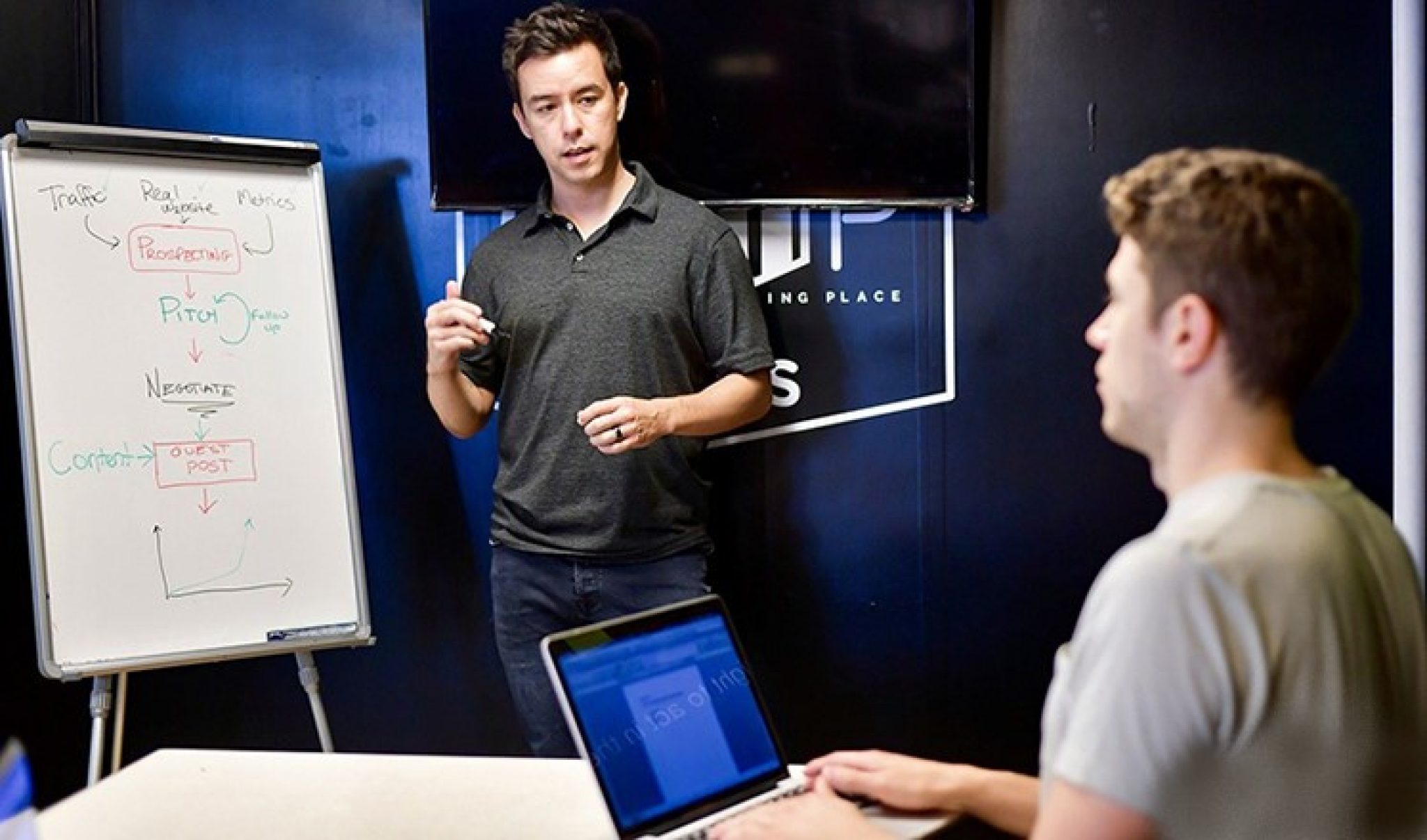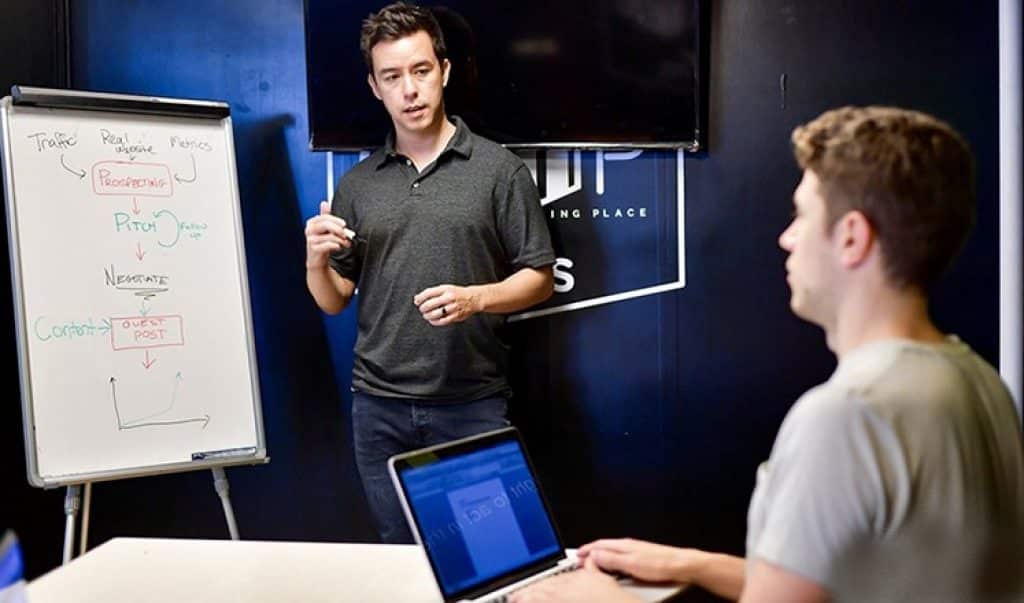 Evergreen content can be a powerful driver of organic traffic to boost website rankings. This content style will always be relevant as it lacks timely information.
Evergreen content is valuable in that it doesn't lose its relevancy. This means you can continually share, promote, and pick up backlinks to this content. This style of content will typically hold top-ranking positions for years.
Never Fear to Experiment
In SEO, there's no shortage of theory and best practices. But experimentation is what keeps this great industry moving forward. It's also an excellent way to learn to take stuff apart and put it back together to boost website rankings. It will help when you want to break anything or fix anything.
Experts say that always be fearless, even if things are going wrong. You can install a new copy of WordPress and start again. You can also add content to your website, utilize it, and try out themes and plug-ins. It is easy to take your time troubleshooting without worrying about your website being down.
Use Targeted Titles and Descriptions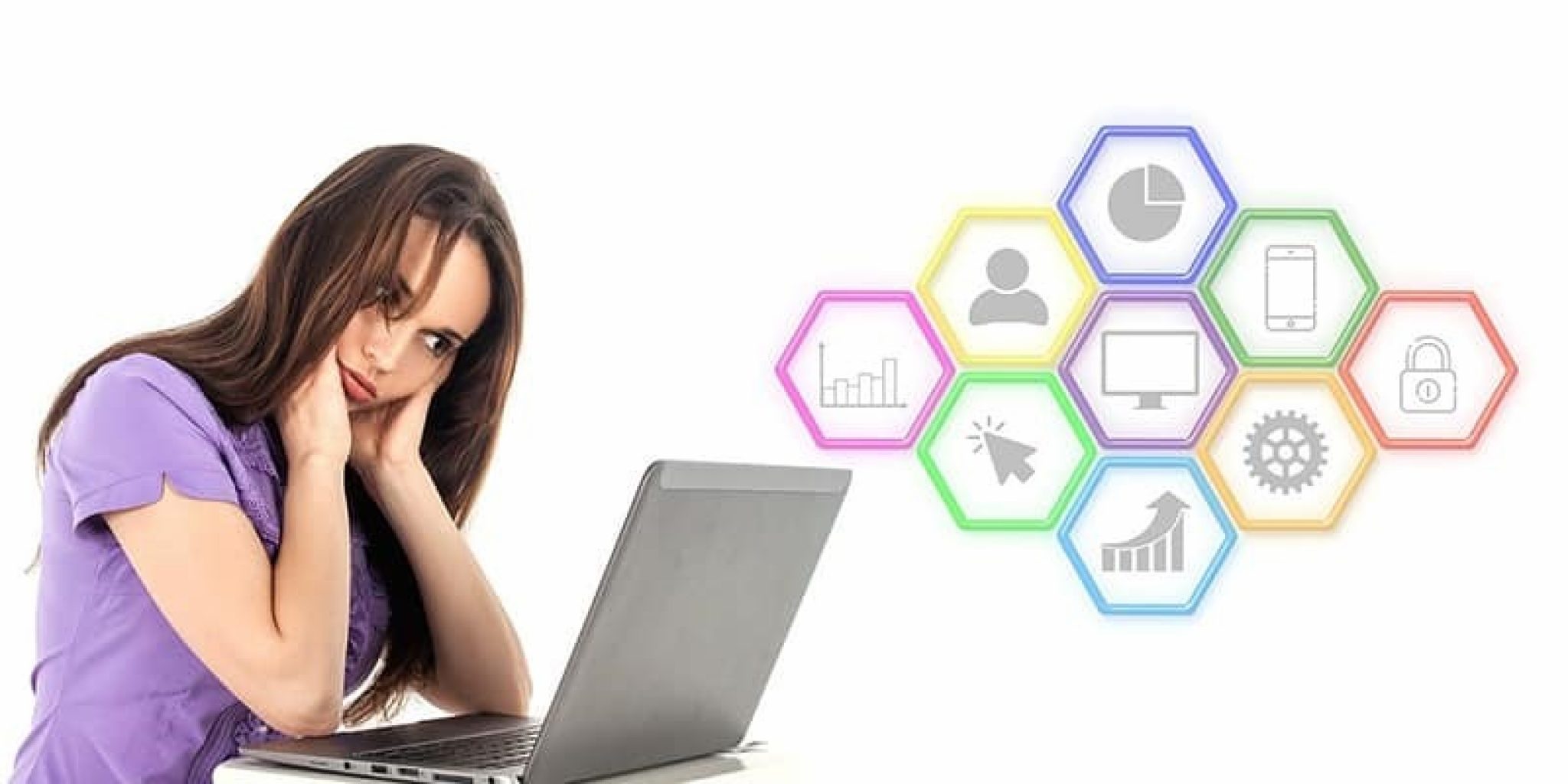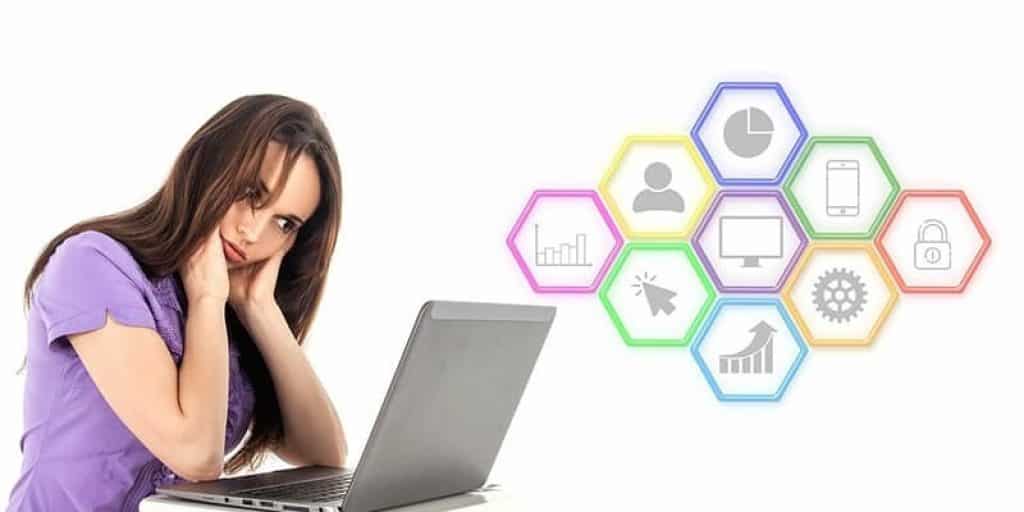 Whenever you share your posts on Facebook, Twitter, and LinkedIn, these services pick up a page title and description to go with the link you share.
When your page turns up as a result of a search engine, the title and description are what people use to decide whether or not to click on your link. Page titles are also essential for search engines to boost website rankings.
Try Read & Write to Boost Website Rankings
As your internet is full of relevant information makes you confused about where to start. A great place is WordPress.org, and both forums and Codex are ways to learn how WordPress works. You can have a few pieces of advice outside of the Codex. WordPress has made it easy to achieve your goal by learning the tutorials and boosting website rankings. Also, people read fewer instructions than it has ever been.
When you start writing blogs, if you find a solution to any WordPress problem, share it with the community. It is the way you are helping people who have the same issues.

Best WordPress SEO Tips to Boost Website Rankings
It will also help you in the future when you go wrong; someone will tell you the better way to do it. Moreover, when you feel comfortable writing on your blogs, try writing on WordPress Codex. It is the platform where you can examine whether you can make your ideas as same in writing as it is in your mind to create engaging content to boost website rankings.
Optimize Images for Search Engines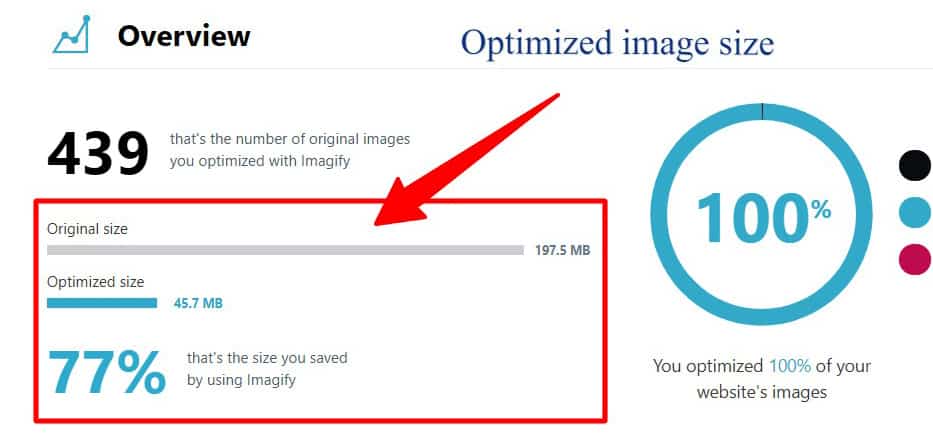 Using images throughout your content will create a better quality reading experience. This will help keep your users engaged, giving positive website performance indicators. But, beyond adding images to your site, you can also optimize these to improve your SEO.
Choosing the correct file name is essential for your page SEO and ranking in image search results, and this is one of the best WordPress SEO tips to boost website rankings. Before uploading any image, name the file with relevant, descriptive keywords to get the most SEO power.
If you compress an image too much, the file size is small, but the image quality is poor. On the other hand, the image quality is high when you use a low compression rate but a huge file size. Ideally, it would be best to experiment with your file types and compression rates to see what works best for each image.
WordPress plugins for image optimization, best WordPress SEO tips to boost website rankings:
All of the images on your site should have unique alt tags describing them, and many should include relevant keywords. You should add alt tags to every image on your website as a part of your SEO image optimization.
Don't Neglect Internal Linking
Internal links allow you to present all the related content to Google and your visitors. They simplify search engines' navigation process and won't leave this advantage without attention.
Google regularly crawls the web for fresh content. If your content is woven together with multiple internal links, crawling will happen a lot faster.

Best WordPress SEO Tips to Boost Website Rankings
When you create an internal link with anchor text instead of an image or navigational text, the value of the internal link goes up. Anchor text improves the link's value by adding keywords and content to the linking process.
Make your Content Shareable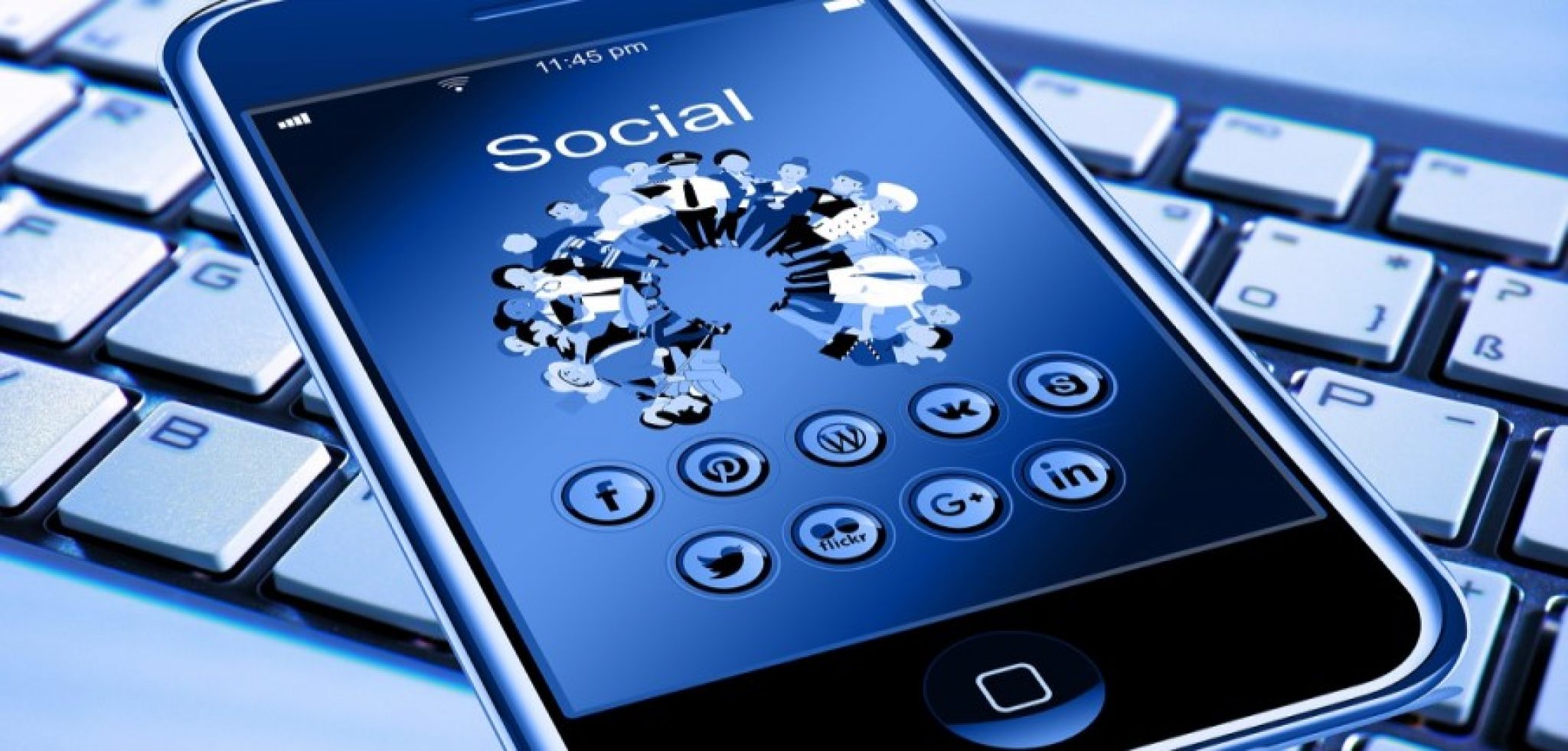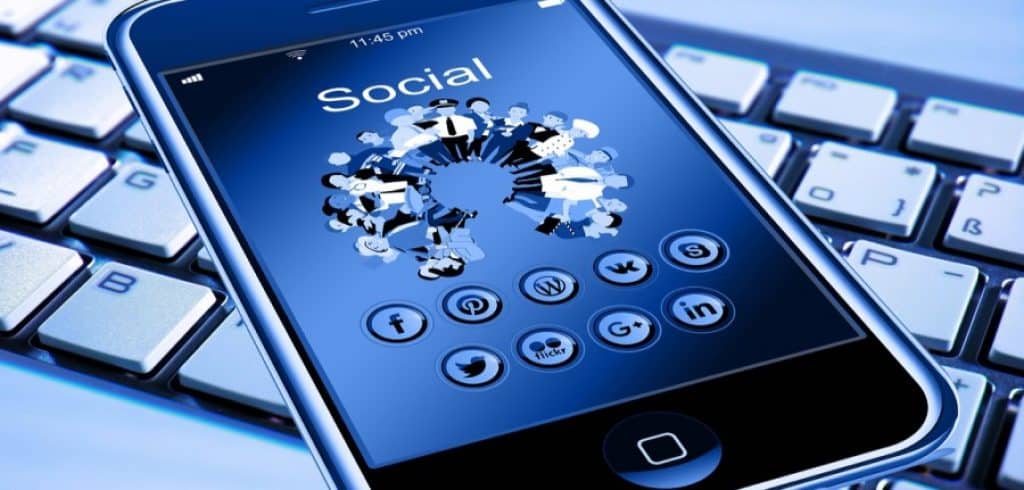 Social Media has gained massive popularity over the past few years. Today, almost every web user is active on various social media networks such as Facebook, Twitter, Linked In, Pinterest, and so much more. Making your content shareable allows your readers to share it across different social networks while driving massive traffic to your site.
Adding social sharing buttons to your website drives traffic and improves your website's credibility. So, never take social media power for granted.
Create an XML Sitemap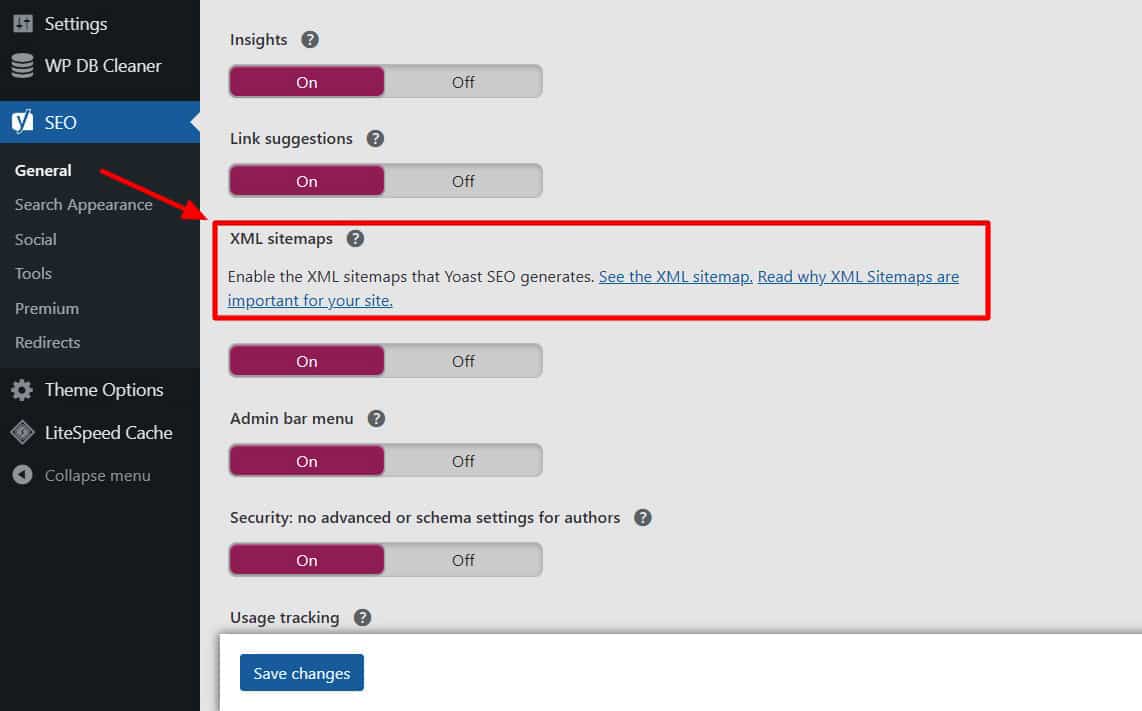 XML Sitemaps are maps for Google written in the eXtensible Markup Language (XML). These are text lists of your website's pages, posts, tags, categories, and other information. The format makes it easy for Google to find all the essential pages on your site.
If you've already installed Yoast, the XML Site Map should've been created automatically. You can check this by going to SEO > General and ensuring the XML sitemaps buttons are set to On.
If you don't want to use Yoast, try the classic plugin Google XML Sitemaps.
Try Table of Contents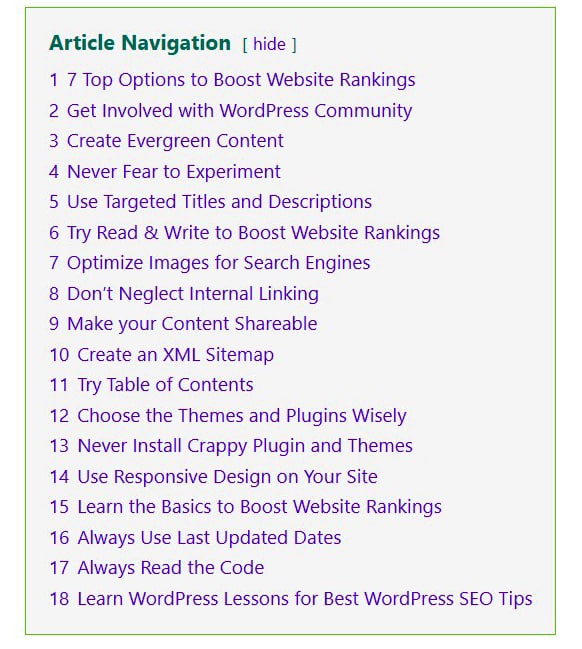 We've already mentioned that Google appreciates long posts. However, long texts are hard to navigate for users. Add a table of contents, and search engines will notice your attempt to make your site more comfortable for visitors. As a rule, a table of contents increases your readers' time on your site.
Choose the Themes and Plugins Wisely
Everyone at the beginning of WordPress prefers free themes and plugins excitedly. Keep in mind that free things are not essential to be good. It's the same in WordPress; it doesn't do well if something is commercial.
There are more than dominant, secure, free WordPress themes and plugins and plenty of poor-quality commercial themes and plugins. We will clarify their differences with the best WordPress SEO tips to boost website rankings.
Never Install Crappy Plugins and Themes
Never install a crappy plugin and themes. If you are not confident in knowing which one is good, ask someone to help you while choosing. You must avoid using Google to search for free themes and plugins and stop searching for other websites. Whatever you need, take it from a reputable plugin and theme shop.
More interesting articles to read:
Use Responsive Design on Your Site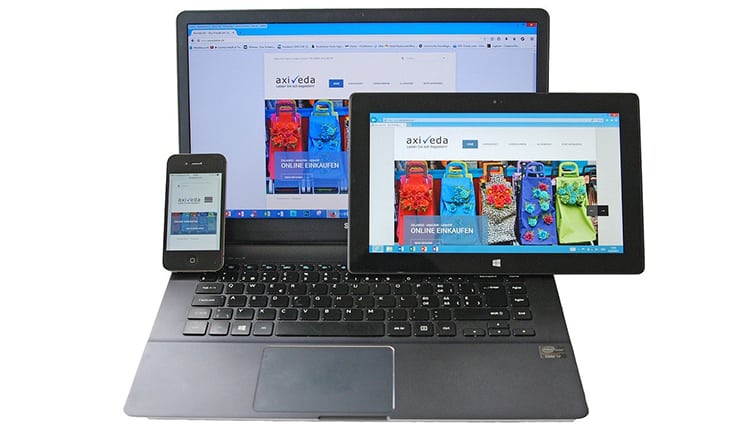 We live in a multi-screen society. Because of this, your site needs to be viewable across as many devices as possible because you never know what device someone will use to view your website.
For example, 61% of mobile users say they will leave your website immediately if they cannot find what they are looking for or if your website won't load the information.

Best WordPress SEO Tips to Boost Website Rankings
More people than ever are using mobile devices to browse the internet. This means your site needs to look and perform as well on any device a visitor happens to be using. You can ensure this by following the responsive design strategy — in other words, designing your site to adapt to each user's device.
Learn the Basics to Boost Website Rankings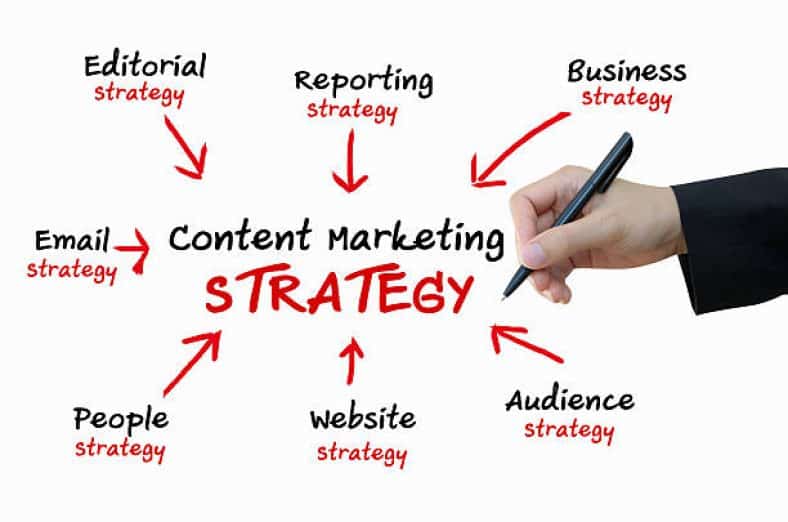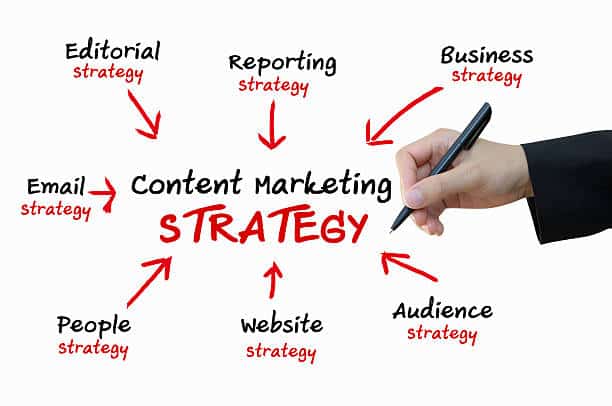 According to theme development, some experts have learned that default themes are more straightforward than the latest. For example, Twenty Twelve is the newest default that shows WordPress as beautiful but not a helpful tool for beginners. The following are suggestions for beginners looking for more specific themes to learn and boost website rankings.
Extra Best WordPress SEO Tips to Boost Website Rankings
Always Use the Last Updated Dates
You should regularly update your evergreen content to ensure it is always current and relevant. This is the best practice in WordPress SEO tips to boost website rankings. Still, whether you should change your pages and posts' original publishing date, remove dates altogether, or something else.
One suggestion is to use 'last modified' or 'updated on' to show users and search engines when your content was last updated, giving them the confidence that the information is current and relevant. You can easily add the last modified/updated info on your WordPress pages and posts using the WP Last Modified Info plugin.
Always Read the Code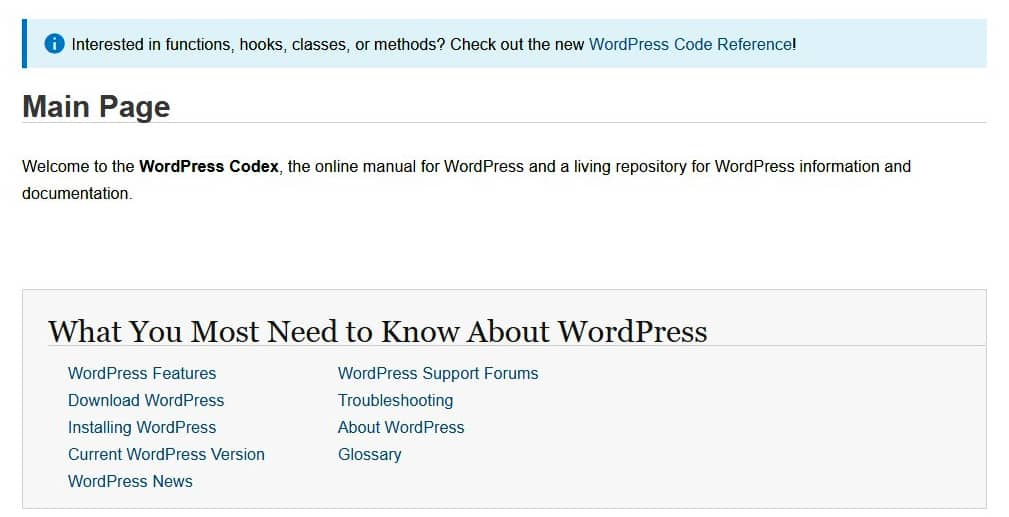 You are not supposed to look only at Codex or online tutorials; this will take you to start but won't provide you with everything you need to be a developer. According to the documentation, the code is supposed to do what the system says it does.
All the documentation can lag behind the code; for example, the core patches are merged when core. Moreover, when you poke around the code, you might notice other things that are getting helpful. Also, you can file them away for the upcoming time or future.
Learn WordPress Lessons for the Best WordPress SEO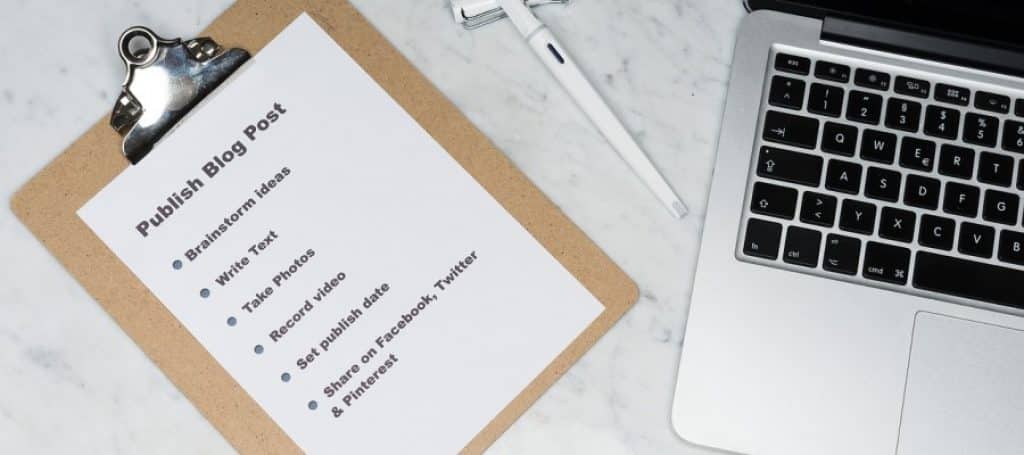 When you sit down to find something on the internet, there's one place you turn: a search engine like Google. If you want to get your website noticed, you'll need to ensure that it appears in searches on Google and similar sites. Most importantly, you'll want your site to appear as close to the top of the list as possible.
WordPress on its own isn't a replacement for a solid SEO strategy. While there is no denying that the CMS saves you time and helps you adhere to best practices without experience, you need to understand that you need to put in the effort to rank your website on Google.
The best way to start with WordPress is to check out the guides and tutorials on the official site. Here you'll find whatever you need to become a WP expert.
FAQs: Best WordPress SEO Tips to Boost Website Rankings:
How to get traffic to a new blog?

If you're a blogger and not on Pinterest, drop everything and get on Pinterest. There're a lot of ways to use Facebook Groups for traffic. Answer questions. You can ask questions. Make posts sharing value. Be visible.

How does a new blog grow traffic in 6 months?

Keywords are absolutely crucial for your blog to be found organically.  Google's Keyword Planner to help me research keyword ideas. 

What are the best tricks to boost my website performance to 100%?

Compress images using Smush. Using BJ Lazy Load for an image loads conditionally when the reader scrolls to the page's bottom. An alternative is a CDN or a Content Delivery Network, a network of web servers such as Incapsula. Also, remember, Make social sharing easy.
Final Words on Best WordPress SEO Tips to Boost Website Rankings:
Each of these best WordPress SEO tips to boost website rankings may seem small, but that's how search engine ranking works.
Those things, in turn, produce a further SEO advantage with the best WordPress SEO tips and give the result that your page goes up another position in the rankings.
If you are running WordPress, you have made a good choice. By following the steps above, you are putting yourself in a great position to outrank your competitors.
Finally, beginners' last advice is to set something basic up quickly and start writing if you have an idea for the blog or website. We hope you can take enough help from our site.