Suppose you want to be successful in video content marketing. In that case, you must follow solid steps to build a successful video marketing strategy because video content is the most preferred and efficient media we consume today.
It is as prevalent as texts and photos were fifteen years ago. Videos are the ruling technology in this era and have gained popularity in recent years. The communication systems we use daily, be it YouTube, Instagram, or Netflix, have all developed over the past 15 years to provide video material fluidly.
The problem is that we have become far more open to video than other forms of media. Even the most thorough and elaborately written product description will stay within the degree of interest and readability that a related video would generate. Thus, it only seems fair that people have grown to rely on and even expect the same kind of content from the businesses they interact with.
The necessity of having a solid video marketing plan has expanded immensely over the past few years, along with the expansion of video marketing. The format has wholly taken over the digital world and evolved into the most crucial weapon in the marketing world.
Thus, if you want your brand to catch up, it is time to create videos for your brand and market them across all communication platforms.
While there are social media dos and don'ts that all companies need to follow for better marketing strategies, you can bend them to suit your brand. If it is your first time building a video marketing strategy—we are here to ease you.
Why Should You Focus on Video Marketing?
An impressive 86% of marketing professionals use video to generate and convert leads, and that's not without reason. Here are some critical indicators that investing in your video marketing strategy could be your best marketing decision in 2023
People spend an average of 19 hours every week watching videos online. Also, people typically spend more time browsing websites having videos.
Video content is persuasive and versatile.
Video marketing applies videos' unmatched engaging and convincing power to support every marketing funnel stage and almost every medium, including blogs, landing pages, emails, etc.
Videos attract more traffic and improve conversions.
Video content typically attracts more clicks and raises the site traffic and conversion rate when placed on landing pages. In fact, 84% of people say they were convinced to buy a product or service by watching its brand's video.
Video marketing has proven its effectiveness.
Most video marketers say that marketing videos help them generate more leads, while 31% of marketers add videos to improve SEO.
Videos can also be used to improve customer experience.
Service teams can also use video content to enhance customer experience and loyalty using customer stories, onboarding videos, knowledge-based videos, meet-the-team videos, and support video calls.
Video content aligns with modern devices.
Research shows that video marketing appeals to the growing population of mobile users, with increasing numbers every year of those surveyed using a mobile or tablet to watch online videos.
What is Video Marketing Strategy?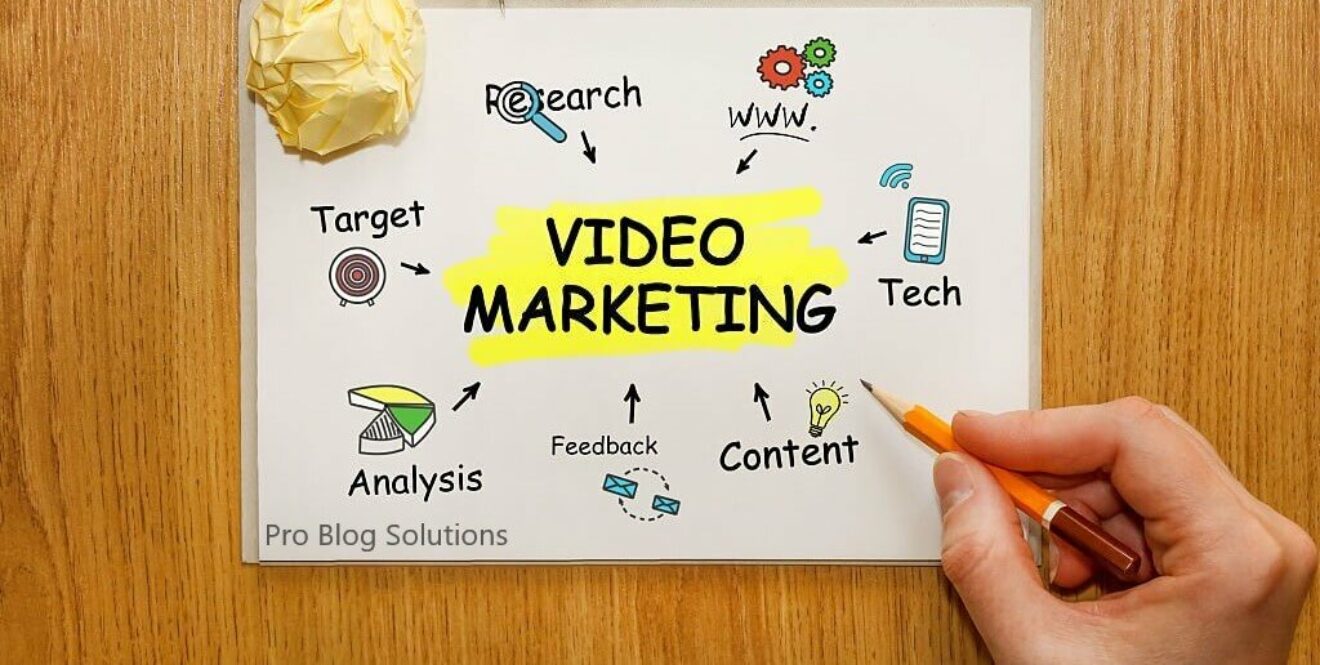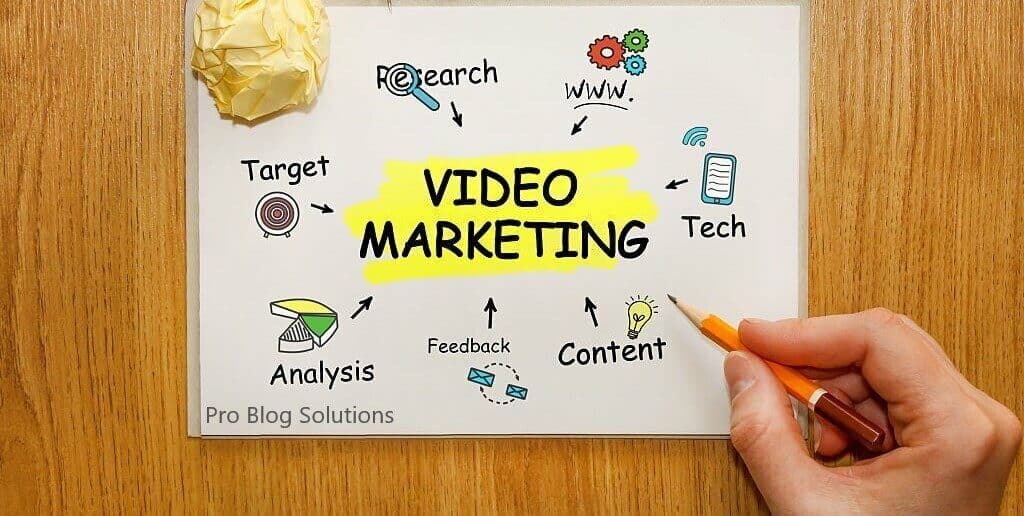 The approach used by marketing teams to produce, curate, and then use videos for advertising their goods or services to their target audience is called video marketing. The goal is to maintain audience engagement with the company in an approachable and understandable manner.
Just as crucial as execution is in your video marketing strategy, so is the content involved. Whether you're new to the field or have been using videos as a part of your marketing strategies for a while, you need a road map explaining its purpose and defining its goals so that success criteria are set. Knowing how much ROI your content generates might mean the difference between flinging spaghetti at the wall and knowing what sticks.
If you've already started using video in your business. Regardless of your start, you must always have a strategy. And if you are starting from scratch, you must work on your plan and implement it immediately. It will become your doorway to achieving your aims by producing video content that speaks to your audience.
Are you trying to wrap your head around how to start this process? Keep reading.
You may also like to read:
Steps to Create Your Video Marketing Strategy
Let the confusion away because we have simplified the process of making a successful video marketing strategy for you. Here is a step-by-step guide to creating a solid video marketing strategy.
Analyse Competition
The first step is to identify your competitors, who they are, what products they offer, how they differ from yours, and so on. Identifying the competitors will help determine your USP and know where you are putting your foot. It will help you gauge the performance of your competitors and get an idea of what is happening in the market.
However, to create a solid B2B video marketing strategy that makes your business stand out, you must first examine how your rivals promote their goods and, more significantly, how they do it using videos. This will give you a comprehensive idea of the kind of strategies you should follow and the ones you should avoid.
To gather such information, you can browse their websites, social media accounts, and other channels to learn how companies use video to deliver their messages and how far it has managed to gather customer support. Observe how additional content, such as emails, blog posts, and other content, affects the effectiveness of different functions and how you can integrate these into your strategy.
This will assist you in discovering market trends and locating any advantages or disadvantages in the video marketing techniques of your rivals and eventually will help you lay a strong foundation for your own business.
Set Goals For Your Videos
Now that you have analyzed your competitors' strategies, the next step in your video marketing strategies is to set goals for your videos. You can arrange plans depending on what you want to achieve through the video and by prioritizing the most critical motive. Your strategy should specify your objectives, guide you in choosing an appropriate target market, and establish key performance indicators (KPIs).
In this manner, you can gauge the success of your video marketing campaigns and, if necessary, make changes in the middle of a campaign. With relevant and specific goals set, you can reach a broader customer base who need similar products. It will increase your reach as well.
Define Your Target Audience
The basis of every marketing strategy is defining the target audience of that campaign. You can set your target audience based on your goals so that you can devise the rest of the design to encompass their concerns and aim to resolve them. With this information, you will be able to create the right content. It is the audience you are making videos for; thus, the video's primary goals should align with the interests and preferences of the audience.
You will know if you need to make an awareness stage video to draw in new clients, a consideration stage video to keep your audience interested, or a video providing relevant information to your audience. The consideration or decision stage video should nurture prospects to make the final purchase.
It should portray your goals precisely to capture the mass's attention. Your videos could also thank customers who have already purchased from you or inspire your company's team and attract more applications for the team. This will help in generating more leads too.
Every customer is unique and has their own individual tastes and preferences. Thus, your video marketing strategy must also be fantastic to meet their requirements. Do not generalize a plan for all types of audiences. Research your target audience by inquiring and collecting information on their age, gender, location, educational background, purchasing habits, preferences, and the types of content they like.
You can use social media platforms like Facebook, Instagram, etc., to collect this kata. It would help if you were acquainted with who and what your audience follows, what they share on their social media accounts and other necessary information.
With a strong AI, you can also use the data on your website to track user behavior patterns which will help you define your audience's habits. The end goal is to create a persona for the buyers in your target audience so you can make content relevant to them and market it the right way.
Share Your Video Content Effectively
Sharing your videos across the right platforms the right way is also a crucial part of your video content marketing strategy.
While creating a video marketing strategy, you should clearly know how you plan to promote your content across different social media platforms.
Here are the top three tips on how to share video content:
Create social media videos and share them on LinkedIn, Facebook, Instagram, TikTok, YouTube, Twitter, and Pinterest
Turn your best-performing videos into ads
Use a social media scheduling tool to plan, recycle and post video content
Define What Story You Want to Tell
Now that you have chosen your goal and know your target audience and their preferences, you must focus on how you will portray your plan in the video. You should do it in a way such that the maximum target audience can be reached and attracted through it. To achieve this, you need to figure out four elements that will form the skeleton of our story.
Protagonist
Conflict
Quest
Resolution
There should be a protagonist with a goal who aligns with your target audience. Usually, these are famous stars and influencers. Then there should be a conflict that reflects the customers' concerns. There should be a quest to introduce the product with the protagonist and conflict.
The product will basically be portrayed as a promising solution to this quest, and finally, the product should be a resolution that would solve the customers' problems. These narrative elements should lead the audience on a journey consistent with your brand objective.
The success of this strategy depends mainly on your choice of protagonist since most people are convinced quickly and more confidently if the person has a higher brand value, i.e., is recognized as a famous human in society. Thus, you can make a good marketing video with a strong protagonist and a good amalgamation of all the other three elements in an orderly manner.
Types of Videos You Can Create
While you will be narrating a story, you want to decide what type of story you want to use because each one has a different impact. Therefore, you must analyze how appropriate each is for your product.
Lifestyle: This type shows beautiful visuals that complement the style and look of your product. It should be at most two minutes and must highlight the outstanding features of your product.
Mini Documentary: Mini-docs focus on the what, why, and how to express your brand's core values and mission. It wraps up within a minute or so and quickly highlights only the critical features to the audience.
Animation: The most significant benefit of animations is that one can use them with other styles. They aid in explaining complex concepts but usually take longer to create.
Narrative: These are the most exciting and entertaining kind. They create a journey through a story and make it a fun experience that can stay with them. It can show the resolution of customer problems and your brand's role.
Customize Your Video Content
Customizing the content of your video is a very vital step to building a good video marketing strategy. As mentioned before, every customer is unique, and so should the content you create for them.
Using your product's USPs and the kind of audience you are targeting to serve, you should customize your video content so that the marketed product or service has a high reach among the audience. It would be helpful if you kept in mind the different marketing channels available. It implies that you tailor each video according to the platform it will be displayed on.
People might assume that all your product tutorial videos are the same if you employ the same jazz song throughout. You won't get the results you desire if you use the same video on your site, blog, Facebook page, Instagram account, YouTube channel, and other platforms.
Even if YouTube is the most widely used video platform, all other platforms require your attention regarding video marketing. So you need to customize your videos according to the viewership on that platform to generate efficient leads from each platform.
Stick to a Deadline and Follow the Posting Schedule
As and when you start building your video marketing strategy, you should formulate a timeline with details on how much time you need for each step in the process. Most people need to know how long it takes to produce a video, which typically takes 8 to 10 weeks from the beginning to the delivery of the finished result. Though it seems a lot, it stands true for at least impressive, completely unique, and captivating compositions.
With deadlines for a task set, you can progress consciously to complete your task on time. It will also motivate you to follow the set schedule. Therefore, each previous activity must have a specific deadline, and then to start the next actual production, there should be a timeline devoted to staying organized.
Instead of posting videos randomly, seeing your videos as campaigns is crucial because viewers demand frequent videos and content updates. With the hectic work and more last things to tend to, there are high chances you might get irregular in posting your videos.
This will reduce your visibility, and eventually, customer engagement will also be less. Instead, telling stories, dividing them into portions, and uploading a new installment weekly and regularly will be helpful. Make a posting schedule once you have decided on the content of your videos. Setting up and sticking to a regular posting schedule can entice viewers to return for more videos.
Maintain a Realistic Budget
Although thoughtful preparation and planned strategy are both crucial, considering the scenario, achieving what you want will only be possible with the proper and realistic budget. It would be best to plan for the required amount of money and list the resources you already have.
Make a plan of what you will produce or shoot in-house and what you might want to contract to a production company. Decide what you can afford to spend money on and what you may want to save for.
Be careful to do your homework before deciding the type of video you want and how you'll make it because some videos and features may cost you more than others. So, prepare your budget after considering all such aspects and figuring it out so that you can alleviate the fund and money management issues involved while making the video.
Recommended for you:
Find the Right Partner
With the kind of competitors and the variety of content posted these days, it will be essential for you to collaborate with a skilled video marketing agency if you want to step up your game and advance your digital video marketing plan and surpass your competitors.
These marketing agencies have people who are experts in their field and have the skills, ability, and understanding necessary to turn a straightforward idea into a beautiful work of art in such a way that your goals are conveyed well to the viewers and attract the target audience. Honestly, you are spoilt for choice in this case, making it difficult to decide which one is your ideal partner. Below are some vitalities to consider while making a choice:
Optimize Videos With Seo Content
Were you aware that Google indexes YouTube videos? It happens when you use keywords strategically in your video descriptions such that Google identifies them to aid your placement in search results. It allows you to appear more than once in a search when someone looks for your brand and a specific term. You can introduce a team to do this research for you or hire an SEO marketing agency.
You must first identify the keywords your target audience uses when looking for things associated with your good or service. Doing this will make your brand more visible to search engines and, more crucially, customers looking for similar goods and services.
When people watch content similar to your video, it will help it appear as a "related video." Additionally, you can include shortened links with calls to action that invite visitors to your website or a landing page featuring a particular promotion. You can also use YouTube's tagging feature, which classifies your videos based on similarity and assesses their relevancy.
Evaluate the Success
Once you have implemented your video marketing strategy like a pro, you must next comprehend your video marketing strategies' efficacy from time to time to develop one that is successful and helps you achieve all your goals.
Many services that host videos also offer analytics, which can help you gauge how well your films are doing. They provide information about the number of views, types of audiences engaging with it, their demographics, and more.
Businesses can use these analytics to examine statistics like the frequency of video playback and the proportion of site visitors that pressed the play button. Additionally, if you incorporate your videos on your website, you can use Google Analytics to track the traffic.
It will enable your videos to provide the same level of insight as the rest of the content on your website. You must use these insights to modify and reevaluate your video marketing strategy for better performance.
For any video marketing campaign you run, you should keep track of the following video metrics:
Number of Views and Unique Viewers- This alone does not indicate a success criterion. However, it will enable you to determine whether your distribution plan is effective and how much reach you have managed to get.
Attention Span and Drop-Off Rates- Are your videos, on average, watched by more than 60% of your target audience? It reflects how attention-seeking and attractive your content has been.
Click-Through Rates- Comparing the outcomes of email content with and without video content in a split test. It clearly indicates how much engagement your content or video has generated.
Demand Generation- The volume of fresh leads and opportunities that watching the video brought about are high in number and potential, or how a video affects revenue and the pipeline.
Content Consumption- How many videos do specific leads view each day? A week? Six weeks? This is an overall measure of the reach of your campaign.
Final Words on How to Build a Successful Video Marketing Strategy
Every second and penny you invest in video marketing strategy will be worth it when you see its benefits. The ultimate goal of any marketing strategy is to increase the number of individuals exposed to your brand and keep them interested for extended periods.
The longer you only keep pondering its benefits, the more customers you miss out on daily. The goal is strategically employing those videos and letting your authenticity shine through.
Let your video marketing strategy boost customer engagement, win people's credibility and trust, improve conversions, and drive more sales. The right approach will lead you to effective marketing of your product or service and a more extensive customer base. So kick-start to build a successful video marketing strategy and level up your game.