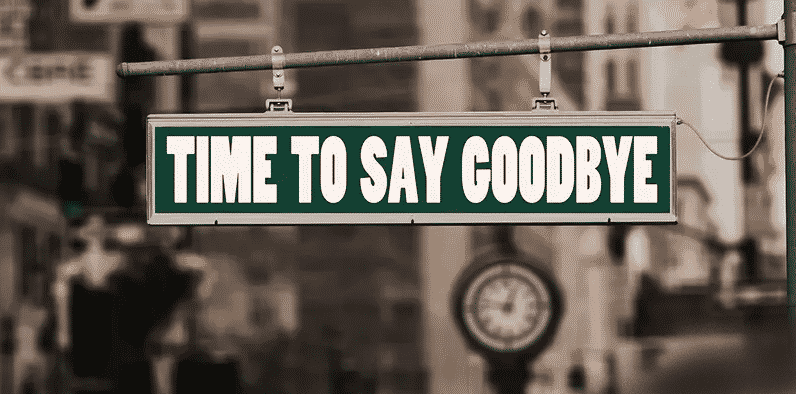 Invalid activity is one of the most common things which scares every new AdSense publisher. As per a recently published AdSense statistics report, almost 72% of the AdSense accounts were disabled for invalid activity by Google.
A group of students also researched the webmaster's view and thought about their AdSense account getting disabled due to invalid click activity. Most webmasters said that they neither clicked on their own ads nor provoked anyone to do so; why Google AdSense account disabled for invalid activity?
They feel that Google disabled their AdSense account for the invalid activity of not paying them anymore. Also, some said, "it's a Google scandal to fool webmasters." If you are one of the invalid click activity victims, trust me, there is nothing to do with Google; it's all you and your site.
Today in this article, we will explain what Invalid Click is in Google AdSense and, most importantly, how you can prevent your AdSense account from getting blocked due to invalid click activity. If this interests you, keep reading the AdSense account disabled for invalid activity below.
Here are the Primary Reasons Google Will Ban AdSense Accounts:
Fraudulent Clicks – Google is incredibly good at detecting invalid clicks. Some publishers believe that contacting friends and family, having them search for their site, find it, and then click on the ads will keep them out of trouble, but this is a considerable risk that isn't worth the minimal rewards. Others have tried to hide their traffic or use automated software to click on websites for them, which is obviously unacceptable and considered invalid activity.
Fake Traffic – Publishers will either buy large amounts of invalid traffic from shady sources or websites with a high percentage of traffic from untrustworthy sources. When we say "shady sources," we refer to traffic that is incentivized or directed to websites via traffic shares, social media, and other means.
Often, this traffic is uninterested in the subject at hand, but it generates clicks that cost the advertiser money. Advertisers suffer from this type of traffic because they pay for traffic that will not convert. Sticking to search engine optimization (SEO) is the safer option for bloggers and site owners.
Previously Banned Account – Publishers who have been banned in the past may try to register for a new account under a different name or with the contact information. Google is very good at spotting this and will disable your account if it is.
You may also like to read:
What is Invalid Click Activity in AdSense?
A click is defined as a result of a user's intense interest in the ad or product displayed on the screen, and if a user clicks on an ad, it is counted as a legitimate click.
Suppose the user clicks on the ad without interest in whatever is showing on the screen. In that case, it will definitely be counted as an invalid click for google to reason for the AdSense account disabled for invalid activity.
If a user keeps clicking every ad shown on his screen, it can also be considered an invalid click activity. Because logically, no one on this internet could be interested in every ad showing up on their screen.
How Google Does Know all This?
Google uses very sophisticated human alike bots that crawl pages just how we see them on screen. Besides that, Google has a few more advanced bots and algorithms, especially for the Adsense program.
This is their major revenue source, and they do not want to compromise their quality in this competitive market.

AdSense Account Disabled for Invalid Activity
Google also uses a mouse tracking algorithm that every user's mouse pattern on the sites uses AdSense. Depending upon their mouse pattern, google checks the psychology behind clicking on those ads. It's a very complex process with many complex algorithms.
How Invalid Clicks Happens on Your Website?
As I've already described what invalid click is, many webmasters claim that they neither did it nor provoked anyone to click on their ads. Why did their AdSense account disabled for invalid activity? Judgingly, it almost sounds like a thief claiming that he didn't steal anything. Funny right? Though I'm not saying that every web admin is lying about the invalid click activity on their site.
This is how it happens. Some webmasters don't even know the Google Adsense Policies and hence make mistakes that google doesn't forgive, and in the end, they blame Google for their own mistake. But many webmasters are telling the truth. They follow every Google policy, but their AdSense account is disabled for invalid activity. How does it happen, right?
It is technically called "Adsense Cyber Fraud Attack" – a specific attack towards AdSense users to generate fraud, click and block your AdSense account. There are no specific reasons behind all these attacks and no specific motives also.

AdSense Account Disabled for Invalid Activity
The only common motive is Google and its product, mainly AdSense, and hate AdSense account holders. As a statistical result of a research paper, major invalid click activities are triggered in the author or webmasters' home country.
These are specially done by the webmaster's close people and friends who are not happy with their web success. So, they do invalid click on your site to stop the significant income you have on your site. Besides this, a few countries from which these major attacks are mainly China, Russia, Pakistan, Ukraine, Belgium, etc. Some hackers from this country do this so that your AdSense account gets disabled and you lose your primary income source.
Why Cyber Fraud Attackers do all This?
Well, human psychology is one of the most complicated things on earth. So understanding human emotion and reflexes is as hard as living on Mars. Nobody actually knows why these people want to harm AdSense users and why they got in return.
Maybe they do this because they love to see other people suffer, or perhaps they take revenge on their own AdSense disabled account on other AdSense publishers. Nobody actually knows because AdSense cyber fraud attacks can be made by your dearest friend or neighbor or even someone far from your country.
There can be absolutely no level of control on who clicks or detect such unusual clicks. Google, however, has a line that says, "You are responsible for monitoring the traffic that comes into your site/app."
The organic traffic that comes through SEO or directly can still do this unusual Ad clicking. Google, however, does not have answers or ways to prevent this. They only know to disable the accounts, so the advertisers are protected.
Googles Statement About Account Suspensions Due to Invalid Traffic
Invalid traffic includes any clicks or impressions that may artificially inflate an advertiser's costs or a publisher's earnings. Invalid traffic covers intentionally fraudulent traffic and accidental clicks reasons to AdSense account disabled for invalid activity.
Source Google
You can visit Google's help center for more information about suspended or disabled accounts due to AdSense account being disabled for invalid activity.
How to Get Rid of AdSense Cyber Fraud Attacks?
A copy of the statement of a google user posted on the google support form about AdSense account disabled for invalid activity: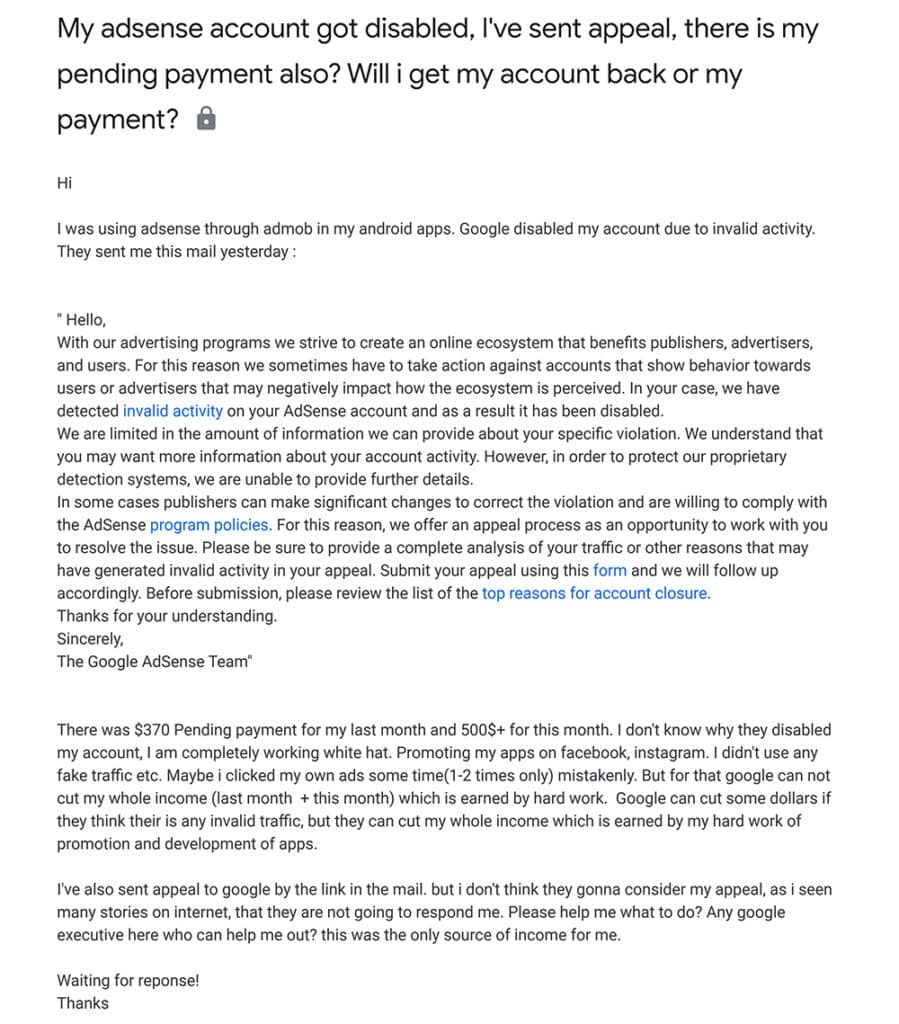 When you paste your AdSense code into your website, it is by default set to show everywhere on the earth. You can't change that. The way to save yourself from these AdSense attacks is not sharing your AdSense approval or success stories with anyone who envies you and, secondly, blocks showing ads for countries with high internet fraud rates to prevent AdSense account disabled for invalid activity.
Any user from these countries never sees AdSense ad content on your site, and if they can't see the ad, they can't initiate invalid activity on it.
Blocking ads for specific countries is not as easy as it sounds, basically for a non-techie user who has no development & coding experience. There are few tools available like Google Ad Manager or other ad management tools that support the filtering country and show ads.

AdSense Account Disabled for Invalid Activity
Suppose you are a coder or want more customization capability. In that case, you can develop your own plugin or write your own code to archive the outcome you wish to as there is no popular and trusted WordPress plugin to do this work to prevent the AdSense account from disabled for invalid activity.
Just one thing make sure when you develop your own plugin or write your own code, do not try to hide ads in your site by using CSS or jQury or any front-end language to prevent AdSense account disabled for invalid activity. As I said, Googlebot crawls your site like other users do; along with that, Googlebot also crawls the page source code, CSS, and js file.
As you cannot change the raw page source code using any front-end language, google will find that and can be disabled your account for invalid activity. Hiding AdSense ad having the ad code on the page is against Adsense policy. So I'll suggest you do this using server-side language like PHP. The ad code only shows up in the source code when the page is visited from any whitelisted country.
Is Invalid Traffic is Bot Traffic?
Invalid traffic is not always bot traffic for AdSense account disabled for invalid activity. Because there are more types of invalid traffic than just bot traffic.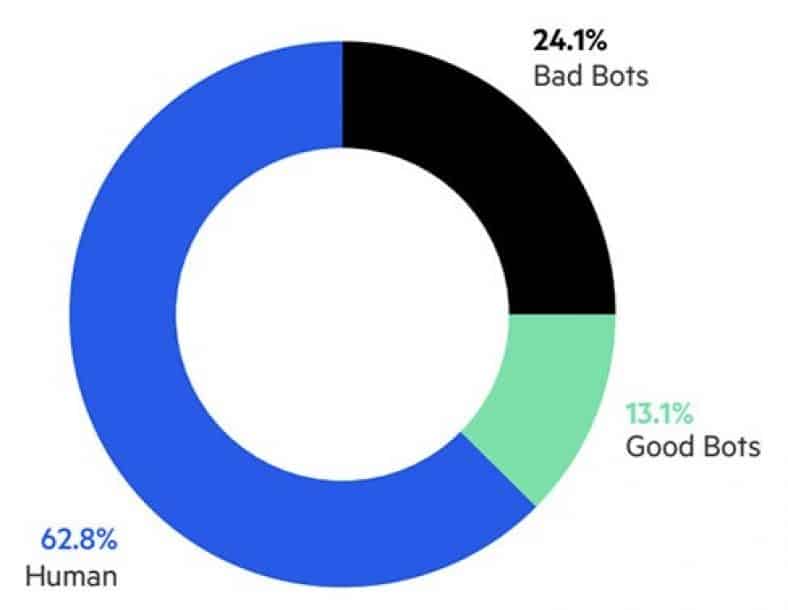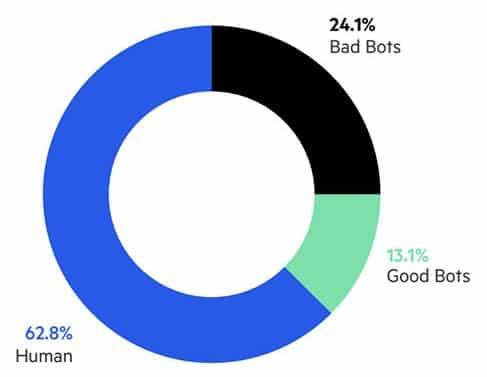 Google defines invalid traffic as to AdSense account disabled for invalid activity:
Clicks or impressions generated by publishers clicking their own live ads
Repeated ad clicks or impressions generated by one or more users
Publishers encouraging clicks on their ads. Examples may include any language encouraging users to click on ads, ad implementations that may cause a high volume of accidental clicks, etc.
Automated clicking tools or traffic sources, robots, or other deceptive software.
How to Stop AdSense From Disabling Your Account for Invalid Click Activity With Plugin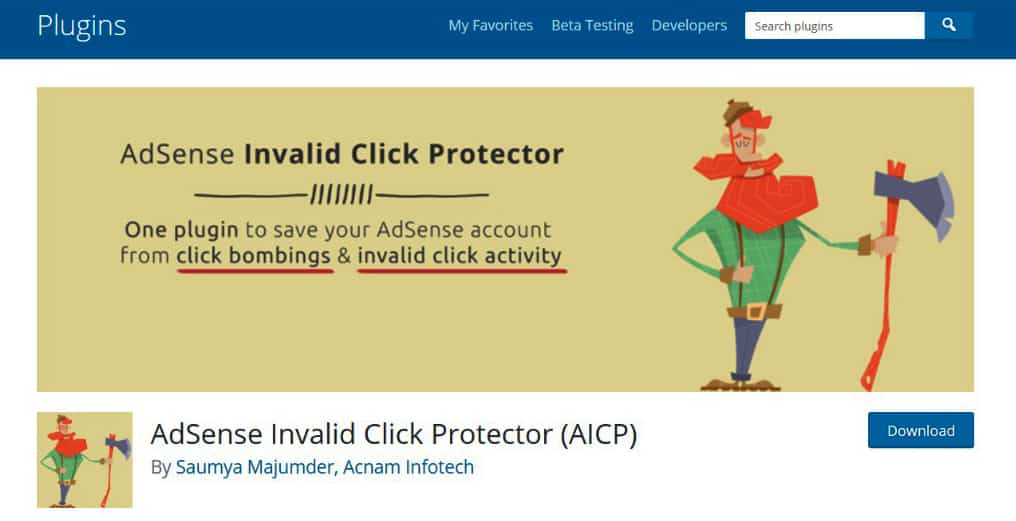 We have a plugin that helps all AdSense webmasters ensure their AdSense account doesn't get banned due to invalid click activity. With the help of this plugin, you can block users who clicked on your ads more than a certain number of times (specified by you), and you can also decide how long you want to keep them blocked from seeing your ads on your website. 
Important Note About Touch Screen Support for AdSense account disabled for invalid activity: This plugin doesn't work on mobile devices such as smartphones and tablets. This hardware uses a touchscreen instead of a mouse as click input. This design makes the boundary monitoring trick ineffective.
Features of the plugin include:
Set maximum ad click limit
Block any visitor if he exceeds the mentioned click limit
Ban some countries from seeing the ads on your site
Ability to see the list of banned user details from the WordPress admin section
Ability to delete any banned IP one by one or in bulk approach
Ability to search any IP within the banned IP list
Admin dashboard widget to show the total number of banned users
AdSense Invalid Click Protector plugin is 100% translation-ready. It only has the English translation, but we hope this plugin will have many languages in its language directory over time with the community's help.
More interesting topics for you:
How to Fight These AdSense Invalid Clicks and Click Bombing Activity Effectively?
In the last couple of months, the AdSense account banning due to the AdSense account disabled for invalid activity increased exponentially. Sometimes the rivals click on their competitor's website ads to ban their AdSense account, and people use bots to click on your ads so that your AdSense account gets blocked for inactivity reasons.
Many people have personally contacted me several times, asking for a solution to help them. But as AdSense is a highly complex system with many complicated algorithms, it's not that easy to design an algorithm or write codes to fight this off.
Appeal for AdSense Account Disabled for Invalid Activity?
If Google has already disabled your AdSense account due to invalid activity, I will first suggest you make sure your site follows every single Google AdSense Policy. After doing all this, try to find the core source behind the invalid activity on your site. If you are 200% sure that it didn't happen due to your fault, feel free to submit an Invalid Activity Appeal at Google. But make sure every AdSense account has only one appeal chance. So, if your appeal gets rejected, your account is permanently banned from AdSense.
Where do I Submit My Appeal for AdSense Account Disabled for Invalid Activity?
Here are links directly to the two relevant appeal forms:
Make sure you submit your appeal via the correct form, or they will most likely ignore it. For more information about these two types of violations, refer to the following information provided by Google.
Submitted My Appeal, What Else Can I do?
If you have submitted your appeal and haven't heard back yet, keep waiting. The AdSense team will take their time reviewing your request and will let you know as soon as a verdict has been reached. Don't submit additional appeals after a few weeks.
Doing so will result in a longer waiting time to hear back at all. I've heard of some appeals taking up to six weeks to receive a response from Google. If you hit the eight-week mark, you're probably safe to submit another appeal.
FAQs About AdSense Account Disabled for Invalid Activity
How do I reactivate my disabled AdSense account?

In the appeal form, provide google the email address associated with your disabled Google AdSense account. This will help the Google AdSense team locate your account and reduce delays in processing your appeal. Tell the AdSense team that what changes you'll make for the future clearly.

What do I do if my AdSense account is suspended?

If your account is suspended, you will receive an email indicating whether this operation is due to policy violations or invalid traffic. Please search your email and view the following related parts: Account suspended for policy violations or account disabled for invalid traffic.

How do I fix my AdSense policy violation?

You may request a review after addressing the policy violations on your site, site section, or pages. Alternatively, if you want to stop serving ads on the policy-violating sites, site sections, or pages, you can remove the AdSense ad code from those sites, site sections, or pages.
Conclusion: AdSense Account Disabled for Invalid Activity
The term "Invalid Activity" may sound very light, but many things are going behind the scene. Ensure your AdSense account is safe, and people from the fraudulent country do not see your ads. Besides blocking ads on cyber fraud, countries will also increase your CPC value on AdSense, as you are delivering ad content to the right audience.
Have you ever faced the horrifying invalid activity in your AdSense account? Is your AdSense account also getting blocked due to invalid activity? Is there anything else you have done to prevent invalid activity on your site? Let me know in the comment section below.