Scala Hosting Review: Is Scala Hosting Good? 9 Popular Opinions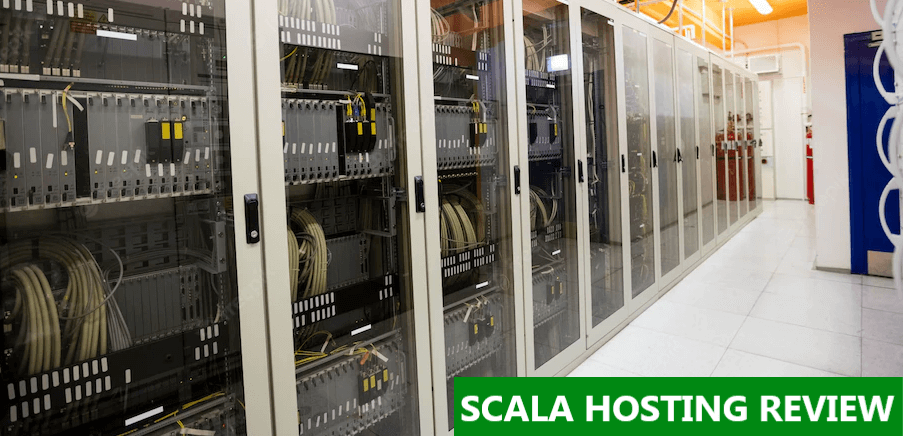 According to the opinions of expert users in the field, Scala Hosting is the best-rated web hosting and cloud provider, and we will cover all the aspects of this great web host in our Scala hosting review. It has over 12 years of experience in the market and around 838,386+ hosted domains, profiling itself as one of the best hosting for websites and WordPress. Read on to learn more about the features and benefits of Scala Hosting in our scala hosting review.
The main objective of Scala Hosting is to provide each website a high-quality VPS performance, ensuring adequate security. It is also characterized as economical hosting, with multiple options that offer quality service according to the customers' needs.
Scala Hosting provides a full range of web hosting services to meet the demands and needs of all sorts of projects. They got 'em from their mighty virtual private servers, fast SSD cloud servers, or mighty dedicated hosts if you need it!
Scala Hosting Overview
| | |
| --- | --- |
| Speed | 687.91 ms (New York)2.68 sec (Canada) |
| Uptime | 99.99% (last 243 days) |
| Data Centers | The USA and Europe |
| Backups and Restoration | Automated daily backups of the last day. Monthly charges for more backups. 1-click Manual Backup and Restore |
| Migration | No limits on migrations |
| Customer Support | Email Tickets, 24/7 Live chat, Extensive Knowledge Base |
| Features | Custom SPanel, Free Cloudflare CDN, Website Staging, WordPress, Apache/Litespeed servers, 473+ apps, Unlimited Inodes, Referral Program |
| Developer Tools | MySql, PHP, Perl, Python, NodeJS |
| Security | Free Let'sEncrypt SSL, 2FA, SShield, SpamAssassin, CSF Firewall, ModSecurity, ClamAV Malware Scanner |
| Hosting Plans | Web Hosting, WordPress Hosting, Reseller Hosting, Managed Cloud VPS Hosting, and Self Managed Cloud VPS Hosting |
| Payment Methods | Credit and Debit Cards, PayPal, Bank Transfer |
| Refund Policy | 30-days Refund Policy |
| Pricing | Starting from $3.95/month |
Scala Hosting Review
Scala Hosting Domain Register or Transfer
You get a free domain name and your hosting for the first year. However, this only applies to the following domain extensions – com, net, org, info, and eu.
Scala Hosting also functions as a domain registrar. These are the annual prices for registering popular domain extensions on Scala Hosting. The same prices are charged on domain renewals and transfers. You don't need to pay any additional charges after the first year.
| EXTENSION | REGISTRATION | RENEWAL | TRANSFER |
| --- | --- | --- | --- |
| .com | $16.95/year | $16.95/year | $16.95 |
| .net | $17.95/year | $17.95/year | $17.95 |
| .org | $16.95/year | $16.95/year | $16.95 |
| .info | $24.95/year | $24.95/year | $24.95 |
| .eu | $12.95/year | $12.95/year | $12.95 |
| .biz | $17.95/year | $17.95/year | $17.95 |
| .de | $10.95/year | $10.95/year | $10.95 |
| .in | $15.95/year | $15.95/year | $15.95 |
| .com.au | $14.95/year | $14.95/year | $14.95 |
| .mn | $49.95/year | $49.95/year | $49.95 |
| .asia | $19.95/year | $19.95/year | $19.95 |
| .ca | $17.95/year | $17.95/year | $17.95 |
| .org.uk | $10.95/year | $10.95/year | $10.95 |
| .co.uk | $11.95/year | $11.95/year | $11.95 |
| .us | $15.95/year | $15.95/year | $15.95 |
| .co.in | $15.95/year | $15.95/year | $15.95 |
| .club | $19.95/year | $19.95/year | $19.95 |
Scala Hosting Review
Scala Hosting Domains Free Features Included:
DNS MANAGEMENT: When you register your domain name with Scala Hosting, you will also access an easy and efficient DNS management system for free. This is helpful when you look to point your domain name to a local web server, for example, but you don't have your own DNS server. Scala hosting provide you the option to use our own DNS server for free.
DOMAIN FORWARDING: Are you purchasing a secondary domain which you plan to point to a different domain, subdomain, or port? With a hassle-free, easy-to-use forwarding tool, Scala Hosting allows you to forward your new domain name to another location.
E-MAIL FORWARDING: Looking for a great domain name for your e-mail inbox? When you register a domain name with Scala Hosting, you will be able to create an e-mail address and forward it to an external inbox service. This gives you the freedom to customize your e-mail experience fully and choose the services that perfectly fit your goals.
Scala hosting is a powerful hosting with the possibility of dedicated servers, effective security solutions, and the best services.
Scala Hosting provides quality and professionalism to the websites.
Scala Hosting Network and Data Centers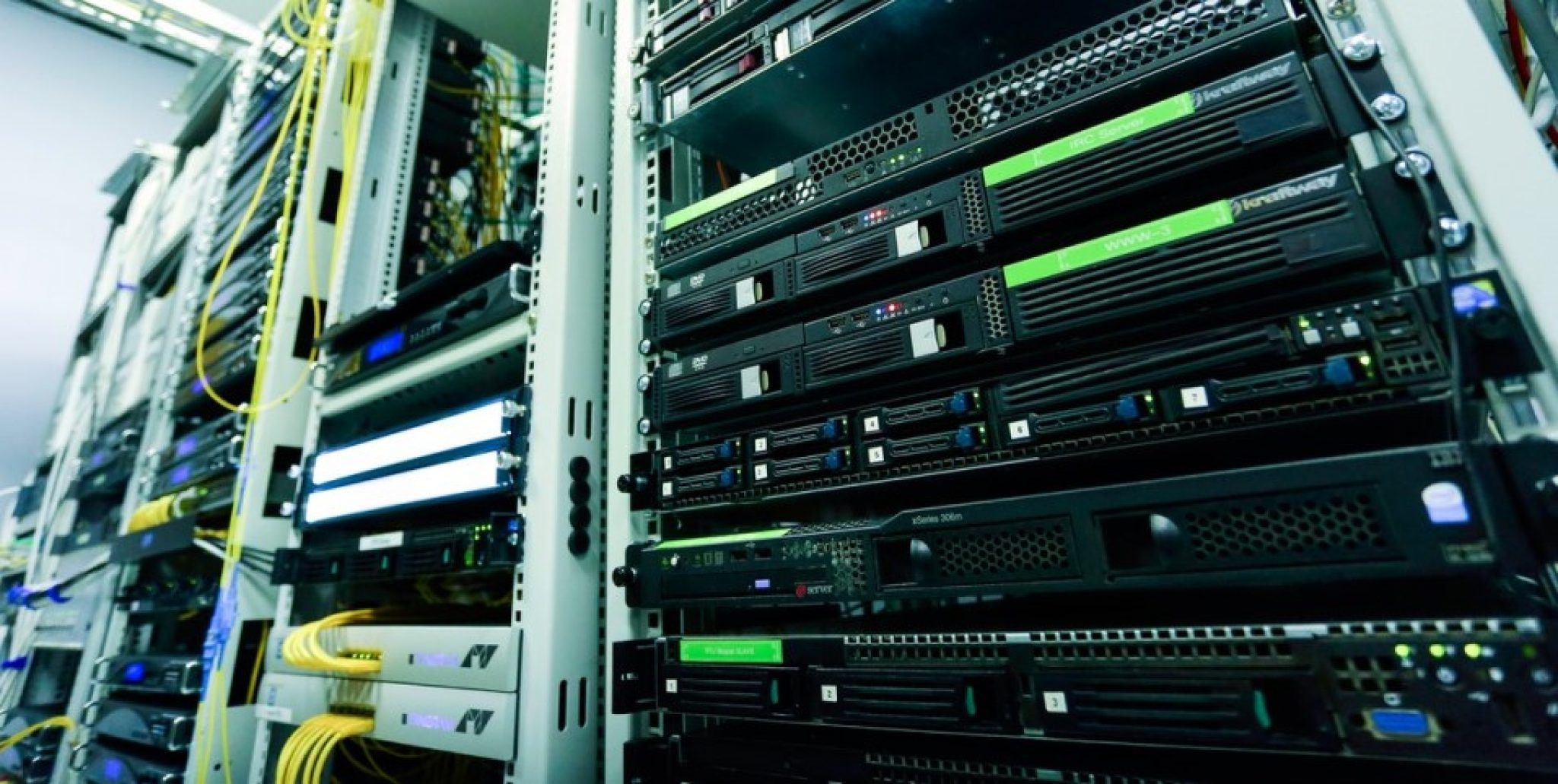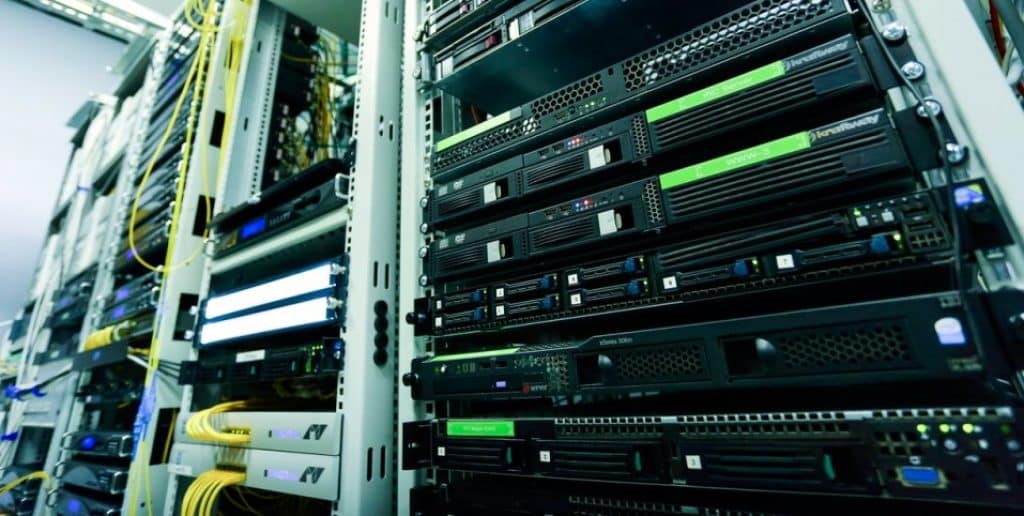 The data centers of Scala Hosting are available in the USA (Dallas and New York) and Europe.
Network Details of USA Datacenter, Located In Dallas, Texas:
In the US, Scala hosting has set up its presence at the Tierpoint Dallas facility, SSAE 16 SOC 1, Type II audited and staffed 24/7.
High-performance IP managed premium network and budget-friendly IP Plus network
True BGP with intelligent routing
Multi-homed, carrier-neutral
DWDM connection to the INFOMART
13 on-net providers with dual fiber entrances
General Specifications of Europe Datacenter, Located In Sofia, Bulgaria:
In Europe, Scala hosting hosted its equipment at the Telepoint facility, with ISO certification for quality (ISO 9001:2008) and data security protection (ISO 27001).
Multiple layers of security & authentication, including card key
Redundant HVAC with Liebert air handlers
A, B, and C Diesel Generator Groups
Generators are tested bi-weekly and routinely run at full load
Completely independent (N+1) A and B UPS 220V AC power feeds
Completely independent (N+1) A and B 48V DC with starting configuration of 600Amps for each
VESDA – Very Early Smoke Detection Apparatus
Reliability and Connectivity Details of NY Datacenter, Located In Hawthorne, New York:
2N A-side and B-side power distribution design
3 redundant 1,000kW generators; 2 redundant 2,000 kW generators on-site
24×7 Remote Hands technical support
100% uptime SLA
Carrier-class, carrier-neutral facility
Cloud on-ramps and fabrics
Multiple, diverse fiber feeds with dark fiber connectivity are available
Direct Points of Presence at 60 Hudson Street (NYC) and III 8th Avenue (NYC)
Scala Hosting Uptime
We have been monitoring the uptime of scala web hosting for the last 1 year. In the previous 243 days, scala hosting observed a 99.99% uptime with a total downtime of just 36 minutes. There were no significant incidents observed either. Thus, the uptime has been remarkable in our experience.
This is a good result and is well above our industry-standard uptime of 99.92%-99.99%.

Scala Hosting Review
Last 1-year average uptime:
Here's the last 12-month average uptime of Scala Hosting's servers:
December: 99.87%
November: 99.94%
October: 99.97%
September: 99.99%
August: 100%
July: 99.98%
June: 99.99%
May: 99.95%
April: 99.97%
March: 99.99%
February: 99.96%
January: 99.99%
Scala Hosting also offers an uptime guarantee of 99.99%. If they cannot achieve this standard, the credit for the specific duration is issued to their users' accounts.
-47%
3.95 6.95
With all Scala Hosting plans, you will access different content management systems.
The shared hosting plans include features such as the LiteSpeed webserver.
Scala Hosting Backups
The Backup options on Scala Hosting are impressive. You can easily create manual backups under the Backups option in the SPanel. You need to click on generate backup and choose what you wish to exclude from the backup, like databases, emails, etc.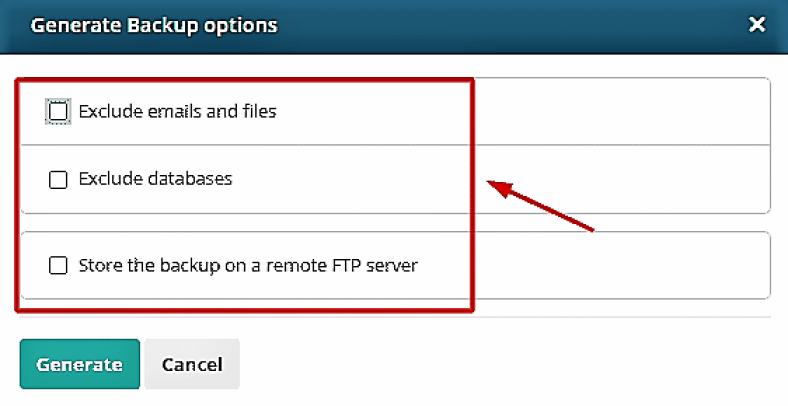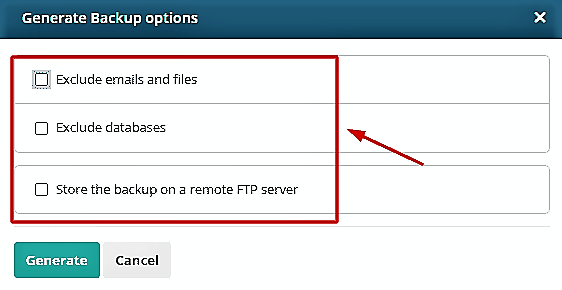 What we found interesting is that you can store your backups on a remote FTP server. This ensures better security of your data in case of emergencies or accidents.
Scala Hosting also creates automatic backups that can be restored with a single click. They keep 7 copies of your data! But what disappointed us most was that you only get 1 backup for free. This means you can only restore a backup from the previous day.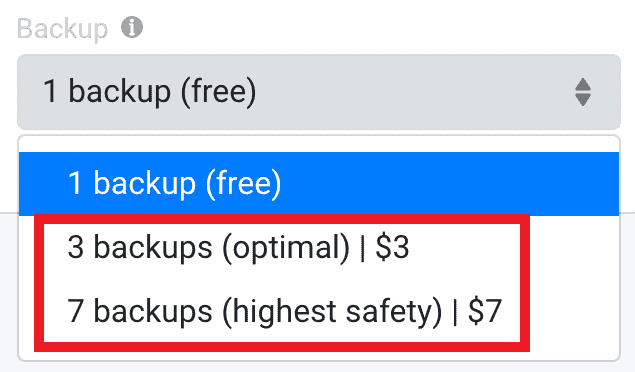 If you want to access older backups, they charge a healthy amount. For example, you need to pay $3/month for keeping the last 3 days' backup and $7/month for maintaining backups from the previous 7 days.
Most other web hosting companies store automatic backups for longer durations (up to 30 days) and do not impose any fee on downloading them.

Scala Hosting Review
In our opinion, Scala Hosting should at least offer the previous 7 days' backups for free. Overall, the backup service is good, but the backup options need improvement.
Scala Hosting Customer Support & Reviews
One thing that matters most in addition to costs and excellent uptime is fast customer support. Scala Hosting has excellent 24/7/365 customer support, perfect if you have issues and need assistance. We think that they usually respond in under 30 seconds or less. This is super fast compared to other web hosting providers that are online.
Also, many reputable websites like TrustPilot.com rate Scala Hosting with an impressive 4.9 stars out of 5. We find it amazing that 98% of the Scala hosting reviews rate them "Excellent" This is the highest rating we have seen with any web hosting provider online. This is another big reason we recommend using them today in our Scala Hosting review to create your website.
When you take a look at the Scala Hosting reviews on Trustpilot, this is the breakdown: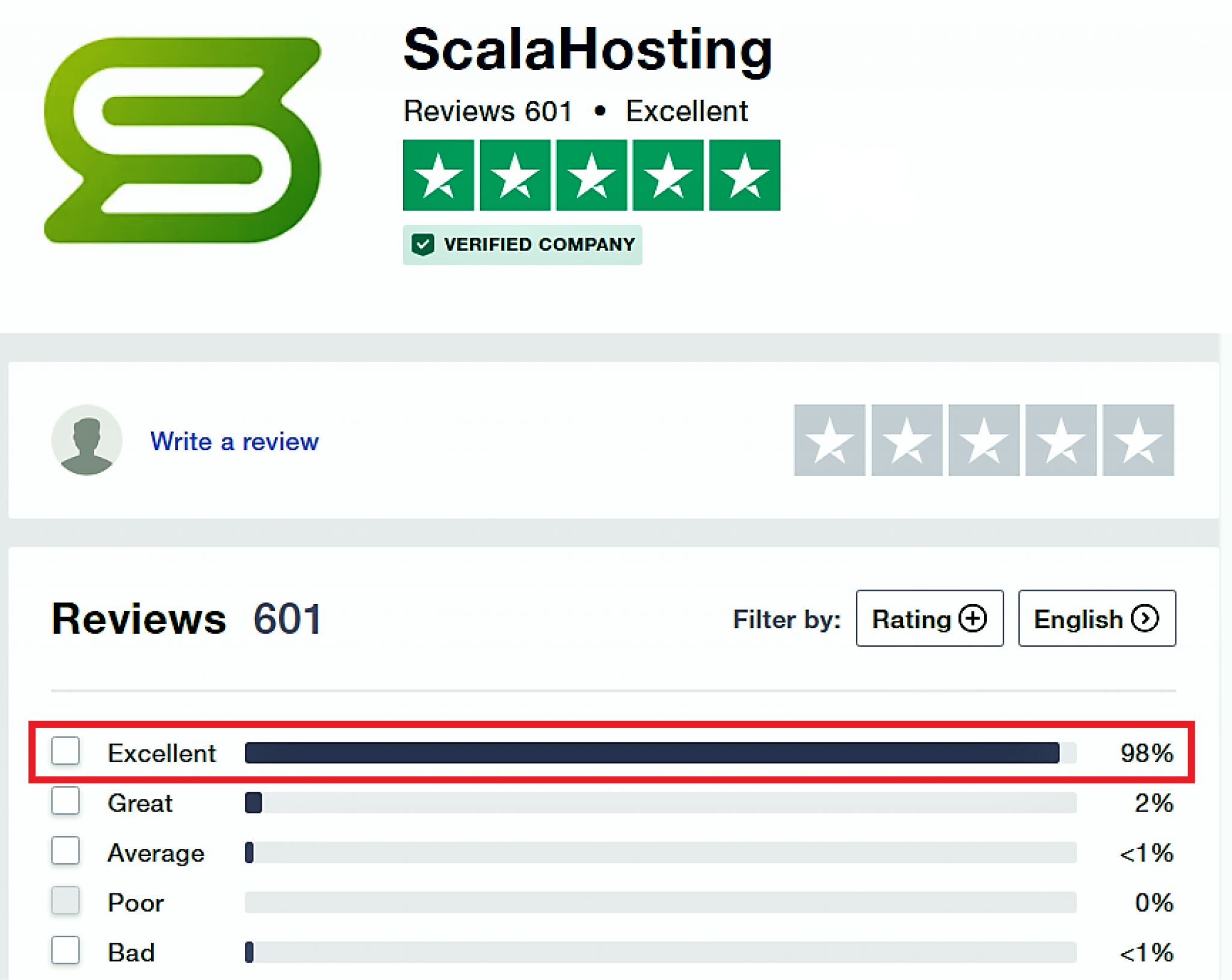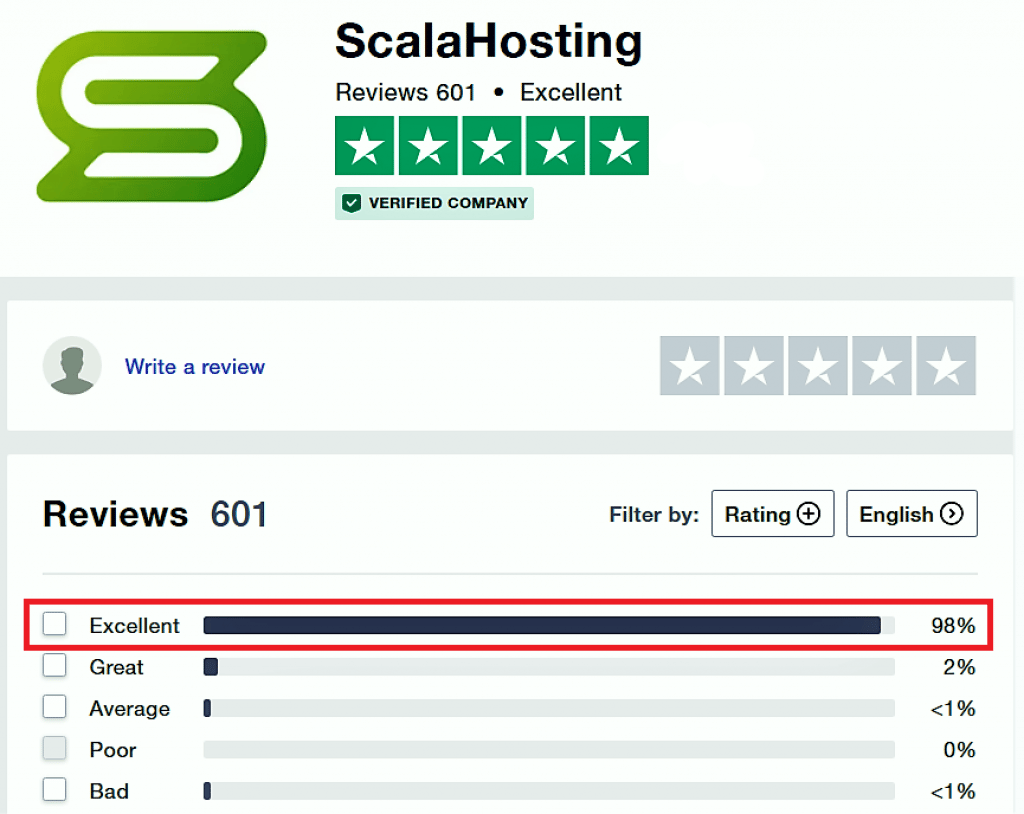 Even when you checkout Scala Hosting Reddit Reviews, they are also very positive in threads. We mentioned these points in our Scala Hosting review because we feel that having incredible customer support that is super fast and knowledgeable is extremely important. This is precisely what you are getting today when you signup with Scala Hosting.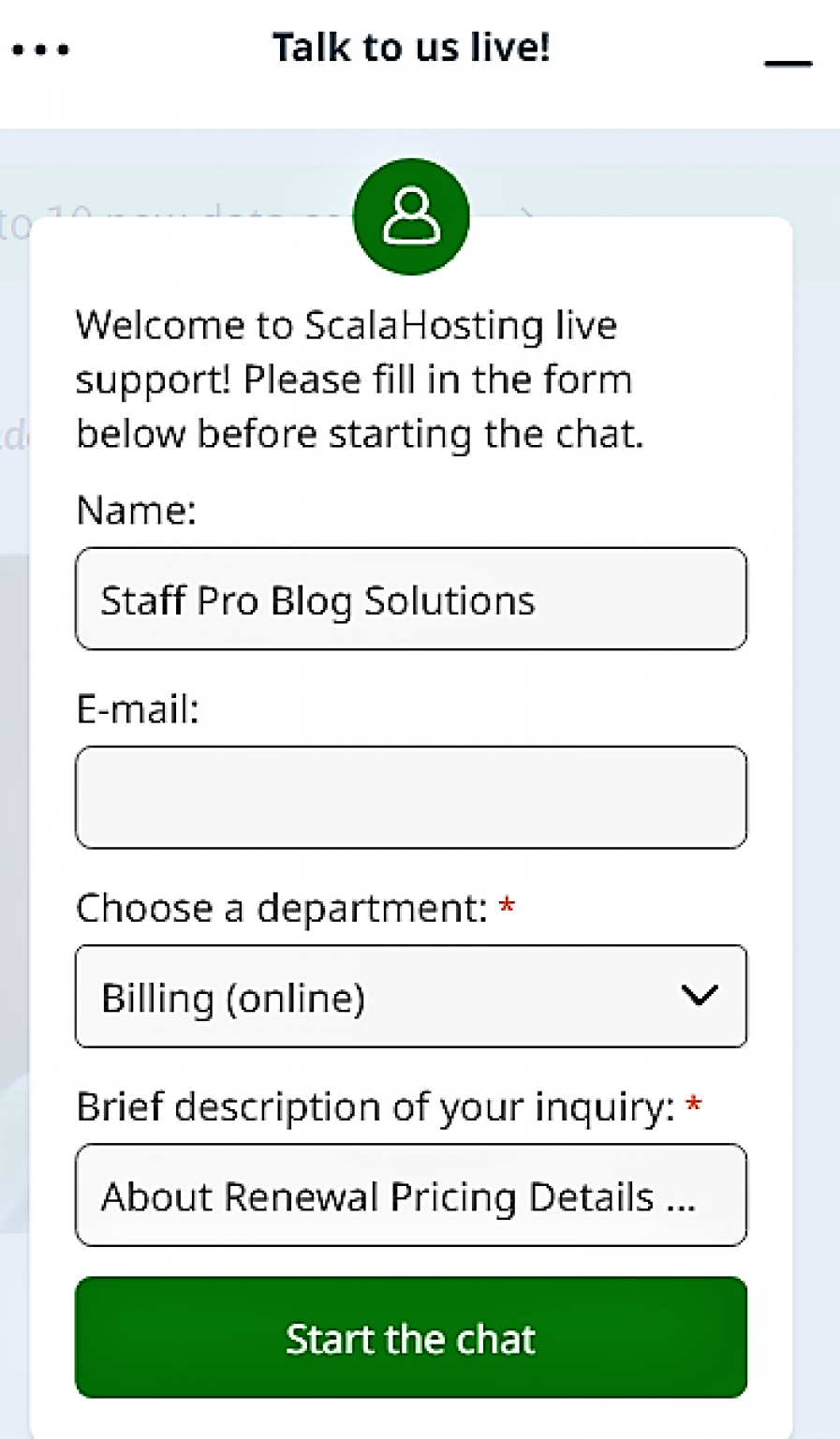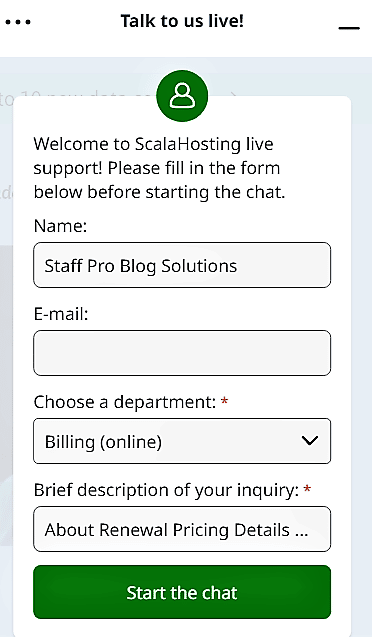 You never know when you have questions or need help with your website, but it's always great and comforting to know that someone is always there 24/7/365, ready to assist if you need it.
Scala Hosting offers 24/7 live chat support, email support, and an extensive knowledge base of helpful articles. We found their live chat support to be relatively fast and responsive.
Scala Hosting Plans and Pricing at a Glance
You can choose from three shared Scala pricing plans and their WordPress-ready variants. All the key features are available across the board, though the more extensive plans include more resources, a few advanced tools, and free domain registration.
Mini
Basic resources for 1 website.
Starting from: $3.95
On Sale – Save 43%
20GB ALL SSD Storage
1x CPU Power
Free Migration
Shared environment
Start
More resources for multiple sites.
Starting from: $5.95
On Sale – Save 34%
Unlimited Websites
50GB ALL SSD Storage
2x CPU Power
Free Migration
Shared environment
Advanced
More space and power for complex websites.
Starting from: $9.95
On Sale – Save 29%
100GB ALL SSD Storage
4x CPU Power
Free Migration
Shared environment
Free Domain
Scala Hosting Pros
Easy to use SPanel
The SPanel provided by Scala Hosting is clean, organized, and easy to use. It resembles the cPanel and can be an affordable alternative to it.
Optional LiteSpeed Servers
You get Apache servers on Scala Hosting by default. However, you can request their support team to install Litespeed servers on your plan for improved performance.
Speeds
Because its servers are in the US region, you get to experience faster speeds of under 700 ms in the US. In other parts of the world, the speeds tend to rise over 2.3 sec.
Exceptional Uptime
We observed an excellent uptime of 99.99% on our websites in the past year. This is remarkably better than most other popular hosts.
Fast and Reliable Support
We personally liked the 24/7 live chat support of Scala Hosting. Their staff was intelligent, polite, and quick in responding to my queries.
Impressive Security Features
It offers a range of security features, including 2FA, SSL, SShield, SpamAssassin, CSF Firewall, ModSecurity, ClamAV Malware Scanner, and more for the all-round protection of its users.
Developer Friendly Hosting
It supports Python, MySQL, PHP, Perl, NodeJS, etc., making it a friendly hosting solution for developers.
Scala Hosting Cons
Poor Load Handling on Basic Shared Plan
Scala Hosting performs poorly in the load test with the basic shared hosting plan with default Apache servers. It cannot handle many requests and has a very high response time.
Even with Litespeed servers and the Litespeed cache plugin installed, it still doesn't live up to the expectations.
No Default Cache Management
You don't get a cache management system with Scala Hosting by default. If you install Litespeed servers on your plan, you can use the Litespeed cache plugin.
Limited Data Centers
Their data centers are located in the USA and Europe regions only. It would be great if they could establish data centers in Asian locations like Singapore or Japan.
Only 1 Free Backup
It only stores one automatic backup for free. If you need more backups, you need to pay additional charges.
Expensive Plans
The Managed VPS plans of Scala hosting start at an expensive rate of $14.95/month. The best discounts are seen when you purchase a plan for 3 years.
Scala Web Hosting
Power your website with a fully managed, cloud-based VPS at the price of a traditional shared hosting plan.
Get the results you need with the number 1 Managed Cloud-Hosting platform.
Quick Facts about Scala Hosting Review:
Domain: Free 1st year. Renewals start at $12.65/year.
Ease of Signup: A straightforward process spread across a few steps.
Money-Back: 30-day money-back guarantee. No free trial.
Payment Methods: Credit Card, PayPal, bank transfer.
Hidden Fees and Clauses: Renewal rates are higher than introductory rates but other than that, no hidden fees.
Upsells: A few during the signup process but not very intrusive.
Account Activation: Quick account activation.
Control Panel and Dashboard: cPanel.
Installation of Apps and CMSs (WordPress, Joomla, etc.): 1-Click installation for over 100+ applications.
Is Scala hosting fast?

Scala hosting uses SSD vs. HDD to ensure the fastest performance and page loads. Also, they have free content delivery networks, server-level caching, and several data centers. These help to process higher volumes of traffic with clients' websites and provider a better page experience for visitors.

Does Scala Hosting come with cPanel?

Scala Hosting's shared web hosting plans come with cPanel. But the VPS plans come with SPanel, a proprietary control panel, and an all-in-one cPanel alternative.

Is Scala hosting a perfect web host?

Scala hosting is really great for beginners and experienced users. They have some of the cheapest shared, WordPress, and Managed VPS hosting services for entrepreneurs. They have excellent customer support, fast page loads, and solid uptime performance. Scala Hosting has lower renewal fees when compared to many competitors and alternatives.

What are SPanel, SShield, and SWordPress?

SPanel is an all-in-one hosting platform and cPanel alternative for managing cloud VPS services. SShield is an innovative security system that protects your websites in real-time and blocks 99.998% of attacks. SWordPress makes managing your WordPress websites much more effortless and adds multiple layers of security.
Scala Hosting Review Pro & Cons
Scala Hosting offers managed cloud VPS, WordPress hosting, and reseller hosting at affordable prices.
Scala Hosting Pros
Free Domain, SSL, and Migration
30-Day Money-Back Guarantee
Free SPanel for VPS Hosting
99.99% Uptime Guarantee
Award-Winning Customer Support
VPS Hosting is Easy to Use
White Label Hosting for Shared Plans
Scala Hosting Cons
Higher Renewal Fees
Limited Native Server Locations
Limited Storage on Basic Plans
Final Words on Scala Hosting Review
In general, Scala Hosting is the next step in the evolution of web hosting. Its different possibilities meet users' expectations, profiling itself as one of the best hostings of the moment for its response to the demands.
The database, storage, and unlimited bandwidth proposal have revolutionized the market; likewise, its domains and free SSL certificates elevate it as an innovative web host.
With over a decade in the market, Scala hosting is best valued by the public opinion in different countries. Its avant-garde advancement, security, and convenience for hosting services provide quality to each user.
At Scala Hosting, you can expect only the best of the best. Their web hosting solution promises a 99% increase in your website, with better speed, load time, and cybersecurity. As for the price, it is one of the cheapest hosting concerning its quality service, it is definitely the host you need to hire.
Scala Web Hosting
Power your website with a fully managed, cloud-based VPS at the price of a traditional shared hosting plan.
Get the results you need with the number 1 Managed Cloud-Hosting platform.