Firefox is one of the fastest browsers, now even overtaking Chrome, offering excellent security and privacy in 2023. The latest Firefox Quantum is already fast enough, even for content-heavy websites.
However, we can go even further. How to make Firefox load pages faster? How to make Firefox faster than Chrome. Learn in this article how to make Firefox faster than Chrome with easy workarounds. These tips below will show you how to speed up Firefox to make it faster than ever.
Many Peoples Around the Web Used to Search for:
Firefox is slow; how to make Firefox faster?
Firefox or Chrome, which one is faster?
How to make Firefox run like Chrome?
Can I increase the speed of Mozilla Firefox?
How to speed up my Mozilla Firefox?
What is Firefox pipelining?
How do I make Firefox Quantum run faster?
Does Firefox work better?
Here are the answers to the above questions and the best solutions for improving Firefox performance for all versions of Firefox quantum to make Firefox faster than Chrome and super fast than before in 2023.
Easy Ways to Make Firefox Faster than Chrome:
Before we get into how to make Firefox faster than Chrome in 2023, here's a quick overview of both browsers:
Google Chrome vs. Firefox: 2023 Overview
| | CHROME | FIREFOX |
| --- | --- | --- |
| Released | 2008 | 2002 |
| Developer | Google | Mozilla |
| Engines | Blink, WebKit | Gecko, Quantum |
| Default search | Google | Google |
| License | Proprietary, but based on open-source components (Chromium) | Open-source components (under the terms of the Mozilla Public License) |
| Platforms | Windows, macOS, Linux, Android, iOS, and Chrome OS | Windows, macOS, Linux, Android, and iOS |
| Ad blocker | Not by default | Yes, with Enhanced Tracking Protection and extensions |
| Private browsing | Yes, in Incognito Mode | Yes, in Private Browsing |
| Password manager | Yes | Yes |
| Extensions | Yes—193,000+ extensions available on the Chrome Web Store | Yes—extensions are available on the Firefox Browser Add-ons webpage |
How to Make Firefox Faster than Chrome in 2023
If you have been using Firefox for an extended period, you may have seen it getting slower as time passed. There are easy ways to make Firefox faster than Chrome.
If you want to make Firefox faster than Chrome and quickly load pages, you are on the right page. Here are solutions for improving Firefox performance and making Firefox faster for all versions of Firefox Quantum.
The Firefox developers update to boost speed whenever a feature is well-tested and unlikely to cause errors. There isn't any hidden magic button that will triple your browsing speed. So, experimenting with settings typically helps make Firefox faster than Chrome and even more stable.
With more than 22+ million users, Mozilla Firefox is one of the top internet browsers in the World. Firefox is also the best web browser for Android phones.

How to Make Firefox Faster than Chrome
Related topics for you:
This is the ultimate guide to making Firefox faster than ever for more secure web browsing. These are straightforward & powerful ways to speed up the Mozilla Firefox browser and even make Firefox faster than Chrome.
So let's learn how to make Firefox faster, boost Firefox speed & how to speed up Firefox web browsing to increase slow browser speed.
Firefox and Chrome are both excellent browsers, but there are a few areas where Firefox has an edge:
| Feature | Firefox | Chrome |
| --- | --- | --- |
| Privacy | Better | Worse |
| Performance | Lighter | Heavier |
| Customization | More customizable | Less customizable |
| Security | Just as secure | Just as secure |
How to Make Firefox Faster than Chrome
Privacy: Firefox is more privacy-focused than Chrome. It blocks more trackers by default and gives you more control over your privacy settings.
Performance: Firefox is generally more lightweight than Chrome, so it can use less system resources and run faster.
Customization: Firefox is more customizable than Chrome. You can change the look and feel of the browser and add extensions to add new features.
Security: Firefox is just as secure as Chrome. Both browsers use the same security features and receive regular security updates.
Here are some additional reasons why you might want to use Firefox instead of Chrome:
Firefox is open source. This means that anyone can see the code that makes up the browser, which helps to ensure that it is free of malware and tracking.
Firefox is supported by a non-profit organization. Mozilla, the organization that develops Firefox, is dedicated to making the web a better place.
Firefox is more secure than Chrome. Firefox has several security features that Chrome does not, such as a built-in extension sandbox and a stricter security model.
How to Easily Make Firefox 12x Faster than Chrome
So if your Firefox is running slow or freezing, check out the newly tested and updated solutions of 2023 below to fix Mozilla Firefox slow loading pages and make Firefox faster pages load while browsing the same internet.
The best feature of Firefox is the Firefox firewall, and it makes Firefox more secure compared with others.

How to Make Firefox Faster than Chrome
Most of us think about Chrome vs. Safari, and the Safari browser reviews are good, but Firefox is one of the browsers in the comparison of best-rated browsers.
1. Make Firefox Faster than Chrome with Pipelining Method
HTTP pipelining is a technique that allows a web browser to send multiple HTTP requests to a web server simultaneously. This can help speed up web page loading, as the web server can send the requested resources back to the browser as soon as they are available.
This method will boost the Firefox workflow.
It indeed removes the heavy load on Firefox.
Reduce the memory requirements by using a small part of RAM.
You must follow these steps correctly to get all these benefits and make Firefox faster than Chrome.
To enable HTTP pipelining in Firefox, you need to follow these steps:
1. Open Firefox and type about:config into the address bar.

2. Click the "Accept the Risk and Continue" button.
3. In the search bar, type network.http.pipelining.

4. Double-click on the network.http.pipelining preference and change the value to true.
5. Repeat steps 3 and 4 for the network.http.proxy.pipelining preference.
Once you have enabled HTTP pipelining, you should see a major improvement in the loading speed of web pages. However, it is essential to note that this technique will not work with all web servers.
In addition to enabling HTTP pipelining, there are a few other things we have mentioned below that you can do to make Firefox faster.
2. Speed up Firefox by Browser History
In the new address bar, means in the tab window in front of the filter, type;
browser.sessionhistory.max_entries

You will see:
status: default
Type: Integer
Value: 50
This means that the browser keeps the history up to 50 URLs. You have to change it to a minimum value. For this, double-click on it. This will open a new pop-up message with the value 50, now change 50 to 10. This will reduce the load on the browser.
Make Firefox Load Pages Faster than Chrome in 2023:
Again, type in the address bar: about:config & press enter. Type nglayout.initialpaint.delay
Press OK and enter the value 0.
Now onwards, the page will show as soon as it gets downloaded.
3. Defining a Small Amount of Memory to Firefox
1. Similarly, type: browser.cache.memory.enable in the same address bar in the tab.
And set the value to TRUE. (Most of the time, it is False)
2. Now right-click on the white space below the address bar in the tab, go to new >> Integer >> enter preference name as browser.cache.memory.capacity, press OK.
Now put the value according to the following table:
| YOUR RAM | YOUR VALUE |
| --- | --- |
| RAM | VALUE |
| 128MB | 2048 |
| 256MB | 4096 |
| 512MB | 8192 |
| 1GB+ | 12288 |
Make Firefox Faster 10x than Chrome
This will make Firefox ridiculously 12X faster and will load web pages quickly.
4. Toggle Hardware Acceleration
You may need to allow or disable hardware acceleration, enabling you to dictate whether or not Firefox Quantum uses your GPU to boost browsing.

Usually, if you have a pretty latest model laptop, replacing hardware acceleration is an excellent idea. If you're on an older system without a devoted snapshot card, leaving it on should only gradually slow down your browsing, as your GPU is too susceptible to properly carrying out hardware acceleration.
You may also like to read:
5. Enabling New HTTP Cache: Set the Cache Capacity
Generally, Firefox wants more RAM for cache purposes, and we have to reduce this usage of extra memory for caching the data.
Type browser.cache.disk.capacity
You will notice that; the value: 102400 (or something like this)
Change it to 4096.
6. Run Firefox in Low-Resolution Mode (Mac)
This solution to make Firefox faster than Chrome is specific to Mac users. It turns out that the super-crisp high-res image of the Apple Retina display doesn't always play nice with Firefox, causing browsing to be slower than it should be.
A temporary fix for this is to use Firefox Quantum in the low-resolution mode, which is obviously not an ideal solution in the long term.

How to Make Firefox Faster than Chrome
To do this, right-click the Firefox app icon and click "Get Info" In the Info window, tick the "Open in Low Resolution" box to open Firefox in a lower resolution. It will keep opening in low-res until you untick the box.
7. Regain Memory When Firefox is not in Action
Why the memory is to be kept for Firefox when it minimizes the state. To avoid this overflow of memory for Firefox;
Right-click on the white space below the address bar in a tab.
Go to New >> Boolean >> enter preference name as config.trim_on_minimize, press OK.
And set the value to TRUE.
8. Make Firefox Faster than Chrome With Stop Prefetching
Now type network.prefetch-next.
You will see that its value is set to True.
Please change this to FALSE (only double-click on it).
9. Speed up Firefox With About:Config
Here are a few additional advanced Firefox settings that are not in the options panel, but still you change the following preferences below to make your Firefox run faster in 2023.
1: Go to About:Config in the address bar. You'll be warned about the risk of changing the advanced configuration. Click Accept the Risk and Continue.
2: Search for the preferences listed below, then set it to the recommended value.
| | | |
| --- | --- | --- |
| Preferences | Value | Function |
| browser.download.animateNotifications | False | disable download button animations |
| security.dialog_enable_delay | 0 | disables the delay |
3: Type telemetry in the search box and hit Enter, then set the following preferences to false:
browser.newtabpage.activity-stream.feeds.telemetry
browser.newtabpage.activity-stream.telemetry
browser.ping-centre.telemetry
toolkit.telemetry.archive.enabled
toolkit.telemetry.bhrPing.enabled
toolkit.telemetry.enabled
toolkit.telemetry.firstShutdownPing.enabled
toolkit.telemetry.hybridContent.enabled
toolkit.telemetry.newProfilePing.enabled
toolkit.telemetry.reportingpolicy.firstRun
toolkit.telemetry.shutdownPingSender.enabled
toolkit.telemetry.unified
toolkit.telemetry.updatePing.enabled
Firefox collects telemetry data by default to help improve performance. To speed up Firefox and protect your privacy, you can disable telemetry.
4: In the address bar, go to about:preferences#privacy and scroll down to Firefox Data Collection and Use, then uncheck both: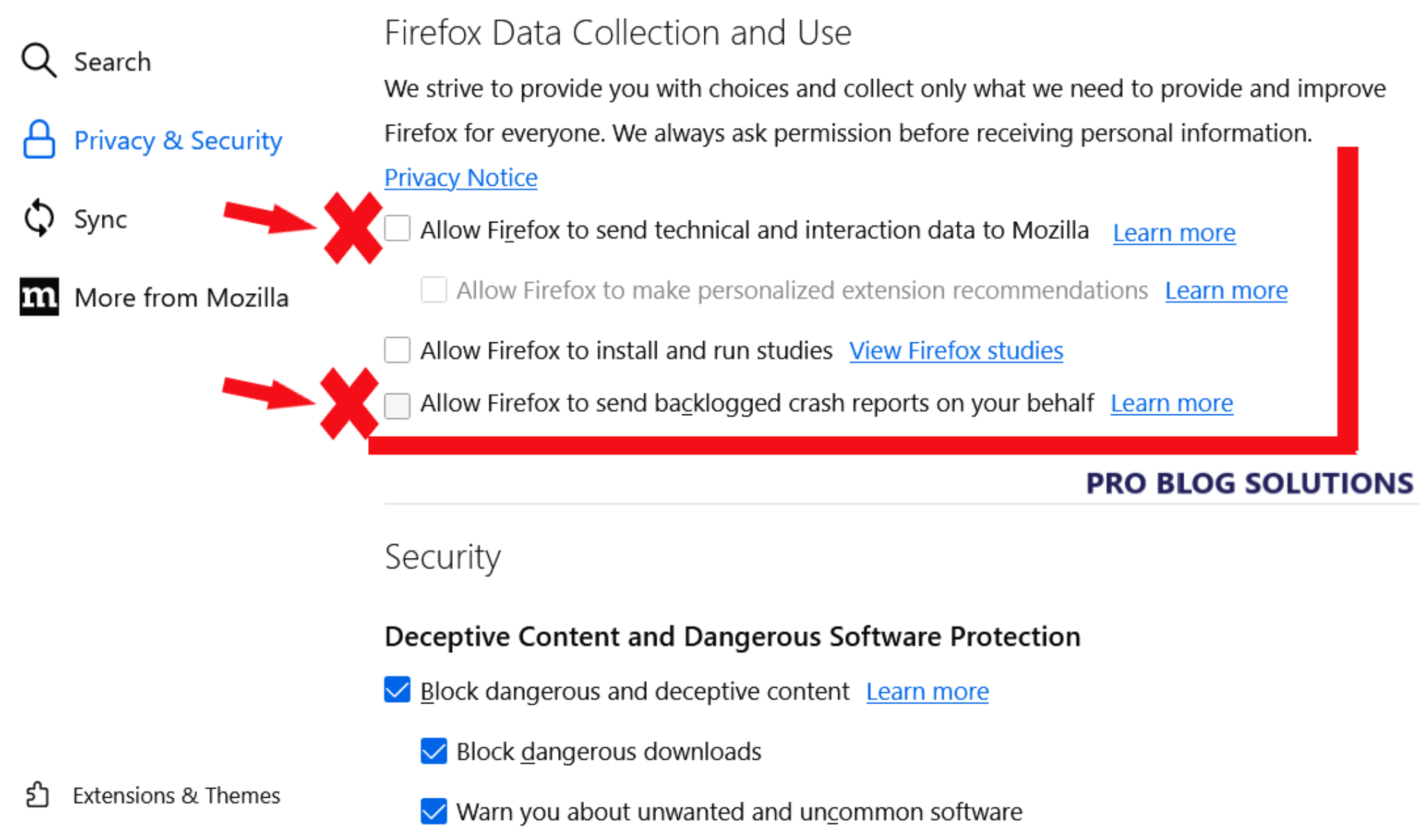 Allow Firefox Developer Edition to send technical and interaction data to Mozilla
Allow Firefox to install and run studies.
This will delete all your telemetry data in the past within 30 days.
10. Update Firefox
Firefox developers constantly improving Firefox. The latest version in 2023 is faster than ever before and contains fixes for many problems that could slow down your Firefox.
Click the menu button in the right corner, click Help, and select About Firefox. See the image below: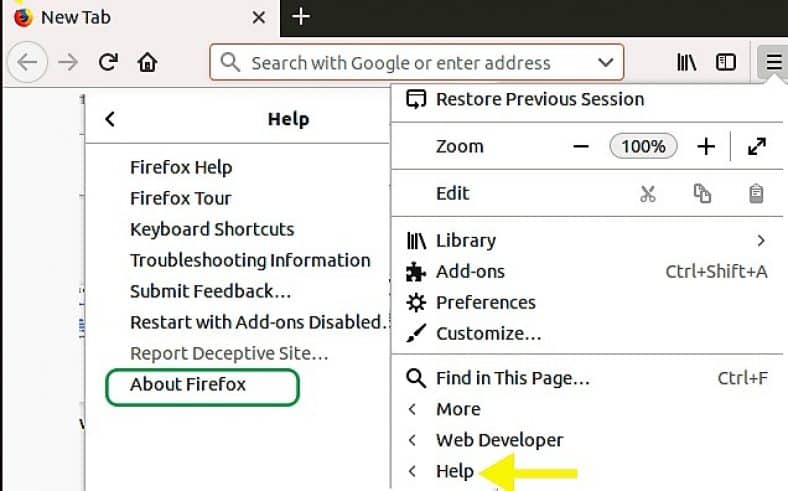 The About Mozilla Firefox window opens. Firefox will check for updates; if an update is available, it will be downloaded automatically. If your browser is already updated to the latest version, you will get a notification " Congrats! You're using the latest version of Firefox Browser."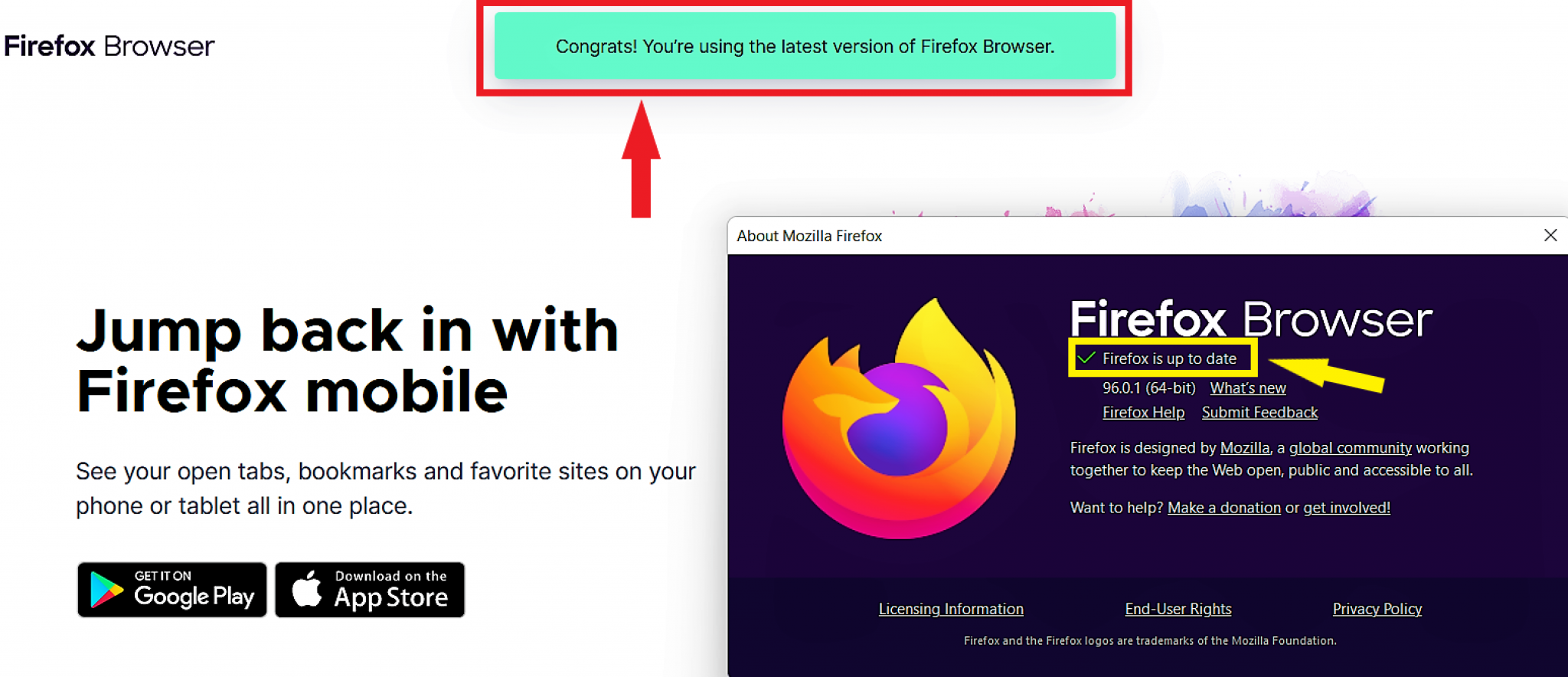 See the Update Firefox section for the latest release to learn how to update and keep your browser secure.
11. Using Safe Mode
Browsing in safe mode lets you run Firefox without any add-ons and themes. If your Firefox runs faster this way, you can remove your add-ons and use the default theme.
1: Open the menu and select Help.
2: Select Restart with Add-ons Disabled. Click Restart when you're prompted for permission to restart your Firefox.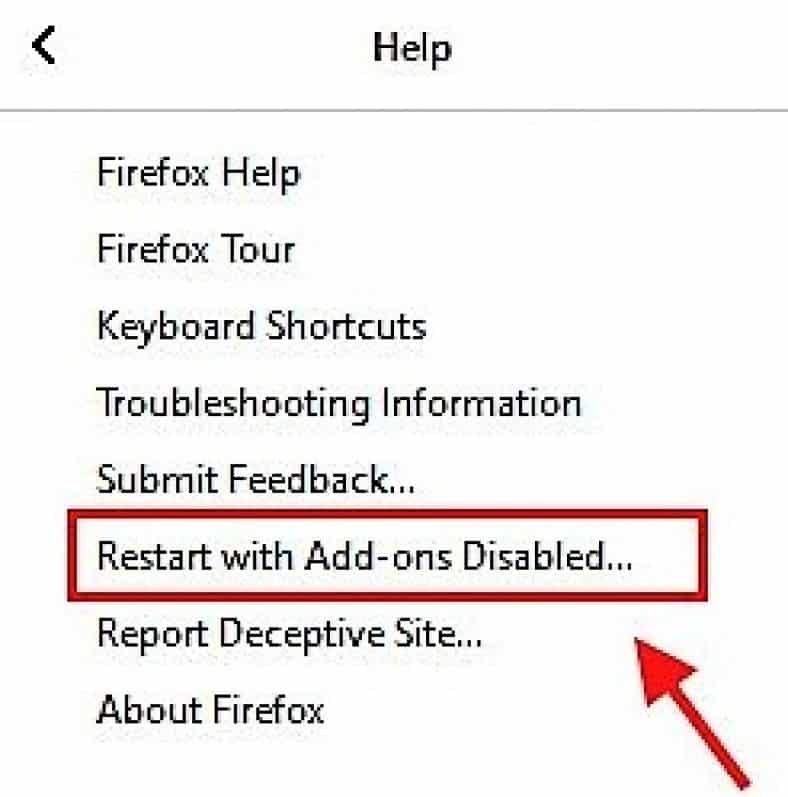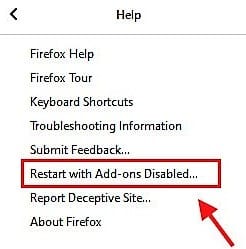 3: Click Start in Safe Mode.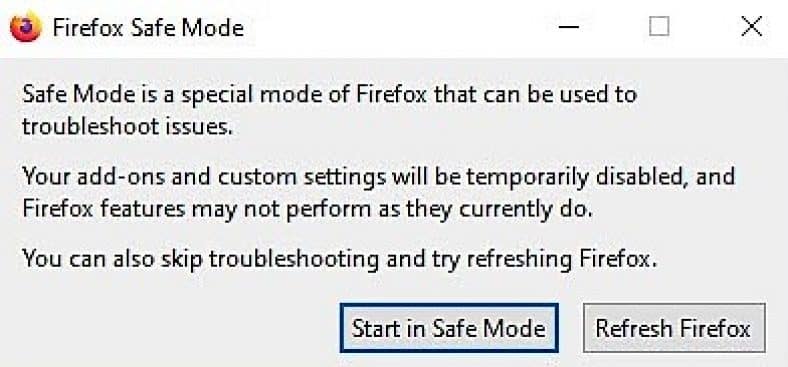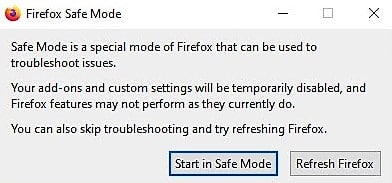 To speed up your Firefox, you can disable unnecessary extensions and themes to make it work at its best. To disable them, go to Menu > Add-ons and disable the extensions and themes you don't need.
12. Free Up Memory
1. Type about:memory in the address bar and hit Enter.
2. Under the Free Memory section, choose Minimize memory usage.

Now Firefox will release in-use memory that's no longer needed. This should provide a pretty quick boost in speed.
FAQs About How to Make Firefox Faster than Chrome 2023:
What is the main difference between Firefox and Chrome?

While Firefox allows the user to open a blank page, a homepage, or a set of URLs on browser startup, Google Chrome follows a different approach. Chrome shows the user thumbnails for the 9 most visited pages by the user. The browser has a text box to search history and a list of recent bookmarks on the right.

Is Firefox better than Chrome?

If you use Android, Chrome sends Google your location every time you search. Even If you turn off location sharing, it sends your coordinates out less accurately. Firefox still defaults searches to Google and permits some other tracking. But it doesn't share browsing data with Mozilla, which isn't in the data-collection business.

Chrome vs. Firefox: Which one is better?

Almost needless to say, versions of both Firefox and Chrome are available for the most popular desktop and mobile operating systems (Windows, macOS, Linux, Android, iOS). Firefox and Chrome offer an extensive library of extensions and plug-ins regarding features.
Conclusion on Making Firefox Faster than Chrome 2023:
These tips and tweaks will almost always result in immediate improvement in the performance of your Firefox browser. Unfortunately, the two most common causes of low browser speed are tabs and add-ons.
Today there are add-ons for practically everything, but we don't need most of them. Unless you get a handle on how you employ tabs, the effect of these tweaks will be short-lived. Learning how to manage tabs will undoubtedly improve your overall browsing experience.
After making the changes according to all these steps, restart Firefox, and then you will see the boost in the speed and stability of Firefox and the memory improvement.