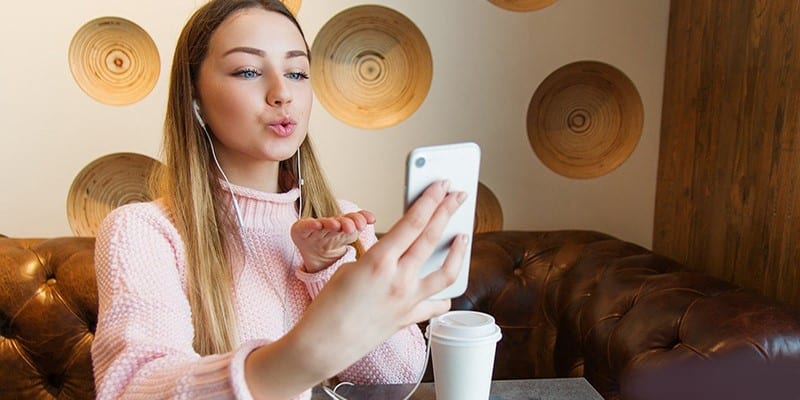 We rely on video calls to communicate with each other, even for personal or professional purposes. Suppose we turn to our computer's webcam and if it's of poor quality (which most of them are) or damaged, it will be a big problem. Fortunately, there's a workaround, in fact, an easy one to use your phone as a webcam on Windows 10 and Mac.
Droidcam is an app that lets you use your phone camera as a webcam on Windows 10 and Linux PCs.

How to Use Your Phone as Webcam for PC
DroidCam is safe to work with third-party video call apps like Zoom, Skype, etc. It is also available on multiple platforms like Android, iOS, Windows, and Linux. First, download the app for your respective operating system(s) to use your phone as webcam.
Having done that, let's see how using your phone as webcam works:
How to Set Up DroidCam via WiFi
Install both the phone and the PC client. Start the app on both devices and accept necessary permissions on the phone.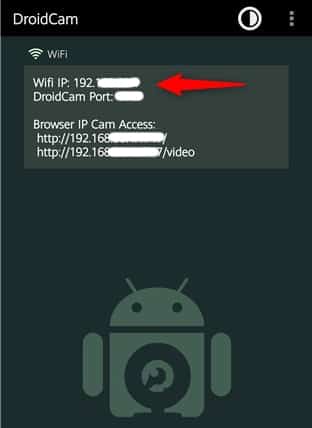 Ensure both the devices are connected to the same WiFi network to use your phone as webcam. The DroidCam app on your phone will show an IP address and port number, which must be entered into a PC client field.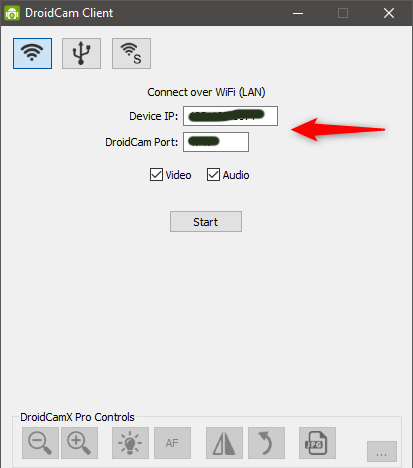 Then make sure to select the Video and, if you want, the Audio checkbox too. They control whether your Android smartphone can relay the camera video feed, as well as the sound from its microphone to use your phone as webcam.
THEN CLICK START
If everything is done well so far, you should see the camera output relayed from the phone's rear optics.

How to Use Your Phone as Webcam for PC
Additionally, you can connect both devices using a USB cable too.
You may also like to read:
How to Set Up DroidCam via USB
How to Use Your Android Phone As Webcam For PC On Windows:
Ensure USB Debugging (inside the phone's Developer Settings) is turned on. Rest, you have to dock the phone using a USB cable into the PC.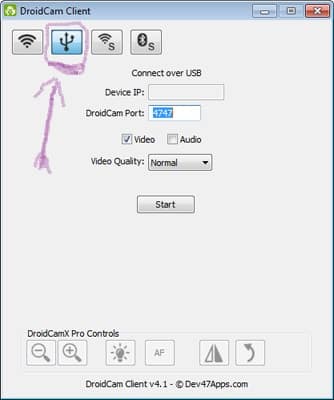 Start the client and choose "Connect over USB," Then your device from the drop-down list.
THEN CLICK START
How to Use iOS as Webcam For PC
For more detailed steps, please visit: Dev47apps
Use Your iPhone or iPad as Webcam With Windows 10 (iVCam)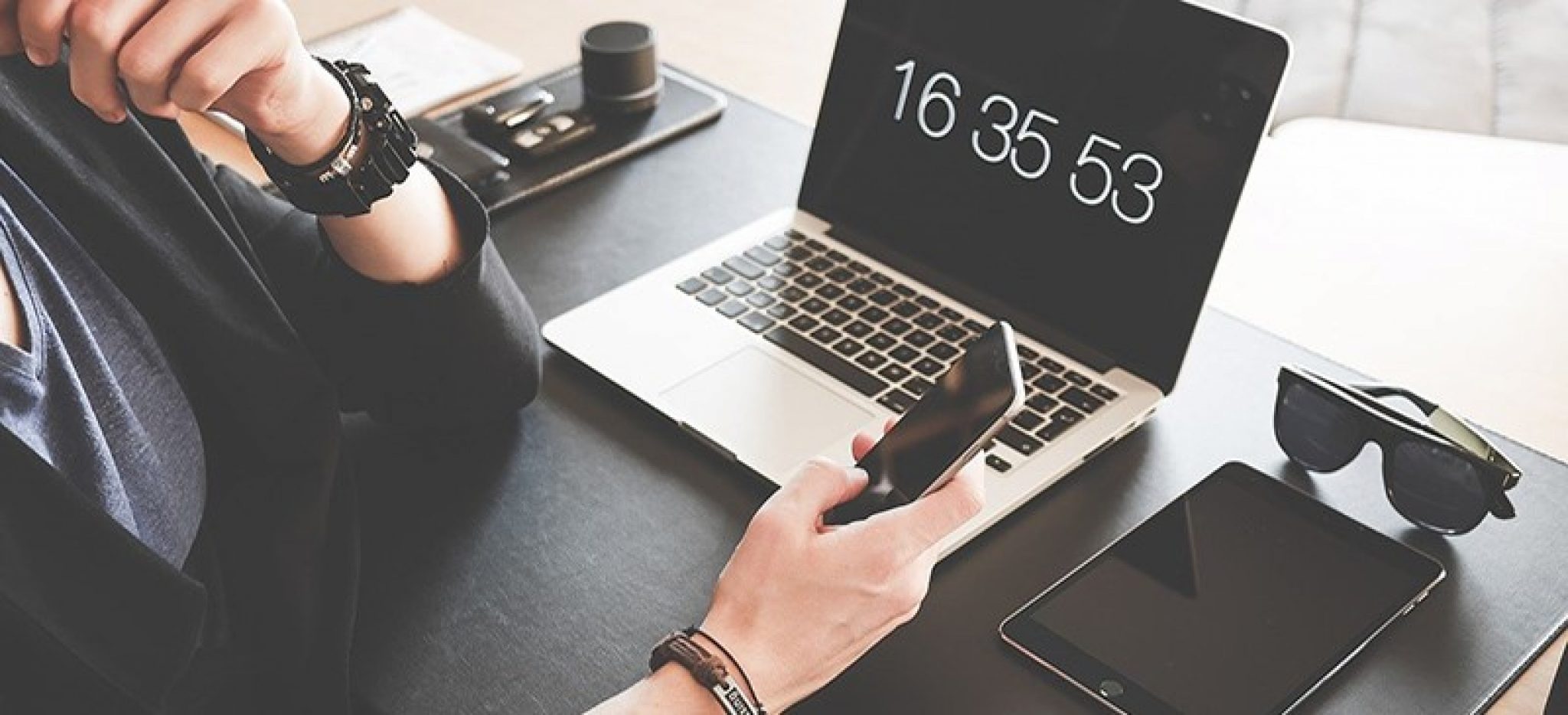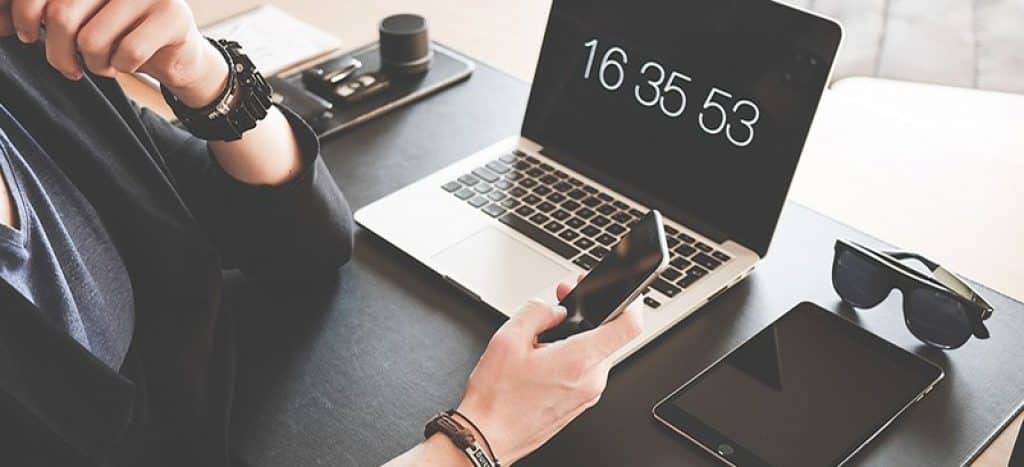 iVCam is the only app in the segment with more of a modern UI. As soon as you open the app, iVCam starts searching for the laptop with the local network's client app. Once it detects the app, the camera interface opens. iVCam has one of the smoothest connection processes on the list.
If you have an iPhone or iPad and a Windows PC, a super-easy option is iVCam. The camera interface here is unique out of the other 3. It supports swipe gestures. You can swipe left/right to adjust ISO, up/down to adjust the exposure, and pinch to zoom. The gestures come in handy, and all-in-all, the app UI is pretty intuitive. It tells you about the network connectivity and even has an auto-reconnect feature. In addition to it, you can also connect multiple devices to your iPhone. That way, it broadcasts the same video stream to all the devices.
As you launch both apps, it should automatically connect, and you'll be able to see the camera feed from your phone or tablet on your Windows PC.
In your default video-chatting app, select e2eSoft iVCam as your camera input.
If you purchase 
the audio capability
, once you download it, all you need to do is choose 
e2eSoft VAudio
 as the microphone in your video-calling app. It will automatically use your phone's microphone.
Play around with the app's settings to ensure you're using the highest camera resolution for the best results.
The app's overall experience is wonderful, with just one major complaint. You get full-screen ads between the video streaming. We want to say you can live with banner ads and watermarks, but full-screen ads are a deal-breaker.
Use Android Phone as Webcam For Mac
To use an android phone as a webcam with your mac computer, you need EpocCam. It requires iOS 10.3 or newer software. Like DroidCam, you don't need to use any cables to get it to work to use your phone as webcam.

Install the desktop drivers. Just make sure that your iOS device and computer are on the same Wi-Fi or LAN to use your phone as webcam for MAC. Open the mobile app, and finally, launch your video calling app. That's it. It's easy and simple, like Sunday mornings.
More interesting topics for you:
Connect With NeuralCam Live Using iPhone or iPad With Mac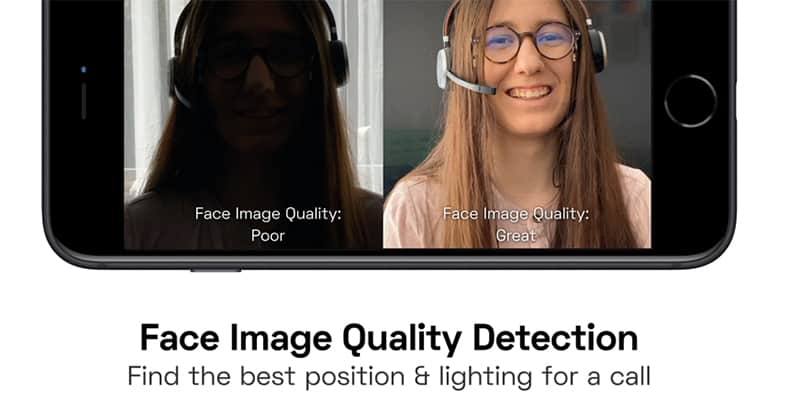 First, download and install NeuralCam Live – Smart Webcam from the App Store. When you first open the app, you'll be prompted to give it permissions. Tap Allow to let the app access your camera and microphone to use your phone as webcam.
Go to NEURALCam LIVE on your Mac. This link will automatically download the Mac plugin package.
To use this as a webcam in specific software like Zoom, go to that app's settings and change the camera and microphone to "NeuralCam Live."

How to Use Your Phone as Webcam for PC
Double-click the downloaded file and follow the on-screen instructions to install the plugin to use your phone as webcam.
Another Way to Use an Android Phone With a Mac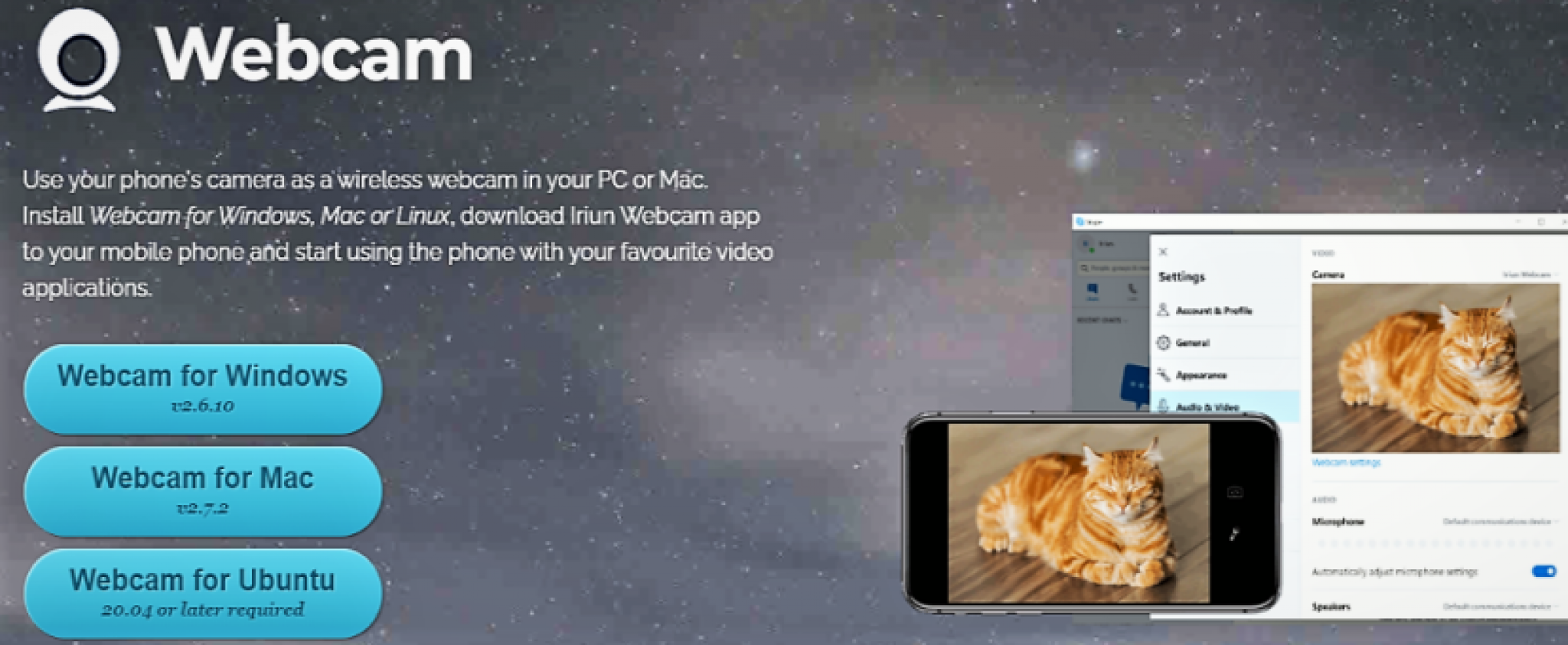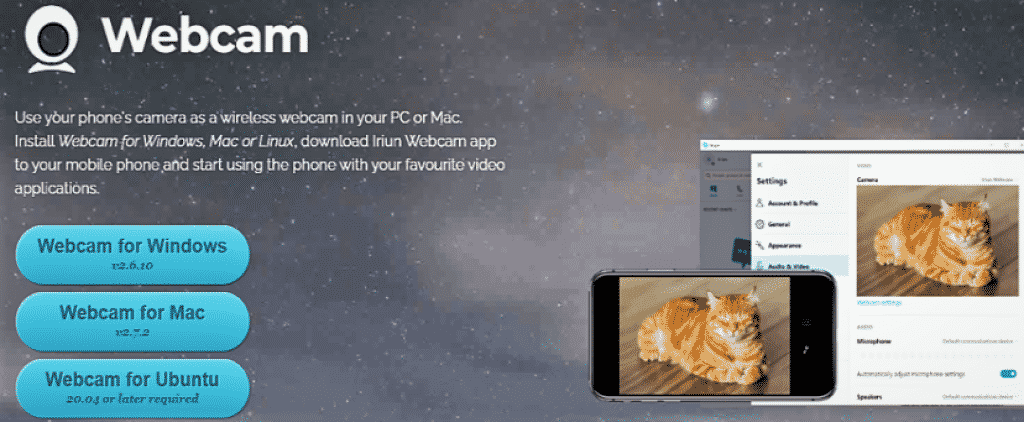 Use your Android phone's camera as a wireless webcam on PC or Mac. Install needed drivers and use your phone with Skype, MSN Messenger, etc., video applications. It supports resolutions up to 4K. (Max resolution depends on the phone).
Iriun Webcam supports USB connections too. Connect the cable and follow instructions on mobile. Install Webcam for Windows, Mac, or Linux, download the Iriun Webcam app to your mobile phone, and start using the phone with your favorite video applications.
Installing drivers for the computer:
You can download needed webcam drivers for your PC or Mac from https://iriun.com
How to get Iriun working:
Download the Iriun app on the Google Play Store (requires Android 5.1 and up).
Open the app on your phone, and give it permission to use your microphone and camera.
Download and install the MacOS app from Iriun's website (it also supports Windows, iOS, and Ubuntu).
Launch the client and it should automatically pair wirelessly with the phone app.
You're done! Open your videoconferencing app and choose Iriun as your webcam app.
Iriun Troubleshooting Tips:
If you're having problems after following steps, try these ideas.
Enable Developer Options on your Android phone. Go to Settings > About Phone and tap on Build number seven times. Now go to Settings > System and you'll see a new option for Developer options (it might be hidden under Advanced). Tap it and scroll down a little to find USB debugging. Toggle it on.
Plug your Android phone into your Mac with a USB cable.
Open the app on your phone and on your Mac and the two should automatically connect. Iriun should now show up as an option (wired or wirelessly) in your videoconferencing app.
FAQs – Use Your Phone as Webcam For PC
Can we connect the mobile camera to a laptop?

There are many ways to use your smartphone's camera as a webcam on the laptop. View the instructions over to use your phone as webcam on different devices.

How to connect the mobile camera to the computer?

Connect your computer and the phone to the same Wi-Fi network. Install the IP Webcam app on your smartphone. Tap Start server. The app will show a URL. Enter this URL in any browser on your computer. In the browser,  Video renderer– Select Browser. Audio renderer– Select HTML wav.

How to turn your smartphone into a wireless webcam?
Final Thoughts on How to Use Your Phone as Webcam
We hope at least one of these solutions works for you to use your phone as webcam. Now you know how easy it is to turn your smartphone into a webcam that you can use with your computer, are you still tempted to buy yourself a dedicated webcam? Or would you rather keep using your smartphone each time you need to make a video call on your computer?
Do you like how DroidCam works? Or do you prefer another similar app from the Google Play Store?
Please share your thoughts with us about using your phone as a webcam in the comments below.