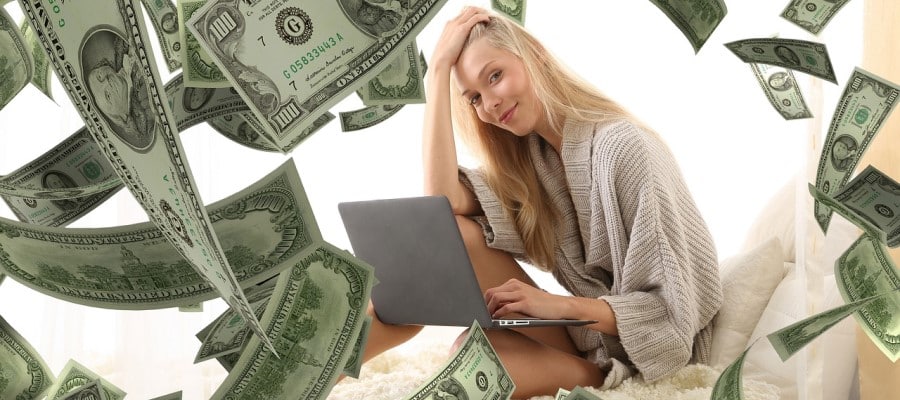 Do you want to boost your Adsense earnings but don't know how to do it, so? Don't worry anymore. Here we will share the complete process of how to increase your AdSense earnings.
It would be best to customize your AdSense ads in your blog to get more clicks and more money, so first, make sure you have created a responsive size ads code.
Adsense is a very web-friendly ads network, and it will show only people's interest-based ads, so for this reason, AdSense publishers can earn more money than other ads networks, but how to increase your AdSense earnings?
How to Increase AdSense Earning Easily?
If you want to increase your AdSense earnings, then you have to increase clicks; to increase clicks, you have to increase page views and visitors, and to increase visitors, you have to write a good article because the more pageviews will give you more clicks, and more clicks mean more money.
So if you have good visitors, you will get more clicks, but only clicks do not give you good money. You also need to good CPC as well. CPC means (cost per click), so if you get good visitors, but CPC is still low, how can you increase your AdSense earnings?
You may also like to read:
Write More Content
According to the performance report, the top ten websites with the highest revenue growth wrote an average of 100+ blogs. The ten websites with the least amount of revenue growth, on the other hand, produced an average of 35+ pieces of content per year. See the graph below for a better understanding.
It's no secret that websites that produce a lot of content grow faster than those that don't.
Writing more content is one of the most effective ways to increase AdSense revenue.
Try Mobile Anchor Ads
AdSense can now offer mobile-optimized partners Mobile Anchor Ads that will stick to the bottom of the mobile device screen as the user scrolls. You can use these ads to increase your AdSense earnings.
Quick Tips to Increase Your AdSense Earnings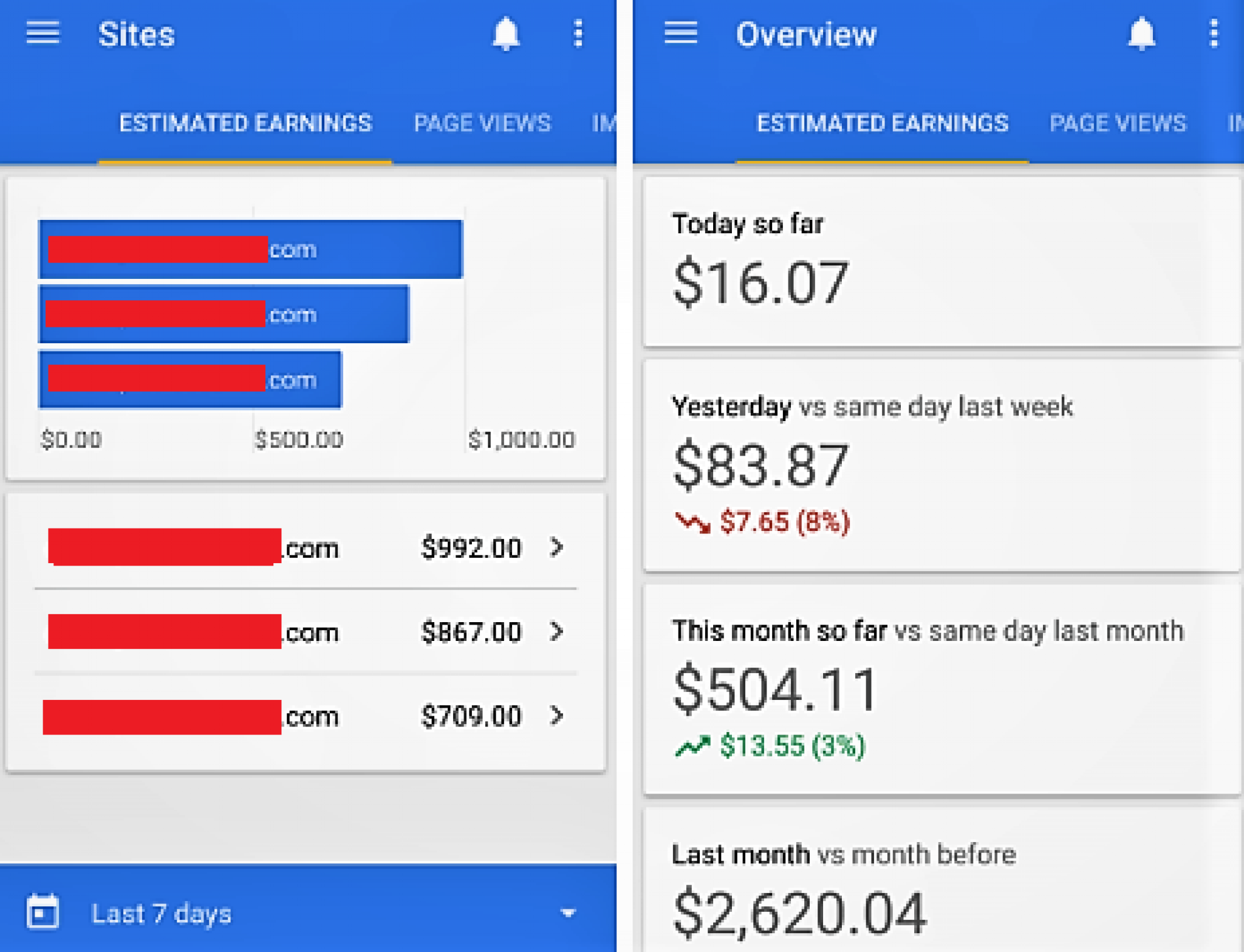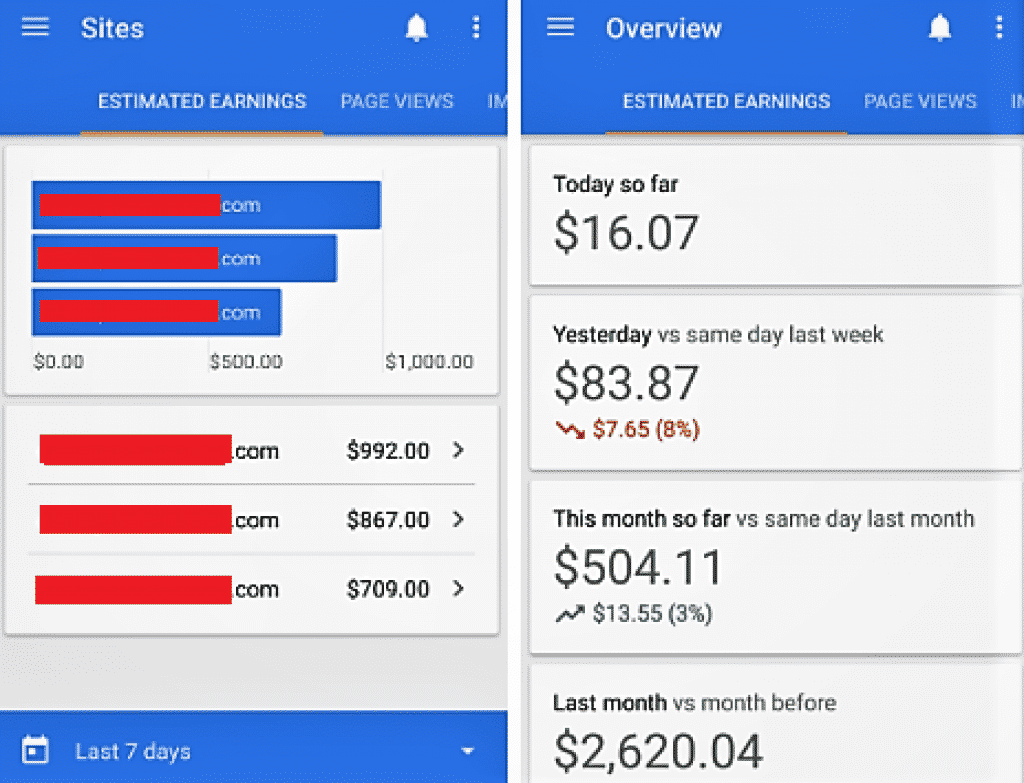 Using AdSense & want to increase your Earnings? Here, we will share tips that will help you to increase your revenue:
Anyone ca easily make money with AdSense
As a website owner, you can easily get caught up in your site's day-to-day running and underestimate the value of taking the time to optimize your ads properly to improve your business. Even the most modest improvements in a few key performance metrics can dramatically increase your AdSense earnings over time, especially as your traffic grows. 
Use Big Banner Ads to Increase AdSense Earnings
These tips are only for those people who do not have a good AdSense income:
Add responsive AdSense units on your website
To run responsive AdSense units on your website, you first need a responsive website. You cannot run responsive ad units on non-responsive websites. So if your website is not responsive, the first step is to make it responsive.
Know and learn about keywords
Knowing which keywords have substantial search volume, prediction of increased search queries, a high AdSense CPC, and low competition gives you significant advantages as an AdSense publisher. You will get more organic traffic.
Make Use of Auto Ads


Use Auto ads – AdSense auto ads are easy to optimize your ad revenue while allowing Google to do all the heavy lifting for you. Google automatically injects ad units into your website with auto ads and optimizes them without overriding pre-existing ad units.
Auto ads further have two settings: Global Settings and Advanced URL Settings. Almost everyone already uses Global Settings – applied to the entire site.
Advanced URL settings override the global settings and allow publishers to choose custom ad layouts for specific pages (URLs).
Maximize your AdSense Earnings with Smart Optimization


If your only source of income is Google AdSense revenue, perhaps these tips will help you:
Increase Your AdSense Earning with Below Steps:
Increase visitors and pageviews.
Write an article by using high CPC keywords.
Once you can generate a good amount of clicks, you can be able to earn more money.
AdSense for Search: Add Extra Revenue Source


Adsense offers many ways to monetize your site, and you should try to take advantage of all ad types. Adsense for Search not only helps you monetize, but it also helps with user navigation. Guide on setting up Adsense for Search.
Block Low Paying Advertisers
Did you know that you can block specific advertisers from showing ads on your website? Well, now you know.
Like disabling low-paying ad categories, you can also disable low-paying advertisers from appearing on your website.
Just go to the same Blocking Controls tab in your Google AdSense dashboard, and then go to Ad Review Center, and from there, you will be able to see a list of all the advertisers that have ads on your website.
Link your AdSense and Analytics Accounts
Linking your AdSense and Google Analytics accounts gives you access to AdSense metrics such as revenue, clicks, and impressions to increase your AdSense earnings. You can add to your favorite analytics reports to better understand how well your pages or content is monetizing.
This data can help optimize your site, such as the optimal ad load or what type of content to focus on.

How to Increase Your AdSense Earnings
Once you've linked your properties, you can use insights from Analytics to refine and optimize your AdSense ad units, improving the overall performance of your website.
Increase CPC to Double AdSense Earning with Same Traffic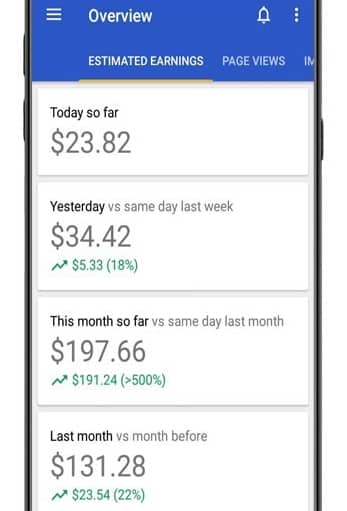 Increasing CPC (Cost Per Click) is the best way to increase your AdSense earnings is by increasing CPC (Cost Per Click).
You may ask how to increase CPC, so let us tell you about it in simple words. Just use the highest paying keyword inside your article so that AdSense can display high CPC ads on your blog posts.

How to Increase Your AdSense Earnings
Steps to Increase AdSense CPC to Earn Double Money
Get the highest paying keywords.
Start writing an article with any of those keywords.
Must use the keyword in the article to get the highest paying ads.
After writing, increase traffic from google.
Now you will get 1$ to $50 CPC as per click.
For example, if you got 10 clicks per day with a CPC of 0.5 to 0.10, you can earn $1 – $2, but if you got CPC $1 to $2, you could earn up to $10 $20 at the same traffic.
Advanced AdSense Earning Tips
Once you have ads running on your site, you'll want to ensure you get the most of your AdSense program. Here are some additional tips to consider when you're ready to boost your AdSense income:
Place Ads Between Posts to Increase your AdSense Earnings
If you want to increase your AdSense earnings, you can easily configure AdSense ads to match your page background and colors and add 468*60 image ads or text link ads in between posts. You can also add 7-10 pictures, keeping in mind that you want to offer your readers a good user experience.
Make sure to add enough space between ads & content so that it doesn't violate AdSense policies.
More interesting articles for you:
Place Ads Where Users can see Them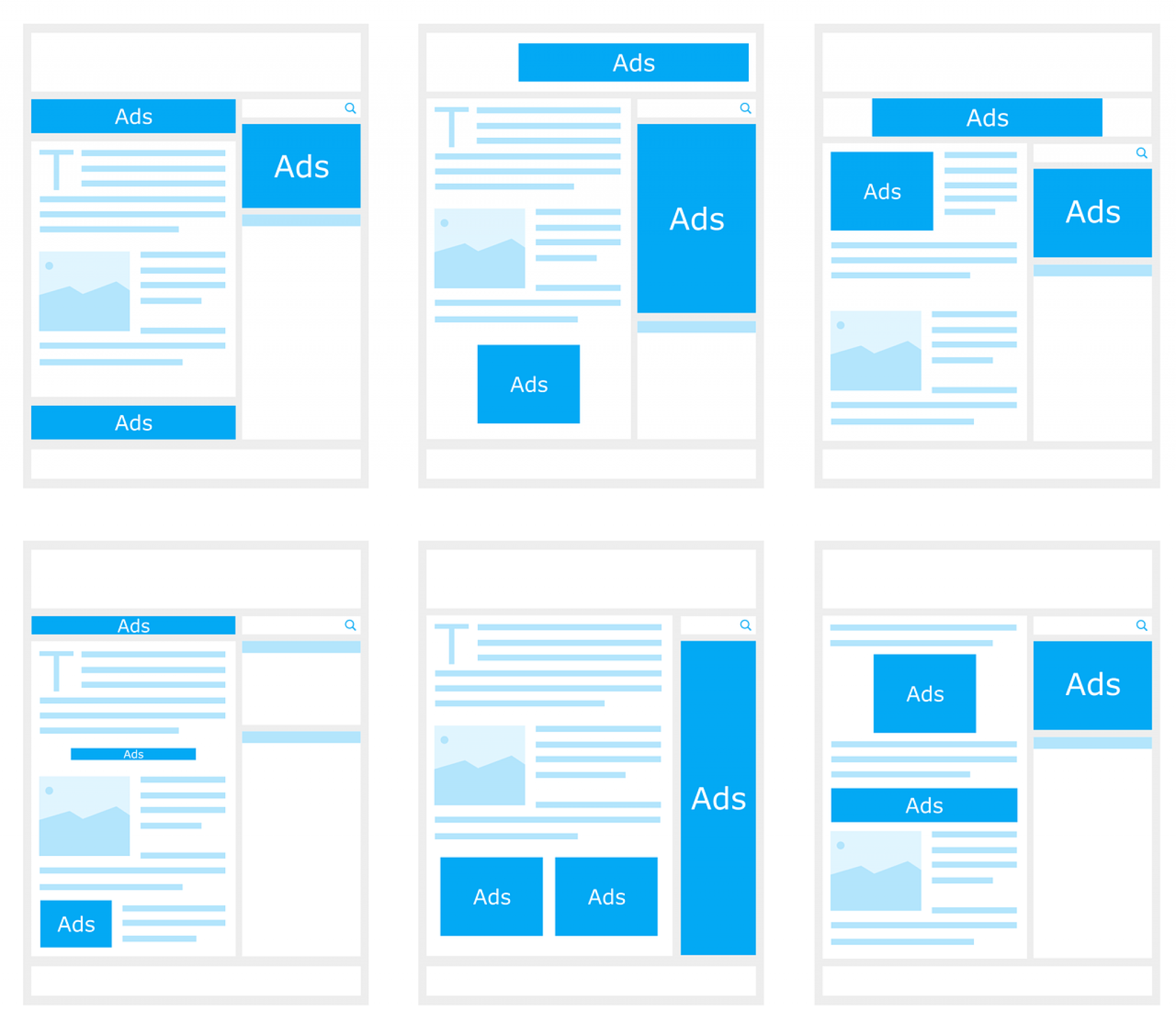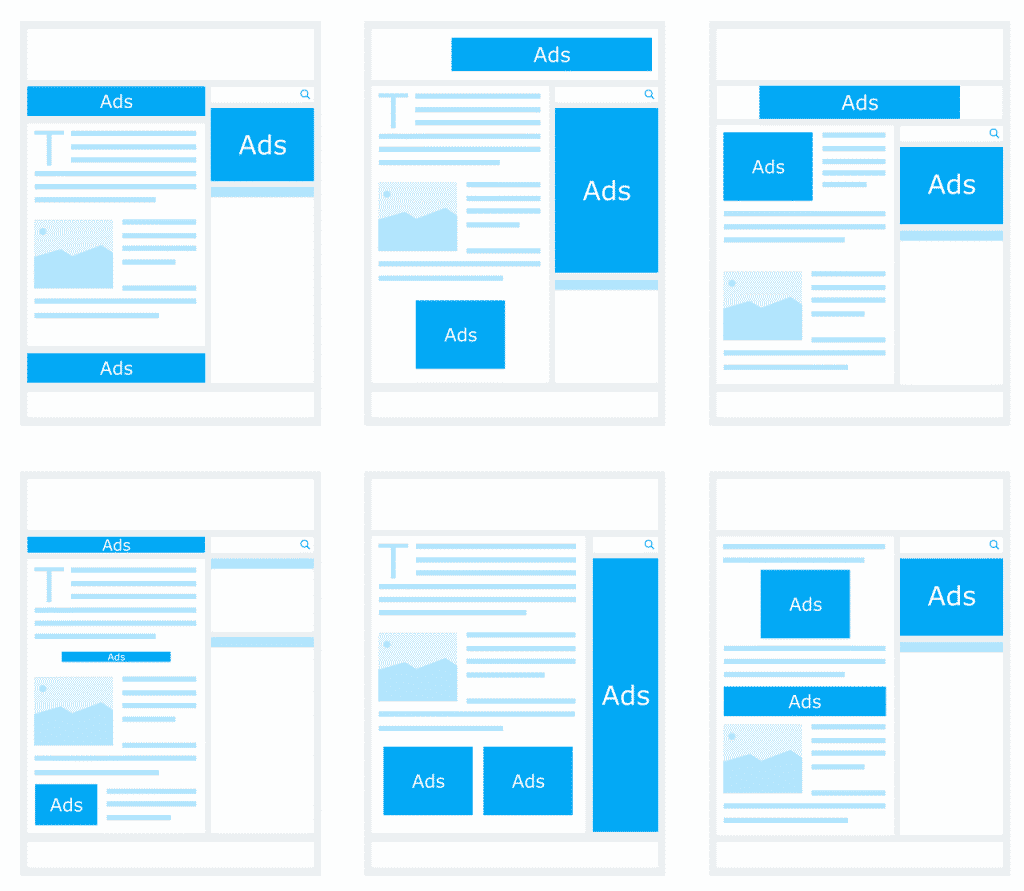 The position of the ads is crucial and can make a big difference in clicks and earnings.
Some hot spots like the sidebar or start of an article can bring you more AdSense earnings than other ads located in the website's footer, for example.
Caution: Google punishes websites with too many ads above the fold, so if you choose to enter the ads in the main content, do it at the end of the article.

How to Increase Your AdSense Earnings
It's always better to have the ads above the fold; that's the area users see without scrolling, but if this is not possible, try to have the ads in the page's main content instead of the sidebar.
FAQs About Increase Your AdSense Earnings
Why do you have to limit the number of ads above the fold?

How to find the right keywords for your site?

Along with engaging content, you should look at the keywords people use to find your website. By optimizing your site for search engines or SEO, you can quickly increase your organic traffic, and more traffic means more clicks, which increases Google AdSense earnings.

Which are the best ways to make more money with AdSense?

Optimize for Mobile Traffic. The percentage of your traffic coming from mobile devices is probably more significant than you suspect, and it's overgrowing. Check out the ad experience for your mobile visitors. If it's sub-optimal, there may be some quick wins you can pick up.

How to increase your AdSense earnings in WordPress?

While you can add Google AdSense to any WordPress theme, some WordPress themes are optimized for advertisement. These themes either have specially designated areas where you can place an ad code or have a layout that allows you to insert ads in optimized locations.
Final Words on How to Increase AdSense Earnings
Traffic is one of the most essential parts of earning from Adsense. Try to get traffic from countries like the USA, UK, etc. It gives you a high CPC compared to other countries.
So we are hoping we provide you valuable information about increasing AdSense's earnings. If you think we have missed something here, suggest to us and comment below if you have any questions related to Adsense. We will be happy to help you!