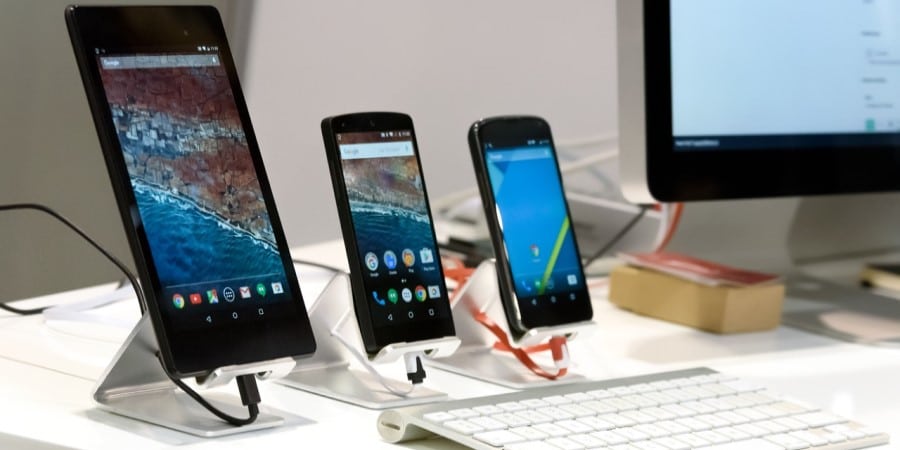 Sometimes, you want to see your Android smartphone's screen on your PC, or in other words, you want to view or mirror phone screen on Pc. How do you do that? You often have to view the phone screen on pc via USB in several YouTube videos. And you got surprised to see this; even we were surprised after watching a YouTube video, but how to mirror phone screen on pc?
After knowing these smarter tricks of a view or mirror phone screen on PC via USB without wi-fi, you can make your YouTube videos more interesting and show them off in front of your friends.
Well, if you have a rooted smartphone, it's easy. But if you haven't rooted your device, there are still some simple ways to view and mirror phone screen on pc and get your phone or tablet's screen to show on your PC or Mac.
You may also like to read:
What is the Screen Mirroring?
There are plenty of reasons to mirror phone screen on Pc. You might be a developer in the middle of coding and want to check your app without having to reach for your phone constantly.
Screen Mirroring is a method to share the Android screen with PC and the PC screen on Android.

How to View or Mirror Phone Screen on PC
You might want to share your pictures on a big screen without uploading them. Or you might need to give a presentation quickly while the projector is connected to a PC.
To mirror phone screen on PC, there are two ways one is wirelessly, and the other is by using a USB. We will discuss how you can share the Android screen and view and mirror phone screen on PC as this way is more efficient than the wireless way.
Whatever is why you came here for the view or mirror phone screen on PC tutorial, you are in the right place. Let's get to the point.
1. Mirror Phone Screen on PC via USB Without WI-FI With Wondershare Mobile
There is much software available to share your phone's screen with the computer to mirror phone screen on Pc, such as Mobizen, Air Droid, etc. However, those all require a WiFi connection.
Today, we introduce you software that lets you mirror phone screen on PC without a Wi-Fi connection. The software is called Wondershare Mobile. (Download it from HERE)
Step 1: Download the software from the link provided above and install it on your PC.
Step 2: Connect your phone to your PC via USB Cable. (Make sure USB Debugging is Enabled)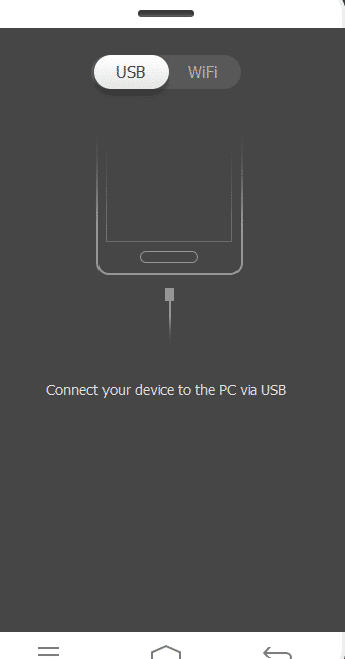 Once the phone is connected, your phone's screen will be showing on your computer.
Why You Need to Share Android Screen With PC?
Why share the Android screen with PC? Why view or mirror phone screen on PC? Now, this question is also rising on your mind. Let us clear this doubt.
There are so many reasons why you should mirror phone screen on PC. Suppose you are an app developer who wants to check for code output in your phone. Also, you can show your pictures instantly on a big screen without uploading them.
Moreover, you use it while giving presentations. If you are a YouTuber, you can use a computer mirror in your videos.
How to Enable USB Debugging Mode for Computer Mirror?
Turning on the USB debugging option is one of the most crucial steps while using screen mirroring via USB. To enable the USB debugging in Android, follow these steps:
Go to Settings of your Android.
In the settings, click on System.
Click on the About Phone option.
Scroll down and tap on Build number/software version five times.
Now, your phone's Developer options are enabled to use.
To enable USB debugging on your phone to mirror phone screen on Pc: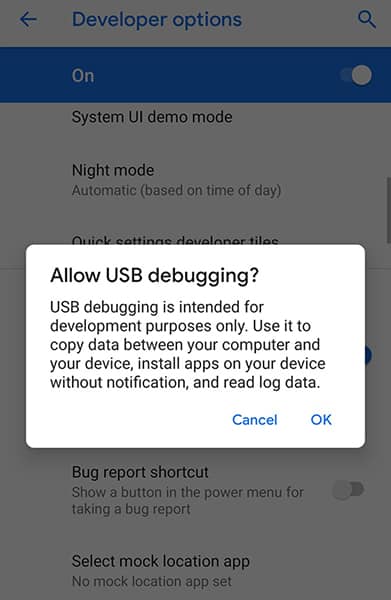 Again open your Settings.
Go to System.
Scroll down to find Developer Options on your Android phone.
Tick on the "Always allow" pop up to avoid repeated dealing with the permission.
Software Required to Mirror Phone Screen on PC
There is a bunch of software in the market. But unfortunately, many of them are with a subscription to avail full features. But don't worry, here is a list of some popular screen mirroring software.
Let's continue our topic about viewing or mirroring phone screens on a PC with or without a USB.
2: How to View or Mirror Phone Screen on PC With ApowerMirror
You can now use the mouse or keyboard to control your phone to mirror the phone screen on Pc.
3: How to Mirror Android Screen Using Scrcpy on MacOS
Open Terminal.
Enter the Homebrew command and press enter.
Now, enter the command "brew cask install android-platform-tools"  if you haven't installed Android ADB tools on your macOS.
To install Scrcpy, enter the command "brew install scrcpy"  and wait for the installation to complete.
Now, plug in your Android device using the USB cable and enter the command "scrcpy" in the Terminal.
Windows and Linux users can find steps to install the Android mirroring tool on Scrcpy's Github page.
4: How to Mirror Phone Screen With PC Windows With Scrcpy
Once you download, double-click the scrcpy.exe file to run it. You'll see an "Allow USB debugging?" confirmation on your phone first—you'll have to agree to the message on your phone to allow it.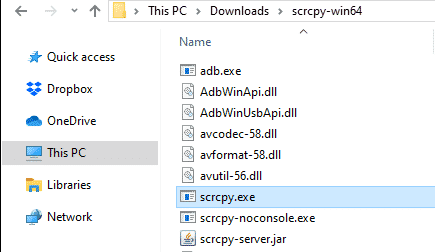 After you have, everything should work normally. Your Android phone's screen will appear in a window on your desktop. Use your mouse and keyboard to control it.
Why Scrcpy is Better Software to Mirror Android on PC via USB?
Scrcpy is free software that shares android screens to pc for free without extra charges for premium access to mirror phone screen on Pc. You don't have to install any application on your Android phone.
It is also available for Windows, macOS, and Linux, so there is no tension about the OS. If you have any technical knowledge, you can also wirelessly mirror the phone to pc using a TCP/IP connection.
And the most important use is you can also control your Android phone through your computer mirror.
More interesting articles for you:
5: Getting Started With Mobizen Mirror Phone Screen on PC
Mobizen mirroring allows mobile devices to connect with PC via application or web browser. Mobizen Mirroring service can be used via mobizen.com or by installing the PC application.
Follow the steps below to get started to mirror phone screen on Pc:
Download and install the Mobizen Mirroring PC application.
Launch the PC application, select between USB or Wireless.
Verify the device with 2-step verification (not applicable with USB connection)
On the mobile device, press the "2-step verification" button.
Enter the 6 digits code from the PC on the device's keypad.
Press START to continue with the connection.
6: View Phone Screen Using Free Wireless App AirMore
First, download this free app called AirMore.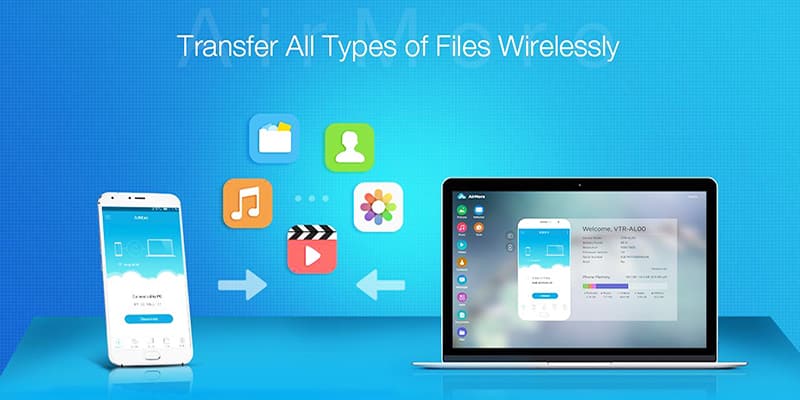 It allows you to capture the device screen wirelessly in one click on the web. And it allows you to keep it as a file or copy it to a clipboard. With this, you can share what is happening with others for the first time.
1. Install the program on PC and activate it.
2. Plug in the USB cable to build the connection between Android and PC. The app will be automatically installed on Android after your permission. When launched, a window is shown on your phone. Select "Don't show again" and hit "START NOW."
3. Now the phone screen is cast on PC. Meantime, you can take advantage of a keyboard and mouse to control the mobile device from a PC.
It's very easy to display phone screen on a PC via WiFi connection, but both devices should be connected to the same WiFi.
LetsView – Share Your Android Screen on Windows PC
LetsView is another in-demand mirroring tool available for free. It is a wireless application that you can use to mirror your Android phone to pc. The application comes with distinct functions available on paid apps like screen recording and capturing. Meanwhile, you may refer to the guide below to utilize LetsView.
Download and install the app on your devices using the download buttons below.
Launch the app. On your computer, get the PIN code appearing on your screen.
On your phone, tap the Asterisk icon on the upper right corner and enter the code to mirror and thats it.
7: How to Mirror Android Screen Via USB With Vysor
Download the Vysor mirroring software for Windows/ Mac/ Linux/Chrome
Connect your device to PC via USB cable
Allow USB debugging prompt on your Android.
Open Vysor Installer File on your PC
The software will prompt a notification saying a "Vysor has detected a device."
Now, tap on view to start casting your device on your PC screen.
FAQs About How to Mirror Phone Screen on PC
How to mirror your Android phone screen to PC for free, with full keyboard and mouse support?

1. Download the scrcpy program on your computer.
2. Enable USB Debugging on your Android phone via Settings > Developer options.
3. Connect your PC with the phone via a USB cable.
4. Tap "Allow USB Debugging" on your phone

How to mirror your android screen to PC or Mac without root?

You don't need a USB cable to mirror your Android phone to a PC. Scrcpy has a wireless solution, and you can connect your Android device and PC over the same Wi-Fi network.

How to cast an android screen to a PC using Wi-Fi or USB?

No matter what the reason is, it is relatively easy to cast your Android screen to a PC regardless of whether your Android device is rooted or not.
Conclusion – Why Mirror Phone Screen on PC is Better via USB Than Wireless Connection?
As you know, wired connections are much more powerful and reliable than wireless ones. And it also impacts screen mirroring too.
While using a USB connection, you can also control your phone from the computer mirror itself. But not on the wireless connection. Moreover, there is a lot of noticeable lags on the wireless side.
And by mistake, if you switch off the phone for a few seconds, reconnecting it isn't easy. Or you have to restart both your phone and computer software.  
We hope this helps to solve your problems. If you have any issues, then ask us in the comments below.