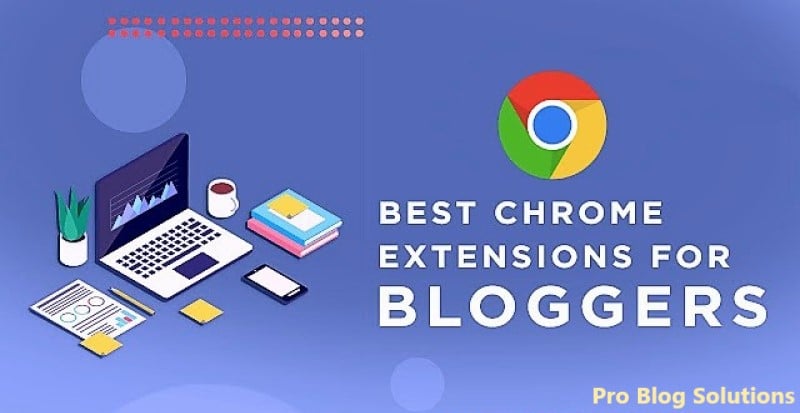 Before we jump into today's topic of the top 10 best Chrome extensions for bloggers, let's understand some facts. Running a website or blog takes a lot of hard work. Every day, site owners must put much time and effort into organizing content, links, and traffic to ensure their websites are booming. The only way to ensure you cover all grounds is to use all your resources to their fullest.
One resource that serves as the backbone of a website is the web browser. While different users have their preferences, it is hard to find a browser that comes close to Google Chrome.
Chrome has become a global favorite thanks to its speed, clean design, and efficient tab management. Another reason why Chrome is the leader of all browsers is its extensibility.
Users can customize and improve the browsing experience by accessing the countless extensions and apps available on the Chrome Web Store. When you open the Chrome Web Store, you'll find thousands of extensions and apps available for download.
Most of them are free, and once you download these extensions or apps, they become incorporated into your Chrome browser. You can access these apps with the click of a button.
Which Features Should You Look for in the Best Chrome Extensions for Bloggers?
There are many great Chrome extensions available for bloggers, but some of the most essential features to look for include:
Grammar and spelling checking: A good grammar and spelling checker can help you catch errors in your writing before you publish your blog post. Grammarly is a popular option that offers a free version with essential features and a paid version with more advanced features.
SEO tools: SEO tools can help you improve your blog posts' search engine ranking. Some popular SEO tools include Ubersuggest, MozBar, and SEOquake.
Ad blockers: Ad blockers can help you improve your browsing experience by removing annoying ads. AdBlock is a popular ad blocker that is available for free.
Research tools: Research tools can help you find information for your blog posts.
Productivity tools: Productivity tools can help you stay organized and on track with your blogging.
You may also like to read:
The sheer number of apps and extensions on the Chrome Web Store can be overwhelming, so here is a list of the top best useful extensions for bloggers.
1. Grammarly
Making a grammatical error on your web content can spell doom for your credibility. Most customers find language and grammatical mistakes unforgivable, which is why you need Grammarly also, on problogsolutions.com; we use Grammarly to proofread our articles.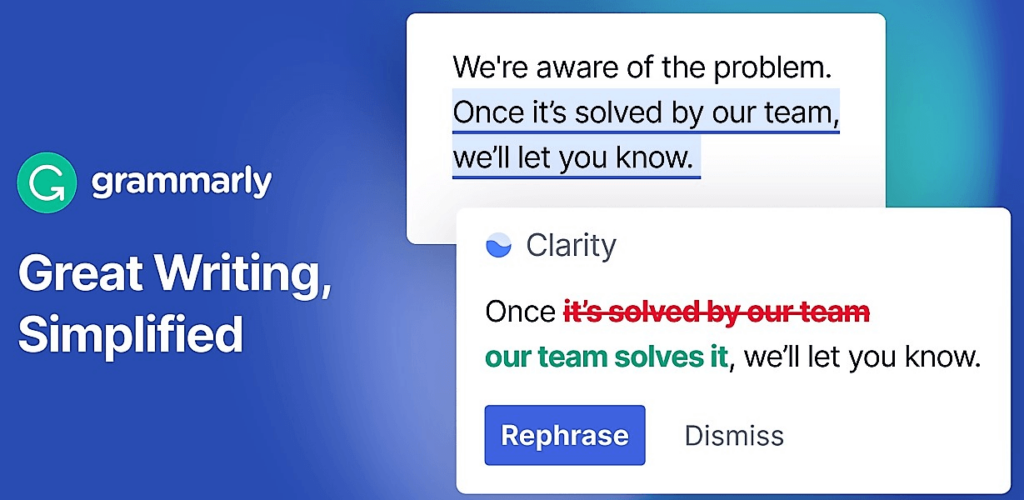 No matter how good your language is, everyone occasionally slips up.
Grammarly helps you prevent that by checking your grammar and spelling. It scans the text and shows you the improvement opportunity for a better English writing experience.
It worked on most sites and got a great editor to write a story, article, or book. It sounds perfect for preventing embarrassing grammatical mistakes on your blog or social media posts.
---
2. SEOquake
Keeping your blog ahead in today's Internet world takes a lot of effort.
SEO is essential for any site, but it can be quite the task of keeping up with constantly changing requirements. SEOquake can help to ease SEO-related tasks.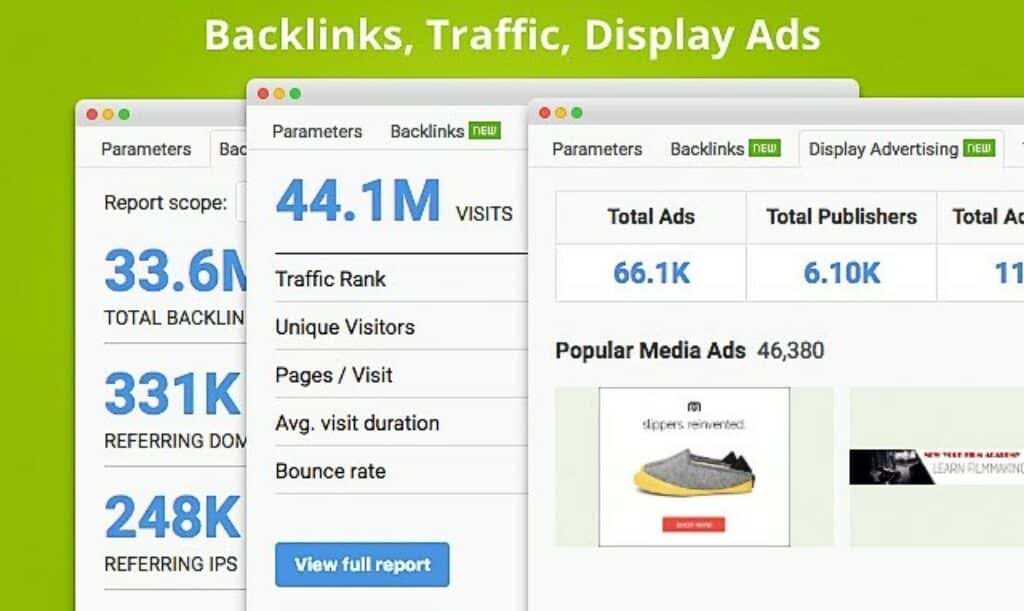 SEOquake consists of several tools you can use depending on which specific SEO endeavors you're pursuing. The SEO bar is an additional toolbar located at the top of the browser window, and it presents several core metrics which can be customized. The SERP overlay is a bar that appears below each SERP result.
Once enabled, it gives detailed metrics associated with each listing and another sidebar section, allowing you to sort and export your results. Also, you can get detailed reports for a specific page you are analyzing.
It functions as an SEO analysis suite and helps manage SEO efficiently. A good pick if you are looking to optimize your web page for better SEO.
---
3. Awesome ChatGPT Screenshot & Screen Recorder
Awesome Screenshot allows you to take screenshots of an entire or part of a web page.
Once the screenshot has been captured, you can edit the picture, highlight, crop, draw shapes, blur out unnecessary or sensitive information, and add annotations.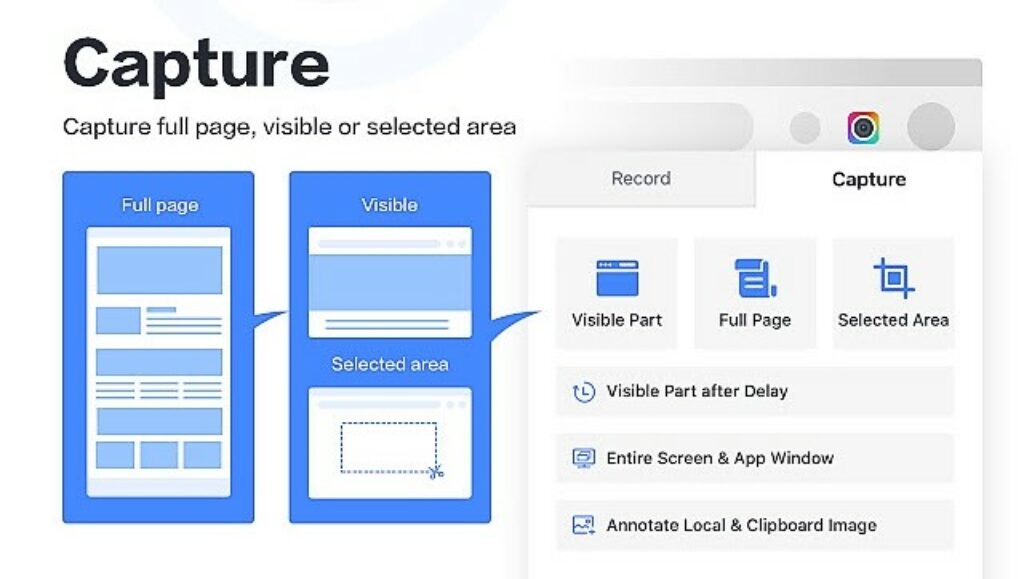 Here are 9️⃣ reasons to choose Awesome Screen Recorder & Screenshot:
Provide stable service for more than 10 years.
Loved by more than 3 million users across different platforms.
Local Screen Recorder & Cloud Screen Recorder.
Screenshot / Screen capture & Screen recorder.
Quick Customer support.
Powerful features specially designed for work and educational scenarios.
No ads, and respect your privacy.
Easy to use.
Instant sharing of your screenshots and screen recordings.
Another incredible feature of Awesome Screenshot is that it allows you to record activities on your browsers as a video. You can also edit the video, add annotations, crop it, and make changes.
Once done, you can save these images and videos on your local drive or upload them to the cloud.
---
4. Designer Tools
With this Chrome extension, you can measure and align elements within Chrome.
If you're a web designer or developer, you know how important it is to have the right tools to build pixel-perfect websites and applications. That's where Chrome Designer Tools comes in. You can easily create visually appealing and accurate designs with powerful features like rulers, guidelines, element alignment, and space measurement.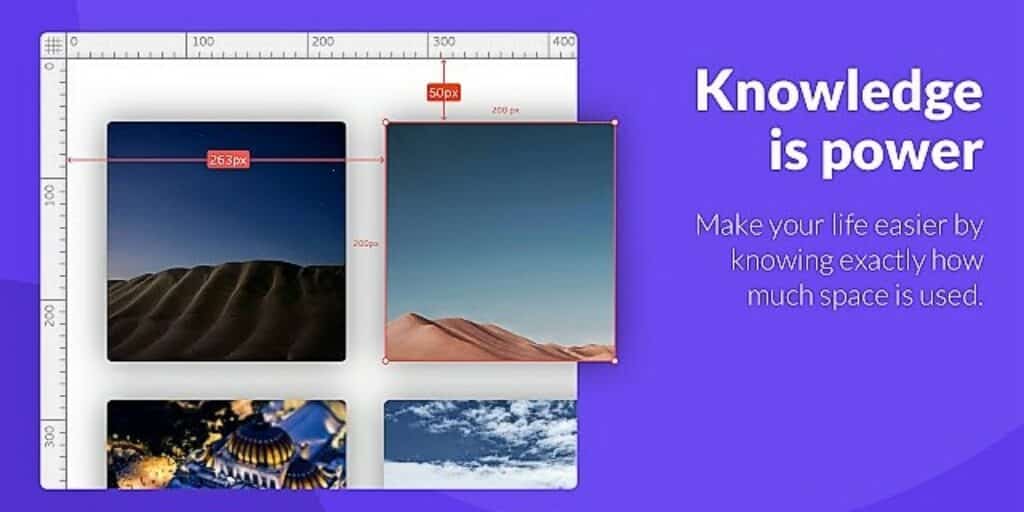 With the ability to add grids, save, move, remove guides, and change settings, you'll have even more control over your design process. Additionally, with a wealth of additional resources available to PLUS subscribers, you'll have the tools you need to succeed. Try Chrome Designer Tools today to see how it can transform your workflow.
---
5. Email Hunter Chrome Extension
Make digital marketing a breeze with the Hunter. You can find email addresses from anywhere online with just one click. Hunter for Chrome lets you find immediately who to contact when you visit a website.
It is an email finder tool that gives you the email addresses of the people behind any website to contact, along with their names, phone numbers, job titles, and even social networks. All this data is backed by public sources visible in search results.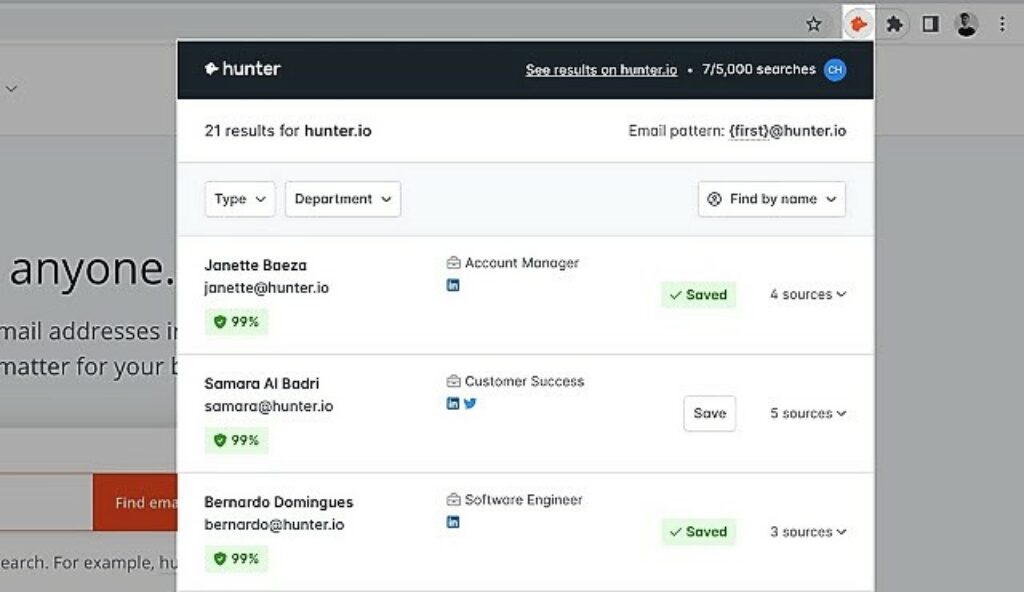 Hunter's email finder extension requires an account you can create immediately after the installation. You'll get 25 free searches/month and can upgrade your account for more.
Its domain Search feature is the most potent email-finding tool of its kind. Click the icon in Chrome to find all the email addresses related to the website you're visiting. It includes the most common email pattern, department filters, and public sources.

The email addresses are marked verified or returned with confidence scores. If an email address is not verified, you can do so by clicking the checkmark icon.
---
6. Bitwarden – Free Password Manager
Bloggers typically have accounts on a lot of platforms. Thus, remembering passwords for each of them can be a hectic process. This is where Bitwarden can help.
Bitwarden is a powerful password manager with an attractive interface and responsive extensions for multiple browsers, including Chrome, Edge, Opera, Firefox, Tor, Vivaldi, Brave, and Safari. 
Bitwarden is focused on open-source software. The source code for Bitwarden is hosted on GitHub, and everyone is free to review, audit, and contribute to the Bitwarden codebase.
With its browser extension, you can auto-capture and auto-fill passwords directly into the login fields. The extension will also help you generate passwords and passphrases for your online accounts.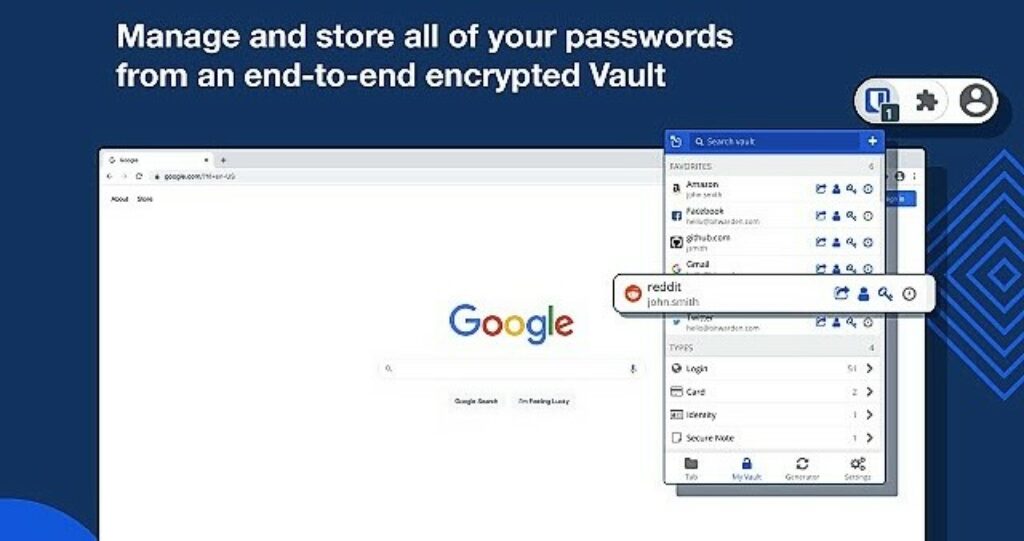 Bitwarden stores all your logins in an encrypted vault that syncs across all your devices. Since it's fully encrypted before it leaves your device, only you can access your data. Not even the team at Bitwarden can read your data, even if they want to. Your data is sealed with AES-256 bit encryption, salted hashing, and PBKDF2 SHA-256.
Along with passwords, you can also store notes, card information, identity information, etc., through the extension. The free plan also offers data breach reports, informing you if your data has been leaked online. 
This password management software is a must-have extension for every blogger. It will help bloggers secure their online accounts and minimize the risk of their accounts being hacked.
---
7. AdBlock
Nobody on this planet is fond of those pesky pop-up ads. Imagine opening a website and waiting for the content to load, but a large ad banner blocks most of the page.
AdBlock is the best ad blocker, with over 60 million users, and one of the most popular Chrome extensions, with over 350 million downloads!
You spend a few seconds looking for the elusive close button, and when you finally find and click it, you are taken to an entirely new page about something you were never interested in.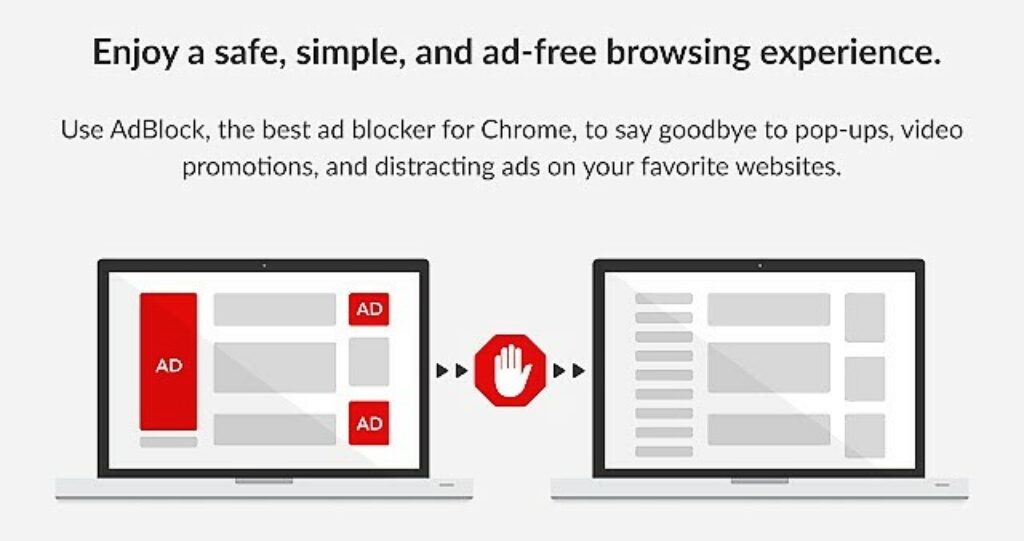 Google has heard your prayers, so you have the AdBlock extension for your Chrome browser. With AdBlock, you can say goodbye to all kinds of annoying advertisements.
NOTABLE FEATURES OF ADBLOCK EXTENSION:
Block pop-ups, ads, and annoying banners (even remove video ads!) on YouTube, Facebook, Twitch, and all your favorite sites.
It blocks third-party trackers and protects your privacy.
Browse safely by blocking malicious ads with malware, scams, and cryptocurrency miners.
It will improve page load times and enjoy faster Internet.
Customize your experience with filters, whitelists, dark mode, and other colorful themes.
You can back up and sync your whitelists and custom ad-blocking rules across your Chrome profiles.
Enjoy custom ad blocking by replacing some ads with pictures of cats, dogs, and landscapes.
Millions of users have installed the AdBlock extension, and you can take their word for how it has dramatically improved their browsing experiences.
Also, AdBlock participates in the Acceptable Ads program, so unobtrusive ads are not blocked by default to support websites. The company believes users should control what they see on the web, so you can easily opt out of AdBlock's settings.
---
Recommended for you:
8. WhatRuns
If you have ever wondered what makes a successful website tick, you should install a free Chrome extension called WhatRuns. This enables you to discover technologies used on any website.
WhatRuns detects almost everything that runs a website – frameworks, web technologies, CMSs (and its plugins), themes, and fonts, to name a few categories.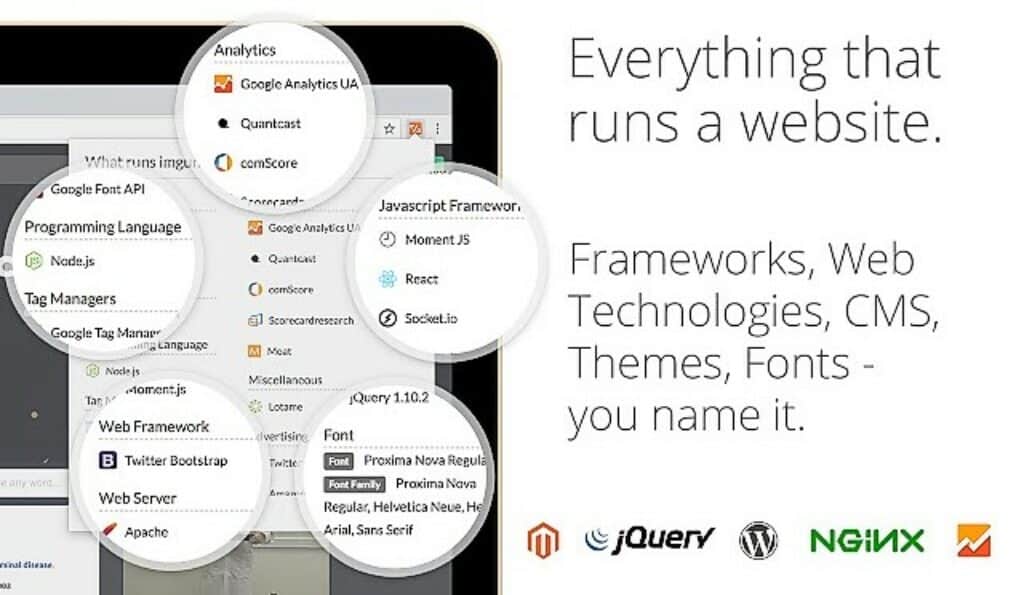 It also notifies you when a website removes or adds new technologies. WhatRuns allows you to get ahead of the game by staying abreast of what your potential partners or competitors are up to.
WhatRuns is less heavy on your browser, has better detection accuracy, and recognizes even the latest technologies and plugins compared to their counterparts. This extension also uncovers fonts, WordPress plugins, and website themes, which nobody else does now.
---
9. MailTrack
Emails are still one of the most efficient forms of digital marketing today.
If you use Gmail, you should try MailTrack. It lets you identify incoming messages and determine whether your emails have been read.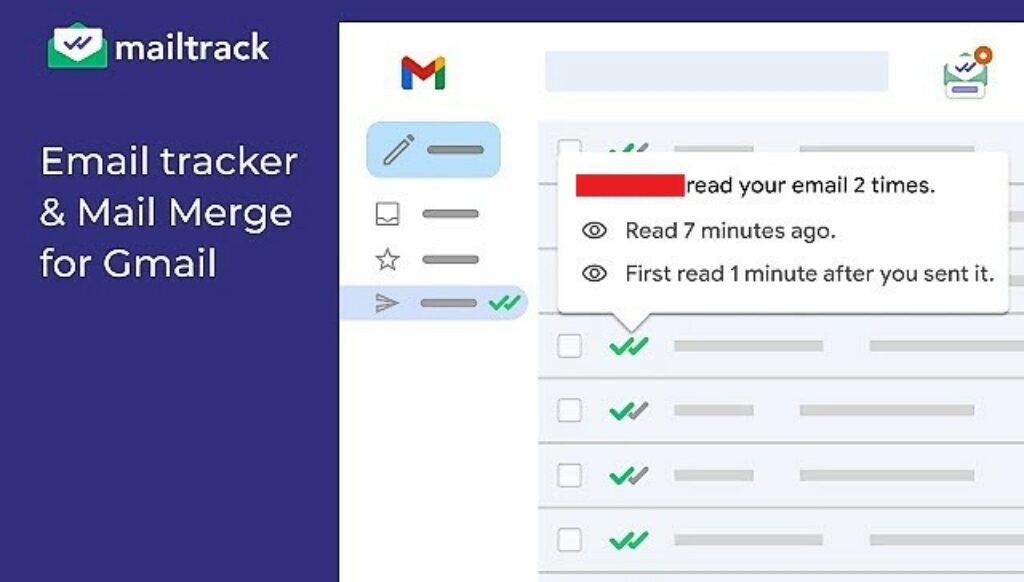 WHEN TO USE MAILTRACK:
Job search: Know whether your resume has been opened by the recruiter or not.
Sending Quotes: Know if your potential clients are engaged.
Invoices: Know whether your bill has been received or not.
Newsletters: You can send up to 1,000 individually tracked emails once using the Mail Merge option.
Email marketing: Measure your cold email effectiveness with Mail Merge.
This is an excellent tool for users who have a large number of emails coming in every day. MailTrack offers daily tracking reports, line tracking, reminders, and many other excellent features.
---
10. StayFocusd
Do you ever waste time on viral websites when you should be working? Peeking at Facebook posts and browsing through Reddit threads are great ways to spend time, but not when you have promised to get some work done.
Say goodbye to procrastination and boost your productivity with StayFocusd. This helps you to remain focused on your work by limiting the time you spend on websites that can be distracting.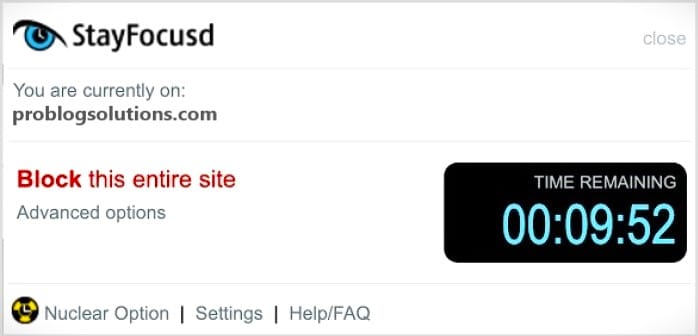 StayFocusd is a productivity extension for Google Chrome that helps you stay focused on work by restricting your time on time-wasting websites. Once your allotted time has been used up, the sites you have blocked will be inaccessible for the rest of the day.
It's highly configurable, allowing you to block or allow entire sites, specific subdomains, specific paths, specific pages, and even specific in-page content (videos, images, forms, etc.).
Installing StayFocusd will ask you to grant several permissions, including "Read and change all your data on the websites you visit." This permission is required for StayFocusd to run on any site you may visit—without this permission, StayFocusd would not be able to block websites. While this permission technically grants StayFocusd the ability to read and change data. The company will never collect personal data from the web page content that you are browsing.
You can set a specific amount of time to browse these websites daily. Once this time is up, you can no longer access these sites for the rest of the day.
---
Final Words on Top 10 Best Chrome Extensions for Bloggers:
We shared the top 10 best Chrome extensions for bloggers, which helps you save time.
But still, you want to recommend some more extensions for fellow bloggers, so feel free to share in the comment section and also share whether this article is helpful for you or not? And we also want to recommend you try at least 6 extensions from this list and let us know your selection via the comment section.