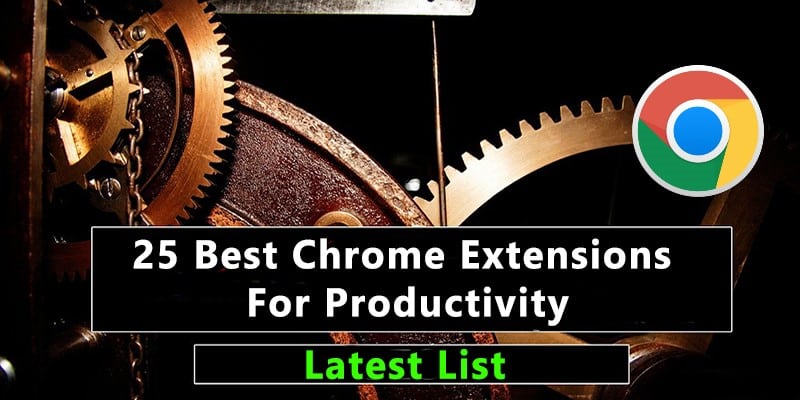 Today, we will introduce you to the 25 best chrome extensions for productivity. Because we all know the internet can be a time sucker, and we have lots of things to do, and these best chrome extensions will help you do your work in easy ways.
Google Chrome holds 62.7% of the browser market share worldwide. So what is it that Google Chrome is offering its users, which other browsers fail to provide?
Well, one answer could be the availability of browser extensions. Google Chrome offers hundreds of browser extensions to customize your browsing experience. These best chrome extensions can help you add more features and functionality to your Google Chrome Browser.
25 Best Chrome Extensions
We browse the internet all day, and we have many browsers to choose from, but Chrome is the most powerful and feature-rich browser. Chrome has a massive store for extensions. We thought to list the best chrome extensions out of that extensive list.
All these extensions are tested and the best part is that they are all available for free!

Best Chrome Extensions for Productivity
Most people use chrome due to its many features and support for the latest web standards. We compiled a list of the best chrome extensions to help you save time, improve productivity.
1. OneTab
Chrome has many features but takes a lot of system resources and makes your PC slower. You might be using many tabs, which might be why the slower PC, but we have a solution for you. Onetab is a chrome extension that helps you send all your tabs to onetab, clearing all your tabs. This will help you save a lot of RAM and make your PC smoother, and you can restore the tabs that you sent to onetab anytime as it stores all your tabs history.
---
2. Save to Pocket
We visit many websites and read many articles every day, and we find many attractive and want to save them to read them later. Pocket is one of the best extensions to keep all the articles directly from chrome to Pocket in a readable format by stripping out unnecessary ads. The best thing is you can read those saved pages offline on any device as the pocket is available on almost all platforms.
---
You may also like to read:
3. RSS Feed Reader
We follow many websites every day, but we miss some updates because we can't track every website. You won't miss any updates from your favorite sites from now on as we have a solution for you. The feeder is a chrome extension, which totally helps you solve this problem. Just visit any site and add that feed in the feeder, and you need to click on the feeder to check for updates without opening the site.
---
4. Adblock Plus – Free Ad Blocker
Adblocker Plus is the best and powerful Chrome extension to block unnecessary ads, irritating users, and quickly loading them. Adblocker Plus will block almost all annoying ads like pop-ups, pop-overs, Facebook ads, etc., it does not block those ads, which won't disturb the user experience. It also blocks other websites from tracking and malware.
---
5. Hola Free VPN Proxy Unblocker – Best VPN
Sometimes, your ISP may block some websites, or some are country-specific. You can't open those websites directly because of those restrictions, but Hola VPN helps you break those restrictions. Hola VPN is completely free to use, and you can change your country directly from this extension and visit all the restricted websites without any issues. It also helps you to protect your identity on the internet.
---
6. LastPass: Free Password Manager
Remembering passwords is always a hectic thing, and we end up having the same passwords for all sites. You must be aware that having the same password for multiple sites is a security risk as if one password is leaked, then all other site's passwords are indirectly compromised. LastPass is one the best password manager, which also has a Chrome extension to save and use your passwords directly from Chrome, and all passwords are available across devices like smartphones, tablets, and PC/Mac.
---
7. Email Tracker for Gmail – Mailtrack
You sent an important email to someone and want to know whether they opened the email or not, but sadly we can't say as Gmail doesn't have such a feature due to security reasons. Mail track is one of the best Chrome extensions that help you track email openings, locations, and times email has been opened. All these features are available for free, and you can upgrade to a premium version of Mail Track to get some extra features like attachment download tracking, etc.
---
8. WOT Web of Trust, Website Reputation Ratings
Web Of Trust, which is also known as a WOT. WOT web of trust, website reputation ratings is a popular Chrome extension known to show any site's trustworthiness based on user reviews and experiences globally. If you are visiting a new site and you might not be aware of the site you are visiting but with WOT, you can check whether you can trust the site or not. If you use WOT to check only trusted sites, you will always be protected. It shows green or red. Green indicates a trusted website, whereas red indicates an untrusted webpage.
---
9. Grammarly
Life is becoming digital with the increase in internet usage, and we send a lot of messages, emails and use documents online. We mostly don't follow grammar and make simple grammatical mistakes. Grammarly is the best chrome extension, which will help you correct your grammar very quickly. Grammarly is the most used grammar correction chrome extension that can fix and suggest better words while typing almost anywhere, like social media, documents, etc. I even use Grammarly, and this article is grammatically corrected with Grammarly.
---
10. Google Dictionary

We surf the web a lot and read many articles, but sometimes we are unaware of some words used in the articles or some social media posts. If this is your problem, you must use the Google Dictionary Chrome extension to know the meaning of every word you see. Just double click the word for which you want meaning then it will automatically show a popup with the meaning of the word. This chrome extension is popular and simple to use.
---
11. Awesome Screenshot
We are very addicted to taking screenshots on PC and mobiles. We are actually speaking about PC anyway. Windows and Mac have their own set of shortcuts to take screenshots, but we lack something in it. We can't take a full-page screenshot and edit the screenshots easily. The awesome screenshot is the best chrome extension for capturing your PC or Mac screenshots. It can take partial, complete, and full-page screenshots very quickly. The best thing is to edit the screenshot immediately and even store it in your Google Drive. As we keep it in google drive, we can directly share the link to anyone instead of the screenshot.
---
12. Google Bookmark Manager
We already know about default bookmarking functionality in chrome, but it lacks functionality and is not that easy to use. Fortunately, we have a chrome extension from Google called Googe bookmark manager, which helps you organize your bookmarks very easily. You can add notes, and you can easily share them. Google Bookmark Manager makes it simpler and easier to check and manage all your bookmarks.
---
13. Auto Lyric Show
Auto Lyric Show Show music lyrics automatically on Deezer, YouTube, Spotify, Joox, Google Music, and Jango.
Auto Show Lyric is an extension for your chrome browser
– completely simple
– easy to use
– light
-very fast
– draggable
– resizable
– always free
---
14. Drag: To-Do & Task List
You may receive many emails and forget to reply to some of the emails. Drag: To-Do & Task List is the best chrome extension that does a different job organizing your emails in a task list. You need to just drag-n-drop emails to the lists created, and you can also add a checklist to each of those emails, which increases your productivity.
---
15. Pixlr Today
Experience new Chrome Tabs with Pixlr Today.
Expect a fresh image each time you open a new tab on Chrome! Pixlr Today features vibrant images curated from 123RF and edited with the Pixlr Editor. Aesthetic and elegant in appearance, this extension is also convenient for image edits.
+ Direct access to Pixlr Web Apps for all your image editing needs!
+ Stock Image Search Bar beside the default Google Search Bar for quality image search.
+ To-Do list that syncs with your Google Task.
+ Weather Updates of your preferred location.
---
16. HTTPS Everywhere
Encrypt the Web! Automatically use HTTPS security on many sites.
You may visit many websites every day, and these days, we are noticing lots of cybercrimes that vanish our privacy and can ruin our lives in all ways.
IMPORTANT NOTE: If HTTPS Everywhere causes a site to look weird or break, you can disable it for that site using the button in the address bar in the top right of your screen.

Best Chrome Extensions for Productivity
If you care about privacy and security, HTTPS Everywhere is a must-have Chrome extension.
HTTPS Everywhere for Chrome is currently in beta, and a few such issues are inevitable due to bugs in websites' HTTPS support. Also, watch for a "shield" button in the address bar, which means that Chrome blocked insecure portions of the page. Sometimes pages will look weird with their uncertain portions removed. Clicking on the shield will let you load them and reduce your security and privacy.
This extension will automatically switch all the websites you visit HTTPS secure version to secure browsing as HTTPS helps encrypt all your data, such as credit card/debit card information.
---
Some interesting topics for you:
17. Google Keep
Google Keep is already the best Android and iOS app available as a chrome extension. Google Chrome extension will help you save things such as links, quotes, and images directly to chrome, and you can manage them in your Google Keep app and the web version of Google Keep.
---
18. Honey
Honey is the best chrome shopping extension to save your time to find coupons online. Honey will automatically apply coupons in your checkout when you click on Honey during shopping. It supports many popular sites globally and saves a lot of time searching for the best-discounted coupons.
---
19. Discoverly
Discoverly is the unique best chrome extension when it comes to discovering people. You need to install Discoverly and connect your social accounts such as Gmail, Facebook, Twitter, and Linkedin. When you check any name on any support social networks, it will show all their social accounts and info. For example, it will automatically display all their profiles on other social networks such as Twitter and Linkedin if you view a Facebook profile. This is a must-have Chrome extension for business people to make new connections.
---
20. StayFocusd
You want to stay focused on a particular task, but we usually get distracted by social media and spend a lot of time without even knowing. Fortunately, you will be saved from those distractions using a chrome extension called StayFocused. StayFocused will help you set a time frame for the social networks you use. Once the time frame is completed for that site, then that site will be blocked to view.
---
21. Momentum
A new tab is the most used tab, but why do you always see a boring empty tab? We have Momentum. It replaces your new tab with something beautiful and makes you productive. There are many New tab replacement solutions in the chrome store, but Momentum stands out due to its simplicity. It has lots of features such as the To-do list, daily photos, and quotes, making your new tab fresh each day.
---
22. Url Shortener
The best way to create short links using T.LY, JPEG.ly, Bitly, Rebrandly, TinyUrl, is. Gd, and more!
Click the extension icon on the toolbar to shorten the current page or right-clicking on any link to create a short URL. Short links automatically copy to your clipboard. QR codes are also created for all short links. Start using Url Shortener today!
Features:
Easily shorten any link.
Set link expiration by date or clicks (T.LY only)
Add your own T.LY API key.
Add your own Bit.ly API key.
Use your own custom domain name with the Rebrandly API
Automatically copies URL to the clipboard.
Right-click to shorten URL and copy to clipboard
Limited permissions
Supports T.LY, JPEG.ly Bitly, Rebrandly, TinyUrl, is. Gd, and many more link shortener services.
Shareable QR code
---
23. Hover Zoom+

Hover Zoom is a chrome extension that helps you save a lot of time by doing a simple job. Hover Zoom will zoom all the images you hover without even moving to another page. This extension will grab the original image source and display the image instantly without quality loss. Hover Zoom supports most of the websites, and you can even disable the websites for Hover Zoom.
---
24. The Great Suspender
The Great Suspender is another chrome extension that helps speed up your browsing by automatically suspending unused tabs after a specific period. You have options to wishlist sites to not suspend automatically. It will save your RAM and make your browsing speed better. You can unsuspend tabs by just going and clicking on the page. This extension comes in handy if you open many tabs in chrome.
---
25. Blur
Blur is the unique and best chrome extension which is better than a password manager, and it also has the functionality to block all kinds of trackers in a website. Blur, the name itself, indicates that it will blur all your online information by blocking trackers. You can even use masked emails instead of your original emails, which helps you manage spam and protect your privacy online.
---
FAQs About Best Chrome Extensions for Productivity
Can you make money with chrome extensions?

Chrome extensions make money in 3 main ways; by charging a one-off or subscription fee for the extension, offering in-app payments, or through affiliate marketing.

Can Chrome extensions steal passwords?

If an extension has access to all the web pages you visit, it can do practically anything. It could function as a keylogger to capture your passwords and credit card details, insert advertisements into the pages you view, or may redirect your search traffic elsewhere.

Are Google Chrome extensions free?

The Chrome extension is free, but Grammarly also has some extra premium features for a monthly fee. But you can add Grammarly for free in the Google Chrome Web Store.

Can browser extensions read passwords?

Some browser extensions require access to almost everything your browser sees. They can see sites visited, keystrokes, and even passwords.
Final Words on Best Chrome Extensions for Productivity
These are the 25 best productivity extensions for Google Chrome. We have found these extensions beneficial for us, and their ratings and number of downloads prove that the millions of people worldwide using them have discovered their value.
The best part is that they can help you in many aspects such as time management, project management, task management, and more, leading to more productive use of the internet, which is the ultimate goal.
From these above best chrome extensions, a few of our favorites, we hope they will become your favorite! Please don't forget to put in your comment and feedback below.
In case you feel we have missed out on any chrome extension which, according to you, should have been on the list, please do comment below, and we will surely update this list.