13 HostArmada Review Facts: Is It Really Fast, Secure, and Stable Cloud Hosting?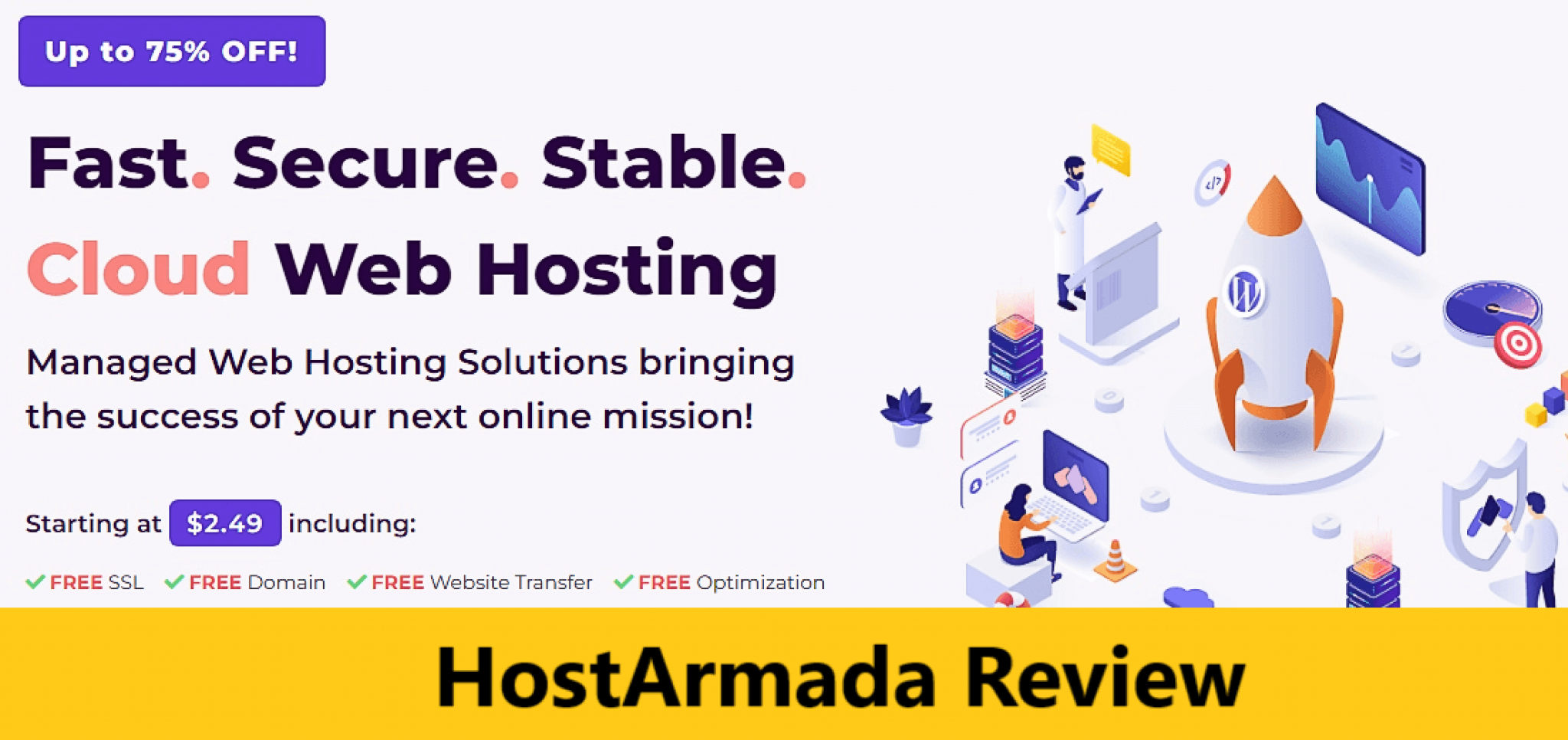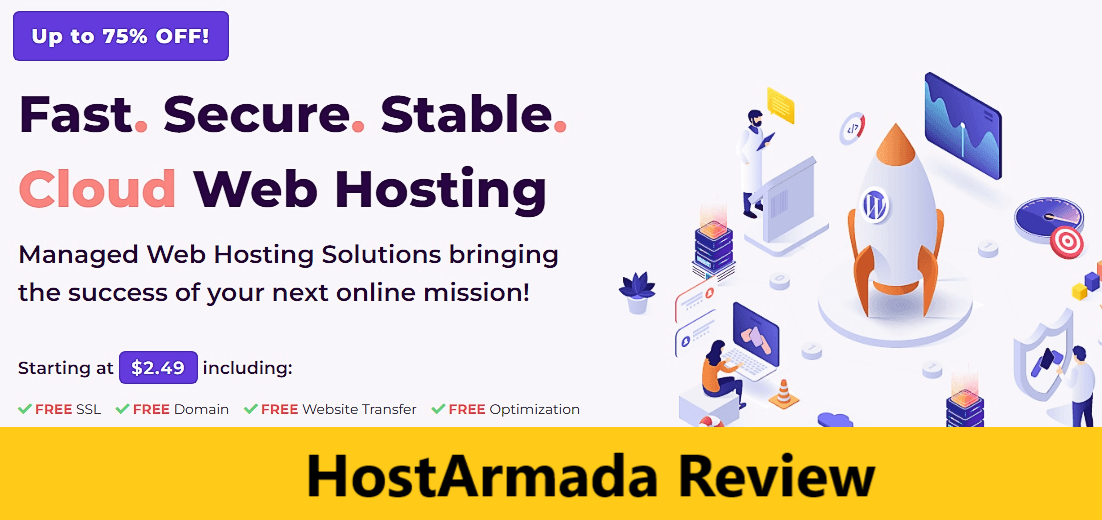 Let's find out how good HostArmada is through this comprehensive HostArmada Review. Having the right web hosting service can sometimes make or break a business site. Your web host can significantly impact a website's speed, security, and overall user experiences. If you are a beginner, you can opt for a hosting provider that offers plenty of features at a reasonable rate. It definitely pays to do your homework before selecting a web host.
Choosing the right WordPress hosting is not easy, with so many options available. The web hosting provider you choose will significantly impact your site. This HostArmada review will show you what this cloud-based SSD WordPress hosting offers and the benefits you get like automatic backups, single-click installation, maintenance features, etc.
Finding a good web host is a tough job when you have so many options around. And now we have a new player, the " HostArmada".

HostArmada Review
HostArmada is quite a new player in the web hosting field. They are a privately owned, US-based company launched in the last quarter of 2019. The primary driving factor of the company founders was to develop a service with high quality at reasonable prices. Instead of relying on morally outdated technologies, HostArmada's team always aims to implement the predominant tech innovations in their services.
Thanks to their solid past experience in the hosting field, the team managed to take the good and the bad and channel their efforts into creating a truly exceptional service. Combined with a solid customer-oriented focus covering two of the most essential elements – reliable service and good support. Taking this into account, their rapid growth and constantly increasing popularity are not surprising.
Hostarmada Hosting Overview
HostArmada provides different types of web hosting services that include shared hosting, VPS hosting, and Dedicated server hosting. Please make a note that both their shared hosting and VPS hosting are cloud-based.
Out of all hosting types, shared hosting is the most popular. The reason is very simple. They offer a good amount of features at very aggressive pricing. Newbie bloggers love this kind of pricing that HostArmada offers.
If you feel that your blog has grown up and you need to move out of shared hosting, then you can opt for their VPS hosting. Trust me, their VPS hosting plans and pricing are very tempting. Please make a note that their VPS hosting is managed hosting but you can also have root access.
If you own an eCommerce store then I would always suggest trying their dedicated hosting. Again the pricing is just amazing. I didn't see such aggressive pricing in recent times with any host.
Not to forget that HostArmada also offer domain registration or transfer services and they also offer email hosting along with all their web hosting plans.
Here is the summary of key offerings by HostArmada.
WordPress Hosting / Shared Hosting
VPS Hosting
Dedicated Server Hosting
Domain Registration & Transfer
Opensource Hosting
Development Hosting
HostArmada Hosting Features
Here are the few key features of HostArmada Shared Hosting that made them stand apart in the crowd.
That does not mean that they have only these features. What is my point is that these are the features that make them a great host to choose from.
1. Powered by NGNIX and Lite Speed Server
That's the real trump card that HostArmada played. They have ditched the Apache webserver completely. NGNIX is way faster than Apache and you will get excellent loading time with NGNIX
HostArmada also offers Lite Speed Web Server but that is only available in the topmost Speed Reaper Plan. Lite Speed Server is better than both Apache and NGNIX. I wish they would have offered Lite Speed Server on other plans also.
2. Strategic Data Center at Nine Locations.
HostArmada data centres are strategically located on the Internet's backbone, ensuring fast connectivity and unmatched availability.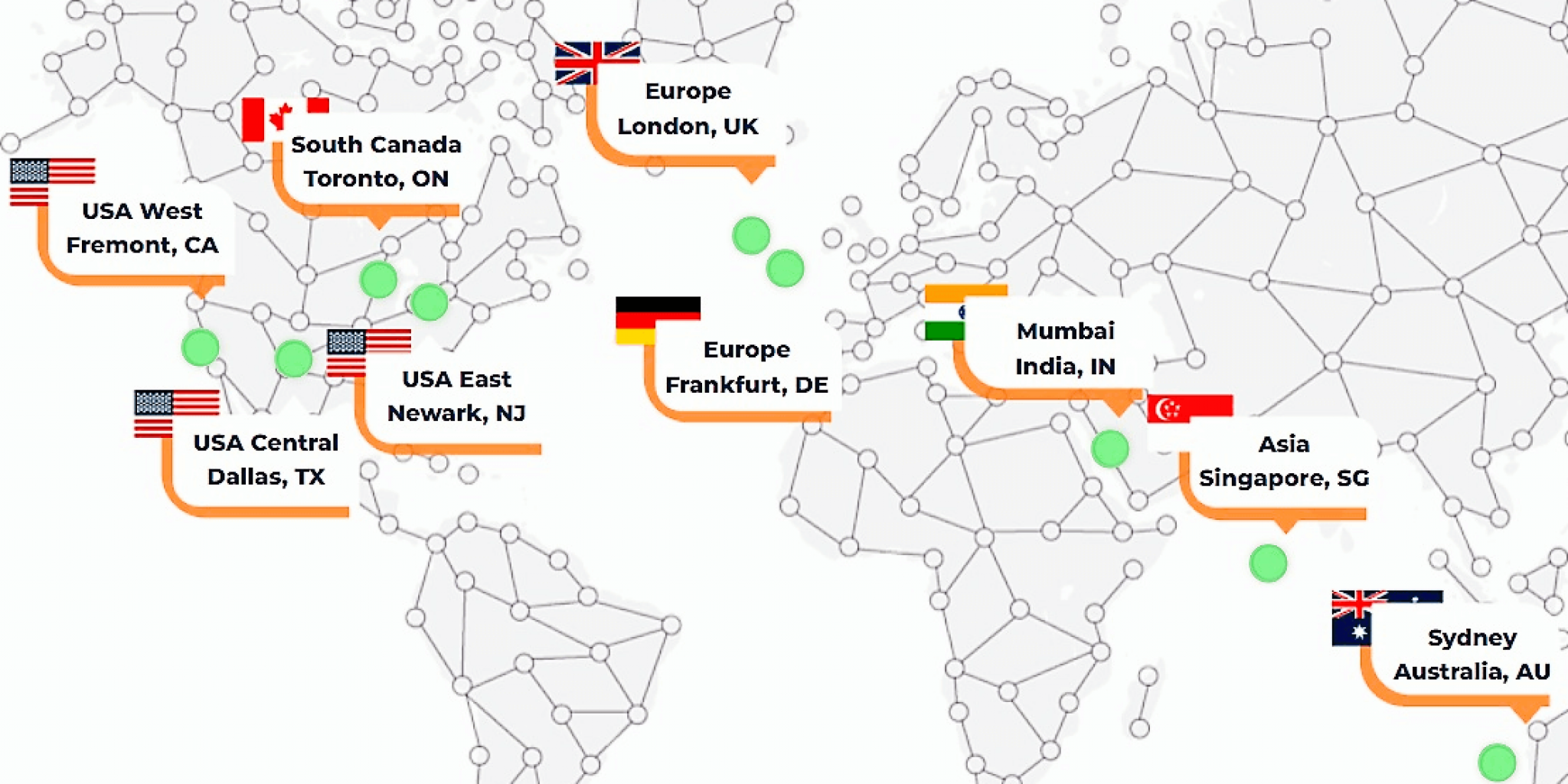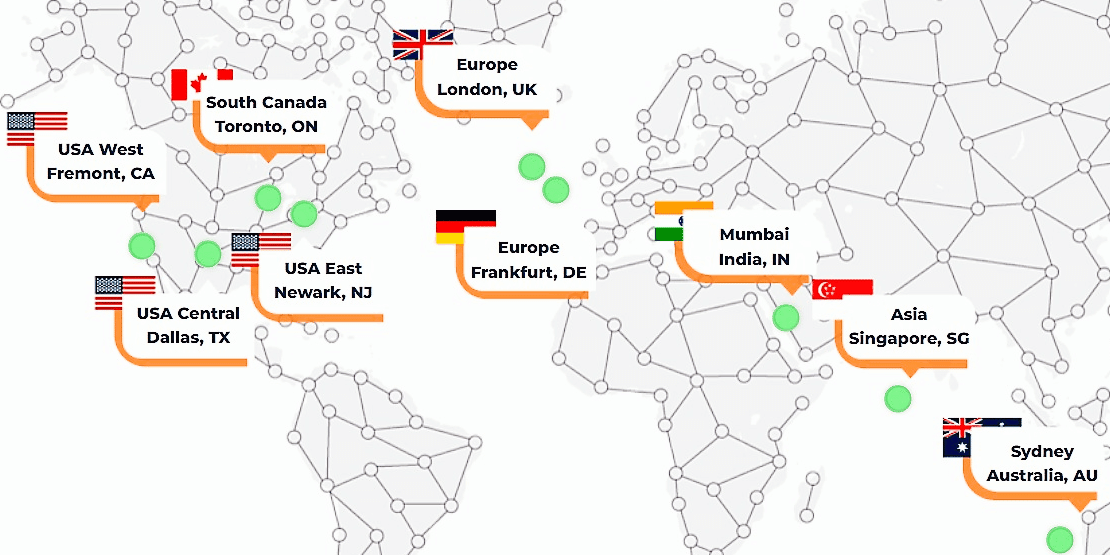 HostArmada has data centres at 9 different locations all across the globe.
State-of-the-art Cloud Platform
KVM Virtualization
SSD Storage
7 Gbps+ Network OutSpeed
9 Datacenters in 4 Continents
Best-In-Class Hardware
So if you are from the United States that's great news for you as you can serve your audience from the closest server location possible.
3. Cloud SSD Platform
Both WordPress shared hosting and VPS hosting are cloud-based. And they only use high-speed SSD. That ensures that your website speed will be very good if you host with HostArmada.
Due to cloud architecture, there will be almost no downtime and even if there is a physical server failure, your website can be served from another cloud server.
That is the beauty of Cloud Hosting and HostArmada offers that in all their plans.
4. Server Level Cache
The server-level cache is very important for your website speed. For example, when a visitor visits any of your website pages for the first time, the server-level cache stores that in the memory so that the next time when the visitor visits again, the page it will be served by the cache and not by the webserver. That reduces the load on your web server.
Please make a note that the concept of server-level cache and application cache like WP rocket is completely different. To get optimum speed, you should have both server-level and application-level cache.
In NGNIX, we have the NGNIX cache and in the Lite speed server, we have the lite speed cache that empowers the server capabilities.
In fact, the Lite speed server has a WordPress cache plugin that can take your website speed to the next level.
Not to forget that HostArmada also has a MemCached cache and APCu PHP cache that makes your website faster. All in all, it's a great setup to give your website a rocket-like speed.
5. BulletProof Security
Off late, security becomes a major concern for websites. Bloggers spend thousands of dollars to safeguard their blogs from brute force attacks, DDoS attacks, etc.
With HostArmada, you will have real peace of mind regarding your website security. They have everything set in place to safeguard your website from any major security issues. Here are the security features that HostArmada has in their hosting.
Web Application firewall
DDoS protection service
Connection level limits
Fast patching whenever new issues are introduced
Daily backup if in case something goes wrong you can revert it
Mod-Security integration
Throttling of IP if there are too many requests from a single IP at a very short time
SSL Renegotiation Protection Service
HostArmada Captcha guard to protect your website from automated Bot
Free SSL for all websites
Frequent malware scanning
User account isolation helps in reducing security risk
6. Free Domain Registration/Domain Transfer
With all shared hosting plans, you will be able to get a free domain name or if you want to transfer the domain name from other hosts, that also you can do free of cost. The domain name renewal in subsequent years will not be free.
That's a nice free add-on as this will help bloggers to save more money. On top of that, you don't need to go to other hosts to change name servers or DNS entries.
Please make a note that only one domain name per account is free. To claim a domain name for free, you can simply buy that domain name while you buy hosting or you can raise a domain transfer request later on.
7. Intuitive Account Dashboard and Latest CPanel
As soon as you sign in to HostArmada Dashboard, you will be presented with an intuitive account dashboard.
The dashboard will allow you to manage your hosting service, add an email account, add the domain, log in to the C panel, and various other shortcuts that you need to do on a regular basis. An intuitive interface makes a difference as people no longer like boring dashboards.
At the back, they have the latest version of the Cpanel with HostArmada branding. Though I am not a big fan of the Cpanel, considering the price point at which HostArmada is offering services, I do feel the Cpanel makes more sense.
But again, a custom panel would have made things better for HostArmada as Cloudways offers a well-built attractive custom panel.
8. Experienced Customer Support Team
I always set Hostinger as a benchmark when we talk about customer support. HostArmada customer support is equally good if not better.
You can contact their customer support team through emails, chat, or over calls. The lead time is also very short for resolving issues.
Not only hosting related, but they are eager to solve WordPress-related issues also free of cost. Overall they seem to have a great customer support team.
9. Free Website Migration and Loading Speed Optimization
If you are a newbie and don't know much about how to migrate a website, HostArmada offers free migration of up to 5 websites in their hosting plans.
They also offer minor speed optimization to help your website achieve good speed for free of cost. This is something I like about HostArmada they never hesitate to support anything that may not comes under their support limit.
10. NGNIX Server and NGNIX Reverse Proxy
All VPS hosting plans are powered by an NGNIX server and the NGNIX proxy built-in. NGNIX servers are known for speed and the reverse proxy takes it no the next level.
I wish they would have offered a lite speed web server but unfortunately, that is only available on the topmost shared hosting plan.
The VPS hosting server uses CentOS which is one of the best Linux OS for servers. There is no option for you to choose another OS like Ubuntu.
This can be a problem for some people but since it's a managed VPS hosting, they can not offer any OS selection option. All VPS hosting plan comes with the latest C panel.
11. KVM Virtualization
I am happy that HostArmada did not opt for OpenVZ virtualization, instead, they went for KVM. OpenVZ uses a shared kernel with a layer of virtualization on top of the Linux OS.
So once you hit the allotted resources, the remaining resources are available to all other customers. OpenVZ is not really a pure form of VPS hosting.
On the other hand, KVM offers true virtualization. You will be given the minimum and maximum resource limits that you can use.
Even if you don't hit the maximum limit, the spare resources will still be with you. Either you use it or keep it free, it's up to you. Sometimes it is beneficial if you run many resource-hungry applications.
12. Root Access
Although HostArmada VPS hosting is a managed hosting, you can have full root access without any additional cost.
You can start or stop the server, install new server-level applications, install a cache module, customize the server and there are many things that you can do with the server.
Consider this as your own computer and customize it the way you want. But there are some settings that are locked for you as those are managed by the HostArmada support team.
A word of caution is that you should not change any setting unless you are sure what you are doing. I personally prefer the technical support team to manage my server rather than me.
13. Server Monitoring
Since this Cloud hosting is managed hosting, the HostArmada team monitors your server in real-time 24X7.
They have a set of internal monitoring tools. Those are used for identifying the reasons for any recorded incidents with your Managed Cloud SSD VPS solution.
Optionally they also offer the following server-related issues or services free of charge when you ask them to do so.
Server Down
Server Load
Web Server Down
Active DDoS/SYN Flood attack
HostArmada Speed Test Results
Website loading speed and performance are perhaps the most highly sought-after metrics amongst clients when it comes to their online projects. They bring benefits, such as a more pleasant user experience (UX) and most importantly, better website rankings in search engines such as Google, Bing, Yahoo, and others. In fact, you could potentially be losing tons of money if you slowed down.
This is where their revolutionary technology comes to the rescue and provides faster loading times, and better SEO ranking, which in turn spikes your conversion rates to more than 15% and increases page views exponentially.
We did a quick test on our test website using HostArmada hosting – so we'll share the performance and speed so you'll get an idea about their hosting performance.
Here's the performance report from dotcom-tools global performance.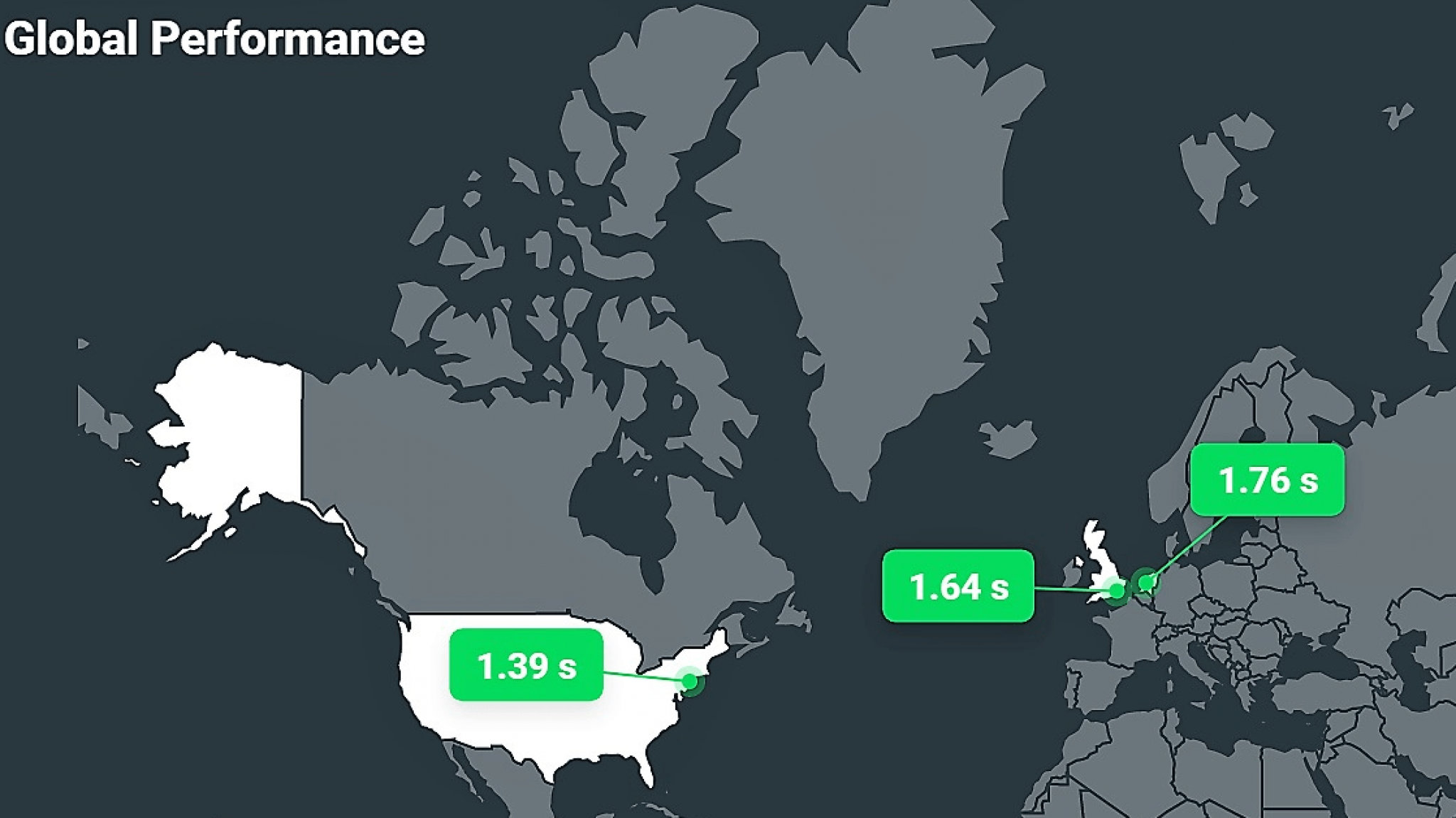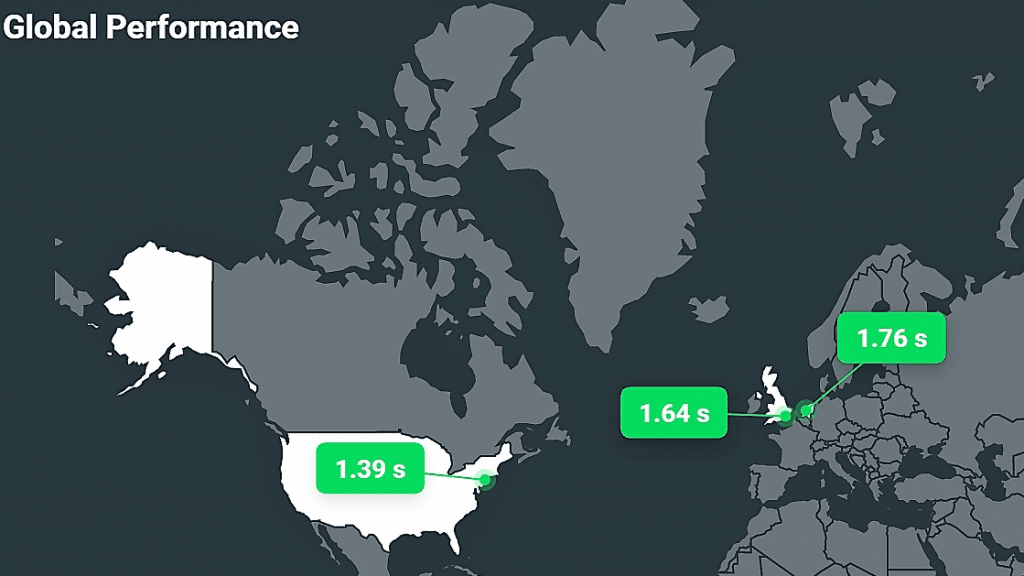 As you can see above, their hosting is extremely fast and performance is showing a Fast grade from different locations including Amsterdam, London and New York.

Quick note: Your website speed and performance depends mostly on the hosting data centre you choose. So make sure to pick the closest data centre where your target audience mostly browses/visits your site to provide them faster loading times.
Here's the screenshot from different locations using UpTrends.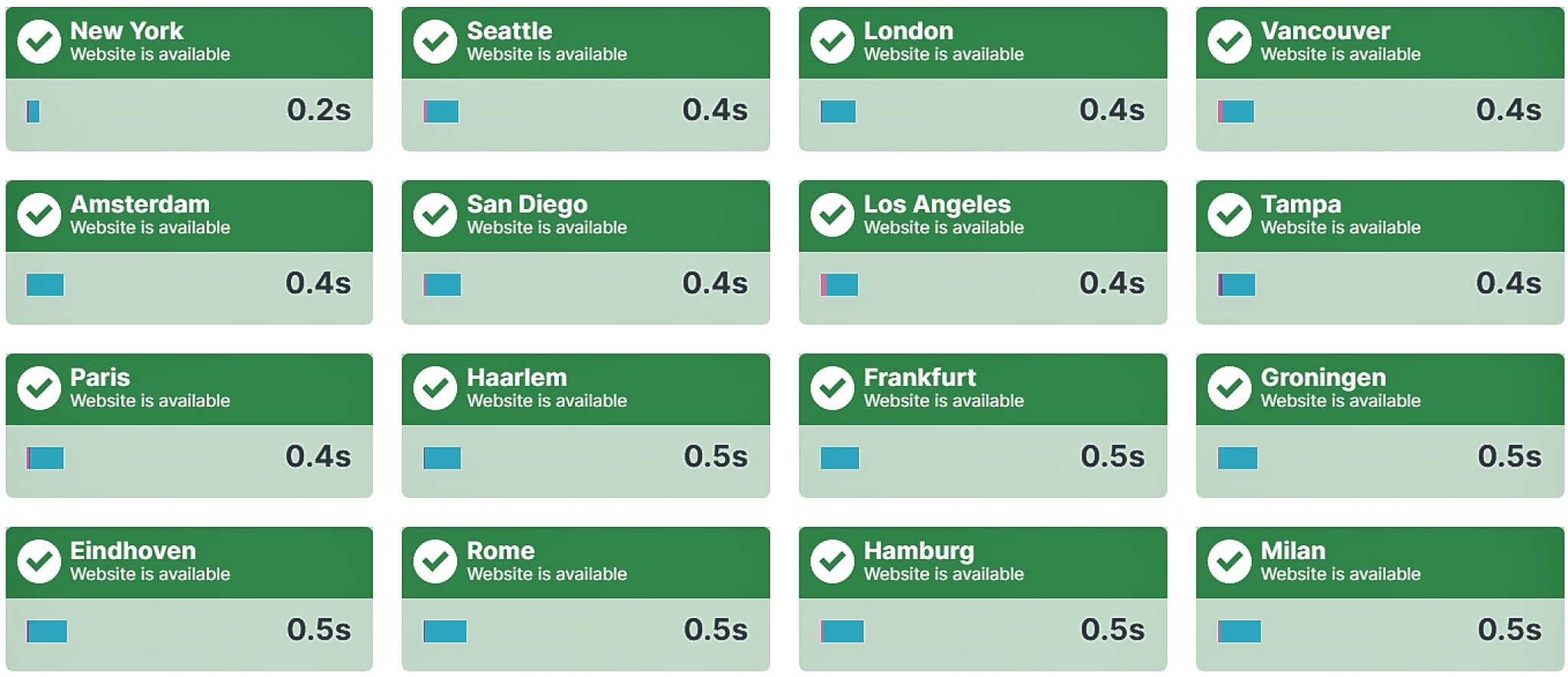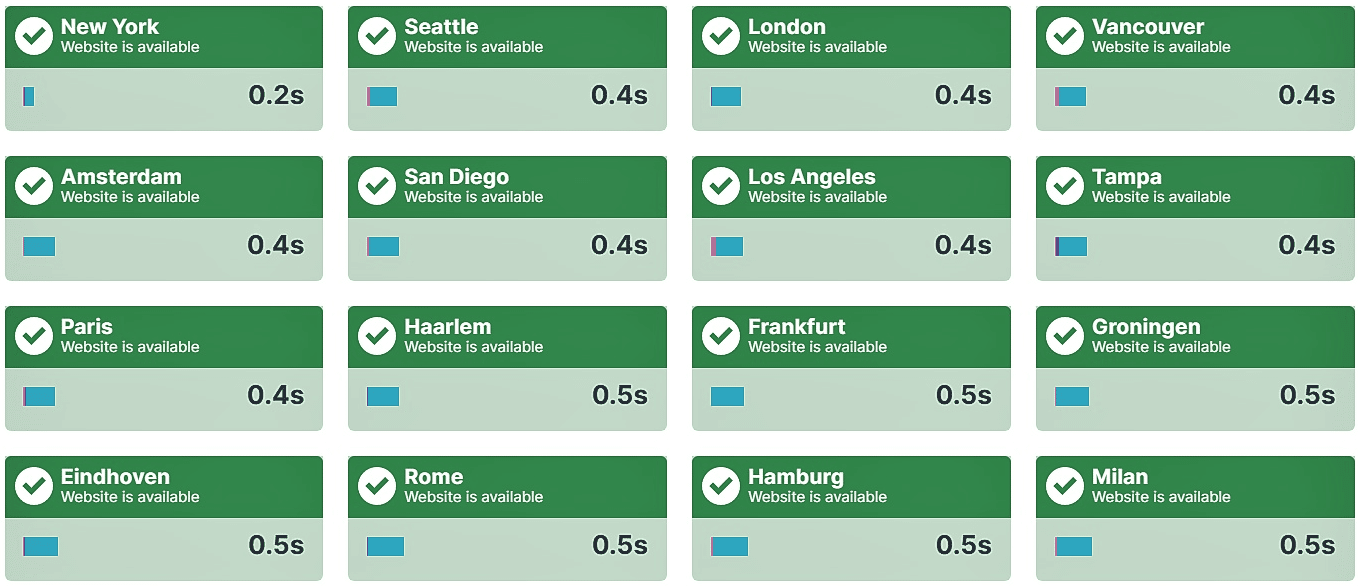 See that? Our test website is loading extremely faster from almost every single location shown above. So the bottom line is, that HostArmada's overall website hosting performance, uptime, and speed is extremely good.
If you're looking for a budget-friendly hosting choice that offers exceptional hosting features along with top-notch hosting performance, you should try hosting from HostArmada.
HostArmada quickly established itself as a top-notch hosting company that provides faster and secure web hosting along with 24/7/365 customer support.
POSITIVES
It provides free website migration

Includes a fully managed control panel

Offers a 45-day money-back guarantee
NEGATIVES
Renewal prices are high

LiteSpeed is on the most expensive plans
HostArmada Services and Pricing
HostArmada offers different types of fully-managed hosting solutions – Cloud SSD Shared Hosting, Cloud SSD VPS Hosting, and Dedicated CPU Cloud Servers and they continue to expand their hosting solutions. The wide variety of their plans can suffice any resource consumption needs and budget range, from small personal blogs to heavily-loaded and resource-hungry projects.
Their servers are built on stable and reliable infrastructure, redundant networks, the latest AMD CPUs, and native SSD storage. They are configured with stable CentOS, LiteSpeed/NGINX web servers, and the latest cPanel/WHM.
To ensure top-notch security, they utilize Advanced Network Firewall, Web Application Firewall (WAF), DDoS protection service, and OS Patch Management feature. In addition, they imply Malware scanning, Live Security Event monitoring, Proactive Zero-day attack detection, and Connections Level Limits.
Thanks to their technologies, HostArmada guarantees 99.9% uptime on all their hosting solutions. They have also optimised their server environment for the most popular open-source applications, such as WordPress, Magento, Joomla, Drupal, PrestaShop, Ghost, and Laravel. Furthermore, you can expect an individual website optimization performed by their tech team based on your website's particular needs. The final result you could expect is an outstanding performance and loading speed.
Managed WordPress Hosting
This loading speed optimized, cPanel-based Web Hosting service is built on top of the state of an art Cloud Platform with fast and redundant SSD Storage and some excellent features.
FREE SSL for all websites
FREE Website Migration
FREE Web Server Caches
FREE cPanel Control Panel
FREE Daily Backups
Start Dock
$ 2.99/mo
1 Website
15 GB SSD Storage
2 Cores CPU
2 GB RAM
Web Warp
$ 4.24/mo
Unlimited Websites
30 GB SSD Storage
4 Cores CPU
4 GB RAM
Speed Reaper
$ 4.99/mo
Unlimited Websites
40 GB SSD Storage
6 Cores CPU
6 GB RAM
HostArmada WordPress Hosting solutions offer more than 99.9% uptime for their client's websites. The company persistently apply security patches to every service and maintain a fully up to date web hosting environment. Also, HostArmada constantly monitors the servers ensuring the fair resource utilization of the users' web hosting accounts. Combined, all these are creating one stable and reliable web hosting service everyone will enjoy utilizing.
HostArmada Support
HostArmada offers 24/7/365 available support over Phone, Chat, and Tickets. While this is standard for most companies, several factors distinguish them from their competitors. First, their response time is uncommonly fast. Chat support inquiries are addressed immediately, and support ticket requests are initially answered within 10-15 minutes.
Second, their staff is experienced, and they know what they are doing, so you can expect a satisfactory resolution of anything hosting-related inquiry. Third, the support is utterly free and compared to many other providers, you will not be charged for requests like backup restorations, theme installations, website optimizations, application upgrades, etc. Last but not least, the representatives are really friendly, and you can always expect a professional and respectful attitude.
HostArmada Pros & Cons
Here's a list of some of the pros and cons of using HostArmada hosting.
PROS: HostArmada Review
They maintain a low number of clients per server. This improves website loading times.
HostArmada is very affordable. They offer some of the lowest hosting prices on the market today, especially when you consider all of the features you get.
HostArmada specializes in website optimization. The company really takes this to an entirely different level. Optimization is conducted for each customer's site(s) to ensure they operate at peak performance.
As long as you're a HostArmada client, you will have a free domain. This is a significant difference compared to other providers who only allow customers to have a free domain for up to a year.
Remotely stored daily backups are free.
Access to fully managed control panel.
They offer free website migration for up to five different sites. HostArmada's veteran technical support staffers will perform the migrations for you without downtime or loss of data.
Sectigo-powered free automatic SSL certificates will be provided. All certificates are automatically issued and renewed.
There's a 45-day money-back guarantee if you're not happy with their service.
You can make as many email addresses as you want on any of HostArmada's plans for free. There are only limitations on the mailbox size. The restriction will depend on the hosting package that you've purchased.
You'll quickly receive responses from the customer support team in case of issues. Their support staff is always available.
HostArmada has nine data centers located in different regions across the globe to provide better speeds.
You get a free drag and drop website builder with any of their shared hosting plans.
SSD storage is also included with any hosting plan that you choose.
Security firewalls are supplied at many levels. This helps keep your sites safe from hacking, malware, and other attacks.
CONS: HostArmada Review
None of their hosting plans has a monthly pricing option. Many users look for companies that offer monthly subscription plans to try out their services and features before committing for a longer time. They don't like having to make a long-term obligation. However, HostArmada still has a 45-day money-back guarantee. You can try the service and if not satisfied ask for a refund.
Renewal rates for HostArmada's plans can be rather expensive, like with any other hosting provider. Initial rates for their plans are lower, but renewals are costlier. They still have some of the most affordable hosting plans today.
You'll need the Speed Reaper plan to use the LiteSpeed webserver. LiteSpeed is well known because of its improved speed and site performance capabilities. HostArmada only makes this server available to the highest hosting plan.
FAQs About HostArmada Review
Is HostArmada reliable?

Yes, HostArmada is reliable. It can handle surges in traffic effortlessly. Plus, the security features included are very good.

Why is HostArmada so cheap?

HostArmada can be considered a cheaper solution simply because they don't see no reason for selling Cloud SSD technology with an overpriced tag. Their main focus is to provide a reliable hosting service to customers and that begins with fair pricing.

Is HostArmada good for beginners?

HostArmada is perfect for beginners. They offer an affordable solution with unmatched features. Everything you need to get started.

Do I need HostArmada package extras?

You don't necessarily need all of the HostArmada Package extras. It will depend on the size of your site and the amount of data you need to process. They have plenty of Cloud-based hosting packages available for you.  All you need to do is get in touch with customer service and they can help you choose the best plan that suits your needs.
HostArmada Hosting Review
HostArmada services are powered by cutting edge Cloud Technology that provides outstanding Reliability and Redundancy.
Positive
Free daily backups
Free website migration for up to five sites
Security features
Cloud SSD Storage
Speed optimized servers
Free SSL certificates &amp
domain
Negatives
No Memcached or OpCache on lower plans
Initial rates for plans are lower, but renewals are costlier
LiteSpeed is available only on the most expensive plans
Renewal prices are high
Final Words on HostArmada Review
In conclusion, we could say that HostArmada manages to cover the most critical aspects of a high-standard hosting service. Combined with their competitive prices, we would recommend them to anyone who is after quality hosting for a reasonable price.
In our opinion, even though they are pretty new, they have the true potential to be seen along with the leading hosting companies on the market. With their versatile plans, they can suffice the requirements of any personal or business project. Even with the few downsides of their solutions, such as the lack of a monthly billing cycle for shared hosting and higher renewal rates, we still think they are a reliable choice.
HostArmada Web Hosting
Where the standard bare-metal based Web Hosting fails, is where the Cloud technology shines - the availability to upgrade the hardware components with zero downtime and zero data loss.
HostArmada services are powered by cutting edge Cloud Technology that provides outstanding Reliability and Redundancy.