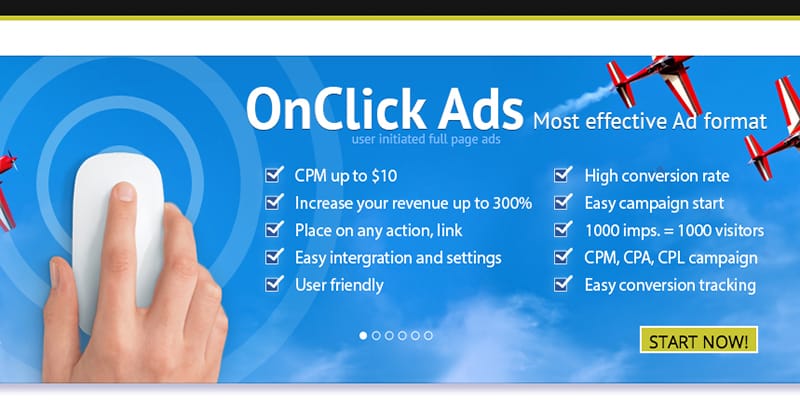 Popunder ads are nowadays a popular way of advertising. The best part is that it does not require any space.  It fires a popup every time someone visits your website or clicks on any page of your website.
The payment of Popunder ads is made based on views count. Below are the list of the best popunder ad network and their details. You can use them as an Adsense alternative.
Best Pop-Under and Popup Ads Networks
When you enter into CPA (affiliate marketing), but not in CPS (cost per sale), it compels your wonders that you can sell website traffic and earn money from it.
However, some of the ads networks are AdSense compatible, which you can use along with Google AdSense.
Popads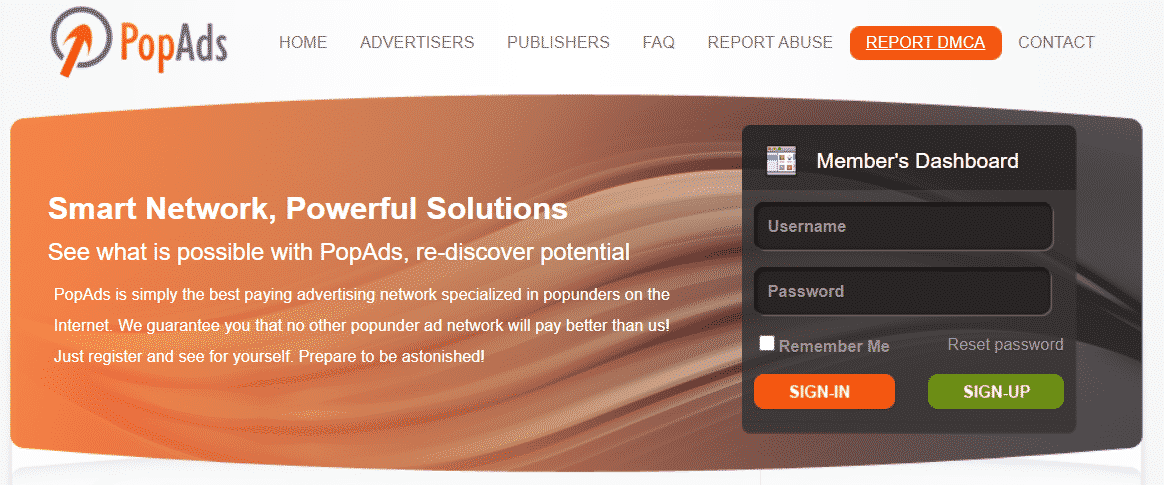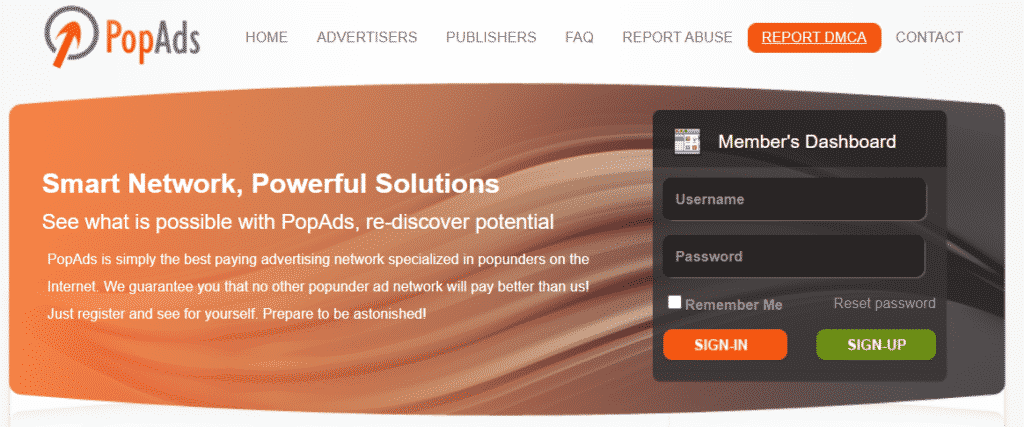 Popads is the best popunder ad network. It has the highest CPM rates, and all types of websites which do not break the law are accepted. All the sites are usually approved within a day or two.
The rates are low if you have a freebie website. Although the rates are higher than other popunder networks—the popunder bypasses almost all the adblockers.
Popads Summary – Best Pop-Under Ads Network
Minimum Payout: $5
Payment Processor: PayPal, AlertPay, and Wire Transfer
Payment Frequency: Daily
Approval: Easy
You may also like to read:
Propeller Ads
Propeller Ads is a display and mobile advertising network, also offering popunder ads (Onclick ads). Along with the popunder ads, they offer push notification advertising and much more to monetize your website.
They have clean ads only and are AdSense compatible. Moreover, the CPM rates are very high. Above all, they also offer other ads format you can use.
Propeller Ads Summary – Best Pop-Under Ads Network
Minimum Payout: $5
Payment Processor: Credit card, Payoneer, Bank transfer, PayPal, Webmoney, E-payment
Payment Frequency: 4 days
Approval: Easy
ActiveRevenue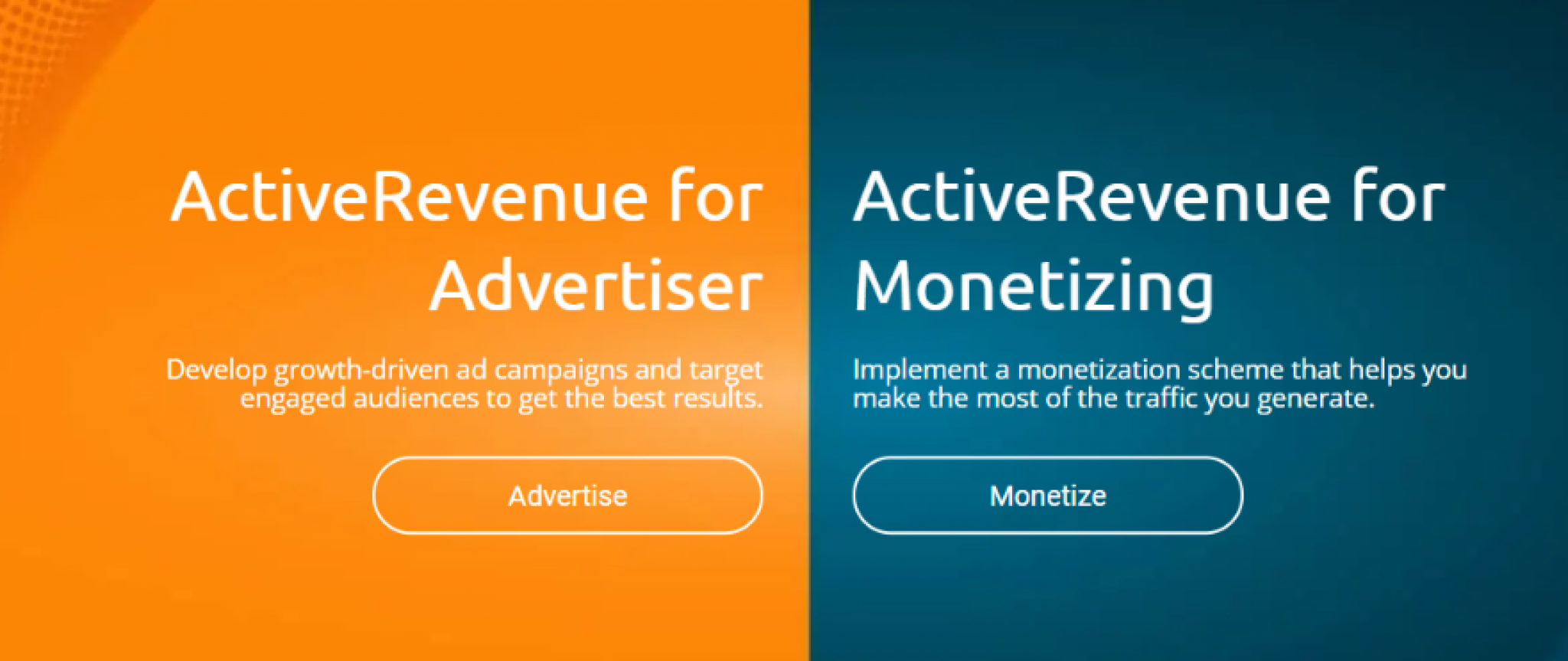 ActiveRevenue is a global self-serve advertising platform for mobile and desktop, allowing advertisers access to high-performing ad units, granular targeting & different optimization faculties.
This is one of the amazing and best pop-under ad networks we have recently tested. Try this excellent pop ad under network, and you will see great results in your campaigns.
ActiveRevenue offers various ad formats: POP, Native ad & Display banner ads (including JS and iFrame tags) with extensive targeting, helping you reach your audience by using carriers, states, OS, browsers, and devices alongside advanced optimization options.
In addition, ActiveRevenue has a unique system to detect anti-fraud systems to ensure that every campaign will receive the highest quality of traffic. They are very best at dealing with clients' campaigns and hate fraud badly.
ActiveRevenue Summary – Best Pop-Under Ads Network
Reach everyone, everywhere on any device – Very intuitive and friendly interface including many targeting options.
ActiveRevenue's team is an super expert in analysing the traffic and modify it by advertisers needs. They think about the clients requirement first and deliver superlative service.
Variety of payment methods: PayPal, Payoneer, WebMoney and Wire.
Full integration with Voluum.
Popcash
Popcash is another excellent way to make some cash using popunder ads. The popunder ad network has an excellent user interface for publishers and advertisers.
Advertisers can set various campaigns for their ads. The Payout is $10 minimum, whereas the deposit is set to $5. Also, it only takes an hour for approval.
Popcash Summary – Best Pop-Under Ads Network
Minimum Payout: $10
Payment Processor: PayPal, Payza, Paxum
Payment Frequency: Usually within 48 hours
Approval: Easy. Generally within an hour.
RichPops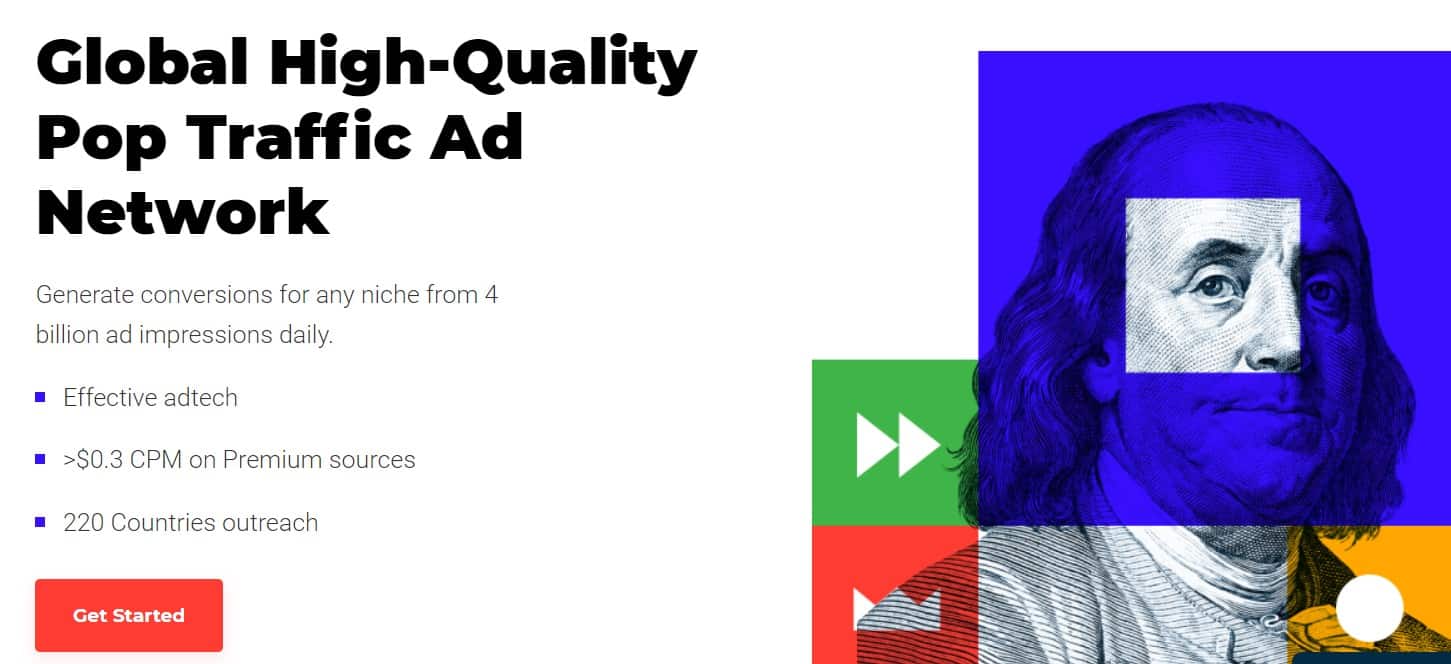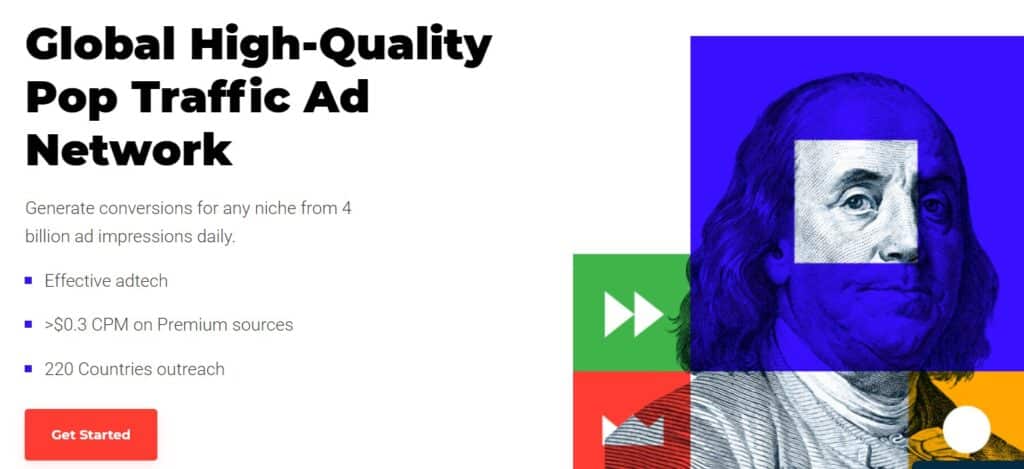 It is a high-quality pop traffic ad network launched by the founders of RichPush, one of the most well-known push ads networks.
Pop Ads Experts with 8+ years of affiliate marketing experience help deliver the highest ads performance possible.

Best Pop-Under Ads Network
The network offers multiple features that help to work with pop traffic and get quality conversions:
Source Sampling – estimates the quality of clicks you get in a small amount from different sources and scale your success by creating whitelists of the best performing sources, so you spend much less money on testing sources.
Micro-Bidding – helps fine-tune your campaigns for maximum performance and accuracy with bid adjustments for different parameters like OS version, etc.
Automated rules – save your time with automatic campaign optimization.
Anti-fraud solutions – you can benefit from real advanced users tracking system & anti-bot filters.
Focused on the growing needs of affiliate marketers all over the world, they offer:
Richpops Summary – Best Pop-Under Ads Network
Targeting options: OS, Regions, Carriers, Sites, and more
Profitable ad formats: popunder, click under
Top verticals: gambling, betting, software & utilities, adult, dating
Minimum deposit: $100
Adsterra
Adsterra is a premium popunder advertising network. This ad network has been in the industry since 2013. Adsterra Network is a growing ad network that offers its publishers up to 100% fill rates.
They also offer Display Banner Ads, Interstitial Ads, Direct links, Sliders, Push Up Ads, Mobile Display Banner Ads, and Mobile Pop-Under Ads. Above all, The best part is they offer a personal account manager. They will help you maximize your profit.
Adsterra Summary – Best Pop-Under Ads Network
Minimum Payout: $100
Payment Processor: PayPal, Payoneer, Paxum, Payza, Webmoney, and Wire transfer
Payment Frequency: 1st and 16th of every month.
Approval: You must have organic traffic with Good design and quality
Multilingual Support: Yes
ClickAdu


ClickAdu has over 250 Million daily impressions. This ad network pays the highest rates among all the popunder networks. Can you imagine that the rates can go up to $14?. The approval is complex; the website doesn't accept all the publishers. Although it only takes a day for the approval process.
This popunder network offers free premium services, such as an account manager. Moreover, they have a 100% fill rate of all traffic and clean ads. Along with all of these, they have advanced anti-Adblock technology.
ClickAdu Summary – Best Pop-Under Ads Network
Minimum Payout: $10
Payment Frequency: Net 7
Payment Processor: Crypto-wallets, ePayments, Paxum, PayPal, Webmoney, Wire.
Approval: Hard, the process is done within a day.
RevenueHits
RevenueHits is an excellent self-service platform for publishers. They have In-House ad-server optimization, and they pay on a performance basis.
They also offer display, text ads, apps, ads, etc. Moreover, the best part is they have immediate approval as soon as you join. They pay on the net 30 bases.
RevenueHits Summary – Best Pop-Under Ads Network
Minimum Payout: $10
Payment Frequency: Net 30
Payment Processor: Payoneer, PayPal and wire transfer
Approval: Immediate approval for all websites
Hilltopads
Hilltopads is an advertising platform headquartered in the UK. Hilltopads is not a newcomer to the advertising network market – the service began operation in 2011.
Compared to its competitors, Hilltopads is distinguished by an extensive list of supported advertising technologies, payment systems, excellent service, round-the-clock technical support, and an easy-to-use advertising network with direct access to offers and timely payments every week. The company operates on CPC, CPA, and CPM models. Both desktop and mobile traffic is monetized.
One of the highlights is the possibility of monetizing adult traffic, although some rules must be followed to work with that kind of traffic.

Best Pop-Under Ads Network
Website owners are prohibited from using bots and other ways to increase traffic to increase revenue. Otherwise, the account, together with the account, will be blocked.
Hilltopads Summary – Best Pop-Under Ads Network
Popunder advertising (for desktop and mobile platforms);
Traditional advertising banners in sizes 300×100 and 300×250, including in-video banners;
Mobile banners (optimized for smartphones and tablets);
IMS (chat popup).
Webmoney (WMZ only);
Bitcoin
Paxum
ePayService
ePayments
Payoneer
Direct withdraw to a bank card.
Payments are made according to the Net7 model, and the minimum withdrawal amount is $ 50.
exoClick
In 2006 the popunder network Exoclick opened for business. They are now a company that focuses on both an Ad Exchange and an Ad Network.
Due to this, they are ranked as the fourth largest network globally and claim that their global network consists of 65,000 web/mobile publisher platforms. They are outstanding in pop-under ads.
CEO Benjamin Fonzé founded ExoClick, and he runs the company with his brother Adrien who is COO.

Best Pop-Under Ads Network
Exoclick Summary – Best Pop-Under Ads Network
Display banner
Popunder
Direct Links
Sliders
Push Up Ads, etc
Payment terms: NET30 and upon request
More interesting articles for you:
Adcash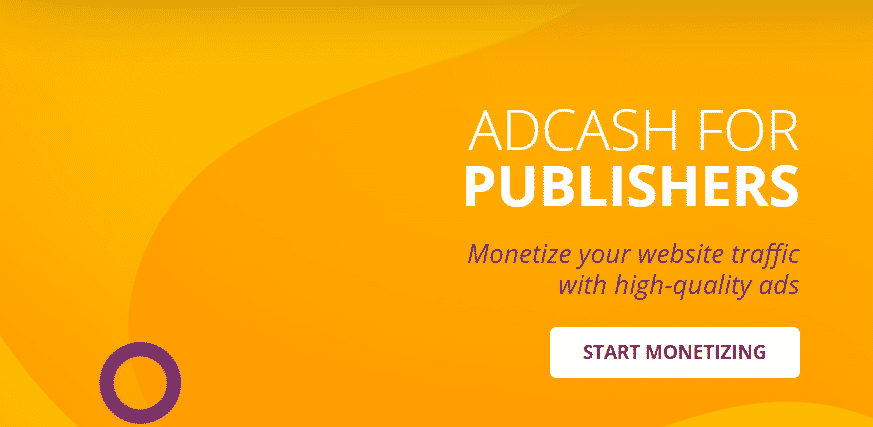 Adcash is an ad network that fully works on performance. They have all the features to love, including 100% fill rates, high CPM, fast payment. Along with this, the ads are worldwide, so you get paid for all the traffic from any location. More than 180 countries are served with adcash ads.
They offer various payment methods, including PayPal, bank transfer, bitcoin, Skrill, etc.
Adcash Summary – Best Pop-Under Ads Network
Minimum Payout: $25
Payment Frequency: 30 days after the end of the month.
Payment Processor: PayPal, bank transfer, bitcoin, Skrill, web money, Payoneer, etc
Approval: Easy
Bidvertiser
Bidvertiser is one of the oldest ad networks. They offer various ads format to monetize your website, including popunder ads, display ads, etc. Adults' sites are not accepted.
Moreover, the websites are auto accepted, but you need to verify ownership of the website. Also, they have experience of 10 years in the industry.
Bidvertiser Summary – Best Pop-Under Ads Network
Minimum Payout: $10
Payment Frequency: On request
Payment Processor: PayPal, Payza, wire transfer, check
Approval: Easy, auto-approval
Popunder Total
If you are looking for the best popunder ad network with one of the lowest minimum Payouts and high CPM, this one is the best for you.
They accept all types of websites and have the lowest minimum Payout of $1. The support is excellent. Moreover, they also accept subdomains. So, if you have a free website and want to make some cash, this one is for you.
Popunder Total Summary – Best Pop-Under Ads Network
Minimum Payout: $1
Payment Frequency: Daily
Payment Processor: PayPal, Bank wire transfer
Approval: All the websites which are at least six months old are quickly and easily accepted.
AdMaven
Ad-maven has 15 years of experience in the popups and popunder world. It is at the bottom of the best popup ad network list because of its high Payout and more time in payments. Also, they have a $50 minimum payout with a net of 30 bases.
Admaven Summary – Best Pop-Under Ads Network
Minimum Payout: $50
Payment Frequency: Net 30, at the end of the month
Payment Processor: PayPal, Payoneer, and bank transfer
Approval: Easy
ReklamStore SSP
ReklamStore SSP is a self-serve traffic monetization platform specialized in small and medium-sized publishers.
It is an 11 years old advertising platform that uses its real-time bidding (RTB) technology to increase CPMs and promises a high fill rate all the time. There are no minimum requirements or conditions to become a ReklamStore's network publisher. To cover the global & unlimited demand, they accept all kinds of publishers.
ReklamStore Summary – Best Pop-Under Ads Network
Minimum Payout: $50
Payment Frequency: Net30
Payment Processor: PayPal, wire transfer
Approval: Fast and easy
PopMyAds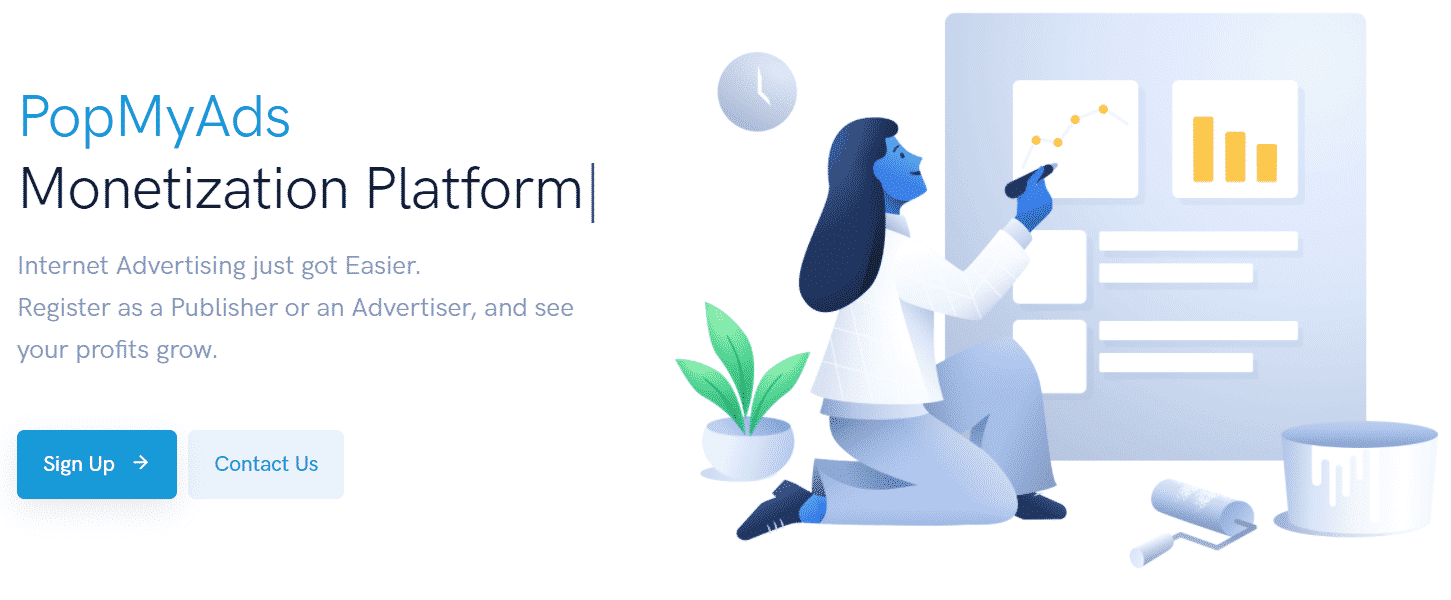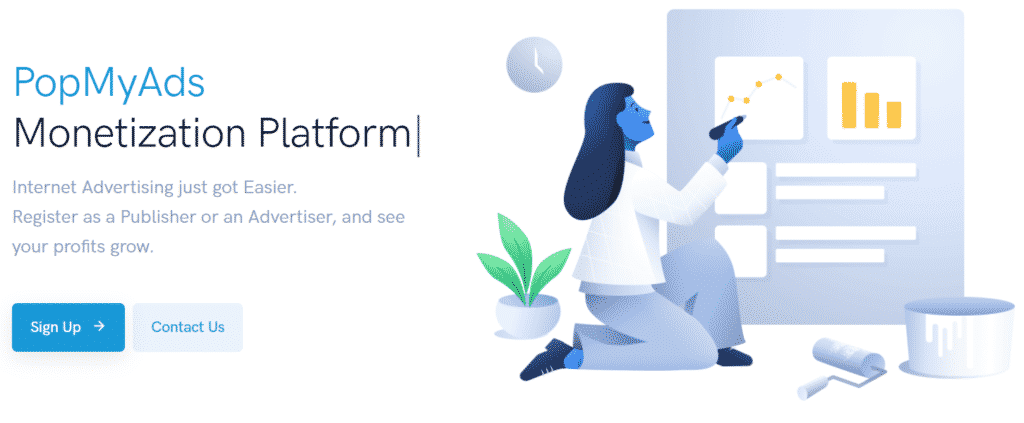 Popmyads is another best popunder ad network that started back in 2011. All kind of websites is accepted with no traffic requirements, including adult websites.
The network is widely popular for its high CPM rates and low minimum Payout. Moreover, It has a real-time stats reporting system. The ad network only offers popunder advertisements.
Popmyads Summary – Best Pop-Under Ads Network
Minimum Payout: $5
Payment Processor: PayPal, Payza, Bank Wire
Payment Frequency: 1-7 days on request
Approval: Usually within an hour. All websites are accepted except Violent, Racial, Abusive, Warez content sites.
Popunder
This name in the list is the same as what you are looking for. Popunder is a famous ad network with the lowest Payout.
Yes, even less than the $1 payment we discussed above, this popunder ad network only requires your balance to be $0.60 before they pay you.
Popunder Summary – Best Pop-Under Ads Network
Minimum Payout: $0.60
Payment Frequency: Every Tuesday
Payment Processor: PayPal
Approval: Fast and easy
FAQ On Best Pop-Under Ads Network
What is the best pop-up Ad network?

As per the honest user opinions, PopAds has been rated as the best pop-under ad network due to the best VPN rates, daily payments, $5 payment threshold, and average CPM $5-$15/1000 views.

What is Popup advertising?

Popup or Pop-under advertising involves the automated opening of a new tab or window with the advertorial. This enables them to make extra money by allowing popup ads on their site. Advertises can get cheap traffic from popup ads.

Popup Ads or AdSense? which is better for the publisher?

Adsense is indeed the best revenue generation for ethical websites by displaying ads. However, Pop-under and pop-up ads are an additional income source without altering your website design or displaying banners beside the content.

Is Popup ads better than Push advertising?

Push advertising is a new trend in the online ad industry. Push works only on subscribers of the publishers. However, Popup works on desktop, mobile and does not require any permission from the users. Most of the high-traffic websites still use popups to make money.
Final Words – Best Pop-Under Ads Network
To summarize, This is the list of the best popunder ad network for you to choose from. Most of these ads network supports more than one ad network simultaneously. So, You can use two to three popunder ads to boost your earnings.
However, you will see a decrease in traffic and earnings if you use more popunder ads. Also, Make sure you do not use them with AdSense unless stated that they are allowed with AdSense.
Moreover, These ad networks should be treated as Adsense alternative ad networks. On the other hand, you can try anyone from this best popunder network and work with them.
Different ads networks pay more according to your traffic geo-location. You can check those out and select the best one for you.
So, if you too have tried any other feature-rich Pop-under network, then do let us know in the comment sections below. Don't forget to integrate your ad network with ad mediation services to double your profits.