OVHcloud Hosting Review: OVHcloud Detailed Pricing Details and 9 Features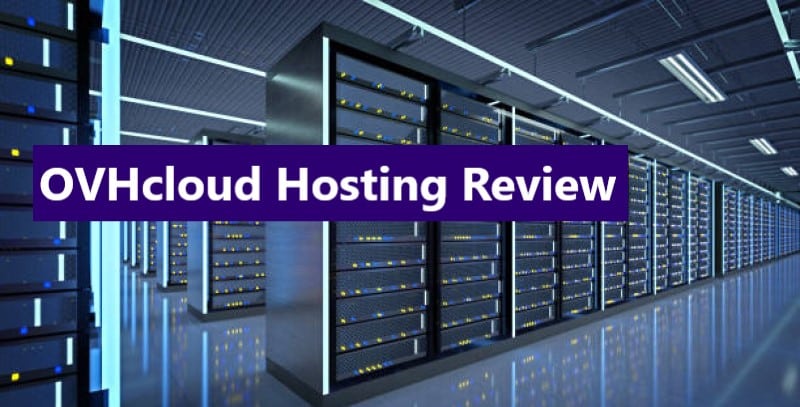 OVHcloud is a global cloud hosting provider specializing in delivering VPS and dedicated, bare-metal servers, hosted private cloud, hybrid, and public cloud solutions. Today, we will discuss all the aspects of OVHcloud hosting in our exclusive OVHcloud hosting review.
What is OVH? OVHcloud Hosting Review
Established in 1999, the France-based OVH started from scratch, providing European clients with essential hosting products and other web services. The company has grown to more than 700+ employees, 32+ data centers, and over 190,464+ servers, working to deliver high-value and reliable hosting solutions in Europe. OVH now concentrates on developing cloud-based hosting plans to help clients succeed in constantly changing times.
With 22+ years of heritage, OVHcloud is committed to developing responsible technology as the group strives to be the driving force behind the next cloud evolution.

OVHcloud Hosting Review
In 2006, OVH expanded to the rest of Europe when it opened subsidiaries in France, Spain, and many more countries. OVH is the largest hosting provider in Europe and has expanded to North America and Africa.
OVH hosts about 20+ million websites and has registered almost three million domain names. That's pretty good for a European company.
Why Choose OVHCloud Hosting
Ovh Hosting offers you a significant number of products at a very low price for all of you. This web service provider stands out for the high quality of all its services.
It has a perfect quality-price ratio. Thanks to the many locations offered to all its users, you can choose the data center of your choice.
With this web service provider, you can work with CMS such as WordPress and cPanel with easy access. The web hosting services offered by Ovh can be beneficial for all the new projects you want to start.
All Ovh users have total confidence and security in all their services contracted with this company. Guaranteed by their positive opinions.
Due to these characteristics, this is an excellent candidate to help your website develop correctly.
Best Value
OVH products are developed to meet your IT infrastructure application needs and industry requirements
The scalability and flexibility of the cloud on a 100% dedicated hardware infrastructure.
High performance for your business-critical websites.
OVHcloud Data Centers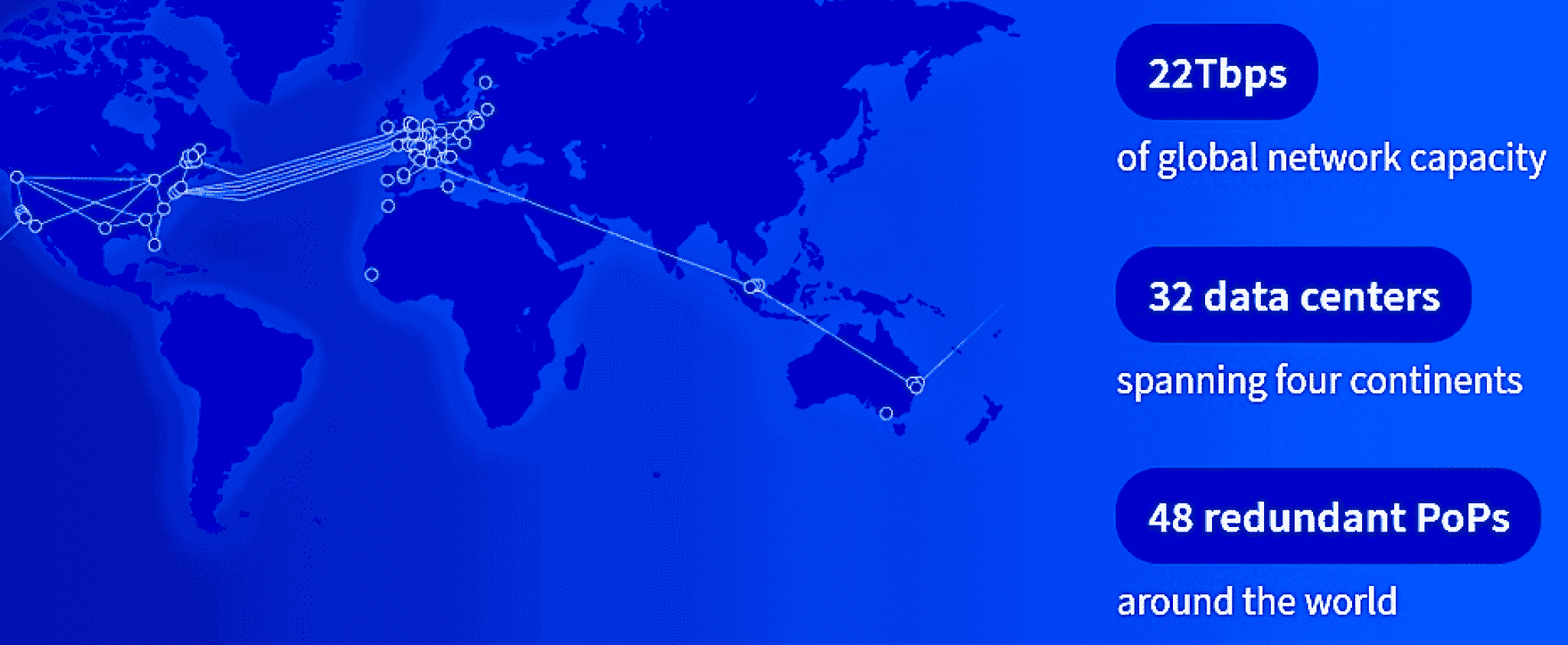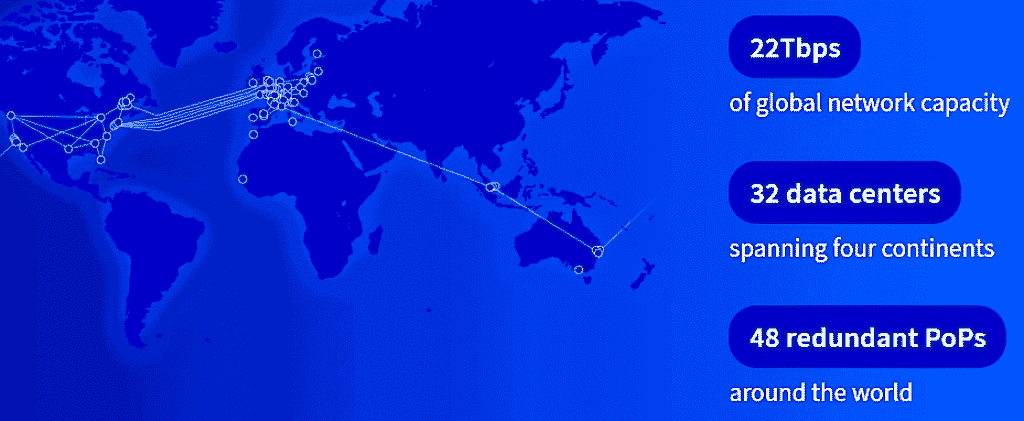 As a cloud computing service provider, OVHcloud owns data centers used to store physical servers connected to the internet and host these services. Since cloud solutions are often the basis of a business, you need a professional service, and IT resources (computing power, storage space) adapted to these uses. OVH design all of its infrastructures, from server production to deployment. OVH can also scale its infrastructures to fit customer requests (additional resources) and technical advancements (component changes, improvements, etc.).
OVHcloud data center infrastructures are designed to host thousands of servers in minimal space while optimizing features such as large-scale water-cooling for servers.
Data Center Security
OVH has complete control over the physical security of data centers, as they are the sole operator. To ensure maximum security within site, access to buildings is limited and controlled in compliance with the very strictest standards and requirements. To access the premises and physical servers, only employees assigned to the building and carrying a badge can enter. 24/7 video surveillance and security ensure complete control of each site.
Quality of Support
Although OVHcloud claims to be wholly committed to its customers, this doesn't seem to be the case with its customer support. On the web, you can find different opinions about it. From users who complain about technical support. Even users who appreciate the help provided by the service.
Due to the variety of opinions on the web about OVH, we ensure the proper functioning of the technical support offered by Ovh Hosting.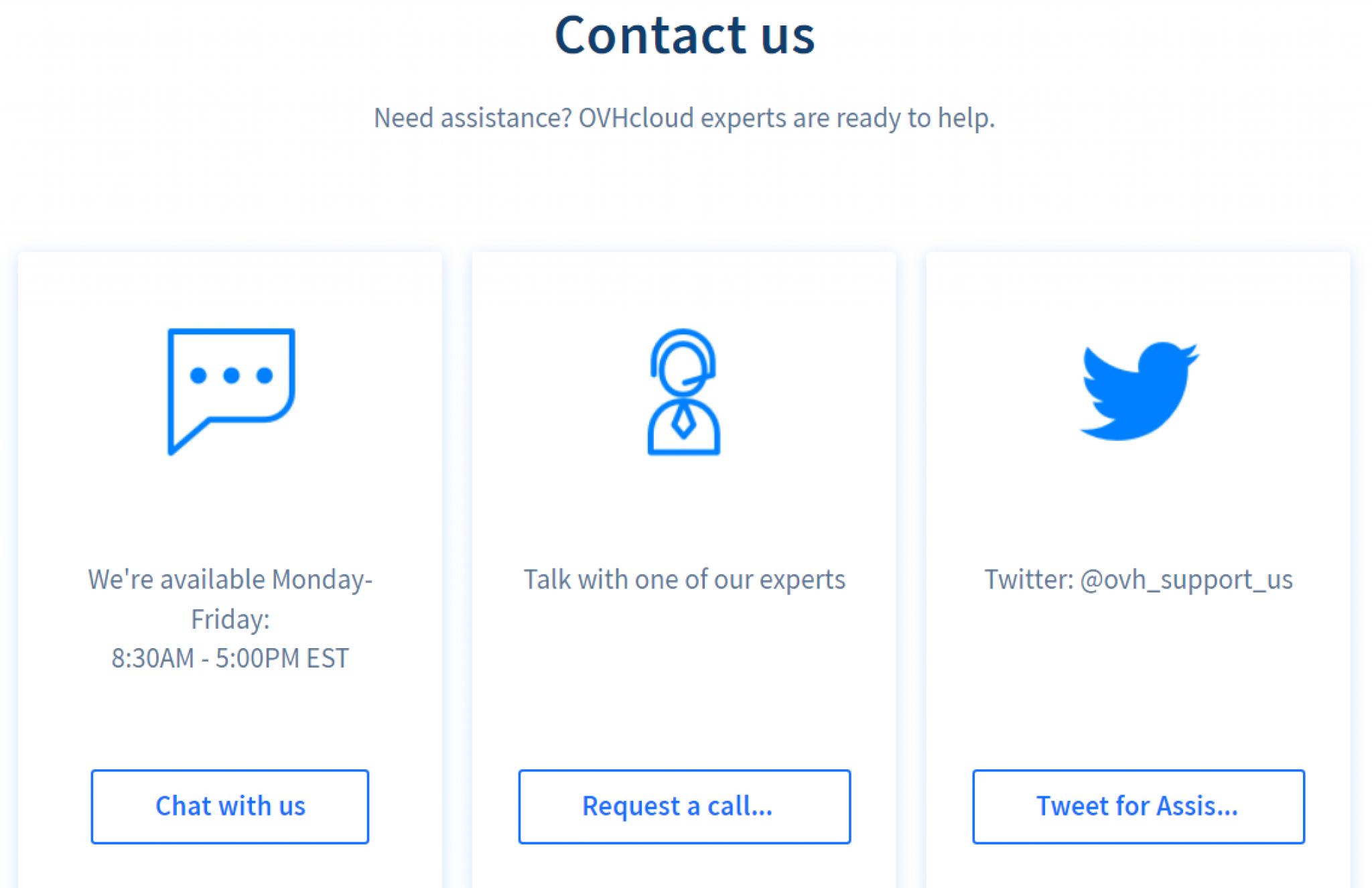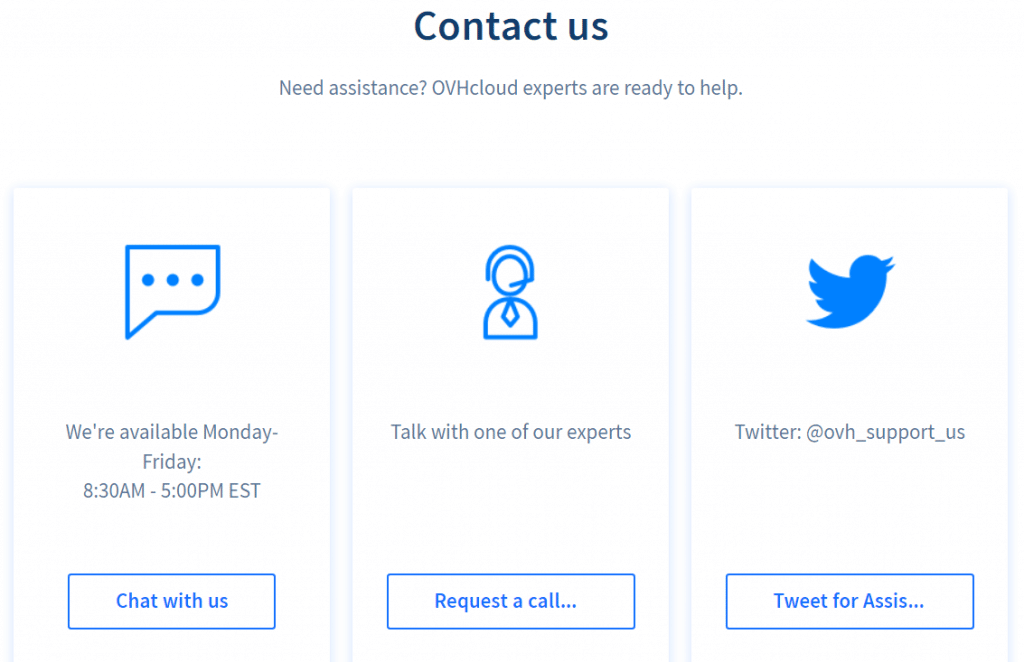 If you need help with Ovh, you can count on advice to place your order. It allows you to find help with them via email or phone.
You can contact OVHcloud's sales team via telephone (on weekdays from 8:30 AM to 5 PM) and email/ticket; however, don't expect to get anything but basic information here. OVHcloud also claims they're planning to launch live chat support soon.
Also, if you want a technical consultation of your services with Ovh hosting. You can also be sure that they will help you. The ways to contact Ovh hosting for this case are: Contact by phone, email, and Twitter.
In case of server problems, contacts are made via telephone or email.
Confusing interface and inconsistency Across Borders
Their interface is not always the most user-friendly. OVH also has a lot of different management interfaces. This can get confusing for new users who want to reconfigure their website. Management interfaces and the level of support offered also vary by location. That can be a bit inconvenient for multinational customers.
OVH hosts servers worldwide, but accounts are limited to one location per server. If you want to set up a server in another location, you'll have to sign up and shell out for another account. And if you're going to expand your site's server capacity, you'll have to pay up.
OVHcloud Hosting Plans & Pricing Details
OVH hosting cloud guarantees expertise in the world of bare metal. All servers come with the latest-generation components, Bare Metal Cloud, Hosted Private Cloud, Public Cloud, Reseller Hosting, and Web Cloud Hosting service.
OVH offers excellent prices for all kinds of web hosting configurations. They do not provide a money-back guarantee. This detail could decrease the number of their customers as they might reconsider their choice.
OVHcloud Hosting VPS Solutions
To pick out the VPS that best suits your needs, it is crucial to consider the following factors:
the number of resources required (processor, memory, disk space, bandwidth, etc.)
the needed operating system (Linux or Windows)
the technical requirements that are essential for the application to work correctly (e.g., a database needs high read/write speed)
This will help you make the right choice from OVhcloud VPS solutions.
Starter VPS: An entry-level server range to test the OVHcloud solution (with a Linux distribution only and no web hosting control panel).
Value, Essential, and Comfort VPS: Perfect for hosting websites, e-commerce services, and monitoring systems.
Elite VPS: Specially adapted for e-commerce websites and applications that require more CPU and memory resources.
VALUE
$6/month
1 vCore
2 GB
40 GB SSD NVMe
250 Mbps unmetered
ESSENTIAL
$11.50/month
2 vCore
4 GB
80 GB SSD NVMe
500 Mbps unmetered
ELITE
$34/month
8 vCore
From 8 GB to 32 GB
160 GB to 640 GB SSD NVMe
2 Gbps unmetered
OVHcloud servers are hosted in their own data centers. OVH's current VPS offering is available in US-Vint Hill and US-Hillsboro data centers.
Energy Efficient
OVH is also in the market for eco-friendly data centers. Acknowledging the impact energy-intensive servers have on the environment, since 2003, OVH has been committed to energy efficiency. In 2010, air conditioning was removed from all data centers, and the cooling systems have been optimized to reduce energy usage. 
OVH consistently scores between 1.0 and 1.2 on the Power Usage Effectiveness index – this is better than what most companies have been able to achieve.
High performance for your business-critical websites.
Improve performance, prepare for traffic spikes, or increase agility by extending on-premises workloads to the cloud.
Security and Uptime
Like many providers, OVH boasts an uptime guarantee above 99%. This guarantee stems from OVH's confidence in its network structure, founded on multiple data centers and superior networking equipment, servers, and software. This figure, of course, doesn't include any maintenance that must be performed on the server to ensure its continued security and viability moving forward.
OVH offers some of the best security options in the business as well. As you can probably imagine, if you are hosting an Exchange email server or a cloud-based file server for your company, you want to make sure your sensitive data is protected. OVH runs hardware-based firewalls to shield your server from attack.
What is OVHcloud Anti-DDoS protection, and what is it used for?
OVHcloud system protects against distributed denial-of-service (DDoS) attacks. The aim of these attacks is to compromise several servers and force them to saturate others with requests. The targeted infrastructure is then overwhelmed with several thousands of connection requests per second, making it unavailable.
OVHcloud Anti-DDoS protection is not optional — it's included with all of their servers at no additional charge.

OVHcloud Hosting Review
DDoS attacks are becoming more widely used by malicious parties, but OVHcloud is working hard to stop them from impacting services.
-46%
$6.00 $9.00
A dedicated Server from OVHcloud is the right choice for your business.
OVHcloud Is a Global Cloud Infrastructure Provider.
FAQs About OVHcloud Hosting Review
Is OVH secure?

OVH takes the security and availability of their customers' data very seriously. That's why OVHcloud offers you complete solutions to ensure the high availability of your infrastructure at all times. In that regard, their anti-DDoS protection is included with all products.

Is OVH good for VPS?

OVHcloud VPS has many great features. Their lowest hosting level is a regular or cloud-based VPS solution. It is priced in line with most companies' shared hosting options, but you'll have the added power of the VPS, which is nice. The cloud VPS is slightly more expensive but still a good deal.

Is OVHcloud VPS backed up?

OVHcloud does not take backups of the data hosted on your VPS. You are responsible for ensuring that your VPS is backed up. You can use the following options: manual backup (snapshots) or automated backup to make backups.

Is the OVHcloud VPS compatible with vRack?

OVHcloud VPS ranges are not compatible with the vRack private network. If you would like to use this service, their Public Cloud instances may be a better option for you.
OVHcloud Hosting Review and Pros & Cons
OVHcloud works on a large scale with the best hardware to offer infrastructure at the most competitive price/performance ratio. 
OVHcloud PROS:
Easy to set up
Over two decades of industry experience
Wide variety of different cloud-based servers
Worldwide network of data centers
Pocket-friendly pricing with most plans
Choose between a custom, cPanel, or Plesk control panel
Supports both Windows and Linux
OVHcloud CONS:
No free automatic backups
Limited options for immediate support
Not novice-friendly at all
Limited 1-click installs – some web hosts will offer hundreds
Final Words on OVHcloud Hosting Review
OVH offers affordably dedicated VPS hosting, but with this low cost comes fees for extra features and fewer perks. If you want to use dedicated servers on the European continent or Africa, they're well-established enough that their reliability and affordability may be adequate.
But if you're based in North America, a provider like Hostinger may be a better option. Hostinger offers plans at similar prices, but as a US-based company, they have more servers based in this hemisphere and more responsive customer service.
Choosing the correct type of web hosting provider is an important decision. It can be a particularly crucial choice if you want VPS and dedicated servers. Always check plans carefully to see what is not included in your price.
OVHcloud Hosting
Use an OVHcloud VPS and get a dedicated environment with powerful processing, great storage options, snapshots, and up to 2 Gbps of unmetered bandwidth.
OVHcloud Virtual Private Servers (VPS) will get reliable performance at unbeatable prices.