Cloudways Review 2023: Fast and Cheaper, But Is It Reliable?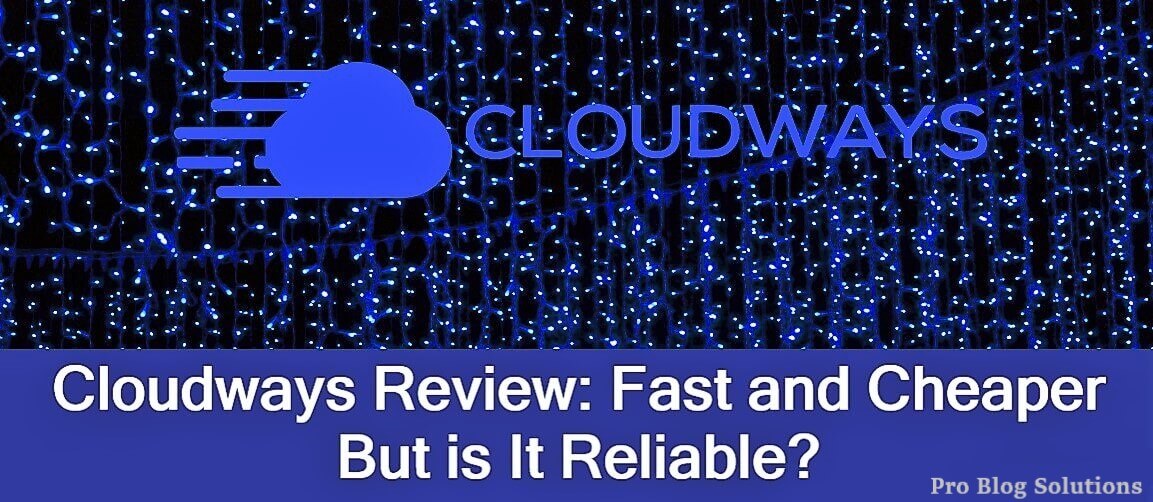 Are you planning to try Cloudways web hosting service yet unfamiliar with its essential aspects? If you are looking for the most updated Cloudways Review in 2023, you are in the right place.
This Cloudways review of 2023 will walk you through all the crucial aspects of this web hosting. Cloudways started in 2011 with its base in Malta. Cloudways is one of the most developer-friendly hosting companies, and it helps users with a straightforward setup and server maintenance.
Cloudways services are vastly scalable with a managed hosting environment. Cloudways have a competitive edge over the other providers in many ways, and one such advantage is pay-as-you-go in 2023. We will come to the other benefits in a bit.
Why Choose Cloudways in 2023?
Cloudways is one of the companies in 2023 that offers a lot of stability to its users between good functionality and profitable strategies when managing Cloudways WordPress hosting. This hosting helps its clients configure their websites and has the resources to grow them.
It works in such a way that it manages the server services quickly and simply; Cloudways will connect and join your organization, so it will be easy to administer it.
It offers a managed hosting platform for e-commerce stores, startups, digital agencies, freelancers, developers, and bloggers. Its platform is a leader in the industry worldwide.
It gives your users a fantastic experience and eliminates all hosting hassles. Its servers reside in over 25 locations worldwide, including Singapore, Canada, Brazil, France, and Australia.
What Makes Cloudways Unique in the Market?
| | |
| --- | --- |
| Rating | 4.6 out of 5 ★★★★☆ |
| Hosting Type | Managed Cloud Hosting |
| Control Panel | Cloudways Panel (proprietary) |
| Speed & Performance | DigitalOcean, Vultr, Linode, Amazon Web Services (AWS), and Google Cloud Platform (GCP). |
| Servers | 1-click WordPress installations & staging sites, pre-installed WP-CLI, breeze cache plugin, and Git integration. |
| WordPress | 1-click WordPress installations & staging sites, pre-installed WP-CLI, breeze cache plugin and Git integration. |
| Security | Free SSL (Let's Encrypt) and OS-level firewalls. |
| Extras | Unlimited sites, free automated backups, free CDN & dedicated IP. |
| Pricing | Starts from $12 per month. |
| Website | Cloudways.com |
Cloudways Review 2023
Cloudways differs from other providers in consists of hosting in the cloud and stands out above all for:
Easy to chlorinate and install: With just 1 click, you can install WordPress, clone, backup, or restore everything. You can manage the number of e-commerce or WP sites using this server.
Scalability: Cloudways allows you to add resources based on traffic spikes and needs as your website grows.
Ease of migration: They allow you to migrate your website to different servers in various data centers worldwide.
Faster loading times: Incredibly, CDN ensures higher speed.
Server security: All your servers are independent of each other. This means the rest will keep running if one of the servers goes down.
Pay-as-you-go model: You will only pay for the resources you will need.
In this Cloudways Review 2023, I have tried to cover various factors such as its services, support, and pricing. By the end of this post, you should certainly be able to make the right decision.
TRY Cloudways for FREE Today!
Cloudways is a managed cloud server service where you choose the cloud provider, and Cloudways connects its platform to it, making it incredibly easy to manage. 
Current Pricing:
ONLY $11
Cloudways Features in 2023
This is the most crucial section of this Cloudways review, and I tried to be as specific as possible while describing the services to give you a perfect review.
Once a customer logs in to one's Cloudways login, one can add servers by choosing from the various cloud infrastructure providers such as Amazon Web Services, Google Cloud Platform, DigitalOcean, and Vultr.
One could then assign the disk space, and Cloudways will have a cloud virtual server ready in a minute.
Cloudways provides you with 5 CMS apps to choose from and, including WordPress, Joomla, Drupal, Magento, Moodle.
With such PHP-based CMS apps, it has become much more convenient for users as they can install one independently without much technical expertise. This also saves you a lot of time and effort.
Apart from that, there are no limitations to the number of servers a user can use. Customers can easily clone a server or any application per their growing needs.
Most excellent Uptime: Almost 99.99%
Cloudways is powered by the world's best Cloud hosting providers; the uptime will be the best in the industry. Think of your shared hosting, where your site gets hosted along with several other sites; when one site gets a traffic spike, the other site goes down for no reason.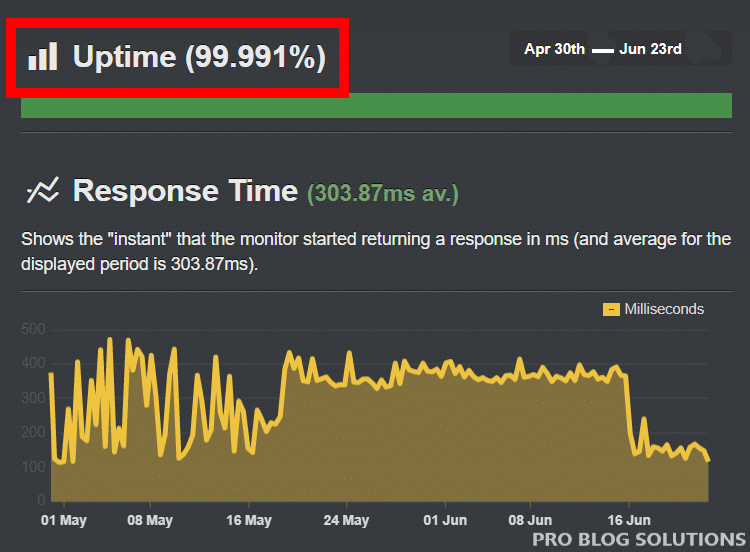 Cloudways' uptime is generally excellent. They claim to have an uptime of 99.99%, which is very high. There have been only a few minor outages in the past year, all quickly resolved.
As of this month, 2023, there are no reported outages on the Cloudways status page. The last outage was two months before, 2023, caused by a connectivity issue with Cloudflare. The problem was resolved within a few hours.
Overall, Cloudways has an excellent uptime record. If you are looking for a reliable and high-performing hosting provider, Cloudways is a good option.
Here are some additional resources that you may find helpful:
The Cloudways uptime is always excellent, and there are only a few possible scenarios, like your website going down with your server configurations or the cloud provider going for maintenance. Apart from this, there are very few to zero ways your site will go down.
Cloudways Speed & Response Time
Since there is no sharing of resources and a minimal control panel on the top, our site hosted on Cloudways comes with less than 300ms loading time. Check cPanel-based web hosting like FastComet, Hostgator, or A2 Hosting. The response time will be between 500ms – 900ms.
There will be another set of horror stories where some big hosts even take 1000ms loading time, but Cloudways crushes them out with their unified control panel with only the essential features left on the panel, leaving others.
TTFB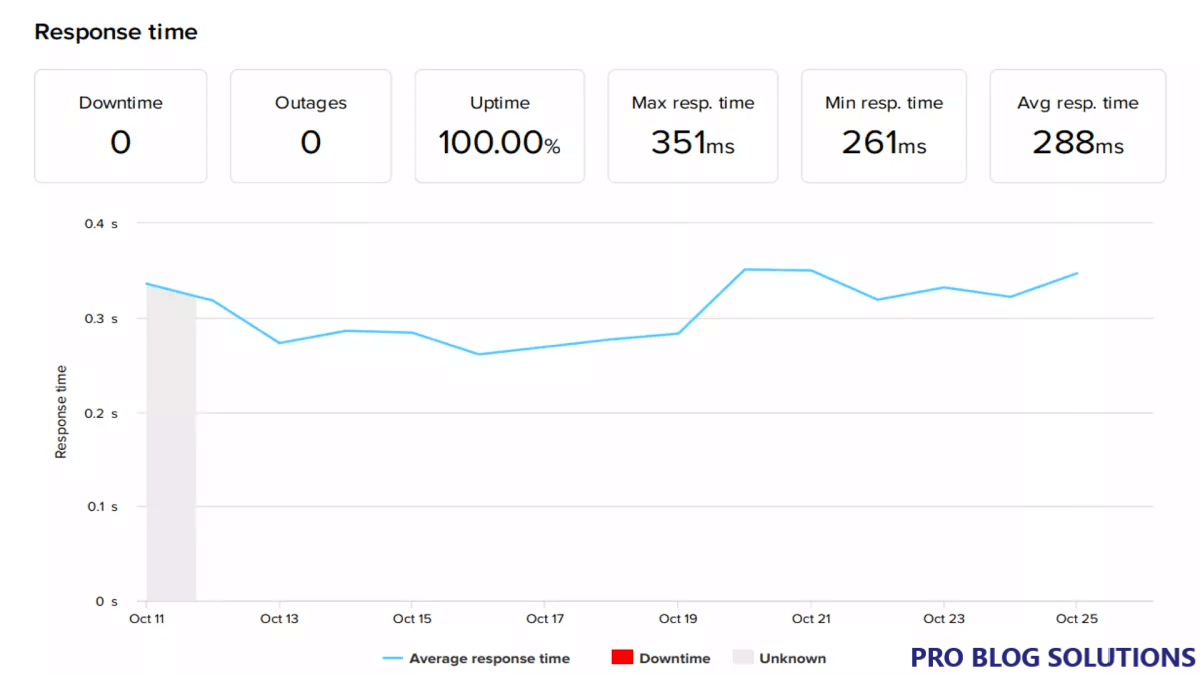 The Cloudways site recorded an average server response time of 288ms. The Cloudways TTFB is better than 
WP Engine 
and 
WPX Hosting
.
After a 14-day test with Pingdom's website monitoring tools, we can comfortably state that Cloudways is one of the best-performing hosts we've tested.
For starters, we experienced 100% uptime across the test period. While this could be slightly deceptive due to the short testing time frame, it's still a massive tick in the platform's favor.
The average server response times were also excellent. They varied from 261ms to 351ms across the test period, averaging 288ms. This means that Cloudways sits at the faster end of the 200 to 400-ms response time range we look for with entry-level hosting. Its performance clearly isn't anything to be concerned about.
Google Core Web Vitals Test
We have gone through Pagespeed Insights, which Google owns, and run an audit on the website. Always run three times the speed test to get an average result.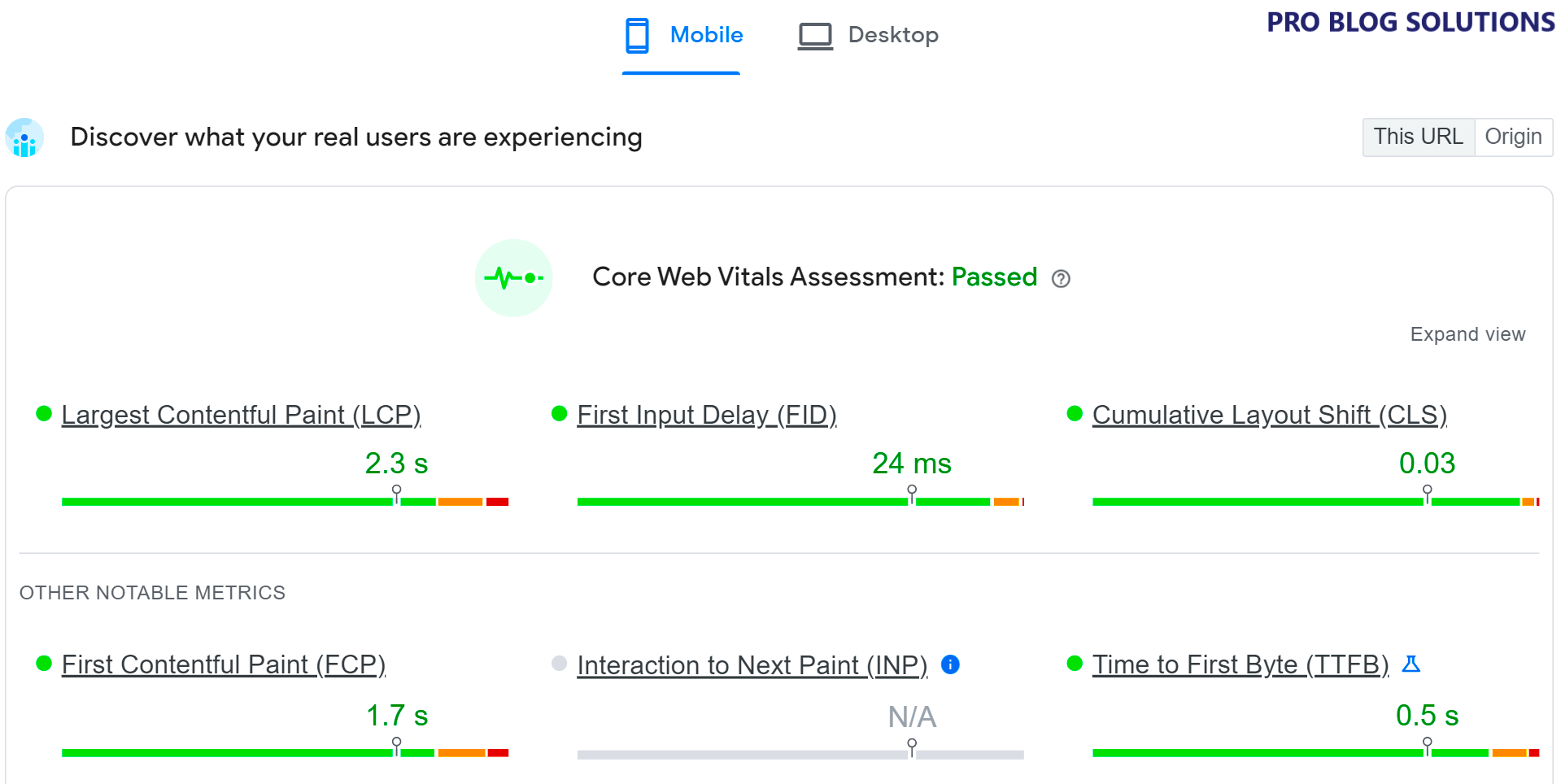 As seen from the audit, we score an exciting score on the core web vitals test.
GTmetrix
We have also checked our website on GTmetrix, and run an audit.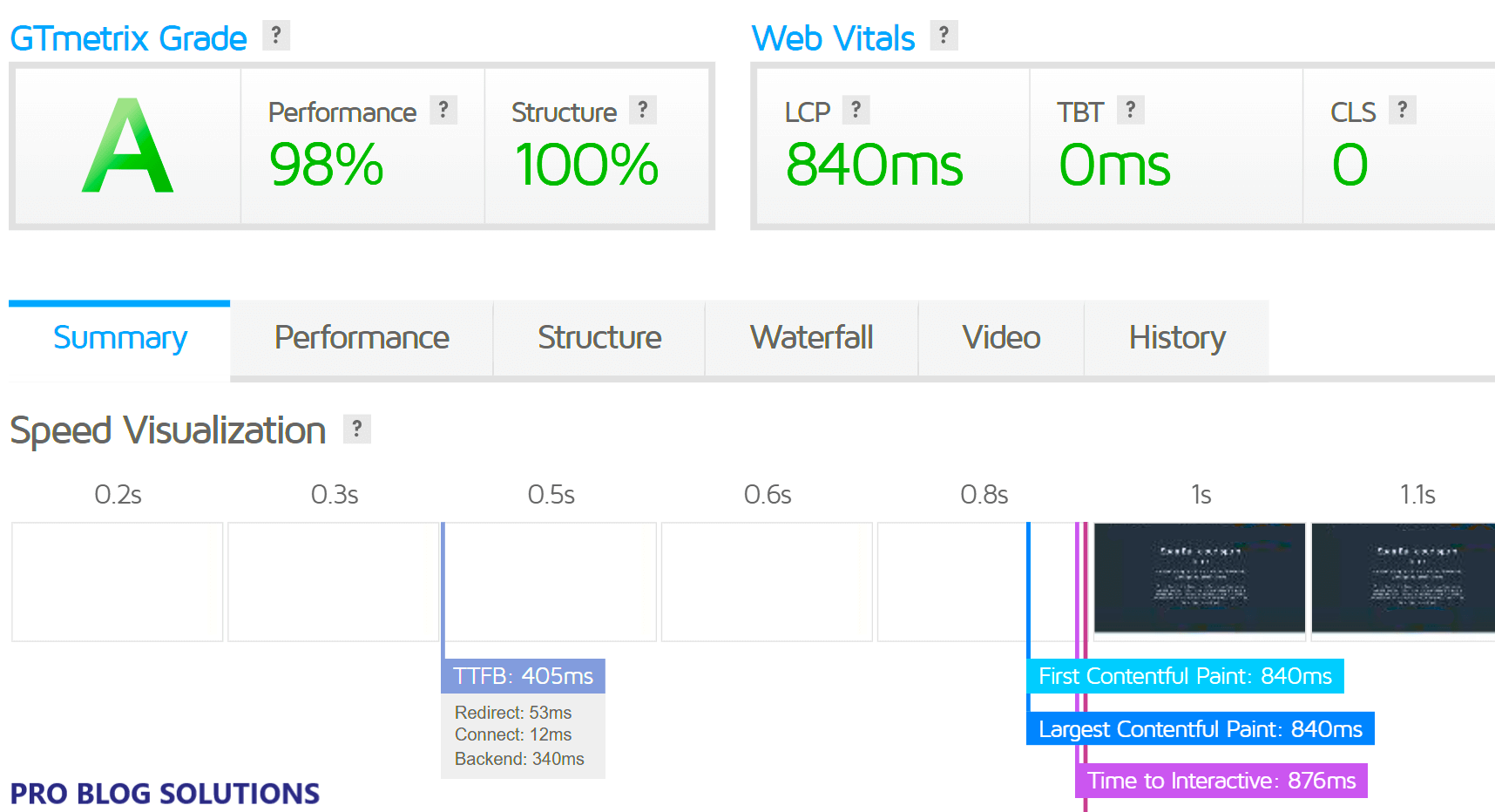 The performance report looks excellent.
Scroll a bit down and click on the Performance tab. The Performance Metrics show that all the checks are Good – Nothing to do here.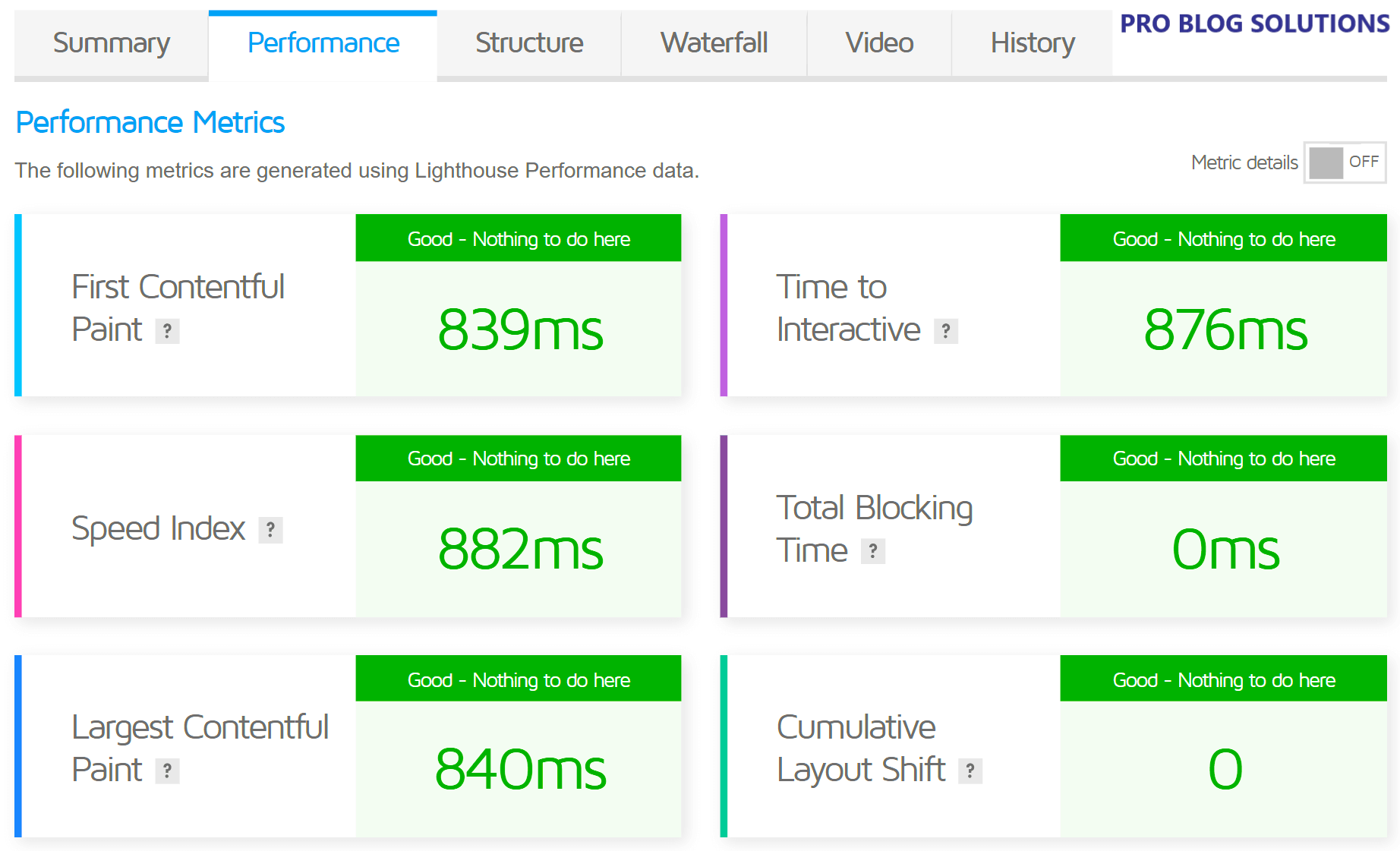 As you can see, we have a score of 98/100. It's because only Cloudways hosting has fantastic mechanisms optimized for website speed which we will discuss below in detail.
You may also like to read:
Does Cloudways Offer Unlimited Bandwidth?
No, Cloudways does not offer unlimited bandwidth. The amount of bandwidth you get depends on the plan you choose. For example, the Starter plan on DigitalOcean gives you 1TB of bandwidth, while the DO4GB plan gives you 4TB. If you exceed your bandwidth allowance, you will be charged on a per-GB basis.
Here is a table of the bandwidth allowances for each plan on DigitalOcean:
| Plan | Bandwidth |
| --- | --- |
| Starter | 1TB |
| DO2GB | 2TB |
| DO4GB | 4TB |
| DO8GB | 5TB |
You can also check the bandwidth allowances for other cloud providers here.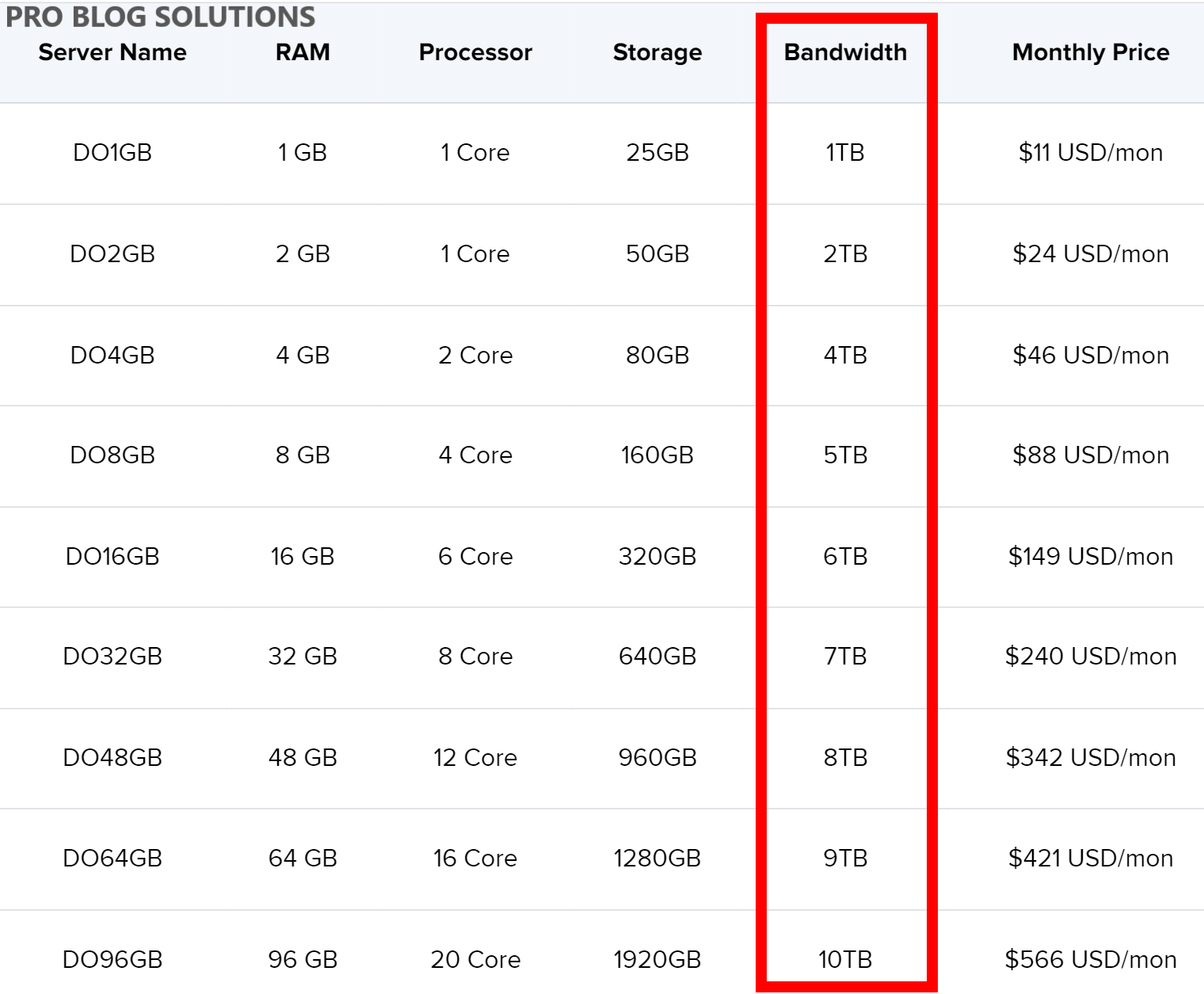 Here are some of the disadvantages of Cloudways not offering unlimited bandwidth:
You may have to pay more for bandwidth if your website gets a lot of traffic.
You may have to monitor your bandwidth usage closely to avoid overages.
Overages can be expensive, so consider a larger bandwidth allowance plan.
However, there are also some advantages to Cloudways not offering unlimited bandwidth:
It helps to keep prices down for everyone.
It encourages users to be more mindful of their bandwidth usage.
It helps to ensure that Cloudways' servers are not overloaded.
Overall, whether or not Cloudways offering unlimited bandwidth is a good thing depends on your individual needs and budget. If you are concerned about bandwidth usage, you may want to consider a plan with a higher bandwidth allowance. However, plans with limited bandwidth may be a good option if you are on a tight budget.
Unlimited Site Migration
Even humans commit mistakes, but Cloudways WordPress Migrator Plugin never makes an issue. In fact, I had never had such a painless site transfer in my entire lifetime. The Cloudways Migrator plugin was powered with BlogValut, which makes some fantastic WordPress products.
Partnering with BlogValut shows Cloudways' commitment to users and simplifies WordPress hosting. With no more than three clicks, you can start your website migration from your existing shared hosting, and your site will be live in minutes or hours based on your site size. However, contact their support for more guidance or manual transfer if you have complex site transfer issues.
While many of its competitors put limits on the number of site transfers, Cloudways made unlimited site transfer on the move.
Free SSL in one Click
In cPanel, getting my SSL installed takes more than five clicks. Installing the free Let's Encrypt SSL takes only two clicks on Cloudways.
Installing SSL certificates on sites is extremely simple on Cloudways. You can install a free SSL certificate by Let's Encrypt or your own certificates on the sites. The Cloudways interface makes it a much less tedious job.
Enter your email address and domain name; the SSL will be installed and applied automatically. That's the one-click SSL installation I have ever seen on shared hosting or even $100 managed-to-host control panels.
Breeze Caching Plugin
Breeze is the Cloudways exclusive caching plugin with very much simpler options required for setup. Since I already have my WP Rocket License, I didn't go for it since Cloudways and WP Rocket go without any conflicts.
Easy Backups and Restore
A proper Backup is always vital to running a site with peace of mind. Cloudways offer an automated backup with 100% control over it. Backups run daily by default, and recovery is a one-click operation. On shared hosting, companies provide 30 days of backup based on your plans with daily paid backup options. I won't complain, as some of our recommended hosting providers offer it for free.
However, Cloudways is one step ahead and gives you complete control where you can set the frequency at which the backups should happen, either from one hour once or seven days once. You can also set the backup retention time from one week to four weeks. There is also an option to create on-demand backups when required. The account owner can change the backup schedule using the console.
Just remember these backup copies are stored in your own storage limits. Apart from it, you can opt for affordable off-site storage if needed.
Free Staging Environment
Before making significant changes to your site, always use the free Cloudways Staging with one-click deployment.  Set the password for your staging site, and once the optimizations are done, move it to the production site without many difficulties.
Does Cloudways Offer Email Hosting?
The simple answer is no, but I won't complain. I moved to Cloud hosting because I need a 100% powerful server resource to host my website. If Cloudways offers inbuilt email services, then who might know the website performance might get affected due to the thousands of spam emails reaching your inbox.
Why do I need to make my website suffer? If I need the email service, I can opt for shared host plans like FastComet FastCloud Extra, which comes with 6 CPU cores & 6GB RAM for just $9.95/month.
However, Cloudways, in partnership with Rackspace, offers email hosting for existing customers at an affordable price of $1/month.
Cloudways for eCommerce
Considering the extreme popularity of online stores among people, I thought of covering this aspect in this Cloudways review and checking if the platform is suitable for eCommerce hosting.
Setting up an online store with this company is unimaginably simple, with a free site migration per account. Further, one can choose from the various CMS applications to build an eCommerce site.
You can certainly have any type of online store you want and customize it to any extent with Cloudways. Users can always find Cloudways experts to help them with any technical difficulties.
In addition, the CloudwaysBot is extremely helpful with essential notifications relating to backups, upgrades, server status, and more.
Another handy feature is the Cloud Console, which helps you manage everything from SSL certificates to domain mapping. This gives you a lot of freedom as you do not have to contact the support for expert assistance and can do it independently.
Cloudflare Enterprise CDN
One can deliver content faster to your global audience using a CDN or Content Delivery Network. 
Cloudways CDN is based on Cloudflare and is pretty easy to integrate. Further, one can find helpful tips from the knowledge base on integrating the Cloudways CDN into your site. Customers can have it for a nominal cost. For a bandwidth of 100GB, it costs only $4.99/mon.
Activating Cloudflare Enterprise dramatically improves performance when compared to the free CDN. The tiered cache delivers your content faster globally via a reserved-for-enterprises network, reducing latency, loading time, and bandwidth costs.
Developer-Friendly Features
Here is yet another important factor worth mentioning in this review. Cloudways offers a highly developer-friendly environment for PHP developers to deploy the latest applications using API from a Git repository.
You can also clone an application. Besides, Cloudways allows developers to choose from different frameworks. Cloudways also offers a staging environment for testing new scripts.
These features have attracted many customers to Cloudways over the years.
Cloudways Control Panel
This is yet another important aspect worth mentioning in this Cloudways review. Many hosting providers that don't use cPanel have control panels that are pretty hard to use. This is why most customers think a platform that does not use cPanel is meant to be challenging to manage. However, this does not hold true for Cloudways. 
Even though Cloudways does not use cPanel like ChemiCloud and its own control panel, it's not difficult to use. It's unimaginably easy to add applications anytime once you have set up the server. 
To add an application, all it takes is to fill up 3 necessary fields; the name, the server, and the type of application.
Cloudways Infrastructure 
Regarding infrastructure, the Cloudways platform is highly reliable based on Thunderstruck. Besides, Cloudways uses Debian Linux. Web servers are available in Nginx and Apache. 
Other technologies consist of MySQL, MariaDB, and PHP. Cloudways also use different types of caching mechanisms. The infrastructure is highly secure, too, with platform-level firewalls per server and Two-factor authentication. 
Customer Support
Customer Support is yet another critical factor to consider before making a decision. Cloudways Support is definitely dependable in all aspects. You can contact support via Live Chat or submit a ticket if you encounter any technical difficulties. 
For simple technical assistance, even the CloudwaysBot can be pretty handy. With Premium Support at a small additional charge, customers will get help on priority.
Cloudways has an extensive knowledge base that includes quite a few help documents and quite a few tutorials. You can post a question on the active Facebook Group if you want to chat with other developers or tech experts.
For more information on the support they offer, check the links below:
Cloudways Dashboard
In the Cloudways Dashboard, you can see several site settings.
Security: The security feature logs the whitelisted IP addresses you use to access the server.
Backups: Cloudways allows you to set up automatic backups of your cloud server images, either daily, every two days, every three days, weekly, etc., or manually at any time with the click of a button.
Monitoring: It is probably one of the most impressive features; the charts will help you monitor the load on your cloud servers, with drop-down menus providing over 15 variables for monitoring, including incoming traffic, idle CPU and read speed, and more.Traffic Spikes. As we all know, nothing is more frustrating than paying for advertising, getting a lot of traffic, and having your website crash. With vertical scaling, you can adjust the allocated server resources with just a few clicks. This is a great feature to have when experiencing a traffic spike.
Other Tools: Besides the above features, Cloudways offers many other tools. For example, you can configure MySQL, Apache, and caching services. With the WordPress Migrator tool, you can migrate your existing WordPress website. In addition, the Cloudways console offers additional tools such as backup recovery, SSL certificate, GIT integration, etc.
Recommended for you:
Cloudways Pricing
Cloudways offers 4 different pricing options with additional RAM, storage, processor, and monthly bandwidth. In fact, it has the most flexible pricing in every aspect. Customers have a wide range of options to choose from. The fact that Cloudways offers pay-as-you-go pricing makes it pretty affordable for customers. 
However, it's crucial to understand how the pay-as-you-go pricing model actually works. It is not entirely how it seems to be, apparently. As per the model, users are charged hourly for the services but shall be charged monthly for the infrastructure services.
Customers can pay every month. Cloudways also allows you to pay with easy Payment methods such as credit cards, Paypal, or Bitcoin payments. Those who want to try Cloudways console for free can have a free trial without needing credit card information.
Cloudways plan starts at $12/month with a free three-day trial. There is also our Cloudways Promo Code that offers $25 free credits. The Cloudways plans from each cloud provider are:
DigitalOcean: Starts at $12/month
Linode: Starts at $12/month
Vultr: Starts at $11/month
Amazon Web Services: Starts at $38.56/month
Google Cloud: Starts at $37.45/month
The Cloudways plans differ based on server resources like RAM, CPU, Storage, and Bandwidth.
AWS – Starts at ~$38 for 2GB & 2vCPU with 20GB storage. Server pricing differs for locations; e.g., Oregon costs around $38+/mo for the same specs. Bandwidth is pay-as-you-go, so it really can add up. In addition to their base servers, they offer "High Computing Instance" servers starting at ~$91 for 4GB RAM & 2vCPU for even more performance.
Google – Plans also start from ~$37 for 1.7GB RAM & 1vCPU with 20GB storage. Server pricing differs for location; e.g., North Virginia costs around $44+/mo for the same specs. Like AWS, Bandwidth is also pay-as-you-go, and they also have "High Computing Instance" servers starting at ~$152/mo for 7.5GB RAM & 2vCPU.
Linode – $14/mo for the 1GB RAM server & $28/mo for the 2GB RAM server. AWS & Google is around x1.5 more.
DigitalOcean – Starts at just $1/mo for a 1GB Ram server; they are the most affordable. Their  2GB server is $24/mo.
DigitalOcan Premium Droplets – Starts at $14/mo for the 1GB RAM server and $28/mo for the 2GB RAM Server.
Vultr – $14/mo for the 1GB RAM server and $28/mo for the 2GB RAM Server.
Vultr High Frequency – Starts at $16/mo for the 1GB RAM server and $30/mo for the 2GB Ram Server.
Summary & Thoughts of Cloudways Pricing:
The pricing of Linode, Vultr, and DigitalOcean is very similar, so if you choose one, look at how they performed in the speed, performance, and reliability tests rather than selecting based on cost.
Linode, Vultr, and Digital Ocean servers are much better value than AWS and Google. They compare well in the speed, performance, and WooCommerce tests. In some cases even beat their more expensive counterparts.
AWS and Google are roughly x1.5-x2 the price of the other servers when everything is considered, e.g., bandwidth, storage, etc. The main benefit of these servers is they are super reliable, with barely any issues. They offer larger servers, too, and you have more flexibility to scale up and down, and for some, being associated with their brand may be an added benefit.
When to Choose Cloudways:
If you are upgrading from shared hosting, Cloudways is your ultimate choice. By choosing Cloudways, you don't need to burn your pockets by choosing a Managed WordPress hosting, which usually costs $30 per month. 
When not to Choose Cloudways:
Though Cloudways is excellent, it's not auto-scalable and requires a manual upgrade (although it takes just a few clicks). If you are highly concerned about autoscaling, Cloudways is not a good option.
Pros of Cloudways: Cloudways Review 2023
Cloudways has the most user-friendly interface, and even if you are a pretty new user, it should not take long to get the hang of it. One does not need to have much technical knowledge about that.
With Cloudways, you will get cloud infrastructure from Linode, DigitalOcean, Vultr, Amazon Web Services (AWS), or Google Computing Engine (GCE).
SSD hosting, Varnish with Memcached caching, Nginx and Apache servers, HTTP 2, PHP 8.2, and Redis support.
Setting up a server or installing an application can be done without taking much time, usually about a minute.
Cloudways service is highly reliable regarding uptime as it offers an uptime guarantee of 99.99%, just like on WPengine hosting.
Free automated backups, SSL certificate, site migration service, CDN, and dedicated IP.
Unlimited 1-click WordPress installs and pre-installed WP-CLI, Git integration, and staging sites.
3-day free trial period.
The expert support team is available 24/7.
The pay-as-you-go pricing makes the pricing pretty affordable, and even if we compare the pricing with that of the average cloud providers, it is almost the same as what they are charging. 
Cons of Cloudways: Cloudways Review 2023
Unlike a standard CMS like WordPress, hosting or creating a custom CMS can be tedious with Cloudways.
Does not offer domain name registration to clients.
There is no cPanel or Plesk control panel.
Even though Cloudways emphasizes keeping its servers well-maintained, one big downside is that users don't have root access to configure things independently.
What do I like About Cloudways?
Cloudways' platform (cloud server) delivers an excellent feature set and architecture expressly created for speed, efficiency, and security, allowing you to add CPU, memory, storage, and other resources as your site grows.
Manage Services:
From here, you can restart or shut down the services used by the host, such as Apache (the host operating system), MySQL (a database program), etc. I rarely use the functions here. If the website encounters strange cache problems, you can try to clear the Varnish Cache (PURGE) from here.
Vertical Scaling:
Cloudways Vertical ScalingUpgrade the host specifications, but the hosting provider cannot be changed. 
If the host hardware is insufficient, it can be dealt with here. There is no need to re-purchase the host and do a lot of troublesome website relocation.
The upgrade can only be directed to this host; you cannot incidentally change the hosting vendor or host location. 
The host cannot be connected during the upgrade process, which takes about 10–20 minutes; it is recommended to do it during off-peak hours.
Cloudways Guarantees Resources:
There are many types of web hosting services. The most common type of WordPress hosting is shared hosting, which means you share hosting resources with other people, and how many resources are available is unknown.
You may think this is not a problem, but the extra cost will also be reflected. The website will become unstable if you encounter a poorly managed vendor who consistently oversells host resources.
Compared with shared hosting, Cloudways provides guaranteed resources, so you don't have to worry about whether too many people are sharing resources, which will reduce your availability and affect the website.
Cloudways Offers a Variety of Servers: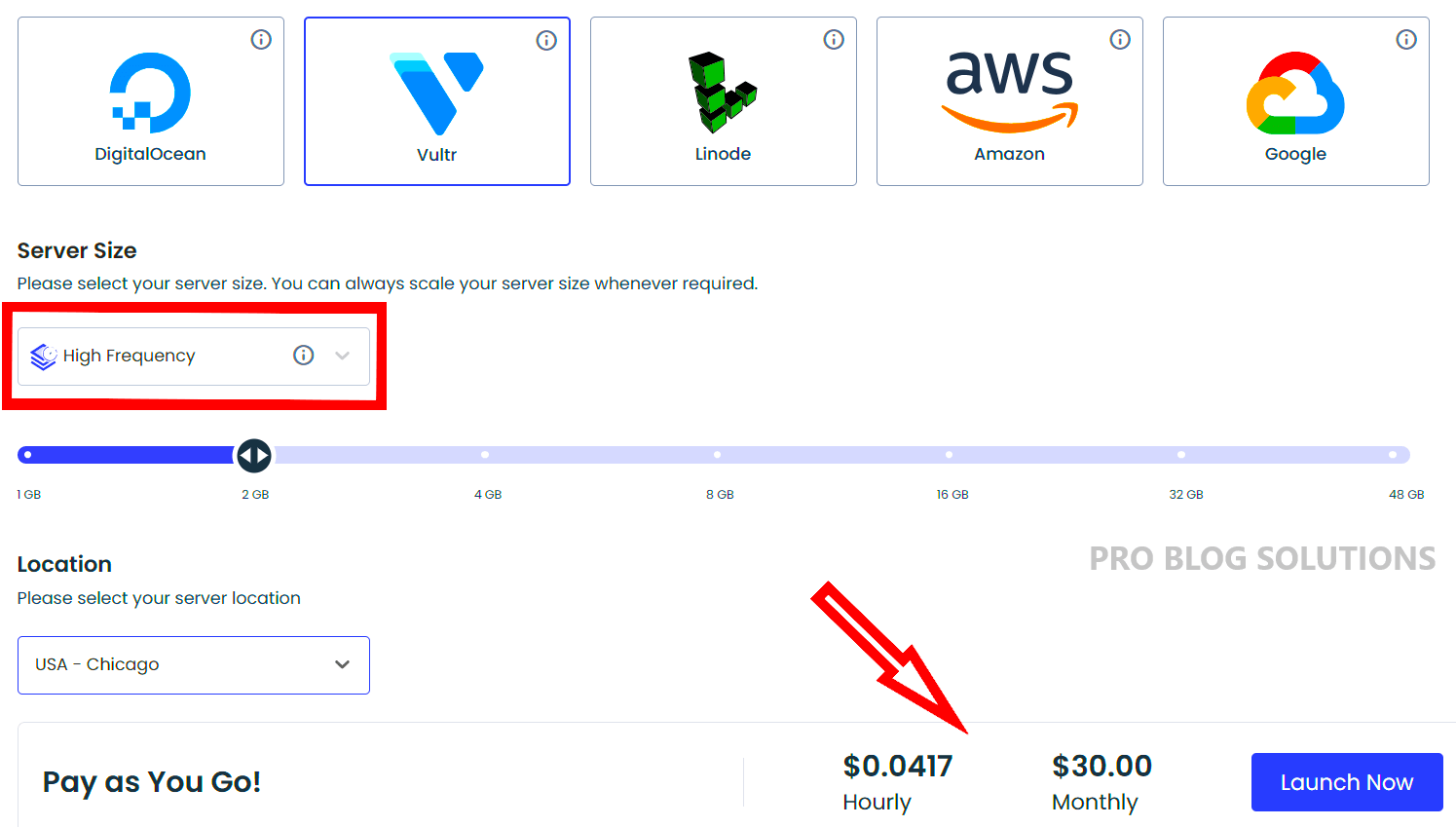 Cloudways has five types of hosts to choose from: DigitalOcean, Linode, VULTR, AWS, and Google Cloud, all of which are billed every month (hours for less than one month).
DigitalOcean, Linode, and VULTR hosts belong to VPS (Virtual Private Server), and AWS and Google Cloud belong to Cloud Computing.
General users don't need to be too obsessed with the difference between the two; choosing the budget is more critical, and the school can meet its requirements. If there is no instantaneous explosion of hardware requirements, you can choose a VPS host. AWS and Google Cloud are very expensive.
No matter which hosts you choose, you can use the functions provided by Cloudways. The cost of AWS and Google Cloud is high, and the host specifications differ from those of DigitalOcean, Linode, and VULTR. If you are not familiar with this kind of service, please study it yourself if you need it.
Global Data Center Network
You can choose to use Cloudflare Enterprise CDN (Content Delivery Network), which stores a copy of your website in data center nodes worldwide. When someone visits your website, the system automatically detects their geographic area and delivers your website from the node closest to it.
Cloudways is the most popular web hosting service because of its exceptional features and products and because it is unbelievably simple to use. Cloudways provides a simple onboarding procedure to have your website up and operating in minutes.
FAQs About Cloudways Review 2023
Is Cloudways suitable for e-commerce plans?

Yes, Cloudways' eCommerce plans are outstanding. They offer an innovative combination of Nginx and Apache servers that promise better performance, and for e-commerce, I recommend going with Vultr's high-frequency servers on Cloudways.

Which payment methods are supported on Cloudways?

Cloudways supports payments through Credit and Debit Cards (Visa, MasterCard, AmericanExpress) and Paypal. It also supports the Wire Transfer service, which is only accessible on a minimum purchase of $1000.

Does Cloudways charge extra for email hosting?

Yes, you can subscribe to their Rackspace Email add-on that costs $1/month for one email account.

How easy is it to launch your website on Cloudways?

It's pretty easy. All you need to do is log in to your account and click 'Add a Server.' Next, you need to select an application, your server type, size, and the server location, and it's done.

What makes Cloudways different from other web hosting companies?

The unique Managed hosting infrastructure of Cloudways, built on 5 unmanaged cloud hosts, makes it different from other hosting companies. Thus, you can enjoy the features of managed and unmanaged hosting together.

What if I want to scale resources down on Cloudways?

It depends on your server. Scaling your resources down is impossible if you have the servers of DigitalOcean, Linode, or Vultr. Once you scale these servers, the changes are permanent. However, AWS and Google Cloud offer unlimited scaling up and down of resources. But their plans are expensive.

How many cloud providers does Cloudways have?

Cloudways offers 5 cloud providers: AWS, DigitalOcean, Linode, Vultr, and Google Cloud.

Does Cloudways offer free migration?

Yes, you get one free website migration with all the plans of Cloudways. And if you want to transfer your WordPress website, they also offer a dedicated WordPress Migration plugin.

What are the Key Features of Cloudways Hosting?

The key features of Cloudways Hosting include its unique managed-to-host infrastructure, 65+ data center locations, one-click vertical scaling possibilities, swift speeds, uptime, and its 'Pay as you go, payment model.
Summary of Cloudways Review 2023
Cloudways brought about a complete transformation in its service in 2016; since then, it has attracted the attention of many customers so far. What is most commendable about this company is that it has kept things extremely simple for its customers. 
In fact, users can operate their consoles and use the various options without touching a single line of code or multiple interfaces. Cloudways has also been of great help to PHP developers with its valuable features, such as Git integration and no limits on application deployment.
If you have read my Cloudways 2023 review carefully thus far, you should now have a clear picture of Cloudways in all aspects.
I spent many hours testing the different aspects of Cloudways before publishing this Cloudways review. However, whether Cloudways is good for you depends on what you are looking for. If you are a PHP developer, you must try it, for it has so much to offer for PHP development.
Even if you are only up to hosting a CMS site like WordPress or an eCommerce site, Cloudways offers a perfect environment with actually minimal effort needed on your part. The pay-as-you-go pricing model makes things pretty affordable for the users and gives Cloudways a leading edge over its competitors.
However, if you are up to creating or hosting custom apps, you are out of luck with Cloudways, so I will never recommend choosing Cloudways for hosting custom apps.
Cloudways Features Review of 2023
Cloudways offers server scaling, so your server won't get overloaded by traffic surges; you can increase storage and add data-heavy websites to your server. ➕➕➕
Positive
Fast transfer speed.
Lots of features for WordPress.
Automatic daily backups.
Premium, high-quality hosting and service.
No initial prepayments or price increases.
A selection of different cloud hosting networks.
Easy VPS hosting management.
Negatives
No domain registration services.
Email hosting comes at an extra cost.
No cPanel or Plesk control panel.
Pricier than the original provider's prices.

Save time & money with simple and reliable cloud hosting trusted by thousands of agencies, developers, and businesses.
Discover Possibilities, Not Hosting Worries.