Cloudways Review 2023: Fast and Cheaper, But Is It Reliable?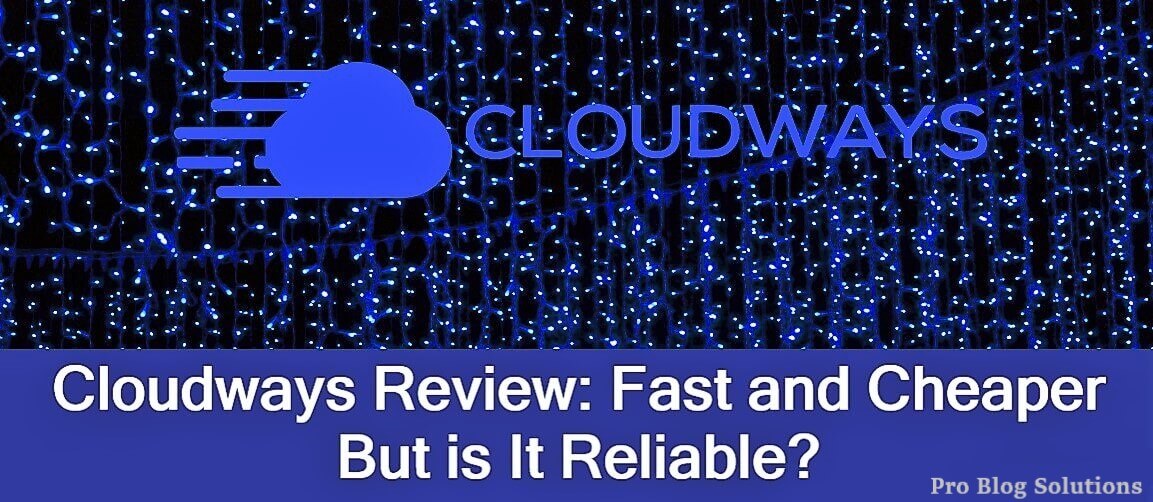 Are you planning to give Cloudways web hosting service a try and yet not very familiar with its important aspects? If you are looking for the most updated Cloudways Review in 2023, you are in the right place.
Well, you do not need to worry, as this Cloudways review will walk you through all the important aspects. Cloudways is one of the most developer-friendly hosting companies, and the company helps users with an extremely easy setup and server maintenance.
Besides, Cloudways services are largely scalable with a managed hosting environment. Cloudways have a competitive edge over the other providers in many ways, and one such advantage is pay-as-you-go. We will come to the other benefits in a bit.
Cloudways started back in 2011 with its base in Malta.
It is an amalgamation of various cloud services. However, Cloudways had a superb revamp in 2016, and it turned out to be very successful for the company it was since then, it has been attracting many customers from all over the world.
Cloudways 2.0 was a major success. Another huge advantage that one can have with Cloudways is the fact that it has data centers all across the US, Europe, and Asia. This helps you deliver better to your global audience.
In this Cloudways Review, I have tried to cover various factors such as its services, support, and pricing. By the end of this post, you should certainly be able to make the right decision.
1. Greatest Uptime 100%
Cloudways is powered by the world's best Cloud hosting providers; the uptime will be the best in the industry. Think of your shared hosting, where your site gets hosted along with several other sites; when one site gets a traffic spike, the other site goes down for no reason.
Now, you don't hear this story from Cloudways. You select the server configuration and host the site, and no resources got shared.
As a result, the uptime is always great, and there are only a few possible scenarios, like your website getting exhausted with your server configurations or the cloud provider going for maintenance. Apart from this, there are very few to zero ways your site will down.
2. Fastest Hosting 100ms
Since there is no sharing of resources and a minimal control panel on the top, our site hosted on Cloudways comes with less than 100ms loading time. You can check our cPanel-based hosting reviews like FastComet, Hostgator, or A2 Hosting. The response time will be between 200ms – 400ms.
There will be another set of horror stories where some big hosts even take 1000ms loading time, but Cloudways crushes them out with their unified control panel with only the essential features left on the panel, leaving others.
You may also like to read:
The response time is constant through time; however, when there is high CPU usage and RAM, the response time goes higher, around 400ms which is still lesser than most shared hosting response time.
3. Unlimited Website Hosting
Some of the direct competitors of Cloudways are WP Engine, FlyWheel, and Kinsta. You can even compare any of the starter plans of shared web hosting plans, and they have a common limit, single website hosting.
The starter pack of Flywheel, priced at $15/month, allows single website hosting, while the Cloudways $10/month starter plan allows you to host unlimited websites. Though you can't launch multiple traffic-heavy sites on Cloudways' $10 plan, you can still host a good number of sites which is getting less traffic. However, it completely depends upon the optimizations you're carrying out along with your caching plugin
Even the $50 or $100 plan of managed WordPress hosting companies have a limit on the number of sites getting hosted. Cloudways never put any limit, and you can play as you wish. Finally, the thing I want to convey is, Cloudways is unlimited, I mean really unlimited.
4. Unlimited Site Migration
Even humans commit mistakes, but Cloudways WordPress Migrator Plugin never makes an issue. In fact, I had never had such a painless site transfer in my entire lifetime. The Cloudways Migrator plugin was powered in association with BlogValut which is making some awesome products for the WordPress industry.
Partnering with BlogValut just shows Cloudways' commitment to users and making WordPress hosting simpler. With no more than three clicks, you can start your website migration from your existing shared hosting, and your site will be live in minutes or hours based on your site size. However, if you have any complex site transfer issues, contact their support for more guidance or manual transfer.
While many of its competitors put limits on the number of site transfers, Cloudways made Unlimited site transfer on the move.
5. Free SSL in one Click
In cPanel, It takes more than five clicks to get my SSL installed. It takes only two clicks on Cloudways to install the free Let's Encrypt SSL.
Just enter your email address and domain name, and the SSL will be installed and applied automatically. That's it, literally the real one-click SSL installation I have ever seen on shared hosting or even $100 managed to host control panels.
6. Breeze Caching Plugin
Breeze is the Cloudways exclusive caching plugin with very much simpler options required for setup. Since I already have my WP Rocket License, I didn't go for it since Cloudways and WP Rocket go without any conflicts.
7. Easy Backups and Restore
Cloudways offer an automated backup with 100% control over it. On shared, companies offer 7,14,30 days of backup based on your plans with daily free backup options. I won't complain, as our recommended hosting providers offer it for free.
However, Cloudways is one step ahead and gives you complete control where you can set the frequency at which the backups should happen, either from one hour once or seven days once. You can also set the backup retention time from one week to four weeks. There is also an option to create on-demand backups when required.
Just remember these backup copies are stored in your own storage limits. Apart from it, you can opt for affordable off-site storage if needed.
8. Free Staging Environment
Before making big changes to your site, always use the free Cloudways Staging with one-click deployment.  Set the password for your staging site, and once the optimizations are done, move it to the production site without many difficulties.
9. No Email Hosting
I won't complain. I moved to Cloud hosting because I need a 100% powerful server resource to host my website. If Cloudways offers inbuilt email services, then who might know the website performance might get affected due to the thousands of spam emails reaching your inbox.
Why do I need to make my website suffer? If I need the email service, I can opt for shared host plans like FastComet FastCloud Extra, which comes with 6 CPU cores & 6GB RAM for just $9.95/month.
However, Cloudways, in partnership with Rackspace, offers email hosting for existing customers at an affordable price of $1/month.
Cloudways Features
This is actually the most important section of this cloudways review, and I tried to be as specific as I could while describing the services to give you a perfect view.
Once a customer logs in to one's Cloudways login, one can add servers on their own by choosing from the various cloud infrastructure providers such as Amazon Web Services, Google Cloud Platform, DigitalOcean, and Vultr.
One could then assign the disk space, and Cloudways will have a cloud virtual server ready in a minute.
Cloudways provides you with 5 CMS apps to choose from and, including WordPress, Joomla, Drupal, Magento, Moodle.
With such PHP-based CMS apps, it has become a lot more convenient for users as they can install one on their own without the need for much technical expertise. This also saves you a lot of time and effort.
Apart from that, there are no limitations to the number of servers a user can use. Customers can easily clone a server or any application per their growing needs.
eCommerce
Considering the extreme popularity of online stores among people, I thought of covering this aspect in this review and checking if the platform is suitable for eCommerce hosting.
Setting up an online store with this Company is unimaginably simple, with a free site migration per account. Further, one can choose from the various CMS applications to build an eCommerce site.
You certainly can have any type of online store you want and can customize it to any extent with Cloudways. For any technical difficulty, users can always find Cloudways experts always around to help them.
In addition to this, the CloudwaysBot is extremely helpful with important notifications relating to backups, upgrades, server status, and more.
Another handy feature is the Cloud Console, which helps you manage everything from SSL certificates to domain mapping. This certainly gives you a lot of freedom as you do not have to contact the support for expert assistance and can do it on your own.
Backup
A proper Backup is always vital to running a site with peace of mind. Backups run daily by default, and recovery is a one-click operation. The account owner can change the backup schedule using the console.
Backups in Cloudways are done on a daily basis. It takes just one click to restore a backup. On top of that, users can change the schedule for backup anytime as per their choice with the help of the console.
Cloudways CDN
Using a CDN or Content Delivery Network, one can deliver content faster to your global audience. 
Cloudways CDN is based on StackPath, and the CDN is pretty easy to integrate. Further, one can find useful tips from the knowledge base on integrating the Cloudways CDN into your site. Customers can have it for a nominal cost. For a bandwidth of 25GB, it costs only $1.
In case you are not okay with paying any extra bit for the CDN, you can also use Cloudflare with Cloudways.
Developer-Friendly Features
Here is yet another important factor worth mentioning in this review. Cloudways certainly offers an extremely developer-friendly environment for PHP developers in terms of deployment of the latest applications using API from a Git repository.
You can also clone an application. Besides, Cloudways allows developers to choose from different frameworks. Cloudways also offers a staging environment for testing new scripts.
These features have attracted many customers to Cloudways over the years.
Cloudways Control Panel
This is yet another important aspect worth mentioning in this review. Many hosting providers that don't use cPanel have control panels that are pretty hard to use. This is the reason that most customers think that a platform that does not use cPanel is meant to be difficult to manage. However, this does not hold true for Cloudways. 
Even though Cloudways does not use cPanel like ChemiCloud and its own control panel, it's not difficult to use. It's unimaginably easy to add applications anytime once you have set up the server. 
To add an application, all it takes is to fill up 3 important fields; the name of the application, the server, and the type of application.
Cloudways Infrastructure 
Regarding infrastructure, the Cloudways platform is highly reliable as it is based on Thunderstruck. Besides, Cloudways uses Debian Linux. Web servers are available in Nginx and Apache. 
Other technologies consist of MySQL, MariaDB, and PHP. Cloudways also use different types of caching mechanisms. The infrastructure is highly secure, too, with platform-level firewalls per server and Two-factor authentication. 
SSL Certificates
Installing SSL certificates on sites is extremely simple on Cloudways. You can either install a FREE SSL certificate by Let's Encrypt or have your own certificates installed on the sites. The Cloudways interface makes it a much less tedious job.
Customer Support
Customer Support is yet another important factor to consider before making a decision. Cloudways Support is definitely dependable in all aspects. If you encounter any technical difficulties, you can contact the support via Live Chat or submit a ticket. 
For simple technical assistance, even the CloudwaysBot can be pretty handy. With Premium Support at a small additional charge, customers will get assistance on priority. 
Recommended for you:
Besides, users can have support via Phone and Private Slack channels too. Users can expect any kind of assistance relating to application and server configuration. Cloudways has a comprehensive knowledge base, blog, and active social media communities for fast solutions. 
Cloudways Pricing
As far as the pricing goes, Cloudways offers 4 different pricing options with different RAM, storage, processor, and monthly bandwidth. In fact, it has the most flexible pricing in every aspect. Customers have a wide range of options to choose from. The fact that Cloudways offers pay-as-you-go pricing makes it pretty affordable for customers. 
However, it's important to understand how the pay-as-you-go pricing model actually works. It is not entirely how it seems to be, apparently. As per the model, users are charged on an hourly basis for the services, but for the infrastructure services, they shall be charged on a monthly basis.
Customers can even pay on a monthly basis. Cloudways also allows you to pay with easy Payment methods such as credit cards, Paypal, or Bitcoin payments. Those who want to try Cloudways console for free can have a free trial without needing any credit card information.
Summary of Cloudways Review 2023
Cloudways brought about a complete transformation in its service in 2016; since then, it has attracted the attention of many customers so far. What is most commendable about this company is the fact that it has been continually able to keep things extremely simple for its customers. 
In fact, users can operate their consoles and use the various options without having to touch a single line of code or multiple interfaces. Cloudways has also been of great help to PHP developers with its useful features, such as Git integration and no limits on application deployment.
Although there is no denying the fact that Cloudways is a great hosting service in many ways, I thought of listing down a few pros and cons in this Cloudways hosting review to help you make the right decision.
Pros of Cloudways: Cloudways Review 2023
Cloudways has the most user-friendly interface, and even if you are a pretty new user, it should not take long to get the hang of it. One does not need to have much technical knowledge about that.
Setting up a server or installing an application can be done without taking much time, and usually, it takes about a minute.
Cloudways service is extremely reliable regarding uptime as it offers an uptime guarantee of 99.99%, just like on WPengine hosting.
The pay-as-you-go pricing makes the pricing pretty affordable, and even if we compare the pricing with that of the average cloud providers, it is almost the same as what they are charging. 
Cons of Cloudways: Cloudways Review 2023
Unlike a common CMS like WordPress, hosting or creating a custom CMS can be a lot tedious with Cloudways.
Even though Cloudways puts a lot of emphasis on keeping its servers well-maintained, one big downside is the fact that users don't have root access to configure things on their own.
FAQs About Cloudways Review 2023
Is Cloudways good for e-commerce plans?

Yes, Cloudways' eCommerce plans are outstanding. They offer an innovative combination of Nginx and Apache servers that promise better performance, and for e-commerce, I recommend going with Vultr's high-frequency servers on Cloudways.

Which payment methods are supported on Cloudways?

Cloudways supports payments through Credit and Debit Cards (Visa, MasterCard, AmericanExpress) and Paypal. It also supports the Wire Transfer service, which is only accessible on a minimum purchase of $1000.

Does Cloudways charge extra for email hosting?

Yes, you can subscribe to their Rackspace Email add-on that costs $1/month for one email account.

How easy is it to launch your website on Cloudways?

It's pretty easy. All you need to do is log in to your account and click 'Add a Server'. Next, you need to select an application, your server type, size, and the server location, and it's done.

What makes Cloudways different from other web hosting companies?

The unique Managed hosting infrastructure of Cloudways, built on 5 unmanaged cloud hosts, makes it different from other hosting companies. Thus, you can enjoy the features of managed and unmanaged hosting together.

What if I want to scale resources down on Cloudways?

It depends on your server. Scaling your resources down is impossible if you have the servers of DigitalOcean, Linode, or Vultr. Once you scale these servers, the changes are permanent. However, AWS and Google Cloud offer unlimited scaling up and down of resources. But their plans are expensive.

How many cloud providers does Cloudways have?

Cloudways offers 5 cloud providers, namely AWS, DigitalOcean, Linode, Vultr, and Google Cloud.

Does Cloudways offer free migration?

Yes, you get one free website migration with all the plans of Cloudways. And if you want to transfer your WordPress website, they offer a dedicated WordPress Migration plugin as well.

What are the Key Features of Cloudways Hosting?

The key features of Cloudways Hosting include its unique managed-to-host infrastructure, 65+ data center locations, one-click vertical scaling possibilities, swift speeds and uptime, and its 'Pay as you go payment model.
Conclusion on Cloudways Review 2023
If you have read my Cloudways review carefully thus far, you should now have a clear picture of Cloudways in all aspects.
I spent many hours testing the different aspects of Cloudways before publishing this review. However, whether Cloudways is good for you depends on what you are looking for. If you are a PHP developer, you must definitely give it a try, for it has so much to offer for PHP development. 
Even if you are only up to hosting a CMS site like WordPress or an eCommerce site, Cloudways offers a perfect environment with actually very little effort needed on your part. The pay-as-you-go pricing model certainly makes things pretty affordable for the users and gives Cloudways a leading edge over its competitors.
However, if you are up to creating or hosting custom apps, you are out of luck with Cloudways, and this is the reason that I will never recommend choosing Cloudways for hosting custom apps.

Save time & money with simple and reliable cloud hosting trusted by thousands of agencies, developers, and businesses.
Discover Possibilities, Not Hosting Worries.